User talk:Zakor1138
From the Super Mario Wiki, the Mario encyclopedia
Jump to navigation
Jump to search
Welcome, Zakor1138!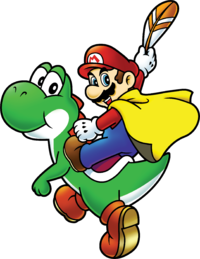 Hello and welcome to the Super Mario Wiki, a collaborative knowledge-base dedicated to the Mario franchise. We're glad to have you as a member. If you have any questions, just post them on the FAQ talk page or ask an experienced member, patroller, or administrator.
The following articles contain guidance and information about reading, authoring, and participating in the Super Mario Wiki community. If this is your first time visiting, please read our introduction.
How do I do that?
Specific help
Categories
You are welcome to browse through the following categories:
External resources
Things you can do
Feel free to delete this message when you're done reading it. We hope this information is helpful, and that you'll have a great experience contributing to our knowledge-base and our community. Remember to enjoy your experience here and to also have fun!
How was I mean? I was just discussing the argument just like you. Anyways, If I came across as mean, I apologize and hope we can work together in making the wiki better.

XzelionETC
RE: Thanks
[
edit
]
Oh it was nothing. I like to help out a lot in this wiki and I always fix pages that need some help. I am Paper Jorge, friendly sysop (System Operator also known as Admin or something similar), at your service.
Paper Jorge ( Talk·Contributions)·
Friends?
[
edit
]
Wanna be friends? Pokebub (talk) 01:06, 13 April 2013 (EDT)
I... was completely unaware of that. When I was searching for a source for the names, I couldn't find anything, and another user I discussed with said that the manual didn't list the names, and that's what led to the names being reverted. I would like to hear back from the other user before any new reverts are made, but this seems to just be an oversight on our parts. Hello, I'm Time Turner.
Trollfeeding
[
edit
]
Hi. Please do not converse with vandals, this is trollfeeding and only encourages them to do it more. If you see a vandal, just undo what they do with a blank summary and wait for an admin to block them. Yoshi876 (talk)