The White Yoshi Fan's Talk Page!
From the Super Mario Wiki, the Mario encyclopedia
Jump to navigation
Jump to search
Welcome, WhiteYoshi2014!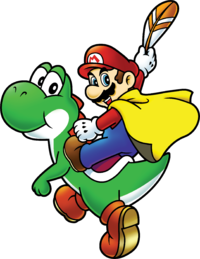 Hello and welcome to the Super Mario Wiki, a collaborative knowledge base dedicated to the Super Mario franchise. We're glad to have you as a member! If you have any questions, just post them on the FAQ talk page or ask an experienced member, patroller, or administrator.
The following pages contain guidance and information about reading, authoring, and participating in the Super Mario Wiki community. If this is your first time visiting, please read our introduction.
How do I do that?
Specific help
Categories
You are welcome to browse through the following categories:
External resources
Things you can do
Feel free to delete this message when you're done reading it. We hope that this information is helpful and that you have a great experience contributing to our encyclopedia and community. Remember to enjoy your time here and to also have fun!
Please stop creating talk pages for casual discussion, if you want to discuss enemies you can make threads on the forum. Mainspace talk pages are meant to be used for discussing how to improve the article. Thanks, and keep contributing. - Turboo (talk) 20:42, 1 July 2014 (EDT)
Talk Pages
[
edit
]
Please be sure to put your newedits to talk pages at the bottom, they're more likely to be read that way and if someone gets a new message they'll usually go straight to the bottom of the page to see.

XzelionETC
Thank you for letting me know. --WhiteYoshi2014 (talk) 13:27, 2 July 2014 (EDT)
Testing quotes
[
edit
]
"
"Left turn! Glide section! Right turn!"

—

Me.

" --WhiteYoshi2014 (talk) 15:02, 4 July 2014 (EDT)
I am trying my best to find pages that need edits. --WhiteYoshi2014 (talk) 20:28, 5 July 2014 (EDT)
Recent edits
[
edit
]
There is absolutely no point in leaving messages on permanently banned users talkpages, they are not going to read them, and if they do the messages may incline to come back as sockpuppets which is not wanted. I ask you to stop doing this immediately. Yoshi876 (talk)
Whoops!
[
edit
]
Thanks for that. --WhiteYoshi2014 (talk) 17:22, 6 July 2014 (EDT)
Sorry...
[
edit
]
TOO BAD, WHITEYOSHI2014 STOLE YOUR 8-BIT LUIGI!!!

--WhiteYoshi2014 (talk) 20:41, 15 July 2014 (EDT) (P.S. I'm just playing. Just to let you know, I have seen plenty. I secretly have a 8-bit Luigi buddy as my get-up attack in Yoshi Fighters 3.5 and up [which, by the way does not exist! I made it up.])
Your userpage
[
edit
]
Hello, as per policy it is against the rules to have a shop as well as the custom welcome template, I therefore ask that you remove these immediately. Thank you. Yoshi876 (talk)
Okay...
[
edit
]
I am going to stop that. I got rid of both the shop and the welcome template. Thanks. --WhiteYoshi2014 (talk) 10:59, 20 July 2014 (EDT) "Nope... No Yoshi here!"
Hey, this is YoshiFan104. I put you on my userpage (Yoshi Fan section). Just wanted you to know!
Userspace
[
edit
]
Dear WhiteYoshi2014,
It has come to our attention that you are currently in violation of the userspace policy. Please review the policy and abide by it, or else a warning will be issued. Thank you for your cooperation.
Your Userspace-Mainspace edit ratio is absolutely ridiculous. Sorry, but you're expected to do more to contribute than spamming random users' talk pages and asking them if they want to talk over and over again.--Vommack (talk) 22:01, 20 July 2014 (EDT)
By The Way...
[
edit
]
Yoshifan104 here again, I'm posting a friend request, and I hope you'll respond,:).
Hello, i'm shellmario. You have blocked me and i don't know even why. The last time i entered on smw was on 2013. Could you explain me what are you talking about?