User talk:SinnohMasterGalaxy
From the Super Mario Wiki, the Mario encyclopedia
Welcome, SinnohMasterGalaxy!
Hello and welcome to the Super Mario Wiki, a collaborative knowledge-base dedicated to the Mario franchise. We're glad to have you as a member. If you have any questions, just post them on the FAQ talk page or ask an experienced member, patroller, or administrator.
The following articles contain guidance and information about reading, authoring, and participating in the Super Mario Wiki community. If this is your first time visiting, please read our introduction.
How do I do that?
Specific help
Categories
You are welcome to browse through the following categories:
External resources
Things you can do
Feel free to delete this message when you're done reading it. We hope this information is helpful, and that you'll have a great experience contributing to our knowledge-base and our community. Remember to enjoy your experience here and to also have fun!
Sincerely,
Super F22 Pilot (Talk)
Well, it's not that it takes precedence over the game, because in the actual game, the episodes are not given official names at all, and as it says here, the name used in a Nintendo Power guide book may be used when there is no in-game alternative. Because there is no official name for them in the game, those names were used instead. Unfortunately, calling them "Secret Shine 1" and "Secret Shine 2" or something else to that extent would be conjectural, and should generally be avoided unless all other alternative naming methods have been exhausted.
PHOENIX (talk • edits) 01:16, 22 November 2011 (EST)
Reminder
[
edit
]
Please stop not mark minor edits as minor on the Super Mario Wiki. This isn't a warning, and it's possible that you made a mistake by accident or without realizing it; this is simply a reminder for your information. If the action continues, then a warning will be issued. Thanks for reading and keep contributing.
If this reminder was not issued by an administrator and you feel it was undeserved, you may appeal it.
Sometimes we forget to add something to our edits and need to make a small little change, which is perfectly acceptable. However, it is helpful to mark those small changes as "minor" so that people who browse through the recent changes have the ability to hide those edits if they want more visibility. Also, consider using the preview button before saving changes, it cuts down on a lot of unnecessary edits. Thanks.--Knife (talk) 12:02, 22 November 2011 (EST)
Hey there, SinnohMasterGalaxy, just so you know, on the related talkpage for the Princess Peach article, there's already a discussion about the "Latest Game Appearance" matter, since it's found that both MK7 and Fortune Street were released on the same day. I'm currently trying to get a consensus about the matter and will see about changing said info during the course of later today or tomorrow, hopefully. Take care. --M. C. - "Mario Gals" Fan! User Page | Talk Page 03:18, 1 December 2011 (EST)
Metro Kingdom Power Moon Color
[
edit
]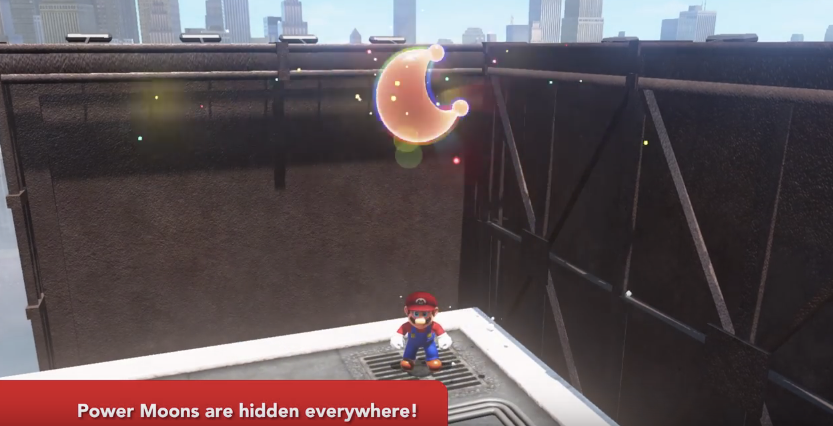 Sorry to kinda bud into your conversation with Gamermakerguy, but the color of these power moons definitely look more orange than brown. I'm not going to undo your edit because I don't want to start anything.
LuigiMaster123 02:06, 11 October 2017 (EDT)
That isn't orange or brown! That's cream! Doc von Schmeltwick (talk) 02:06, 11 October 2017 (EDT)

In this image the Moon is just appearing so it is sparkling, hence why it doesn't look fully brown, but it clearly is not Orange. The Nintendo Direct from last month shows a moon from the MK and it is also clearly not orange. It's brown but looks slightly lighter because of the sparkling effect. --SinnohMasterGalaxy (talk) 02:21, 11 October 2017 (EDT)

Eh, still looks orange to me.

LuigiMaster123

02:24, 11 October 2017 (EDT)

The moons look lighter before you obtain them. For instance, look at this video of the Seaside Kingdom. The moon looks almost pink before obtaining it. As soon as Mario gets it it "turns" purple. --SinnohMasterGalaxy (talk) 18:54, 11 October 2017 (EDT)
Edit warring
[
edit
]
This is a warning to stop your inappropriate behavior (participating in an edit war) on the Super Mario Wiki. Please adhere to the rules or you will be blocked from editing this site.
If this warning was not issued by an administrator and you feel it was undeserved, you may appeal it.
I'll give this same message to Gamermakerguy (talk) as well, but please do not edit war and converse with the edit summaries. If there is an issue, talk to the other user on their talk page. Despite having a conversation about this two days ago, you are still participating in an edit war.
14:40, 13 October 2017 (EDT)
I understand what edit warring it, but I have provided THREE sources now and people are inserting incorrect information. --SinnohMasterGalaxy (talk) 15:03, 13 October 2017 (EDT)