User:DryBowzillaJP
From the Super Mario Wiki, the Mario encyclopedia
Jump to navigation
Jump to search
Greetings everyone I am ☠Dr. Gold Dry Bowser☠ and a HUGE fan of Super Mario.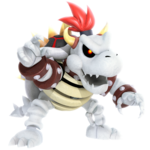 ☠Dry. Gold Dry Bowser☠
Real Name: N/A
Age: N/A
Birthday: N/A
Home: U.S
Gender: Male
Favorite Game: Super Smash Bros Ultimate
Least Favorite Game: None
Favorite Non-Mario Game: Gex 3 Deep Cover Gecko
Favorite Character: Dry Bowser & Bowser
Least Favorite Character: None
I also like other series like Anime, Godzilla, Playstation games, Sonic and much more.
Nintendo games I like so far.
Favorite characters so far