The 'Shroom
:
Issue LXXXI/The 'Shroom Spotlight
From the Super Mario Wiki, the Mario encyclopedia
Jump to navigation
Jump to search

Ho Ho Hello! Welcome to the first ever holiday edition of The 'Shroom: Spotlight, which is a section dedicated to improving a selected group of articles across the wiki. To begin, let's review our progress on the articles featured in last month's edition. The first article, Bad Rap, was in need of plenty more images. And readers successfully uploaded plenty of them, well done! Our second focus was Mario Party, which initially had a massive six points of Trivia, has now been trimmed and all points have been removed or incorporated into the main articles. Our stub article focus, Spooky Attic, unfortunately didn't get any input. But our rewrite focus Use the Magnet to Get Rich Quick! was successfully rewritten from scratch to an excellent standard. Thank you to all who contributed to the Spotlight project this month. A new edition, of course means a new line-up to focus on. And each article is holiday-themed!
Slip Slidin' Away (rewrite) – Slip Slidin' Away, on a one Dino open sleigh! Over icy fields we go, freezing all the way! Alright I'll stop, just chill out. The rewrite focus for this month is yet another Yoshi's Island DS level, being one of the snowy and icy levels to match our holiday theme!
Mario & Sonic at the Olympic Winter Games (needs more images) – The Nintendo DS version of this cool game is really lacking in giving visual examples (otherwise known as images) of the sections within the article. You can help by uploading some!
Koopa Klaus (long Trivia section) – This Christmassy episode of The Super Mario Bros. Super Show! has an overly-long Trivia section. Yes, four points is overly long! I personally think that each point could have a place in the opening paragraph of the article...
I couldn't find a stub article which had a holiday theme, unfortunately. So instead please enjoy this eerie Mario Christmas stocking.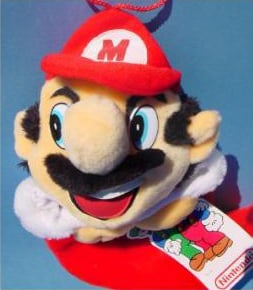 Check back here next month, where we will be reviewing our progress made on these articles! If you have any questions, suggestions or feedback on the Spotlight project, please post a comment in the forum thread. Thanks for reading, and I wish you all a safe and happy holidays, and all the best for next year!