The 'Shroom:Issue LXXVI/Palette Swap
From the Super Mario Wiki, the Mario encyclopedia
Jump to navigation
Jump to search

Greetings, all! Welcome to the July issue of the 'Shroom!
Last month, we announced a Legend of Zelda drawing contest! And… we got THREE entries this time! All right! You all can vote for your favorite, and may the best drawing win! Well, then, I suppose the challenge… was not well received. Hopefully, we'll get more submissions next time we run a contest! Calling all artists!
With that, let's get to the art! FunkyK38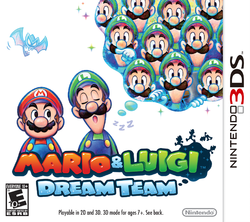 HI, readers! I'm your dreamy Co-director, Tucayo, here to bring you another wonderful box art from the Marioverse. And this month we have none other than the American box art for the upcoming (as of July 5th) Mario & Luigi: Dream Team, featuring a plethora of Luigis. As you may or may not know, this game takes place in Luigi's dreams, hence the name and the Dream Luigis we can see in the top right corner of the box, whose purpose will be to aid Mario throughout his journey in Dream World. I chose this box art because I simply love the art style of the Mario & Luigi series, and I'm sure many others feel the same. One thing you will surely notice is the plain white background used in the box, just like it was used in the previous instalment.
A detail (and a big one, mind you) I hadn't noticed at first is the small bat on the left part of the box. At first it looks like a simple bat - who knows, maybe a simple enemy - but no, this is none other than Bat King Antasma in his bat form, who will be the main antagonist of the game. It's nice for a change to see a new villain! While you wait for the game to be released, why don't you enjoy the fine artwork of the game? See you next month, BYE!

Random Image of the Month (Paper Yoshi (talk))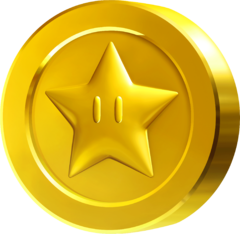 Hello, and welcome to the July Issue of Random Image of the Month!
This month's very detailed and high quality Random Image depicts a Star Coin from New Super Mario Bros. 2, a side-scrolling platformer game released for the Nintendo 3DS in 2012.
Star Coins are collectible items found in all New Super Mario Bros. games and in Super Mario 3D Land, although they are called Star Medals in the latter. Three Star Coins are found in each level; some can be easily collected, while others require the use of special power-ups, such as the Mini Mushroom, or different techniques, such as the Wall Jump, to be reached.
Star Coins may be used to open Star Coin Signs leading to Toad Houses or bonus levels in all four NSMB titles, while Star Medals unlock new courses in Super Mario 3D Land. They are also used to unlock special features in those games, such as new Touch Screen backgrounds in New Super Mario Bros. or Hint Movies at Princess Peach's Castle in New Super Mario Bros. Wii.

Sketch Related to Mario (Smg2daisy (talk))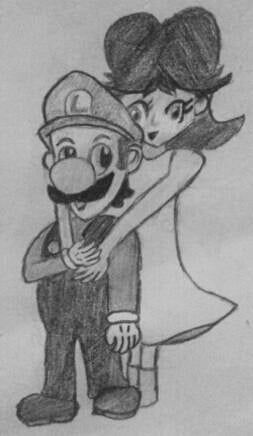 Legend Of Zelda Contest
Sprite of the Month (FunkyK38 (talk))
Greetings, readers! This month, I bring you this sprite of a Bullet Bill from Mario Party Advance :

 ! Look at him, blasting off into the great beyond… to get jumped on by Mario. Or, he could be the one to get Mario! With lower level enemies, you never know!

---