The 'Shroom
:
Issue LXXV/Retro Feature
From the Super Mario Wiki, the Mario encyclopedia
Jump to navigation
Jump to search
Gamefreak75
First article:
Fake Ads, Issue XXXIII
Currently writing:
Word Search
Sections written:
Main/Staff:' 4
Fake News: 32
Fun Stuff: 48
Positions held:
Fun Stuff Director
HI, lovable readers! I'm your legendary Co-director, Tucayo, here with a very special edition of Retro Feature. As you all know, this is our 75th issue, and we decided to celebrate it by honoring one of the best users to ever don number 75. And no, I am not talking about Daisy75 (talk), or Enriquew75 (talk) (though it would be interesting to cover them for my next issue), I'm talking about none other than Gamefreak75 (talk). Let's be honest, if you didn't think of Gamefreak upon seeing the number 75 you have failed as a Mariowikian. Why is it so important to know his story? Well, keep on reading and you will find out.

After trying luck in other wikis out there in the cold, cruel wikiverse, Gamefreak75 joined the Super Mario Wiki on September 18, 2009. His hard work on the wiki earned him a promotion to patroller around ten months after joining, and another one to sysop on December 2010. Also a frequent user of the forums and the chatroom, Gamefreak got promoted to Chatroom Op on September 2010, and earned his promotion to Global Moderator on our forums on February 2011. He has also been an important part of the Awards Committee, helping host the Fail Awards in the 2011, 2012, and 2013 editions.

Everyone's favorite Waluigi joined our ranks on December 2009, and made his debut writing Fake Ads for the Fake News sub-team on Issue XXXII, section he would go on to write for twenty issues. But his breakthrough moment came a little over a month after joining, on February 2011, but it wasn't in the sub-team he had served for over a year, he was appointed Fun Stuff Director after the previous director departed. The Fun Stuff sub-team was at a great point at that time (and I'm not biased), after some rough times, and Gamefreak managed to take advantage of that momentum and propel the Fun Stuff sub-team to probably the most consistent one in the newsletter, and while doing so had the longest uninterrupted tenure of any Fun Stuff Director. On Issue L, Gamefreak joined as Word Search writer, section he still writes two year after signing up. But he did much more than that on the aforementioned issue, also contributing a Crossword, a Cooking Guide, and a Fake Report.

Aside from his regular sections, Gamefreak has also contributed a notable amount of guest sections, providing five Fake Reports, five Fake Shops, two appearances in the AC Commentaries, two Non-Mario Crosswords, two Travel Guides (one of them being Project Travel Guide x15!), and even his own special section where he bragged after winning the Guess The Results! event. Gamefreak has won three Section of the Month Awards, and was the very first writer to win one; he is also one of two sub-team writers to have won the Overall SOTM, while it still existed.

If he were to invite us to his place we probably would also see his eight End of Year Awards somewhere in his trophy room. In 2011 he won a Golden Mario, a Golden Bowser, a Golden Peach, and a Golden Toad; and in 2012 he took home a Golden Mario, a Diamond Luigi, a Golden Yoshi, and a Diamond Toad. His 84 sections written place him eight for most sections written overall, but his accomplishments go far beyond written sections, and for that, we at The 'Shroom will always be thankful to him.

Anyway, enough rambling. Without further ado, I present you Gamefreak's award-winning Fake Ads from Issue LXIX! Enjoy
Fake Ads
Written by: Gamefreak75 (talk)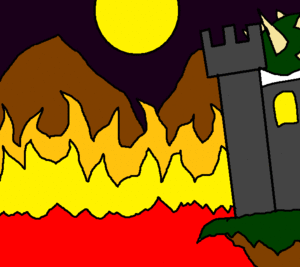 Welcome, my good friends.
So I was thinking about a nice place for a vacation since Spring Break is coming up (or passed for some of you ;) ). I went to my house and went to my normal thinking process of doing useless crap until I got the best place and the best deals for a wild spring break.
Today, I will be offering you tickets to…
*audience tries to hold in their excitement*
…
…
…
I know what you're thinking, but let me explain.
Bowser's Castle offers a wide variety of fun activities and is an ideal vacation spot for those with the guts to go to the place. First off, why don't you take a dip in the boiling hot lava jacuzzi. It is recommended that one doesn't stay in the Jacuzzi for more than 30 seconds, as it is known to give you some serious burns.
If the Jacuzzi is too hot for you, why not participate in some of the fun games offered during the time, such as a sudden death dodgeball match or a good ol' game of basketball. It is highly recommended you wear fire‐resistant gear and always have a flame-suppressant on hand. You never know when you're going to need it, but I guarantee you will use it often.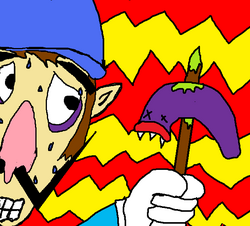 Suntans. Everyone wants one. Those suntans you get at Gelato Beach or some other fantastical place? Those are for weaklings. You go to Bowser's Castle for the real deal. In less than a minute, you will be baked tanned to a golden brown.
And now for the food offered at the resort. It's…um…unique to say the least… For starters, they have these weird purple space grub thingies which I have never seen in the series before. Maybe it's from another planet. For those of you who can stomach it, they also have fried Goomba and Koopa pasta.
*audience stares in disgust*
Of course he doesn't have fried Goomba and Koopa pasta, you fools. Why would Bowser eat his own minions? You people can't take a late April Fools joke huh? For the main entrée, there's roasted everything. There's like nothing that isn't roasted in this place. And for dessert there is roasted ice cream, roasted cake, pretty much roasted everything.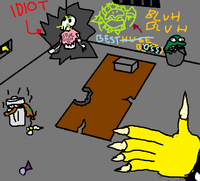 The rooms at Bowser's are also very versatile. The Koopa King is even so nice as to offer you a room to sleep, let alone give you a bed. Wait is that a door? And why is it missing its doorknob? I wonder where it could've gone. Bowser has also provided you a trash can and a bucket for you personal duties. I feel like something is staring at me from the bucket and the trash can though. Almost every person will have a roommate as well. The roommates don't talk much though, but at least they provide company. How lucky! There's a horn on the floor. It seems Bowser likes to clown around as well…but he claims it isn't his…
For a measly 400 coins, this offer can be yours. Think about it. Games. Food. And a free room. Bowser is generous enough to lend us his castle for the week. So hurry up, because this offer will not be here forever.
See you there. ;o)

That's it for our special edition of Retro Feature! I hope you enjoyed it. Now read along.
---