The 'Shroom
:
Issue LVI/Should Have Been
From the Super Mario Wiki, the Mario encyclopedia
Jump to navigation
Jump to search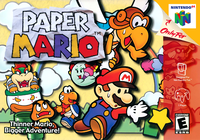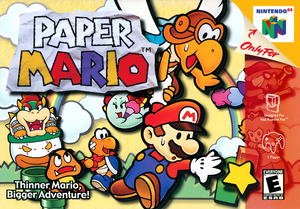 Hey everyone, welcome again to
Should Have thought of a better pun Been
! Last time we went off on a little variation, but, this time, things are back to normal. So, let's great straight to business: you may remember last time I said WakerLuma sent a PM. She sent this on the day I sent in my sections for September, so she's been waiting for quite a while.
"Here's another suggestion: One of the Mario RPG's. They all have a good amount of beta elements and some do need improvements" – WakerLuma
Now, well...in the fields of Mario RPGs, I own Super Mario RPG: Legend of the Seven Stars, Paper Mario and Mario & Luigi: Partners in Time. Not a huge collection. Out of the three, my favorite, and the one I have the most to talk about, would be Paper Mario, so let's go!
What should have been in this game?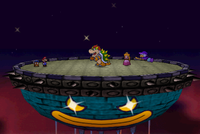 I'm only at Chapter 6 in this game, but so far, I'm loving it. I don't really see too many places where this can be improved upon, but I certainly think there could be some improvement.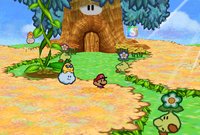 I'm going to start, oddly enough, with the end of the game. The game doesn't save after you defeat Bowser, so there's nothing you can do after the events of the ending. It would be nice for more sidequests after the ending, and just to see everything being okay. Also, you have to backtrack through Bowser's Castle if you have saved in there and want to go anywhere except aforementioned castle. Speaking of backtracking, Chapter 6 was notorious for that. It was very long, so that made it worse. The chapter really should have had less backtracking.
I think
Luigi
should have had a slightly larger role in this game: while you can read his diaries, I don't feel that was enough, and the green plumber, who has always been in his brother's shadow, should have had a bigger role. A playable Luigi in this game would have been awesome, in my opinion. I think
Clefts
were pretty tough enemies, especially for just the second chapter,
and they should have been slightly easier to beat. I think the bosses should have been able to be rematched, and that they'd get stronger with new moves every time you did, but the game would have to save after the ending for that to happen, and, annoyingly, it doesn't. In all seriousness, I can't think of much else for this game to improve on. But this is more than I would have been able to say than on
SMRPG
and
M&L:PiT
. I can't complain about the music, the locations, the characters, the bosses, the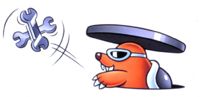 difficulty: they're all perfect. Luckily, I have quite a bit to say in this section:
Enemies who should have been in this game
Rocky Wrenches – These would have been a good updated version of the Monty Mole, kind of like how Hyper Goombas are upgraded Goombas. The manhole they use could give them a little extra defense, while, instead of Rocks, they could have thrown more damaging Wrenches.

Wiggler – Come on, these guys are so awesome. They haven't even appeared in the series yet. And they'd work well in it. And Flutters would have worked too, especially in Flower Fields.
KING B – owait they weren't invented yet.
Fire Bros. and Boomerang Bros. – These guys could have been enemies in Bowser's Castle, and they're pretty cool. Definitely the Fire Bro. would be good, as that could cause something like a Burn

(if getting burnt was in this game).
Tap-Taps – These guys are pretty cool too. Their spikes would mean you couldn't jump on them, and a rush-tackle-or-whatever-style attack would do more damage.
Beta elements
Super Mario RPG 2
(which was changed due to disagreements with
Square
to
Super Mario Adventure
, then to the final title), and for the
Nintendo 64DD
,
Poochy
was originally going to appear, and at least one
Nep-Enut
would too. I'm guessing they would have both worked well, they seem like they would have: a large blue thing and an invincible dog who walks on
Lava
and doesn't afraid of anything. There was also data for a
Dark Paratroopa
, which first appeared in the sequel, including a
Tattle
, stats and everything. They would have been in the
Toad Town Tunnels
.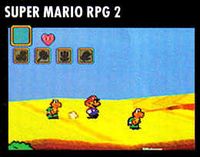 An early image reveals Mario would have had
Super Mario Bros. 3
-style eyes.
Goompa
,
Goombaria
and
Twink
all appear on Mario's beta partner selection screen, probably because Goompa and Twink have acted like partners in the past, but not Goombaria.
Forever Forest
was, ironically, not going to

be forever, as it was much shorter in the Beta, and the trees had sinister faces. Sounds like Mario would have needed the Pink-
-ie Pie.

There were also eleven debug rooms in the coding, maybe even more made. They were all used for testing objects, and the most interesting, in my opinion, can be seen below:
Finally, the Koopa Bros. looked different in the final game, as did the icons used in battles, and the pause menu. There's way too many unused Items and Badges to cover here, so here is a link to them.
---
Thanks for reading! Don't forget to send me a PM on the Super Mario Boards (MarioWiki Forum to give me feedback, or to suggest a game or an improvement. See you next month!