The 'Shroom:Issue 137/Fun Stuff
From the Super Mario Wiki, the Mario encyclopedia
Jump to navigation
Jump to search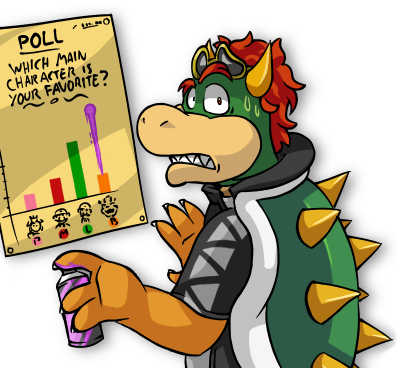 Staff Notes
Written by: Lord Bowser (talk)
Well, it had to come eventually. Today I make official my decision to step down as Fun Stuff director, and this is my second-to-last issue before my replacement comes in. It was a tough one to make, but one I feel would ultimately benefit me and the paper in the long run, before I run myself into the ground and inadvertently hurt Fun Stuff doing so.
I might not have lasted too long, only about a year, but it's been a lot of fun being part of the core team. I learned a whole lot about the 'Shroom that I didn't know of before, got to participate a lot of key staff decisions, run a couple of small-scale contests, and generally just enjoy it all for a while. All good things have to come to an end eventually though, and now is appropriate for mine.
Public applications for my post, along with Strategy Wing's post, will go up soon after the paper gets published. I wish the best of luck to anyone and everyone who applies for these positions! But for now, enjoy this issue of Fun Stuff!
Section of the Month
Congratulations to all of our writers for their works!
FUN STUFF SECTION OF THE MONTH
Place
Section
Votes
%
Writer
1st
Where in the Marioverse is Carmen Sandiego?
22
40.74%
FunkyK38
2nd
It's aMAZEing
15
27.78%
Lakituthequick
3rd
Quiz
15
27.78%
Yoshi876
---
Word Activities
---
Wario's taken over Anagrams to promote his new game!
[read more]
Anagrams
Written by: BBQ Turtle (talk)
Hello again everyone, and welcome to this month's edition of anagrams! I hope you all enjoyed this year's awards ceremonies! Anyway, this month I've decided to make you a bunch of Wario-related anagrams as WarioWare Gold was released a few weeks ago, but I don't know an awful lot about the WarioWare series. Anyway, as per usual, any suggestions for a theme next month or funny anagrams you've found are more than welcome, just send me a message on my talk page or PM me on the forums.
How it works...
Basically, this puzzle consists of solving the anagrams. Each month has a specific theme, which will give you a clue about what sort of words or phrases the anagrams will be. I've also included the boxes that the anagrams will fit into, so you'll be able to tell how many words it will solve to be and how many letters will be in each word, which should give you a hand too. You'll also notice that within each set of boxes, one of the squares are yellow. As you solve each anagram, note down the letter which appears in the yellow squares, and if you can solve all of the anagrams, you'll also get a bonus anagram to solve from completing all of the others. I've included the letter configuration for this one at the bottom too, just to give you an extra helping hand. Best of luck!
1. MOUSER WAILS COO
2. DANDY HEALERS
3. WATER WEIRDOS WAIT
4. GNOME LID
5. SHRINK CORE SOAPS
6. SPEND A BLITZ BIRD
7. I AWOKE RIB
8. A NEWSPAPER AID ROW
9. A BALCONY TENT
10. REUSE ART
11. RUB LOON
12. HAD TASK CAT
Bonus Anagram:
Answers
Wario Colosseum
Ashley and Red
WarioWare: Twisted!
Gold Mine
Princess Shokora
Dribble and Spitz
Wario Bike
WarioWare: Snapped!
Battle Canyon
Treasure
Orbulon
Dash Attack
Bonus Anagram: Captain Syrup
It's aMAZEing
Written by: Lakituthequick (talk)
Hello and welcome to another It's aMAZEing!
The Mario Awards have happened, and those are quite special! So why not take the crown of the Special Cup this month?
Do you have an idea for a maze you'd like to see? Leave a message on my talkpage or find me on the forums and send me a personal message, and your idea and name may be featured in a future episode!
I'd also like to thank everyone for voting for this section in the Best 'Shroom Section Artwork award! You are all aMAZEing!
How to play:
Copy the image into your favourite art program (like Paint, Photoshop, GIMP, etc.)
Click the line, pencil or brush tool and adjust the size as needed
Draw your line though the maze from start to finish
Zoom in and out as needed
Alternatively, print it out and use a pencil!
To view the answer, click here!
Quiz
Howdy 'Shroom readers, welcome to the Quiz!. As you may have figured out from the name, this is a section where I quiz your Mario knowledge.
There is the potential that this managed to escape your gaze, but if it had not, then you would know that WarioWare Gold released earlier this month. The Wario franchise is a quite a diverse one, featuring platformers, microgames and even Super Mario Land 2: 6 Golden Coins, and that's right, we're doing a quiz on the Wario franchise.
Easy
What is the Wario's primary colour?
How many worlds are there in Wario Land 4?
What is the name of Wario's videogame-obsessed friend in the WarioWare series?
Medium
What game in the series features multiple branching paths?
What gadget did Dr. Crygor make for Jimmy T.?
Who is the main villain of Wario World?
Hard
What is the name of the Japanese educational film based off Super Mario Land 2: 6 Golden Coins?
What are all the forms in WarioWare: Smooth Moves?
Who is the first boss of Wario Blast: Featuring Bomberman?
Answers:
Easy
Yellow.
Four.
9-Volt.
Medium
Wario Land II.
A cell phone.
The Black Jewel.
Hard
Mario Kirby Meisaku Video.
The Big Cheese, The Boxer, The Chauffer, The Diner (A), The Diner (B), The Diner (C), The Discard, The Dumbbell, The Elephant, The Finger Food, The Handlebar, The Janitor, The Mohawk, The mortar and Pestle, The Remote Control, The Samurai, The Sketch Artist, The Thumb Wrestler, The Tug-of-War, The Umbrella and The Waiter.
The Cup King.