The 'Shroom:Issue 122/Palette Swap
From the Super Mario Wiki, the Mario encyclopedia
Jump to navigation
Jump to search

Director's Notes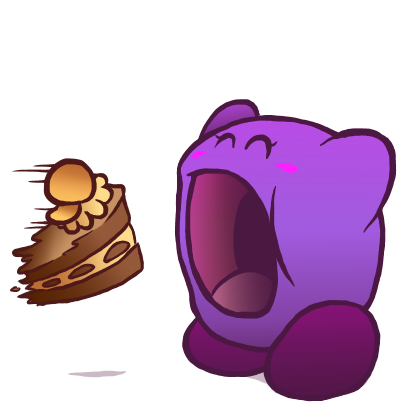 Welcome, everybody, to Issue 122! There's a LOT for me to cover this month, so bear with me for a little bit!
First of all, I'd like to formally open the two galleries we will be featuring for the special issue next month! You can read more about the specifics of both of them below, but I'll touch on them briefly here. There are two galleries you can draw for this time: one where you can create an advertisement for your favorite Microgame, and one where you can create a new Wa-character! These will both run like the Walkazo tributes gallery we ran a while back: you'll submit your artwork to me, and all of the submitted pieces will be collected into a big gallery for everyone to look at. Not a contest, no voting, no prizes, no pressure, just create something and let us showcase it for you! You can read more about it below!
Touching on something I mentioned last month, we are still trying to evaluate interest in a Minecraft art contest featuring the Mario expansion pack. If you are getting Minecraft and the Mario pack for Switch, or if you're already playing with it, please send me a PM and let me know if you'd be interested in a contest! If we get enough people interested, the contest will start next month for the special issue!
Next up, I am psyched to announce that we have two new sections this month! First up, we're welcoming a new writer to the team: Lord Bowser (talk) will be writing Game Soundtrack Reviews monthly for us! Check out his first section below! Second, we're welcoming Palkia47 (talk) back to the team with a new section called Packy's Songs of the Month. Welcome back!
Even with all the new sections, now is still a great time for you to join the team! You can write a Wario-themed guest section for us, or maybe you can kick off a new section celebrating Wario next month! Give it a thought, and if you have any questions, you can PM me on the forums! Or, if you have an application that's ready to go, send it to Tucayo and he'll get your application process started! Palette Swap is always looking for new writers, artist, and more, so don't be shy!
I think that's enough of me for everyone, at least until next month. Check out the art galleries below on your way down to read this month's massive issue! ~FunkyK38
Wa-Gallery
Sick of waiting for Wapeach and Wawser from Nintendo? Create your own character and submit it to this gallery! We're looking for new Wa-characters from YOU, our amazing readers, and we want to see what you can come up with! All entries will be featured here in Palette Swap in a gallery in next month's special issue.
Here's what you have to do to have your art featured in the gallery:
1. Create a new Wa-character from your imagination! Use whatever medium you like: Photoshop, crayons, markers, watercolor, etc. Please remember that your art MUST comply with The 'Shroom:Manual of Style on strong content, so please don't include anything that goes against these guidelines.
2. Send the completed art to me along with your username and a short explanation of your character (if it's not already stated in the art). Your art must be in my inbox no later than 11:59 p.m. EST on June 15th to be featured in the gallery.
3. Watch as your new character is featured in the gallery for next month's issue!
Micro-games Ad Gallery
Times are tough for Wario. Trying to compete with the App Store is difficult! That's why he needs your help to advertise his microgames! Create an advertisement for your favorite microgame that Wario can use to showcase his products, and make more money!
Here are the instructions:
1. Create an advertisement for a microgame from one of the WarioWare games! Use whatever medium you like: Photoshop, crayons, markers, watercolor, etc. Please remember that your art MUST comply with The 'Shroom:Manual of Style on strong content, so please don't include anything that goes against these guidelines.
2. Send the completed art to me along with your username and which game your chosen microgame is from. Your art must be in my inbox no later than 11:59 p.m. EST on June 15th to be featured in the gallery.
3. Check out the gallery next month to see your ad featured!
Section of the Month
34 votes, everyone, that's awesome! In a big victory, it's Yoshi876 (talk) with "What's on the Box?" talking about Mario Kart 8 Deluxe! Congratulations! Thanks to everyone who voted, and as usual, keep it up!
What's on the Box?
Hello readers, and welcome back to What's on the Box? Despite having written this section several times, I had never covered a Donkey Kong boxart, I'd also never covered a Game Boy Colour boxart. So, I put two and two together, and give you the Japanese boxart of Donkey Kong GB: Dinky Kong & Dixie Kong, otherwise known as Donkey Kong Land III on Game Boy.
The boxart features Dixie and Kiddy (not Dinky) Kong, as well as a Krumple and two Kocos .
Other than that, there's nothing really to point out. Kiddy Kong and the Krumple are on a pier, so they're probably in the world of the game, if not the first level: Red Wharf. This is strange, however, as none of those enemies actually appear in that level. It would have been better to have gone with a Kobble as those enemies actually do.
Other than that, there's nothing else to really point out. They're mountains in the background, and everyone seems to be having a jolly old time. Everyone apart from this writer who seems to have been unable to provide you with an interesting section.
So, what I'm going to do here is offer some improvements to this incredibly boring boxart. Considering that water features in about half of it, maybe scrap one of the Kocos and put in Enguarde, especially since Animal Buddies were a big part of the original Donkey Kong Country games. Another improvement would be to have Baron von Roolenstein coming over the mountains, so it's not just a bland background. Also, get rid of the Color logo in the bottom left, and move the Rareware logo there, I don't see why the word "color" needs to feature twice on the boxart.
Ongoing Fan Projects
Hello guys, welcome to the Ongoing Fan Projects. What I do here, is provide links to all of the updated art threads of the past month. Our Fan Creations board on the forums has lots of different kind of sections though, some of which don't appear here, so do check it out.
| User | Thread | Description |
| --- | --- | --- |
| Meta Knight | Meta Knight's stuff | A thread where Meta Knight shows off some art that he has created. The recent update is a drawing of a planet, which I'm going to guess is Saturn. |
| Turboo | turb's chair thread | A thread where Turboo shows off various drawings of chairs that they have done. However, this month Turboo isn't the only contributor, other community artists have also drawn their own chairs, including Nabber and Anton. |
| Bad Uncle Rupee's Ashen Rupeeland | Nano's Drawings. | A thread where Bad Uncle Rupee's Ashen Rupeeland shows off some art that they have done. The recent update is a drawing of Fawful. |
| J-Fred | Super Pink Gold Mario 64! (Mario 64 texture hack) | A thread where J-Fred shows off a texture hack that he has one with another person. |
| Chef Kawasaki | TPG's Art Thread (now with icons) | A thread where Chef Kawasaki shows off some art that he has done. Recent updates include 3D drawings of Bowser, and a recoloured Broggy, and a hand-drawn picture of a dove. |
| Niiue | Niiue's Sprites | A thread where Niiue shows off some sprites that he is making for a fangame. The recent updates include one of the characters, and some improved sprites from Paper Mario: The Thousand Year Door. |
| Smiley the Hun | Sketch dumps | A thread where Smiley the Hun shows off some art that have created. The recent update is drawings of various characters from games and TV. |
| Fawful & Cackletta | FTG's art thread | A thread where Fawful & Cackletta show off some art that they have done. The recent update includes various Paper Mario characters. |
| krakelak | krakelak's Art Thread. | A thread where krakelak shows off some amazing pieces they've done. Seriously, click the link, you won't be disappointed. |
| Alex95 | Alex95's Power Master Thread | A thread where Alex95 shows off character artwork for an game he's making. Updates include more characters, enemies, and bosses. |
| Koopd Guy | Koops' Fanmade Paper Mario: plot twisted thread. (Sprites and explanations too). | A thread where Koopd Guy shows off some artwork for a Paper Mario fangame that he is writing. The artwork is of partners, and other NPCs. |
| J-Yoshi64 | J's Mario Kart concepts | A thread where J-Yoshi64 shows off some concepts of ideas he's had for the Mario Kart series. Examples include new Karts, tracks, and a roster. |
Take Cover!
Written by: Henry Tucayo Clay (talk)

HI, readers! I'm your knightly Statistics Manager, Tucayo, here with your monthly dose of Take Cover! As you may have noticed, I have been featuring two songs instead of three for a couple of months now, the reason why I'm doing this is so I don't exhaust my list so quickly, but to make up for there being one less song I'm bringing you more information about the other covers.
This month we'll take a bit of a melancholic theme with two great ballads originally by British artists covered by Americans. That's quite the specific theme, but believe me, the covers won't disappoint you. Our first song is Mary J. Blige's cover of Sir Elton John's Sorry Seems to Be the Hardest Word. Elton John released the original version 41 years ago, in 1976, as part of his Blue Moves album, which has been one of his most critically-unsuccessful albums, with this song being often signaled as its only salvageable track. Mary first covered the song 28 years after its release for the second Bridget Jones movie; however, at least in my opinion, her best version of the song is the one you see to your right, performed live at the 2004 MOBO Awards[1], where she shows off her amazing vocals even better than in the studio version. Sorry Seems to Be... has been widely covered throughout the years, with there even being a Spanish version. And I'll also give you a Top Gear clip for good measure and because it's relevant.
Next up we have one of the most played and most covered songs of all time, the 1965 timeless classic, Yesterday, by the Beatles, covered by another of the greatest artists of all time, the Chairman of the Board, Frank Sinatra. First let's talk a bit about the song itself, which even though it was released as a Beatles song on their Help! album, the only member of the band to appear on the track itself is Paul McCartney; in fact, the song was entirely written by Paul, but because of an agreement with John Lennon predating the Beatles, it was credited to Lennon–McCartney. Paul came up with the melody for the song while dreaming, and he was worried that he was subconsciously taking inspiration from another song, but as it turned out, it was not the case. After recording it, the three other members of the Beatles opposed releasing the song as a single in the UK and instead opted to release it first in the US. And from then on, it has been covered over 2,200 times by a wide-ranging array of artists, from Elvis (here heard alongside Hey Jude) to Boyz II Men. The version featured here is Sinatra's as included in his 1969 album, My Way, which was comprised entirely of covers; one would have thought a cover of the Beatles by The Voice himself would be the highlight of this album, but as we all know, the most famous song ended up being a different one.
This week we lost
Soundgarden
and
Audioslave
lead singer,
Chris Cornell
. The news came after this issue's deadline so I was not able to fully feature one of his many terrific covers, but here he is with an acoustic and heartfelt cover of
Led Zeppelin
's
Thank You
.
Enjoy
.
Game Soundtrack Reviews
Written by: Lord Bowser (talk)

Greetings, 'Shroom writers. This is Lord Bowser here with something new for you folks today; in an attempt to revive Palette Swap some more, I'll now be writing for Game Soundtrack Reviews! I hope you guys enjoy this section as much as you enjoy my other four sections, and please try to give Palette Swap some much-needed love and attention ;~;
Kirby: Planet Robobot
Released
June 10, 2016

Developer
HAL Laboratory, Inc.
Composers
Hirokazu Ando, Jun Ishikawa
Anywho, let's get that bumbling intro out of the way. The debut game for my section will be the game I based my forum theme this past month on; Kirby: Planet Robobot. Please be aware that from this point on, there will be major spoilers for this game, so if you are offended by such material, head out now while you still have the chance.
---
Kirby: Planet Robobot ranks among my all-time favorite games for many reasons; the gameplay, the level design, the gimmicks, the lore, and last but certainly not least, the soundtrack. K:PR's soundtrack is richly high quality, especially for the 3DS, which isn't exactly known for its superb soundtracks. The title theme already starts off very well, as it has a much darker and suspenseful undertone than those of previous Kirby games, such as Return to Dream Land or Triple Deluxe. The title theme is also an excellent song for other reasons, which will be elaborated on later.
Moving on, the Robobot Armor theme is another pretty strong track, especially given the fact that it is played near the beginning of the game and repeats throughout. K:PR follows the tradition started by Return to Dream Land in that Kirby has a unique powerful gimmick, relating to his abilities, often used throughout the whole game; in RTDL, it was Super Abilities, in Triple Deluxe, it was Hypernova, and in K:PR, it's Robobot Armor. This is likely the best track of the three gimmicks (though RTDL could possibly give it a run for its money), as it conveys a feeling of hi-tech power and seriousness.
As is with most recent Kirby games, there's a high amount of fanservice in the form of references to older games, and K:PR is chock-full of them in the form of stickers, level designs, and of course, music. The first such occurrence of this is in World 1-4, where a remix of Sand Canyon 3 from Kirby's Dream Land 3 plays. This was a highly praised song by many long-time Kirby fans, including myself, so hearing this song return from a nearly-forgotten game and remastered beautifully like this was great to hear. Other good returns include the Core Kabula theme, which comes from Kirby's Dream Land; the Factory Inspection theme, which comes from Kirby 64: The Crystal Shards; the World 5-3 theme, which is a remix of Dark Castle from Kirby's Dream Land 2; and my personal favorite, the Dark Matter Clone theme, which is a remix of Dark Matter's battle themes from Kirby's Dream Land 2. In other games, excessive fanservicing can get tiresome or even annoying, but the Kirby series seems to have a magic touch, as the fanservicing is done in such a way that all fans can truly appreciate it, even myself.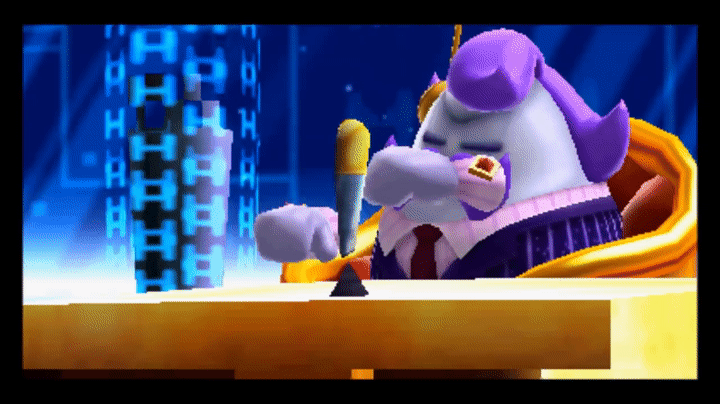 Of course, K:PR isn't just remasters upon remasters; there's quite a few awesome original tracks here too. Lively Street, the main level theme of World 2, is a very fitting track, as it obviously tries to be reminiscent of a small town; this is fitting because all of World 2 is a subtle EarthBound reference, a game that also features small towns as important settings. In a similar vein, City of Sound, the main level theme of World 5, also gives off big-city vibes, as obviously implied by the title. However, not only is the song catchy, the buildings in the background of the levels in World 5 flash lights in tune with the song, which is a very neat touch in my book.
World 6, however, really hits the point home that this game has an excellent OST. The two main level themes of this world, Haltmann Works Co. and Virtual Dimension, are excellent tracks that really convey the importance of this world. The first track seems to tell the player that this is the final stretch, and seems to both encourage yet intimidate them at the same time. The second track sounds like a random mish-mash of technological noises upon first hearing it, but once you start listening to it more, it sounds almost frightening, almost as if you were trapped in some sort of digital hell and must escape. And finally, one of the best tracks in the entire game in my opinion, plays in the second-to-last main level in World 6; One Last Shot. The song is named like so, because this game follows another tradition started by RTDL; an endgame level which is essentially annihilating everything in your path using the game's gimmick, which in this case is the Robobot Armor. This track is emotional in the sense that it provides you with a boost in determination, like a sort of "You got this!" feeling, something much needed at this stage of the game as the final boss is imminent.
The final themes heard in the main game of K:PR are among some of the top tracks not just in the game, but in the series overall in my view. President Haltmann's battle theme is all over the place musically, switching between wildly different instruments such as violins, pianos, and guitars frequently. This is meant to represent Haltmann's insanity after losing his daughter, Susie, to a mysterious accident, and I feel like it captured that emotion perfectly. Later on, when Kirby copies the Halberd using the Robobot Armor in order to face off with Star Dream, one of the most epic songs I have ever heard in a Kirby game plays; ROBOBOT HALBERD MODE displays the sheer awesomeness of Kirby literally becoming a giant starship in order to fight a sentient robot bent on universal destruction, and really sets the stage for the upcoming dogfight. However, the brilliantly-composed songs don't stop there. At all.
Kirby, now in full Halberd mode, heads for the stars in order to face off against Star Dream, a maniacal robot bent on destruction for the prosperity of its creators, the Haltmann Works Company. Its first-phase battle theme, Mind in a PROGRAM... It's simply astounding. This theme is definitely the best song in the game and in the series in my opinion, and ranks near the top across all video games for me. It's a mix of beauty, intimidation, encouragement, suspense... It just truly captures just how high the stakes are for Kirby, and tells us that Star Dream isn't messing around or pulling any punches like previous final bosses would. Next comes Star Dream's second-phase battle theme, Virtual Space Manipulator. Veteran Kirby fans may note a resemblance this song has to 02's battle theme from Kirby 64: The Crystal Shards, and with good reason too; Star Dream at this point has taken on an appearance bearing a striking resemblance to 02, as it has fused with the Access Ark to become a sentient planet. This theme is just plain scary, and really serves to intimidate the player into thinking "Can I really stop this...?", a feeling quite rarely felt in the relatively-easy Kirby series.
Finally, however, comes Star Dream's third-phase theme. After damaging the Access Ark and revealing the hidden Galactic Nova underneath, Star Dream puts up one last-ditch attempt to destroy Kirby, all while the Vagrant Counting Song of Retrospection plays. Remember the title screen theme, and how I mentioned it was an excellent song for other reasons? Those reasons are explained here; this song is a heavy remix of the title screen theme, though with references to the Heart of NOVA theme from Kirby Super Star mixed in. While this is still underneath Mind in a PROGRAM in my book, this song is still a masterful composition, featuring fanservice, originality, and intensity; a truly great combination.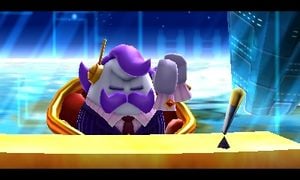 I've gone on long enough gushing about K:PR's OST, so I'll end it off with one last song. Once the player earns 100% completion on their save file, they unlock a special ending cutscene, a staple of recent Kirby games. However, K:PR diverges yet again from the standard formula; Kirby ending cutscenes are usually a happy celebration featuring the main characters from the game, though K:PR changes that completely. It is instead titled Exclusive Performance Video, and consists of Susie singing the recurring "The Noble Haltmann" song from throughout the game privately for President Haltmann. This is a bit of an almost somber performance, as Haltmann simply silently claps at the end without any sort of fanfare, but this is still a fitting ending video for a game as relatively dark as K:PR is compared to the rest of the series.
And with that, I conclude my review of Kirby: Planet Robobot's soundtrack. I hold it in very high regard to this day, and still consider it among one of the top game soundtracks I've come across. Tune in next month here at Palette Swap, where I'll cover some more excellent gaming songs. I hope you enjoyed my debut section, and thank you for reading!
Packy's Songs of the Month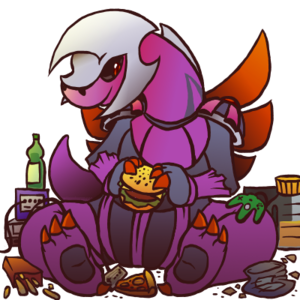 Hello all! It's so great to be back with you again, and I'm super excited to get a new music section underway after... well, you know, after only one section of Packy's Packtastical Music Adventures... whatever it was, mother of god that was a long complex name... last year! BUT I'M BACK, AND BETTER THAN EVER! This time, I will be sharing my "ten favorite songs of the month" each month to you, the reader, in hopes that you either: (1) need some tunes to listen to, or (2) want to be more like Packy. Because, I mean, who wouldn't?
... Wow, that's a lot of crickets.
Anyway, I am extremely excited and happy to finally get this show on the road! For these lists, I will provide the necessary information (cover art of the single or album the song is from, the band/artist name, the album's name, a link to the song, where the band is from, the genre, the label, and the year it was released), along with my general thoughts of the song. I hope you all like these songs! My hope is to provide songs that people will love and appreciate. If any of you have any suggestions for songs for me to listen to, shoot me a private message over on the forums! I hope you enjoy the section; I will see you all next month!
Red Vox

With the follow-up to 2016's What Could Go Wrong album, titled Another Light, on the way at some point in the coming months, Vinny (Red Vox's frontman, and, yes, of Vinesauce fame) has teased fans with two singles in the past few months - "From the Stars", and this one, "In the Garden", which was released on March 17th of this year. As "From the Stars" and "In the Garden" have shown, Vinny and his group have dived into a more experimental and polished style, one that contrasts the heavy guitar-driven sound that filled What Could Go Wrong. "In the Garden", at the moment, is probably my favorite of the two; it's filled with intricate lyrics, some fantastic drums, a guitar and bass-line that perfectly complement each other, and, of course, Vinny's gorgeous voice that makes you forget the times when he screams Teletubbies sounds when frustrated.

Another Light
In the Garden
United States
Indie rock, alternative rock
Independent
2017
Ben Folds Five

I've long been a Ben Folds fan, and I've listened to just about all of his albums, outside of two Ben Folds Five albums: Ben Folds Five and The Sound of the Life of the Mind. I finally rectified the latter just at the end of April, giving a listen to the group's 2012 record, their first since 1999. The album is a perfect example of Ben Folds' unique style, where he largely showcases his arsenal of being able to write, largely, two specific types of songs: incredible ballad-y songs, often times some that are outright gorgeous, and songs that take "Weird Al" Yankovic's humor to the next level. "Draw a Crowd" is the latter. The song starts out strangely, with the trio delivering an odd array of harmonies, but the song eventually cuts into your typical piano-driven, heavy-drum and guitar tune that are accompanied by Folds' very real-world vocals. Ultimately, the song's charm and it's comical twist comes in the chorus, where Folds proudly exclaims, "Oh-oh, if you're feeling small, and you can't draw a crowd, draw dicks on a wall!" It's a fun one, and definitely one of the highlights off this album.

The Sound of the Life of the Mind
Draw a Crowd
United States
Alternative rock, piano rock, power pop
ImaVeePee Records
2012
Foster the People

So, after teasing fans with an ambiguous countdown on Twitter, Foster the People released three songs from their upcoming album on an EP titled III. Foster the People, which went through a few significant changes in terms of their sound between their first two albums, Torches and Supermodel, again changed their style for III; this time, they tackled a more pop-oriented sound which... I don't know, I just don't really care for a lot. "Pay the Man" and "Doing It for the Money" are a departure from the typical indie, neo-psychedelia sound that made them popular with "Pumped Up Kicks" back in 2010, and admittedly, I am not a fan of these two new tracks at all. The cream of the crop, easily, is the third track, "S.H.C.". The longest track on III, "S.H.C." sounds similar to the song production heard on Torches (which is, in my opinion, the best Foster the People album), and features a fantastic guitar riff, along with Mark Foster's signature psychedelic and slightly high-pitched voice. It's quickly climbing up my list of favorite Foster the People songs, and, in my opinion, it's the best Foster the People song from this upcoming release - here's to hoping there are more like it!

III
S.H.C.
United States
Indie pop, electronic, indie rock, indietronica, neo-psychedelia
Columbia
2017
Gorillaz

Gorillaz is a group that I have a strange relationship with. I truthfully have not heard very many of their songs, and I was introduced to them by their most popular tracks - "Feel Good Inc." and "Clint Eastwood". Neither song I particularly cared for when I first heard them, and I gave up on Gorillaz for about a year or so, before I discovered Vinny from Vinesauce's Spotify playlist. There were a handful of Gorillaz songs in the playlist, so I gave them all a listen; "Revolving Doors" was the first of the Gorillaz songs, and oh my lord, it's perfect. Again, I have not listened to much Gorillaz, so I'm not sure how it compares to their other tunes, but the only review given on Wikipedia states that it is "unlike anything Gorillaz has ever done before." The tune features very subtle and gentle guitar work, vocals that sound like they drone-on (which are backed up with some deeper vocals in the chorus, which are brilliant), and, like, truthfully, there's an instrument in this song that I have zero idea what it is. It almost, crudely, sounds like a whoopee cushion, but I know for a fact it probably isn't. Anyone that could help me out with that would greatly be appreciated. Either way, this song is fantastic. It's become one of my favorite songs of the 2000s, for good reason.

The Fall
Revolving Doors
United States
Electronic, indie rock, trip hop, folktronica, lo-fi
Parlophone, Virgin
2011
Depeche Mode

I have dabbled in Depeche Mode before, but I've never been successful in finding tunes that have stuck with me; that much has at least changed in the past week, courtesy of our dearly beloved Fake News' director MrConcreteDonkey showing me a list of the top 200 songs from the 1990s, and the result is "Enjoy the Silence" being one of the first songs from that list that I gave a listen to. Released as a single in January of 1990, "Enjoy the Silence" is reminiscent of the new wave era of the 1980s, but dives more into Depeche Mode's signature synthpop and electronic sound that made them popular worldwide in the latter years of the 1980s. Truthfully, this is a strange comparison to make, but the instrumentation in this song remind me of something that could come from the Metroid Prime games, and I love it. David Gahan's soothing vocals are almost haunting in this tune, and Gahan's performance of the lyrics, "All I ever wanted, all I ever needed, is here in my arms," is utterly brilliant and sincerely heartfelt; despite the theory that these lyrics are actually referring to Gahan's heavy heroin addiction at the time.

Violator
Enjoy the Silence
Britain
Synthpop, dance-pop
Mute
1990
Led Zeppelin

One of my biggest gripes about my taste in music is the fact that I hear SO MUCH Led Zeppelin, yet I am so incredibly unfamiliar with some of their lesser-known hits, and definitely their deep album cuts. I tried to fix that last month by listening to 1979's In Through the Out Door, the final album released by the group before the death of drummer John Bonham a year later. The album is based on the turmoil that was occurring between the band members at the time, and ultimately, did not feature much influence by guitarist Jimmy Page and Bonham due to their ongoing battles with heroin and alcoholism, respectively; because of this, the record had a much greater influence by bassist/keyboardist John Paul Jones and vocalist Robert Plant. Although the album comprises of two of Zeppelin's most well-known tracks in "Fool in the Rain" and "All My Love", the best tune on the record is "Carouselambra". "Carouselambra", which clocks in at just over ten minutes (the second-longest song the group ever recorded), features heavy usage of John Paul Jones' synthesizers, while being complemented by Page's stellar guitar work, Plant's abrasive and sometimes incomprehensible vocals, and Bonham's signature groovy drums. Admittedly, the song has become my favorite Led Zeppelin track in their diverse catalog.

In Through the Out Door
Carouselambra
Britain
Hard rock
Swan Song
1979
Kraftwerk

God, why hadn't I listened to Kraftwerk sooner? Perhaps the most underappreciated group of all time, a group that The Observer once stated, "no other band since the Beatles has given so much to pop culture." Kraftwerk made their impact in the 1970s with the release of "Autobahn", and became widely known for popularizing electronic music and are considered the innovators of the genre (a genre that, nowadays, a group like Daft Punk rules). Admittedly, I've yet to listen to Autobahn, and, thanks to my Discover Weekly playlist on Spotify, I finally gave Kraftwerk a listen - specifically, "Pocket Calculator", from their 1981 album, Computer World. It's... really hard to describe this song, truthfully. It is very uplifting and kind of goofy, with quirky vocals from Ralf Hütter and little beep-boops from their "pocket calculator" that essentially make-up the song.

Computer World
Pocket Calculator
Germany
Electronic, synthpop
Kling Klang, EMI Electrola, Warner Bros.
1981
Duran Duran

My all-time favorite Duran Duran song, one that I consistently revisit every now and then and I still love so much. From the same album that produced three of Duran Duran's most popular tracks - "Save a Prayer", "Rio", and perhaps their most well-known, "Hungry Like the Wolf", "The Chauffeur" closes one of the group's finest works, all the while becoming one of their strangest songs in their five-decade long tenure. The track, which features a relatively NSFW music video that I did not link to, is a bit of a slower tune compared to the rest of the tracks on Rio, and instead, features vocals by Simon Le Bon that kind of drone-on, backed by very simple, yet hypnotic instrumentation. Ultimately, what makes this track so psychedelic and different from other Duran Duran tunes is the use of the ocarina, an instrument that most definitely does not get enough proper use in music; it is provided by Le Bon.

Rio
The Chauffeur
Britain
New wave, synthpop, art pop
EMI/Capitol
1982
Foxygen

An album I listened to on a whim a few months back after I saw it mentioned on Twitter, Foxygen is an indie rock duo who released their fifth album, Hang, back in January of this year. The record is incredibly strong and is pretty adventurous right from the get-go with the album's opener, "Follow the Leader". However, the album's highlight is its third track, "Mrs. Adams". A song that perfectly represents Foxygen's love for baroque pop, "Mrs. Adams" features the gorgeous and raspy vocals of Sam France; vocals that, truthfully, I have compared to as a mixture of Mick Jagger and David Bowie. The song admittedly sounds Bowie-esque, but finds itself experimenting in places; specifically, there is a piano section near the end of the song that eerily reminds me of Billy Joel. Either way, this is an album I found myself recommending to others shortly after its release, and I am really glad that I did. This is an incredibly underrated duo with loads of talent, and "Mrs. Adams" is the best representation of what this duo is capable of.

Hang
Mrs. Adams
United States
Baroque pop, glam rock
Jagjaguwar
2017
Culture Club

Anyone remember the time when Culture Club announced their first album in nearly fifteen years back in 2014? Yeah, I remember. Fast-forward three years later, it's still not here, and I'm STILL salty about it. Upon announcing the yet-to-be-released Tribes album, Culture Club, back with the same four faces from when they formed in 1981, released "More Than Silence" as the first single from the new record. When the announcement was made that Culture Club was returning with a new album and had just released a new single, I was ecstatic; I had just recently heavily gotten into the group, and it was perfect timing. Suffice to say, I became obsessed with this song upon release but kind of moved away from it as the months continued without an album; however, revisiting this song the past month has reminded me just how great it is. Boy George, known in the 80s for his androgynous appearance and soulful voice, has developed an incredibly raspy voice, a departure from the 1980s, and it works very well on this track; the track, meanwhile, sounds like something that would come from U2. The only question remaining, however: how much longer do Culture Club fans like myself have to wait?

Tribes
More Than Silence
Britain
Pop
Virgin, Epic
2014