The 'Shroom:Issue 119/Fake News
From the Super Mario Wiki, the Mario encyclopedia
Jump to navigation
Jump to search

Editorial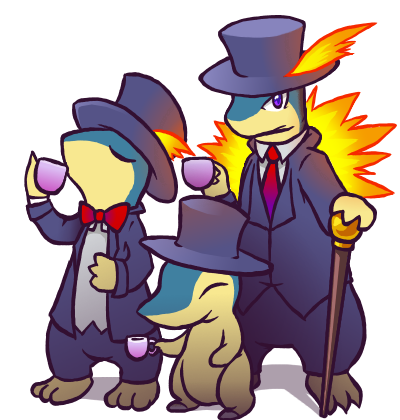 Written by:

MrConcreteDonkey (talk)
Welcome once again to the Fake News, which I hope provides you with some sort of escape from the actual fake news that isn't about Mario - or, as I call it, the Fake Fake News. We were doing it before it was cool. Remember that.
Congratulations to Mr. Squid (talk), who is joining us to write the Travel Guide!
It's February, guys! The official month of love! Valentine's day is in February. So remember - if you love someone and don't tell them in February, you have to wait an entire year! That's one whole year closer to the inevitable heat death of the universe - and you'll have to do it before then! So don't waste time!
Section of the Month
FAKE NEWS SECTION OF THE MONTH
Place
Section
Votes
%
Writer
1st
Police Blotter
23
34.33%
Lord Bowser
2nd
Cooking Guide
20
29.85%
The Pyro Guy
3rd
TV Tomorrow
11
16.42%
Quizmelon
---
News Report
---
A look at the weather for the upcoming week.
[read more]
---
A fitting tribute to a true pillar of the community.
[read more]

Hello everyone, and welcome back to Sport Report! I am your host, Alex95, here to give you the play-by-play on the current sporting event in the Mushroom Kingdom.
Coming off of both Basketball and Dodgeball, the next sporting event is Volleyball! The match will be decided once a team reaches 15 points and it will take place on Koopa Troopa Beach. Now let's meet the players! Mario, Luigi and Yoshi will be on the blue team with Peach, Donkey Kong, and Wario on the red team.
Mario starts off with the ball and gets ready to serve. He lobs the ball to the right and Wario goes to recover it. He passes it to Peach who fires it over the net, away from the other team! Yoshi manages to save the ball with that long tongue of his, however. The two teams toss the ball back and forth until DK goes for a spike, knocking Mario off his feet as he goes to recover it! The teams continue to pass the ball between each other until Luigi notices something… the other team is on one side of the court! Luigi goes for a spike on the other half and scores a point for his team! The players reset and Mario lobs the ball. Peach tosses the ball to Wario who then goes for DK. DK spikes the ball at Mario, who gets knocked back a bit but was able to stay standing this time. Luigi and Yoshi knock the ball back over the net and, uh-oh… Wario calls up his special move! Wario covers the field in a noxious fume, I can't see anything! Wario punches the ball over aaaand the ball gets saved! But by who? The smoke clears and Mario appears to be the one to have saved it! Luigi goes for another spike, but the ball gets returned immediately, throwing the blue team off guard! The score is now 1-1 and Peach starts the next round with the ball. Several back and forths happen, a spike every now and then, and Mario getting hit with a Green Shell. Yoshi goes for a spike, but Wario is right there at the net and deflects the ball with his rump, scoring a point for his team! Peach lobs the ball and Mario spikes it, fusing the ball with a Green Shell and knocking Peach over. The princess calls for her special move and sends hearts toward Luigi, infatuating him. Mario, however, manages to avoid them and saves the ball Peach fired! The ball gets passed around and Luigi goes for a spike. DK tries to save the ball, but is unable to reach it in time, meaning Luigi scores a point! Score is now 2 all. Luigi starts off with the ball and lobs it over. Once Mario receives the ball, he goes for a spike, but Peach is able to recover it! Oh, now the tide's coming in, dropping Coins and Green Shells all over! In the midst of the commotion, Yoshi manages to score a point for his team! Once the round gets going, Mario calls up his special move, sending a flaming volleyball at the other team! The red team isn't able to react quick enough and Mario scores a point, making it 4-2! Luigi starts off the round and several passes are made until Wario calls up his special move again! Once again, the field gets covered in gas, but this time no one was able to save the ball, making Wario score a point! DK then starts with the ball and lobs it at Yoshi. A few back and forths later and Mario & Luigi appear to hit the ball at the same time, scoring a point past Wario! Yoshi starts with the ball and lobs it. Peach spikes it, but Mario is able to recover it. As Luigi goes to hit the ball, Wario tosses a Green Shell at him, making Luigi miss and the red team scores a point! The score is now 5-4!
Wario starts with the ball and the players go back and forth and back and forth…and back…and forth…*snort* Hm? Oh, uh… Luigi lobs the ball up, but Peach is there at the net and blocks it, causing the ball to plummet back down and she scores a point! As soon as he's able to, Wario uses his Special Move, covering the field in gaseous fumes once again. The blue team scatters around, trying to cover as much ground as possible. But once the ball's on his side of the court, Mario counters with a Special Move of his own! He fires, but Peach manages to hang on and recover the ball. As she passes to Wario, Mario fires a Green Shell hoping to knock him out of the way, but the shell didn't get there in time and Wario passed the ball to DK. The tide comes in and both teams pick up a Green Shell. Mario tries to fire his as DK fires the ball to mess him up, but he fired too late ultimately causing Mario to miss recovering the ball, letting DK score a point! The red team pulls ahead with the score at 5-6! Once the next round starts, DK tries to do the same method on Mario, but Mario manages to lob the ball before he gets hit. DK goes for a spike and Mario runs up to the net to try and block, but he was too late and DK scored another point! The next round begins and Wario almost immediately scores another point by letting the ball drop close to the net on the blue team's side. Peach goes for a close shot as well and Yoshi tries to recover it, but comes up too short and Peach scores a point! Mario uses his Special Move, but is unable to get a point out of it. The tide comes in and the players go for the shells and coins as DK uses his Special Move. DK shakes the ground and the blue team goes flying, allowing DK to score an easy point! The score is now 5-10, with the red team making an amazing comeback!
Once the next round starts, Mario fuses his ball with a Green Shell and manages to score four points due to the gathered coins, making the score climb to 9-10! The blue team isn't out of this yet! Several back and forths later, the tide comes in and the players go for the coins and shells. DK readies his Special Attack and the blue team prepares for it. They try to jump, but were unable to at the right time, making DK score four points with his added coins! The red team now needs one more point to win, can the blue team make a comeback?! Peach tries to fire a shell at Mario, but, heh heh, ends up hitting her partner, DK, instead! She is able to recover the ball and the game continues. Mario calls on his Special Move and manages to score three points, bringing the score to 12-14! It's going to be close, everyone! Luigi starts with the ball and the next match begins. The tide comes in and there are shells flying everywhere as the teams try to score their final points! Yoshi jumps up and goes for a spike aaaaand manages to score some points! With the coins they collected from the tides, is it enough? The score is now 16-14, meaning the blue team wins! It was looking pretty bad for them despite a great start, but they managed to pull through! Congratulations to the blue team!
…Well, that was probably the most boring Sport Report I've done so far. But hey, they can't all be exciting. At least the ending was salvageable. Hopefully next month's Hockey match will be more engaging as we round out the Mario Sports Mix matches in March. Until then, this is Alex95 signing off! See you around!

| Day | Predicted | Temperatures | Forecast | Chance of Precipitation |
| --- | --- | --- | --- | --- |
| Monday | | High: 76 Low: 63 | Warm with sunny skies | 0% |
| Tuesday | | High: 75 Low: 63 | Warm and breezy, very clear | 0% |
| Wednesday | | High: 76 Low: 65 | Clouds moving in, calm winds | 10% |
| Thursday | | High: 72 Low: 60 | Cloudy early with small chance of showers | 20% |
| Friday | | High: 72 Low: 58 | Showers likely with high winds | 50% |
| Saturday | | High: 70 Low: 57 | Rain starting early and continuing into Sunday | 80% |
| Sunday | | High: 70 Low: 58 | Stormy and windy. Cooler temperatures expected. | 100% |
Greetings, viewers, coming to you from MKBC6, with your Weather Report.
The forecasts for this week are warm with rain showers moving in at the end of the week. Skies are looking clear on Tuesday for the Sweethearts Festival being held in Castle Square, and the night sky will be clear for the fireworks display at the end of the festival.
Conditions will be less than ideal for the mini MarioKart tourney being held by Princess Daisy on Thursday, but spectators should not have to worry about rain on the courses. Partly cloudy skies are expected for Peach Beach, but only a small chance of showers. Showers and storms will continue through next week.

This month, we will be bringing you the weather forecast for the Hoops tournament beginning next week. Hosting this month's exhibition is Bowser, thus we will be bringing you the forecast for the Koopa Kingdom Sports Complex as well as the schedule of events.
| Day | Predicted | Temperatures | Forecast | Chance of Precipitation |
| --- | --- | --- | --- | --- |
| Monday | | High: 78 Low: 67 | Hot and dry. Very sunny. | 0% |
| Tuesday | | High: 79 Low: 70 | Dry and still. Temperatures rising into the afternoon. | 0% |
| Wednesday | | High: 82 Low: 75 | Hotter with wind. | 0% |
| Thursday | | High: 85 Low: 78 | Chance of rain, winds will be stronger. | 50% |
| Friday | | High: 86 Low: 76 | Hot and sticky. Slight chance of showers. | 30% |
| Saturday | | High: 87 Low: 75 | Clouds early, sunny skies later. Hot and windy. | 10% |
| Sunday | | High: 86 Low: 78 | Sunny and windy, very hot. | 0% |
Conditions at the complex will be very dry and hot, and tournament coordinators are advising fans to dress cool, drink plenty of water, and wear sunscreen. The only indoor court is Wario Factory, although vendors are preparing for the heat at all of the venues.
Here is the schedule of events for the week of the tournament:
-MONDAY
Open practice for entrants. Admission to any court except Wario Factory is free.
Team selection for mini-game matches.
-TUESDAY
Exhibition matches with randomized teams. Main courts are Jr. Street and Wario Factory.
Tourney tree announced.
-WEDNESDAY
Tourney matches start. Main courts are Koopa Beach and Jr. Street.
Mini-game match schedule announced.
-THURSDAY
Tourney continues. Matches move to Wario Factory.
-FRIDAY
Tourney concludes. Main court is Bowser's Castle.
Trophy ceremony at Bowser's Castle.
-SATURDAY
Mini-game matches start. Main courts are Wario Factory and Koopa Beach.
Exhibition matches for non-participating teams. Main court is Jr. Street.
-SUNDAY
Mini-game matches finish. Main courts are Jr. Street and Koopa Beach.

Inky Piranha Plant

It may still be early in the year, but 2017 hasn't gotten off to the best of starts. The main reason for this was not long after completing last month's obituary my beloved pen chief ink giver, Inky Piranha Plant, had sadly died. The cause of death was put down to poor weather.
Inky Piranha Plant was the light of many communities, a rare sight in a sea of red Piranha Plants, and many of his fellow Piranha Plants paid their respects to him. One said, "We used to play tennis with him, well I say we used to play, me and my friend used to hit the ball, and he'd just spit ink at us. Come to think of it, he was kind of a jerk!" Another well-wisher said, "We hated him coming out to events, he always spat ink everywhere, and we had to hire some schmuck to clean it all up!" Petey Piranha said, "I stood on him once. I told him it was an accident, but to be honest I did it on purpose." Clearly Inky Piranha Plant was a pillar of the Piranha Plant community.
Despite his death, the Piranha Plants have refused to hold any days of mourning, one even suggested that they should celebrate instead, however, this event was cancelled when they realised that they'd still need the same schmuck to clean up after them anyhow, and they were fresh out of cash.
Inky Piranha Plant was loved by many, even if they hide their true feelings in their words. Fun fact: if you record any of the interviews and play them backwards, they actually say "Inky Piranha Plant was a great guy, and we definitely didn't hate him. Of course the local obituary writer wasn't his only friend, it's just we didn't see him much, and never attempted to, and always tried telling him that our parties were held elsewhere." Truly a pillar of the community.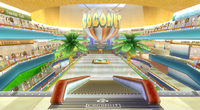 Welcome to the Travel Guide! I am writing this for the first time today! Today I will be showing you Coconut Mall!
"Welcome to the best mall in the world, where there is a sale on every day! There are many amazing shops to explore, from cafes to clothes stores and even video game shops! Coconut Mall is located on the beautiful Isle Delfino, next to the beach! So come to Coconut Mall for a wonderful day of shopping!"
The first part of the mall is the carpark. It has lots of space to park your little Mii in your little red car to run over the little red illegal kart racers (in Mario Kart). From the carpark, you can enjoy the wonderful view of the beach.
Inside the mall there are lots of nice palm trees and fancy escalators. There water fountains throughout the mall, so if you are a little baby Goomba stay away! You might drown!

There are a variety of different shops, from clothing stores to cafes, and even Mario game stores! Strangely, almost every shop has 'Coco' in its name, like Coco Burger, my favourite food shop. This café actually sells burgers with coconut in them! There is even a store that sells coconuts. It is called Coco Coco.
Coconut Mall is a popular place for residents of Isle Delfino, however many people (or Yoshis, Toads or Piantas) will go in a boat to the island to have a wonderful day of shopping. So in conclusion (though this isn't a persuasive text), I hope you have enjoyed my tour of Coconut Mall and I will see you there soon!
WARNING!
This shopping centre can be dangerous. Aside from the water fountain, there are crazy folks illegally racing karts around the mall. If you get run over, the racers and the mall staff will not go to jail. You will. For disturbing their race.

WHello once again. You find yourself reading TV Tomorrow, the only column on the 'Shroom which provides information about the TV tomorrow. (For information on TV in two days time, please check out the column TV In Two Days Time.) Naturally, it's February, so the TV schedule rambles on, with a couple of specials and films to cheer up the bored audience at home. So, as is usual, here are my top three choices on what you should watch tomorrow!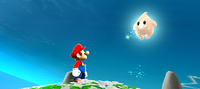 New: Let the Stars Guide Me
MKBC2, 9pm
Genre: Romantic drama
In this heart-enlightening drama, Mario, who is so often our protagonist, falls in love with Princess Peach, but after he fails to win her over, he is distraught - until one of the stars in the sky contacts him. From there, things will stem, and the first episode premieres tomorrow. This truly heartwarming romance will warm any heart that watches it.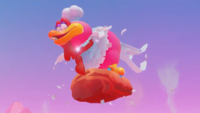 Cookin' Up
The Mushroom Kingdom Cooking Channel, most times
Genre: Cooking show
The MKCC does not have much to show but this, as it is the Mushroom Kingdom's only decent cooking show, besides that awful one with Waluigi. And Cookin' Up is in for a new series as Wingo's cousin Gordon puts his flavours into the mix as he shows you how to make pies, cakes, deadly bombs, desserts, and more. His fiery temper and exclusive flavours make him a very interesting person to watch.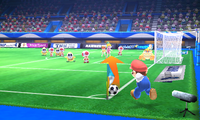 Flower Cup 2017
MKBC Sports, 5pm
Genre: Sport
The sport is back on MKBC sports, and this week it's the Flower Cup of that traditional sport football. (I'm going to get some angry mail about this, but it is NOT called soccer.) Tomorrow's first round matches include the Plucky Plumbers with star striker Mario versus the Blasting Bob-ombs, managed by that explosive personality King Bob-omb. Who'll win? Watch it and find out!
So, that's your lot for this week. Hopefully the dreariness of February doesn't depress anyone and that they can all have some fun watching TV instead. After all, what's more fun than watching TV? (Ooh, Mario Kart Wii? Yes please.) Goodbye from me.


Written by: Toadbert101 (talk)



Written by: The Pyro Guy (talk)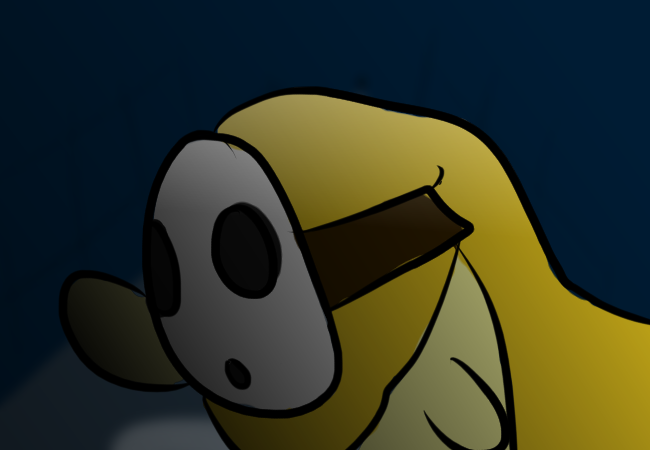 Okay, so when I was on holiday last month, I recorded a video of me making a lasagna, right? So once I finish, I hear a bunch of my fellow Shy Guys muttering about some odd jobs that need doing regarding a large Steak. So I ask around to see what the fuss is, and it turns out that some Shyentists are developing sentient meat for the new Mario extermination strats. The journalist that I am, I ask the big boss guy if I can record it for some easy material for this section; food's food, right?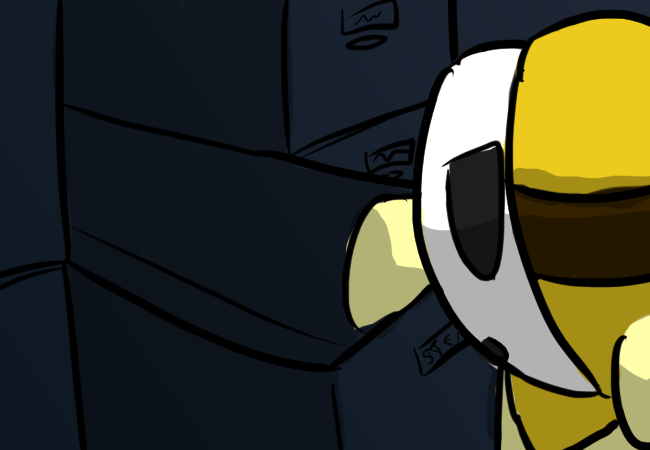 Anyhoo, he says sure, go ahead, and I set up some shots. But the stuff they were making was just... alien. Taboo, even. Like, I had to set up this entire building so I could store the creepy footage away and then open it up like that one time in X-Files. Is this like X-Files? I dunno, I haven't seen the show for a few months. You know what I mean though- the stuff in the factory was disturbing.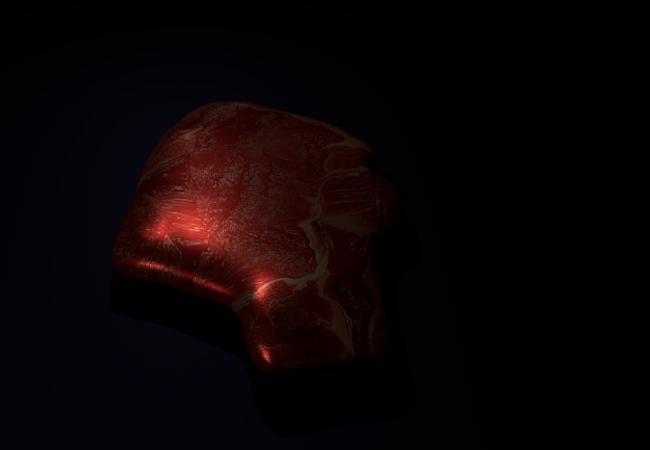 Those Steaks have a preeetty deep story behind them, aight?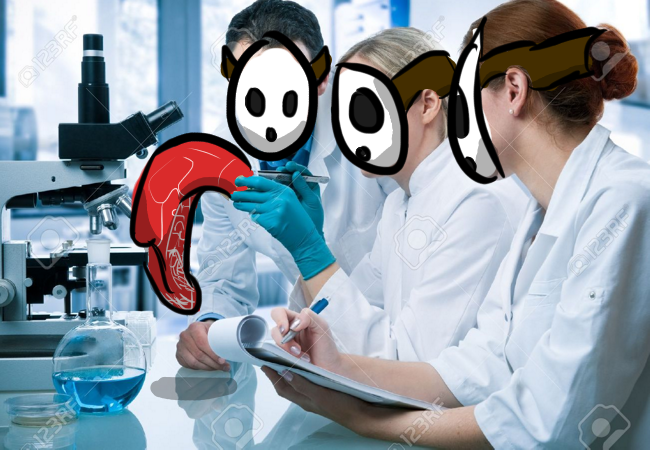 So first up; the guys in the lab weren't any kind of Shy Guy I know. For a start, they had these gloves- with fingers! Those things gave them the ability to operate this sciency stuff, like injecting the meat with experimental 'paint' they got from a factory to see if they became evil or something. Research says that the Steaks wanted to do their own thing, so they just stuck with making them move around. Secondly, who ever heard of a Shy Guy without a hood? The getup has rules, y'know, and those white coats certainly violate a couple of rules surrounding the visibility of skin. Thirdly, I asked that lot how they got to twice my height, and they said something contradictory and then tapped their forehead while smirking. That move lost me, so I moved on to the testing of the Steaks.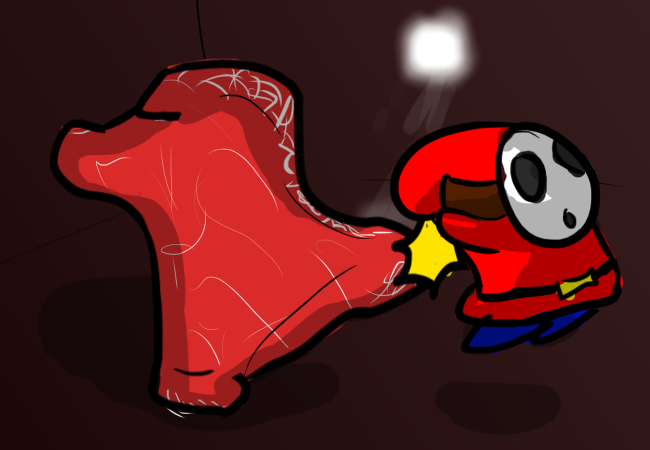 This shot was a lucky one. I happened to walk in on one of the testing rooms while they were testing the Steak, and I managed to snap this just before the test was cancelled! The story goes that the meat was afraid of knives and sharp objects, and the guy claimed to be a master swordsman. The aftermath was not pretty, though. While the guy with the bruised back didn't try to do any legal shenanigans, the steak was unfortunately roasted and served to the workers. Not a pretty thing at all.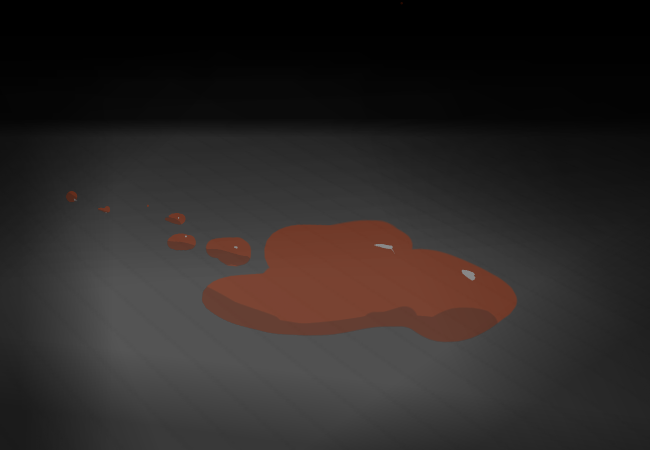 I asked the workers what the deal was with the lack of a seventh test Steak; according to them, the Shyentists really cranked up the energy for this one. The poor soul was terrified by its surroundings, and escaped along with a Toad. The people speculate that somehow, the Steak would become crazy for cooking, and have tied several missing reports to the mystery Steak. Stay away from the farms, I've been told.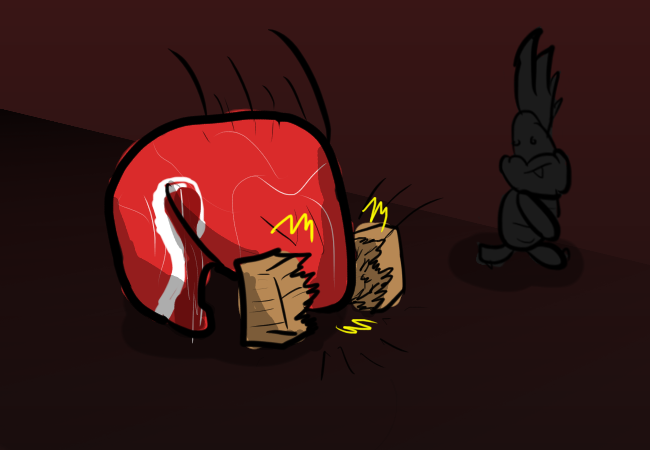 But, I hear that eventually the experiment was a success, and the boss-man took enough of a liking to set up a hijacking of a restaurant. I objected, obviously (food before family, I say, and restaurants are my home), but what could I do to stop it? I've done a few things here and there for the higher-ups, and well, let's just say after my first protest I started wearing a fireproof mask, heh.
So, now you know. If you ever find a large, rampaging meal terrorising the area, be calm, don't use sharp objects, and give that sucker a toasting with a nearby flame-spewing device. Once brown on the surface, check that it is still slightly pink in the middle, season well with pepper and a dash of lemon, and the serve up to a large family, and bring spare boxes for leftovers.


Thanks to Mr Squid (talk) (Forum profile), Meta Knight (talk) (Forum profile), and Lord Bowser (talk) (Forum profile) for sending in questions! If you seek my flawless advice, please send questions to me on the forum, find me in chat, or if you don't care about anonymity post them on my talk page! If you would like for there to be a doodle with the response to your question, feel free to request so and I'll see what I can do. I will see you in April!