The 'Shroom
:
Issue 104/Opening Statement
From the Super Mario Wiki, the Mario encyclopedia
Jump to navigation
Jump to search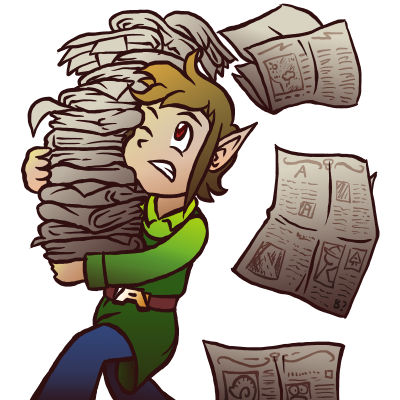 Hello, readers! Thank you for reading the 104th edition of The 'Shroom!
This month, as November tends to be every year for our publication, is a bit of a slow month in terms of updates; considering we had a bigger issue last month and will have another special edition next month, this makes sense. We have hired a few writers, and have lost a couple as well, so as always, please be sure to check our sign up page and apply for a position that you would like to write for! We are always looking for additional talent to add to our great writing staff.
Otherwise, that is pretty much all I have to share for now. The rest of my commentary can be found in the Closing Statement, where I will discuss what is in store for December. To all of our American viewers and contributors, I hope you all have a safe and happy Thanksgiving. To other viewers from around the world, stay safe and happy anyway!
— Super Mario Bros. (talk), Director

Staff Section of the Month for October 2015
STAFF-VOTED SECTION OF THE MONTH
Place
Section
Writer
Reasoning
1st
The Adventures of Little Mario
Walkazo (talk)
One of the staff's most adored sections, her entry for last month was considered to be her funniest and cutest release yet, showing a chaotic play date between Peach and Daisy in their youth. Toadsworth will need a stiff drink after this one!
2nd
Get Over It
Count Bonsula (talk)
Although it may not make much sense on the outset, a careful reading of Count Bonsula's short write-up reveals a clever, darkly humorous take on our favorite plumber's adventures.
3rd
Cooking Guide: It Ate The 'Shroom
Crocodile Dippy (talk), Palkia47 (talk), Super Mario Bros. (talk)
We couldn't decide between "clearly biased" or "this section... is ART," so we might as well provide the actual reason! This trio's first collaboration came together almost seamlessly, and was packed with enough Halloween to make it fitting, but enough humor to make the subject matter lighthearted.
4th
Dear Anton
Hypnotoad (talk)
Anton's spooky advice column combines great art design, appropriately-themed questions, and a mixture of both informative and silly answers; not to mention there's plenty of Chex Mix.
4th
Live Skree or Die Hard
Twentytwofiftyseven (talk)
Perhaps one of the most interesting tournament recaps ever written, Twentytwofiftyseven recounts his experiences winning third place in an Awesomenauts tournament that he never entered; he also calls MrConcreteDonkey out for his imperialist agenda, addresses Bill Gates's plot to create global unrest, and reveals the secret of the chipped victory medal.
5th
Shop Scout
MrConcreteDonkey (talk)
MrConcreteDonkey's experience in Mr. Boojangles's spooky shop is hauntingly funny, and we learn a lot about both of them throughout the read. The shopkeeper is a poor soul, the customer is supremely cheap, and you never ask anybody about the Blood Blocks...
6th
Pocket Handbook
Crocodile Dippy (talk)
Crocodile Dippy adores pumpkins, as well as a Pokémon that looks like them: Gourgeist. With extensive detail, quality writing, and some cleverly delivered "super size me" jokes that are surprisingly not aimed at Palkia47, her contribution to the Strategy Wing makes for a good read and provides contrast to all the Mario-related content.
Congratulations to the winners and runners-up! You all did great work last month, and we appreciate your contributions.