MarioWiki:BJAODN/April Fool's 2018
From the Super Mario Wiki, the Mario encyclopedia
Jump to navigation
Jump to search
For the 2018 April Fool's, clicking the "New Funky Mode" banner at the top on the regular main page would lead to the "Funky Main Page".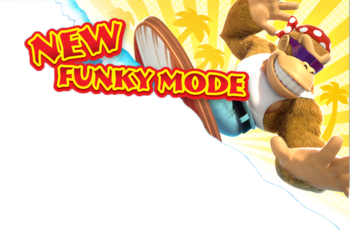 Issue 190 of The 'Shroom has been released. Give it a read!
Featured Article

Fit and Funky

is a script produced by

Sony Pictures

for a film loosely based on the

Mario Kart

series, starring

Toad

as an undercover police officier investigating the criminal activities of the mysterious racer

Funky Kong

.

Funky Kong Wiki Newspaper

Did You Know?

That despite his reputation as an emotionally intelligent confident, Funky Kong is prone to fits of sexist tirades?
That Funky Kong has the best theme song in whatever game he appears in?
That Funky Kong doesn't look for trouble, and that in turn, trouble doesn't come looking for him?
That Funky Kong was nicknamed "the Brown Baron" during the Great Ape War?
NIWA is a group of open-content encyclopedias based on Nintendo franchises.

ARMS Institute: ARMS
Bulbapedia: Pokémon
Dragalia Lost Wiki: Dragalia Lost
Fire Emblem Wiki: Fire Emblem
F-Zero Wiki: F-Zero
Golden Sun Universe: Golden Sun
Hard Drop Tetris Wiki: Tetris
Icaruspedia: Kid Icarus
Inkipedia: Splatoon
Kingdom Hearts Wiki: Kingdom Hearts
Lylat Wiki: Star Fox
Metroid Wiki: Metroid
NintendoWiki: Nintendo
Nookipedia: Animal Crossing
Pikipedia: Pikmin
Pikmin Fanon: Pikmin fanworks
SmashWiki: Super Smash Bros.
Starfy Wiki: The Legendary Starfy
StrategyWiki: Strategy guides
Super Mario Wiki: Mario
Ukikipedia: Super Mario 64
Wapopedia: Drawn to Life
Wars Wiki: Nintendo Wars
WikiBound: EarthBound
WiKirby: Kirby
Xeno Series Wiki: Xeno series
Zelda Wiki: The Legend of Zelda

Did You Know? (regular main page)