MarioWiki:BJAODN/April Fool's 2018
From the Super Mario Wiki, the Mario encyclopedia
Jump to navigation
Jump to search
For the 2018 April Fool's, clicking the "New Funky Mode" banner at the top on the regular main page would lead to the "Funky Main Page".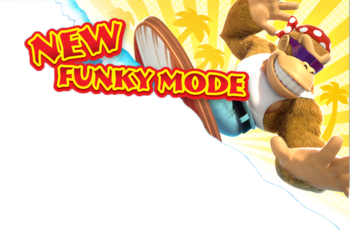 Thank you for a fantastic Mario Awards ceremony and a wonderful 16 years! In case you missed them, the presentations can be found on our forum.
Featured Article

Fit and Funky

is a script produced by

Sony Pictures

for a film loosely based on the

Mario Kart

series, starring

Toad

as an undercover police officier investigating the criminal activities of the mysterious racer

Funky Kong

.

Funky Kong Wiki Newspaper

Did You Know?

That despite his reputation as an emotionally intelligent confident, Funky Kong is prone to fits of sexist tirades?
That Funky Kong has the best theme song in whatever game he appears in?
That Funky Kong doesn't look for trouble, and that in turn, trouble doesn't come looking for him?
That Funky Kong was nicknamed "the Brown Baron" during the Great Ape War?
NIWA

is a group of open-content encyclopedias based on Nintendo franchises.
Did You Know? (regular main page)