User talk:Lemon Meringue
From the Super Mario Wiki, the Mario encyclopedia
Jump to navigation
Jump to search
Welcome, Lemon Meringue!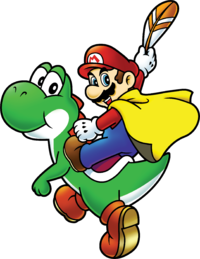 Hello and welcome to the Super Mario Wiki, a collaborative knowledge-base dedicated to the Mario franchise. We're glad to have you as a member. If you have any questions, just post them on the FAQ talk page or ask an experienced member, patroller, or administrator.
The following articles contain guidance and information about reading, authoring, and participating in the Super Mario Wiki community. If this is your first time visiting, please read our introduction.
How do I do that?
Specific help
Categories
You are welcome to browse through the following categories:
External resources
Things you can do
Feel free to delete this message when you're done reading it. We hope this information is helpful, and that you'll have a great experience contributing to our knowledge-base and our community. Remember to enjoy your experience here and to also have fun!
Sincerely,
3D Player 2004 (Talk)
Signature
[
edit
]
Your signature's code is broken and interfering with talk pages: your two <font color> tags should both read </font color>. Please fix them asap or it will be done for you. - Walkazo 12:41, 17 May 2015 (EDT)
Course pages
[
edit
]
Hello! A few things to keep in mind when you're editing Mario Kart Tour course pages:
When referring to an event that has occured in the past and has since ended, past tense must be used instead of present tense. In-game tours are subject to the same rule; despite pertaining to a fictional medium and not the real world, players cannot revert the passage of time to access them. Note that tours that share a name (e.g. the Halloween Tours) are not considered to be the same tour due to their distinguishing content (featured courses, spotlight items, appearance rates etc.)
While it seems clear that the R, T and R/T course designations indicate a "reverse", "trick" and "reverse/trick" course type respectively, the former terminology is much more commonly used by Nintendo in tweets and the in-game badge challenge requirements. It is, therefore, a safer approach to refer to a course variant by the letter designation rather than its extended form. (See Mister Wu (talk)'s response here.)
"Challenges" and "bonus challenges" refer to different things as far asMario Kart Tour terminology goes. The former refers to the requirement you have to satisfy in order to obtain a badge (e.g. Take out 5 Goombas.), whereas "bonus challenge" is the level at the end of a cup.
The game formats console prefixes (SNES, GBA, GCN etc.) the same way as the rest of a course's name. Do not add the "<small>" tags around these.
Duplicate links are allowed in lists and tables since they increase accessibility, so please do not remove the cup links in those collapsible tables. Meanwhile, in prose (paragraph text), it's advised to only link the first occurence of a subject, which is something you already do. See this section of the wiki's Manual of Style for details.
Thank you for your collaboration. -- KOOPA CON CARNE 13:12, December 29, 2020 (EST)
Signature
[
edit
]

Dear Lemon Meringue,
Your current signature is in violation of one or more of the rules listed on MarioWiki:Signatures (signature is too tall). Please change your signature and keep the regulations and requirements in mind when creating future designs. If you have not made the appropriate changes within one week of receiving this notice, your signature will be changed for you.
It should fit in the box above, so the images need to be 35 pixels in height (x35px, not 35px) or lower. (I'd also suggest a darker shade of yellow for the text so it's easier to see.)

Mario JC 22:43, April 15, 2021 (EDT)