User talk:Cirdec
From the Super Mario Wiki, the Mario encyclopedia
Jump to navigation
Jump to search
Welcome, Cirdec!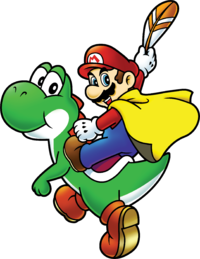 Hello and welcome to the Super Mario Wiki, a collaborative knowledge-base dedicated to the Mario franchise. We're glad to have you as a member. If you have any questions, just post them on the FAQ talk page or ask an experienced member, patroller, or administrator.
The following articles contain guidance and information about reading, authoring, and participating in the Super Mario Wiki community. If this is your first time visiting, please read our introduction.
How do I do that?
Specific help
Categories
You are welcome to browse through the following categories:
External resources
Things you can do
Feel free to delete this message when you're done reading it. We hope this information is helpful, and that you'll have a great experience contributing to our knowledge-base and our community. Remember to enjoy your experience here and to also have fun!
Sincerely,
The MarioWiki Staff
Whoa, how did you decide your username?
[
edit
]
That's my name spelled backwards. Just, slightly freaked out.Toadbrigade5 (talk) 15:58, 6 July 2014 (EDT)
Then we have the same name.
Cirdec (talk) 18:46, 6 July 2014 (EDT)
Oh wow. Cirdec was my original username a long time ago, but I replaced it because I got addicted to Toads.
So hows it going with our name?
[
edit
]
Never new anyone else with it. For me I think its doing well, as I haven't been Thwomped, Broozered or ran over by a car yet. Every now and then someone calls me C-derk Nowashkii (Not even close to my last name) but other than that shh... I need some help with my userbox though, as in stuff to put in it, and, maybe we could make one like "This user shares a name with Cirdec/Toadbrigade5" Like I said, I need to start it. Anyway, see you around wiki, Cedric! Yes I mean you, not me! LOL. Toadbrigade5 (talk) 11:46, 7 July 2014 (EDT)

Dear Cirdec,
Your current signature is in violation of one or more of the rules listed on MarioWiki:Signatures. Please change your signature and keep the regulations and requirements in mind when creating future designs. If you have not made the appropriate changes within one week of receiving this notice, your signature will be changed for you.
Hey. Your signature needs to fit inside the box. So please resize it. Yoshi876 (talk)
Recent file name change
[
edit
]
The file formerly known as MarioParty8DM.PNG has been moved to File:MarioParty8DM.png. Trig - 15:27, June 24, 2019 (EDT)