User talk:Aiko Heiwa
From the Super Mario Wiki, the Mario encyclopedia
Jump to navigation
Jump to search
Welcome, Aiko Heiwa!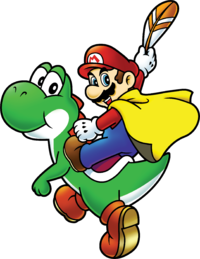 Hello and welcome to the Super Mario Wiki, a collaborative knowledge-base dedicated to the Mario franchise. We're glad to have you as a member. If you have any questions, just post them on the FAQ talk page or ask an experienced member, patroller, or administrator.
The following articles contain guidance and information about reading, authoring, and participating in the Super Mario Wiki community. If this is your first time visiting, please read our introduction.
How do I do that?
Specific help
Categories
You are welcome to browse through the following categories:
External resources
Things you can do
Feel free to delete this message when you're done reading it. We hope this information is helpful, and that you'll have a great experience contributing to our knowledge-base and our community. Remember to enjoy your experience here and to also have fun!
If you have any Q's ask me k.

Mario5x (talk)

Friend Request
[
edit
]
Hi! Wanna' be friends? Bowser-omb 14:22, 12 October 2009 (EDT)
Userpedia
[
edit
]
I know I'm not a UP admin, but I think it's safe to say you were banned for sockpuppeting.

Ralphfan>>Organized Chaos

Please remove the word "sucker" on your userpage.
[
edit
]
I just find it inappropriate.
User:Diddy Kong vs Bowser Jr. 14:22, 6 February 2011 (EST)
re:Is there any chance I can get unbanned from the forums?
[
edit
]
I've relayed your message on the mod forum. I'll inform you of the verdict. --Glowsquid (talk) 06:53, 26 February 2014 (EST)
Last Warning
[
edit
]
This is your last warning. The next time you break the rules in any way, you will be blocked from editing the Super Mario Wiki.
If this last warning was not issued by an administrator or patroller and you feel it was undeserved, you may appeal it.
I meant it when I asked you to stop trying to argue against your forum ban here. Now I am telling you: one more peep of dissension and you will be blocked here as well. - Walkazo 15:02, 25 March 2015 (EDT)
Blocked
[
edit
]
We were more than fair by warning you first, but now you're blocked. I only set it to three months for now, but the other admins might wish to increase it. - Walkazo 10:26, 27 March 2015 (EDT)