The 'Shroom:Issue XCVI/Palette Swap
From the Super Mario Wiki, the Mario encyclopedia
Jump to navigation
Jump to search

Greetings, everyone! If you're on Spring Break, I hope you're enjoying it! Mine was last week- glad to have a break from school.
As usual, we have several spots open for Palette Swap! If you'd like to write for us, just drop me a PM on the forums and we can work something out with your schedule! Onward to the art!
FunkyK38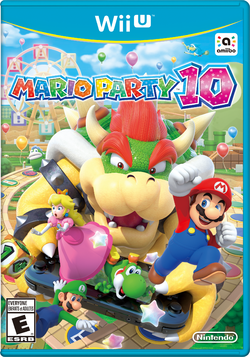 It's party time 'Shroom readers! Yes, that's right, to celebrate the release of Mario Party 10 I have chosen the North American boxart to be the focus of this month's What's on the Box? So, what is on the box? Well, it features Mario, Luigi, Princess Peach, Yoshi, Bowser, Spike, Kamek, Mini Stars, Mushroom Park and the Wii U GamePad. It's fairly obvious that the characters at the forefront of the boxart are playing Bowser Party, as evidenced by Bowser holding the GamePad and all the characters losing Mini Stars being afraid for their lives (apart from Mario). Why Spike shows up in the background though is a mystery, the only logical reason would probably be to highlight that he is now a playable character, instead of being the boss character he was last time. This is also probably why Kamek appears in the background as well, to show that he's a boss instead of a playable character this time, it's also fitting that he's shown in the air as he is the boss of the sky-themed board, Airship Central, in this game.

Ongoing Fan Projects (Yoshi876 (talk))
Greetings, all! This month, for

St. Patrick's day

, I have this odd green mook here, a Shrooba Diver from Partners In Time

! He appears to be diving in… sand. Wait, what? Perhaps Mole Shroob would be a better title. The Shroobs are a weird bunch, that's for sure.

---