The 'Shroom
:
Issue LXXXVIII/The 'Shroom Spotlight
From the Super Mario Wiki, the Mario encyclopedia
Jump to navigation
Jump to search

Hey there 'Shroom racers, welcome to the 'Shroom Pit Stop...er...Spotlight! Before you hit the track and drive around the rest of our special issue, it's always a good idea to get your kart serviced and ready to handle any Green Shells that may come your way (trust us, there will be plenty). Need to change your oil or construct a better kart before racing off to our other articles? Our handy crew of Toad supervisors should be able to sort you out, but here in the 'Shroom Pit Stop, our specialty is repairing the wiki's articles until they're good enough to drive (but not really!)

Every month, we select a handful of articles and images for our faithful editors to improve, be it removing unnecessary trivia from the fuselage, refueling an empty article with info and images, or building missing articles from scratch. We don't really fix articles in record time (a month at the latest), but our quality is guaranteed, check out all the previous work that's been done!
Last month, we dealt with five run-down articles and one image, and our editors completely fixed more than half of them! Our images focus, Super Mario Bros.: Peach-hime Kyūshutsu Dai Sakusen!, has been illustrated with plenty of screencaps from the film; a replacement for our image-quality focus was uploaded by Dashbot (talk), who also built our Wanted focus, Sinking Feeling (minigame), from scratch! A special thanks to Dashbot, and thanks to everyone else who contributed to our article focuses last month!
In honour of this month's special issue dedicated to Mario Kart 8, we've chosen a crazy 8 Mario Kart-themed articles to bring to the pits, and hopefully we'll have 'em tuned up and racing at full quality by next month's issue!
---
Mario Kart (series) (rewrite-expand) – This series article encompasses all of the Mario Kart games and provides info on the recurring items, characters and techniques present within them. It was once a featured article, but became unfeatured due to a lack of info on the Mario Kart arcade games and a lack of images (which has since been rectified). The article has been vastly improved since it was tagged for a rewrite; however, it's still missing information on items that appear in Mario Kart Arcade GP, Mario Kart Arcade GP 2 and Mario Kart Arcade GP DX, and the arcade parts of the 'Games' section still need more information to match the length of their home-console counterparts. Lastly, most of the 'Trivia' section can be rewritten and incorporated into the main article. It may be a long series of tasks, but we're confident that the article can be improved enough to have it nominated for feature status again.
Mario Kart Arcade GP (needs more images, rewrite) – The first arcade installment of the Mario Kart series features over 100 different items and a unique cast of characters and tracks, but in contrast, its article is barren, messy and unorganised. The 'Items' section should be given a table similar to those on other Mario Kart articles (perhaps it'd be a good idea to link to this table in the Mario Kart (series) article); the 'Modes' and 'Courses' sections need the correct level headers and should be restructured to save empty space. Insert 3 tokens and press START to help reorganise this article!
Ramp (rewrite-expand) – Looking at this poor article makes us want to go on a rampage. An important part of later Mario Kart titles, a ramp allows characters to gain air as they perform tricks and get speed boosts. Splitting up the content by game and adding additional images should ramp up the quality enough. Try not to confuse these with Boost Pads, however.
Tilt-a-Kart (overly long Trivia section) - Ironically, this article for the battle course Tilt-A-Kart isn't supposed to be unbalanced, but its long trivia section takes up more space than it should, so it's time to tilt Tilt-A-Kart back on its head by incorporating its Trivia into the main article!
Mario Kart 7 (overly long Trivia section) – The appropriately titled 7th installment in the Mario Kart series is currently in seventh place due to an overload of trivia weighing it down. Either relocate it into the engine or dump it off to get this to go straight to first place.
---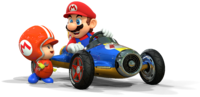 And your kart's looking good to go! Be sure to pull in next month for an oil change and the results on our 8 focuses. Contact us if you have any questions, comments or ideas, or pull around to our dedicated forum thread to message us. Looks like the rest of the issue is about to begin, so remember to drive safe, and always keep a Super Horn on hand to conquer those dreaded Spiny Shells!