The 'Shroom
:
Issue LXXVII/Palette Swap
From the Super Mario Wiki, the Mario encyclopedia
Jump to navigation
Jump to search

Greetings, all! I would like to introduce you to the newly designated Palette Swap, where you can read and see all of the artistic things happening in the wiki!
We have new sections to apply for as well, so if you would like to work for us, send me a PM on the forums with your application! So, with that said, let's get to it!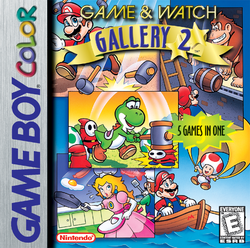 HI, readers! I'm your retro Co-director, Tucayo, here with the newly-renamed What's on the Box?, on our brand new Palette Swap! This will take the team in a whole new direction, so I hope you like it. On to the box we have this month, it is the cover for Game & Watch Gallery 2, released for the all the way back in 1997 for the original Game Boy and in 1998 for the Game Boy Color. Mario avoiding hammers! Yoshi hammering Shy Guys! Peach cooking! Mario rowing! This box has it all! And it is perfectly retro as well, which is always good. The figure with the "5 games in one!" is so 90s. Superb.

Featured Character Artwork (Paper Yoshi (talk))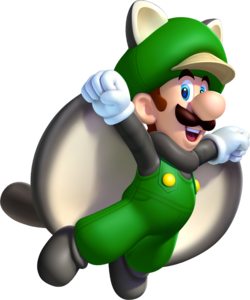 Hello, readers!! This is Paper Yoshi, now writing Featured Character Artwork for the Palette Swap team!! The team is in need of writers, so be sure to look for a section you like and sign up for it!
As you can see, I chose to feature the New Super Mario Bros. U/New Super Luigi U artwork for Flying Squirrel Luigi this month, in celebration of The Year of Luigi. It is a high quality image that shows Luigi's form when he gets a Super Acorn. While in said form, Luigi is able to glide similarly to his Cape and Raccoon forms and to temporarily cling to blocks, walls and pipes. Additionally, the Flying Squirrel form allows Luigi and Co. to use a flying squirrel jump, propelling them up into the air.
Luigi's clothes are very detailed in the image, showing all the changes our heroes undergo when acquiring the Flying Squirrel form: Mario and Luigi get larger caps with squirrel ears and beige brims, aside from puffy overalls, grayish shirts and shoes, gray flying membranes and tails. Mario's cap and overalls are red, while Luigi's are green. The changes are virtually the same for Yellow Toad and Blue, with a few differences. They have pants instead of overalls, and their vests are replaced with red handkerchiefs. Their caps are also a bit different, with two bright stripes and squirrel ears. Yellow Toad has a yellow-coloured cape, while Blue Toad gets a blue one.

Sketch Related to Mario (Smg2daisy (talk))

Here for this month, I bring you this sprite of everyone's favorite guy in green, from the original arcade version of
Mario Bros
! It's never a bad time to celebrate the Year of Luigi, so be sure to also drop by Brawl Tactics to check out a new article on the green 'bro too!
---