The 'Shroom
:
Issue LII/Music & Artwork
From the Super Mario Wiki, the Mario encyclopedia
Jump to navigation
Jump to search
Director's Notes (Fawfulfury65)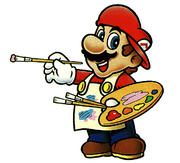 Hey everyone! I can't believe we're already to the July issue. June went by pretty fast. Well, I now present you with the Music & Art section for July!
I've only gotten, as with last month, one image for Sketch Related to Mario. It's quite a disappointment to not get a lot of drawings, so if you have any drawings at all that are related to Mario, please send them to me so I can show them in the next issue! With more artwork, we can make the 'Shroom even better!
No one was added to the Music & Art team this month, but there are still two open sections: Box-art of the Month and Photoshopped Image of the Month. They are both great sections to write for, so if you want to write for them, feel free to ask me so I can show you the application.
Screenshot of the Month (Fawfulfury65)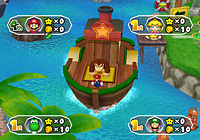 Hello and welcome to another month of the Screenshot of the Month! For this month, I have chosen an image from the well-known GameCube game Mario Party 6. This is a picture of Castaway Bay, where Mario is on a ship with DK. Normally, DK would give a star to Mario for reaching him, but considering the fact that, as shown in the picture, the plumber has no coins or stars, he didn't because Mario didn't have enough coins. This image really stands out to me. It's very bright and colorful, and it makes you just want to jump into that water. I sure wish I could go on vacation to Castaway Bay. This picture is also very big, detailed, and high quality. Well, that's just about it for this month. Tune in again for the next Screenshot of the Month!
Sprite of Month (FunkyK38)
For July, I bring you this sprite from Mario and Luigi: Bowser's Inside Story:

A Blitty! When I had this game, I loved to collect these cute little guys, and sucking them out with Bowser was so much fun! They're so cute! Broque Monsiuer was a neat-o guy, too, one of the most memorable things about this game for me.
Random Image of the Month (Ralphfan)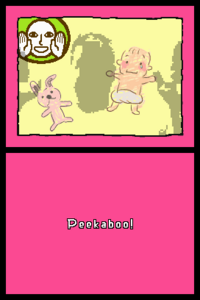 This is the "Peekaboo!" minigame from WarioWare: Snapped!, a DSiWare game for the Nintendo DSi. In this minigame, the player must make the baby happy by playing peekaboo with it. This is one of Jimmy T.'s minigames.
Soundtrack of the Month (Mariomario64)
Hello, MarioWiki! I'm here again to deliver July 2011's Soundtrack of the Month! This month's soundtrack comes from the first game in the Paper Mario series, well, Paper Mario. The soundtrack is called "Welcome to Yoshi's Village", and is played while in Yoshi's Village. The following YouTube video plays it for 10 minutes! Enjoy the song!
Music Factoid (SimeaMorgana)
Ok, this month we're going to tackle the music soundtrack of Donkey Kong Country Returns! First, I have to say that its soundtrack is simply amazing and outstanding! You have some remixed songs from DKC, but you've also got some pretty nice new soundtracks. In this game, music is particularly important, it is a game which (mostly) takes place in nature, jungles, forests, ruins, … so music is directly 'linked'. Environmental noises are also mixed in, which emphasizes the atmosphere of free nature! Just like the percussion in the jungle, wooden instruments, like kalimba, xylophone, or drums. The leaders of the Tiki Tak tribe incorporate this idea; we have maracas-like tikis, a banjo-like tiki, and Tiki Tong himself looks like a drum. Therefore in their hypnotising music, we have the instrument they represent mixed by. Tiki Tong even has a theme song that contains all of the 7 main instruments.
Furthermore, I also wanted to say that DKC returns has a lot of music with choir, e.g. the final boss battle, or furious fire.
1. Jungle Hijinx http://www.youtube.com/watch?v=6-Jk8SMLw3I One of the most well-known song in Donkey Kong history!
2. Furious fire http://www.youtube.com/watch?v=5z1t6UL3Jn0 I just love the percussion. You get a perfect feeling of the volcanic areas!
3. Rickety Rails http://www.youtube.com/watch?v=BNlu9BujTp0&feature=related Another one of the 'classic Donkey Kong' songs. Feel the effervescence and the 'epicness'!
4. Final Boss http://www.youtube.com/watch?v=EU1fZljM_N4 The hypnotizing song! EXTENDED!
5. Factory Friction http://www.youtube.com/watch?v=VEXsgzJCLJw Donkey Kong Country music isn't always linked to nature. Here we have an excellent example.
I hope you enjoyed the article. :)
Character Artwork of the Month (PyroGuy6)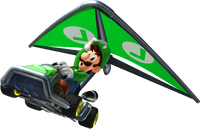 This month's character artwork is a picture of Luigi in a kart with the glider out, from the anticipated upcoming game Mario Kart 3DS. The picture is very big and has high quality, and plus, Luigi is looking at something...he's looking at US nah just kidding. See you next month!

Sketch Related to Mario (Fawfulfury65)
I have received one only image this month. If you have any of your own Mario-related drawings, and you would like them to appear on the 'Shroom, please send them to me and I'll put them here!
This month's only artwork was drawn by Mariomario64 (talk):
That's all for this month! I hope to receive some more great artworks next month.