The 'Shroom
:
Issue 199/Fun Stuff
From the Super Mario Wiki, the Mario encyclopedia
Jump to navigation
Jump to search

Director's Notes
Greetings, bootiful 'Shroom readers! Welcome into our October edition of Fun Stuff, where festivities are underway and monster makeup abounds! There's no better time for lifting the spirits than spooky season - figuratively and literally!
It's the same Fun Stuff you know and love, no tricks, all treats! But hey, while I've got your attention, perhaps you can consider sinking your teeth into a special Fun Stuff section for next month's Issue 200? We'd love to have you join us! Hop on over to the sign-up page to see some other old Fun Stuff sections, and feel free to bring any new ideas my way if you'd like to talk them through. I'm not that ghoulish, I promise!
I've used too many Halloween puns, and if I write any more, I'm going to get pulled offstage by a comically large cane, so now's a good time for me to take my exit. Fare thee well, 'Shroom reader, until you knock on this office door againnnnnnnnnn~~
Section of the Month
Congratulations to FunkyK38 (talk) for another first place position, and Waluigi Time (talk) and Shoey (talk) for their matching second places! Make sure to vote for your favorite section this month!
---
Anagrams
Written by: BBQ Turtle (talk)
Hi everyone, welcome to the October edition of anagrams! I did try to come up with a suitably spooky theme for this month, but I was drawing a blank, so I've gone with aports that Mario and friends have played over the years instead. It's probably spooky to someone, right? And to save confusion, I've avoided football/American football/"soccer" to save confusion an debates on that one. If you fancy coming up with a theme for next month, or perhaps a Mario-related anagram that I could use along the way, please let me know on my talk page or in a PM to me on the forums, it'd be greatly appreciated! Alright, let's kick off these anagrams!
How it works...
Basically, this puzzle consists of solving the anagrams. Each month has a specific theme, which will give you a clue about what sort of words or phrases the anagrams will be. I've also included the boxes that the anagrams will fit into, so you'll be able to tell how many words it will solve to be and how many letters will be in each word, which should give you a hand too. You'll also notice that within each set of boxes, one of the squares are yellow. As you solve each anagram, note down the letter which appears in the yellow squares, and if you can solve all of the anagrams, you'll also get a bonus anagram to solve from completing all of the others. I've included the letter configuration for this one at the bottom too, just to give you an extra helping hand. Best of luck!
1. LET BLAB ASK
2. CHAGRINED EEL
3. BOG LADLED
4. FORGING WIDTHS
5. GIRL NEWTS
6. OCEAN GIN
7. BAT ALL PIN
8. STINGY SCAM
9. KINETIC GAS
10. CHOICE KEY
11. MIND BATON
12. THORN TAIL
Bonus anagram:
Answers
Basketball
Cheerleading
Dodgeball
Swordfighting
Wrestling
Canoeing
Paintball
Gymnastics
Ice Skating
Ice Hockey
Badminton
Triathlon
Bonus anagram: Snowboarding
Word Search
Hello and welcome to another thrilling word search. This month it's all about one of the best Mario Kart games, Mario Kart: Double Dash!!, the only Mario Kart game that allows for co-op! This month's word search has all your favorites. Vertical words, horizontal words, backwards words, diagonal words, and even words inside other words. This truly is the Word Search of our times!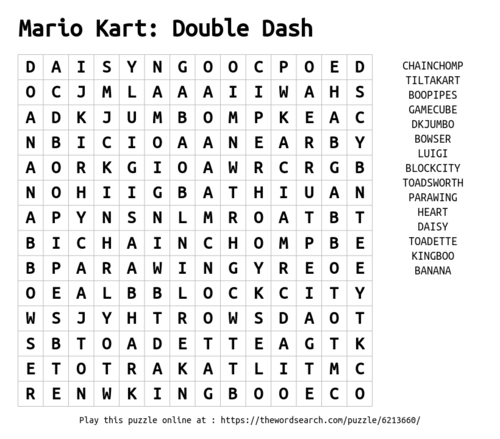 Crossword
Written by: MarioMorty (talk)
Happy October, everyone and welcome back to Crosswords! This puzzle's theme is on some enemies that got their start in the classic game, Super Mario 64. As you all probably know, our 200th edition is just one month away! I look forward to seeing everyone there!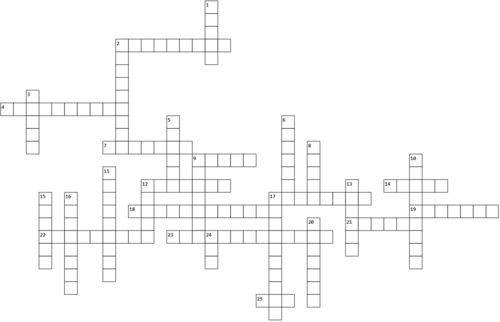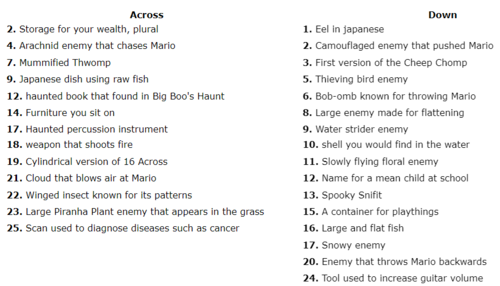 Hiding Koopa
Written by: Waluigi Time (talk)
Happy Halloween, 'Shroom readers! Not only is Luigi's Mansion: Dark Moon is celebrating its 10th anniversary this year, but there's also a remake for the Switch coming out in 2024! Except they're not even calling it Dark Moon anymore, which makes sense I guess but that was still a cooler name. It's kind of weird that it's not coming out this year because of the whole anniversary thing though, seems like a missed opportunity. Oh well. Anyway, to commemorate this spookiest of months, five Koopas are hiding in this piece of artwork from the game! This may be the first time anyone's gone into a haunted mansion to hunt turtles instead of ghosts. Good luck!
Thanks for playing! Did you find them all?
Where in the Marioverse is Carmen Sandiego?
Each issue, you will be given a case to solve and clues to use to help you find the solution! Use your Mario knowledge to crack the case!
You will begin each case at the scene of the crime, and you will be given three clues from passerby as to where the next hot spot is and what game it's from. Using your knowledge of Mario games and the Super Mario Wiki, figure out where the crook is and go track them down! There are four locations each round: the crime scene (1) at the start, two locations (2 and 3) with clues, and the hideout for the crook of the month (4). Answers for locations will be given with the corresponding round, for example, the clues from the crime scene will lead you to location 2, and once you open the spoiler bubbles for location 2, you will be given the correct answer. You can open the clues for each location in any order you'd like, but be careful! You may encounter an incorrect clue that could throw you off the case!
Clues offered will give you a hint either about the next location or the game it's in. Unlike a regular Carmen Sandiego game, you do not have to collect information about the crook you are tracking down.
Challenge round (optional):
-Find all locations and games correctly in two minutes or less
-Find all locations and games correctly without using the rest of the Wiki for help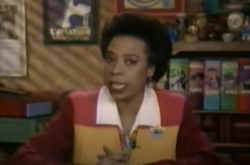 "Gumshoe, it's time to get to work! We've received several reports of thefts at the MarioKart garage, and a lot of those theft reports are coming from the new DLC racers coming in Wave 6 of the Booster Pass. I'm sure I don't have to tell you that if these racers don't get their gear back, they won't be able to participate, and Wave 6 marks the return of several fan-favorite characters such as Diddy Kong, Funky Kong, and Pauline. If they were to drop out of the races, it would mean massive outcry from fans looking forward to their appearances. Now, we've narrowed it down to a few new mechanics at the garage, and it seems that Carmen has been putting sleeper agents in to activate when she needs. It might be time for the garage to really step up security for the racers, but that's not our job. Your job is to get to work finding that gear and track down our thief! Time is of the essence, gumshoe, we're speeding towards release date!"
Crime Scene

The Crime

Gear has been stolen from the MarioKart garage. Find the thieves and the missing equipment!

CLUE 1

"We've been here forever... had I known this one was the longest we never would have come here..."

CLUE 2

"They used the items to get away. Of course you're supposed to use all the items, that's the point!"

CLUE 3

"This series entry was more like Candyland than Monopoly."
Location 2

CORRECT ANSWER

Perilous Palace Path from Mario Party: Island Tour

CLUE 1

"Keep going through the doors. You'll get to the end of the level soon!"

CLUE 2

"A rather two-faced development, to be sure..."

CLUE 3

"The developer of this game certainly has a unique style. Maybe they liked to watch their grandmothers make clothes?"
Location 3

CORRECT ANSWER

Duplicitous Delve from Yoshi's Woolly World

CLUE 1

"You can get hurt by snowflakes? Why are they so big here?"

CLUE 2

"What a horrible homecoming- the whole forest is frigid!"

CLUE 3

"This game welcomed back a series favorite composer whose last entry had been on the GBA."
CASE CLOSED
​
HIDEOUT ANSWER: Forest Folly from Donkey Kong Country: Tropical Freeze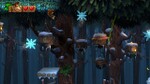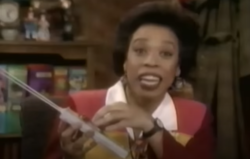 "You've done it again, gumshoe, we're back to the races! We follow your instructions and sped to the location to find our team of crooked mechanics waiting for a pick-up by Carmen's team. Looks like we beat her to the punch as her ship was nowhere to be seen anywhere in the area, and we were monitoring for her, too! Carmen aside, the terrible team has been cuffed and they are in custody as we speak. The stolen gear has been returned to the MarioKart garage and its owners are thrilled! You'll find the reward of a basket of power-ups on your desk when you return, gumshoe. Make sure that you take those home, and don't use them in the office! We'll be in touch for your next case when Carmen shows her hand again."
Trivia
OH GOD, IT'S SO LATE! I'M RUNNING OUT OF TIME, SO, UH, UH, DID YOU KNOW? TRIVIA! DID YOU KNOW...
That Paper Mario originally started development as Super Mario RPG 2?
That Princess Peach was originally going to be the secret opponent in Punch-Out for the Wii, not Donkey Kong?
That Professor E. Gadd was originally supposed to be playable in Mario Kart DS?
That the largest victory in the history of American College Football was a 1916 matchup between Georgia Tech and Cumberland university that ended with Georgia Tech winning 222-0?
That Next Level Games once worked in a Mario volleyball game called Super Mario Spikers?
That, in the credits of Super Mario Bros. 2, Ostro and Birdo have their names mixed up with each other?