The 'Shroom
:
Issue 188/The 'Shroom Spotlight
From the Super Mario Wiki, the Mario encyclopedia
Jump to navigation
Jump to search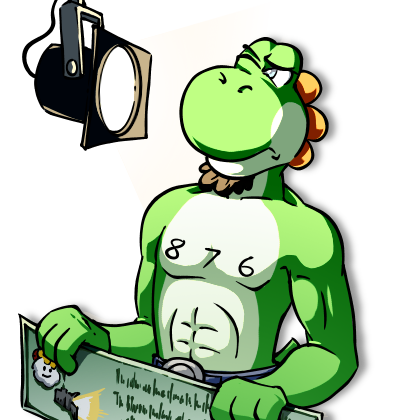 Hello readers of The 'Shroom, and welcome to Spotlight. Spotlight is a community project which aims to fix up the articles on the wiki which have issues. These issues can range from poor writing, to a lack of images, to even just needing a credible source.
Is it November already? Gosh, it feels unreal that we're getting ready to say goodbye to 2022 when it feels like so much has been happening this year you've never known where to look. But when long nights start drawing in, hot chocolate becomes a necessity and the autumn leaves start falling down, there's nothing better to do than view your local Spotlight and see what wiki articles need fixing up! What, I have to make tenuous links somehow...
We have to give thanks to ThePowerPlayer (talk) for creating Vampdash, although I admitted the article might be spookier. But it's an alien, so I presume it counts! ThePowerPlayer also improved the layout section for Ghost Castle and Spooky Scraps! Don't Get Spooked!; but we mustn't forget InverseBlooper (talk) who also contributed to the latter. As for the other focuses, WildWario (talk) helped with more images for Boo Ball and Mario jc (talk) moved Paranormal Dimension to its proper title ??? (Luigi's Mansion: Dark Moon). The only focus that wasn't completed was File:Golden Goob Newspaper.png, probably because it was too spooky to look at.
And now onto this month's focuses:
| Article | Category | Focuses |
| --- | --- | --- |
| Wild Ball | Wanted article | As winter stars to draw in, it could be time to read for some Winter Olympics and create an article for this fun item in the DS and Wii versions of the Mario & Sonic games. |
| Molten Bowser | Stub article | We're actually looking away from the Mario series with this focus, as this form of Bowser appears in the Skylanders series. But, we're missing information about a lot of characteristics including how to transform into this form, how long it lasts, and even anything about its appearance in Skylanders: Imaginators. |
| Retry Clock | Rewrite and expansion required | We could all do with a retry when it comes to many things, and this article needs one more retry until its perfect. Namely, where can these items be found; we mentions blocks in the overworld, but where precisely in the overworld? |
| Waddlewing | Articles that need more images | I adore this adorable enemy, but some images could move from the gallery into the main text, and make sure we have a screenshot from every game, as we're missing some from Dr. Mario World. |
| File:Diddy DK64 back.jpg | Image quality requested | This image looks sweet, but the scan isn't entirely clear, a good re-scan should make Diddy showing attitude absolutely perfect! |
| Mario Tennis (Nintendo 64) | Long trivia section | While this sporting game could use some more info, we are very focused on that long trivia section, including one piece of information that ends up taking up three separate bullet points. Let's slim this down before heading onto court. |
Now just before I leave you, I'd like to tell you about unimplemented proposals. There are currently thirty-five that need to be implemented, dating as far back as 2018, so think of this as a continuous Spotlight goal until they're all completed. Additionally, there are many unresolved discussions that we would love to see come to some sort of conclusion. Some might have already concluded and just need the template removed, others have been waiting for a response for years.
Thanks for tuning in to the newest edition of The 'Shroom Spotlight! Be sure to turn up next month, where we'll be reviewing the progress on the above focuses. If you have any questions or suggestions about this month's set of the article focuses, then please get in touch through the dedicated topic if you have a forum account. If not, then please contact me on my talk page, but you are far more likely to get a quick response if you go through the forums. You are also welcome to make suggestions on what you think we could focus on in our next edition! Thank you, and good luck!