The 'Shroom
:
Issue 187/Palette Swap
From the Super Mario Wiki, the Mario encyclopedia
Jump to navigation
Jump to search

Director's Notes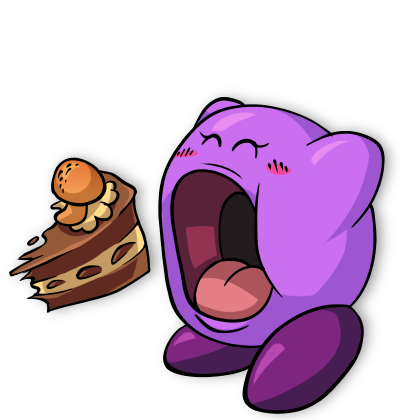 October is upon us once again! Welcome to another issue of The 'Shroom!
Last month I was talking about Xenoblade still, and this month is no different- as I type this, I'm getting ready for the new DLC installment, but soon I'll be moving on to Bayonetta 3, Pokemon, and Sonic Frontiers in the coming months. Once all of that is out of the way, I'll be moving from my Switch to my PS4 to get started on Persona 5 before Nintendo really gets going for 2023. Here's hoping I can finish at least 1 of my PS4 games before Nintendo's iron gets hot next year!
This month, we have a few sections missing, but the ones that are here are full of treats for you. Additionally, Magolor04726 (talk)'s World of Plight will be going on a season break until next spring. We'll be waiting on the edge of our seats, Mags!
No tricks here- I'll let you get to everything we have in store for you!
Happy reading!
~FunkyK38
Section of the Month
This month's Section of the Month results are in! In first, we have Site Seeing by Lakituthequick (talk), taking the lead after a long stretch held by Waluigi Time Comic. Waluigi Time (talk), not to be outdone, however, took the second place spot with Shmaluigi, Private Investigator. And finally in third, we have the season finale of World of Plight by Magolor04726 (talk). Thank you to everyone who voted, and please keep it up for this month as well!
---
Fictions
I want the Kellollar special!
Drawn and Pressed

Jump Start is created by Robb Armstrong and was in the papers on the date of 2nd of October 1989. This comic strip is about a standard family, but unlike many of them, this is about an African-American family. In fact, this is one of the few comic strips that mainly feature African-American characters, and is created by an African-American. What I do think is great is how generally optimistic it generally is, even compared to several African-American comic strips including Curtis, The Knight Life (which I reviewed earlier), and most certainly The Boondocks. It may not as unerring optimistic as Rose is Rose, but it's still a comic strip that did not really get too dark or cynical. I think this is what draws me to this comic strip, because I'm up for ones that are not afraid to shine a light on how good the world can be. Perhaps another aspect of the comic strip I find the most interesting is how wide and diverse the cast of characters are.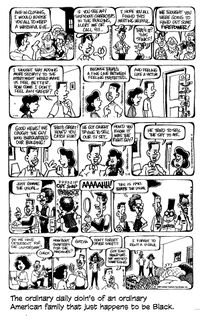 For Robb Armstrong, this was not the first comic strip that he created, for he initially created Hector, a comic strip featuring two young men and a glasses-wearing dog. Unfortunately I can only find one cartoon for this comic strip, but this is better than nothing at all, and I must say that it's rather bog standard for a comic strip, and I can see why companies aren't willing to syndicate the cartoon over more prospective entries. Because the comic clearly did not have a future, Robb Armstrong went back to the drawing board to create a comic strip with a broader appear, this time featuring a family, obviously an African-American one. Not only does it feature a nuclear family that a lot of family strips do, this one goes the extra step and give their extended family their chance to shine too. Even more unique is that the character ages are not static throughout the years (though it's by no means consistent).
Contrary to the sunny disposition of the comic strip, the cartoonist himself didn't really have an easy life. For one, the author's father abandoned the family, and certainly he grew up poor due to only having the support of the mother. Moreover, some of the author's siblings met with calamities during the author's young days. Namely, one of his brothers met deathly injuries from a train because his leg got stuck on the door, and another was beaten for being mistaken for a criminal by the police (sadly all too common in America, even now). The author's mother had, because of these kind of misfortunes, decided to save her youngest son (that's the author) through education, and insisted that he went to a private school. It wasn't really all that smooth-sailing either, because there were struggles then, like how some of his friends started to ignore him for being "too white to hang out with". His mother died of cancer during his college years, but fortunately, his mother arranged help from two couples to take care of his education. Even during his education period, he have decided that he wanted to draw, and while his life has many challenges like going through divorce, he never gave up on his passion of drawing.[1] I have to imagine that his life is settled currently, and perhaps the optimistic tone of the comic strip is in part due to his hard life, and also because of his Christianity which he's only taken during his junior year at University. Displays of Christianity is rare in the comic strip, despite that.
Speaking of the characters, this comic strip has a very notably large character list, and while it's not a totally unique thing for comic strips to have huge casts, given how there are serial adventure ones that do that like Popeye and Dick Tracy, Jump Start is a family-oriented comic strip with it. Family strips do not usually require a huge cast to be enough, but given how this one has an extended family, I suppose it fits for its scope. For a small strip, doing this feels ambitious because of how much space you have for it, and something like this might logically fit a longer-form comic format where more can realistically be shown. The amount of characters might even be overwhelming for a casual reader, but the character quirks should be able to shine through. To give an idea on how large the character cast is, each member of the Cobb family has their own cast of characters, so like both the husband and wife each have cast herds for their careers, and the two older children have their own cast of classmates, and of course that also includes the relatives of both the husband and wife.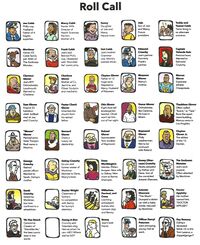 Regarding the main family, they are the Cobb family who live in Philadelphia, and much like most comic strips (e.g. Garfield takes place in Muncie, Indiana because that's where Jim Davis is from), the author's upbringing is the reason the comic strip takes place there. The husband of the family is Joseph Cobb, or "Joe" for short, and he is a policeman who works at the local police department. Marcy (original surname: Hart) is the wife of the family and is a nurse. Both of them clearly take government jobs and so you can consider them as average hardworking folks who are generally supportive for each other and their children. Speaking of children, their oldest daughter is Sunny and is intelligent and upbeat. The oldest son is also Joseph (basically he's a Jr. of the father) but he's called "Jojo" normally, and he is a budding leader and so he somewhat thinks of himself as a CEO, though he has an active imagination. The Cobbs also have infant twins Teddy and Tommi, who understand each other even from within the womb, so they keep each other company. A late addition to the family is a dog named Mortimer, which was taken in by the Cobbs when Ray (a reformed criminal) was in prison, but due to the time spent between them, the dog becomes part of the family. Notably, the couple were there in the beginning while the children were introduced in the middle of the run, starting with Sunny being born in 19th June 1994.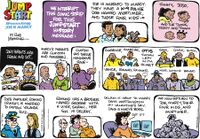 Given how many character this comic strip has, it would take all day to cover them all, so I will just mention those that I found to be interesting. Joe's parents are really great, where his mother (Dot Cobb) is a dangerous driver and is very particular about grammar, while his father (Frank Cobb) was an ex-police officer and is a very avid fan of a fictional comic strip "Klondike Ike". Crunchy is Joe's partner in police duty and is generally grouchy and grumpy, and he has a funny (generally unseen) dog named Snoog-a-boo. He's married to Captain Ruiz who is in charge of Joe's police precinct, and is known to kick Joe out of her office for many reasons. Clarence Glover is one of Joe's friends and has a large family, and he himself is married to a Caucasian wife, making them mixed marriage (he is also African-American). Of note is that because of an engagement between one on Joe's side and another on Clarence's side, the families of Joe and Clarence becomes related, making the family even bigger due to Clarence's many brothers. Benny is one of Jojo's closest friends and is often with him, while Dexter is one of Sunny's friends since youth and is known to slack off a lot. Ray Ramsey is a notable reformed criminal, and he's got some relatives who are fascinating in their own right.
A lot of the comic strip mainly deals with the travails of the married couple of Joe and Marcy, though I feel that the comic strip focused a bit more on Joe because he has more regular characters on his side, like how he has a buddy cop Crunchy, who by the way worked with his father before. Indeed, there is a decent amount of police work involved, though not all of it is about action and could just be Joe and Crunchy having a conversation in a police car. It is possible that some might look at the portrayal of police in this comic strip and think that it did not do enough to reflect real life, where the police did not do their job effectively. There is a point to concede here so I may not say much there, though I do think that the characters made it work, like the fact that the police department is headed by someone who is very strict about the job. Marcy, on the other hand, did not feel like she has much of a regular cast, even though a hospital job could also easily (in my opinion) have a regular cast. I suppose if her ability to navigate the tools of the job (she is a nurse, after all), that might not be required.

Although both Sunny and Jojo have their own lives, they are distinct enough to not be redundant despite being kids, reflected by their personalities and the supporting characters. For example, Jojo and his friend have occasional encounters with three bullies that are typically portrayed as shadows cast from an unseen perspective, though they don't really engage in physical contact within the confines of the strip. Perhaps my favourite aspect of the comic strip is the time Joe's father discusses about his favourite comic strip "Klondike Ike", which might be a parody of a real comic strip Ozark Ike. Klondike Ike is, according to the characters of the comic strip, "about a crazy explorer hunting the same big bear who outsmarts him. He lives in a tent in the Antarctic but he's got every modern convenience known to man, even cable and DVD". The fact that Joe's father is a very passionate fan for the comic strip is something I think a lot of people can relate to, for anyone may have something they are a huge fan of and is dedicated to the arts. The father can even be quite nitpicky about the fictional cartoon, but he still cares about it deep down. It's nice to have some something that the average comic strip reader can relate to sometimes.
Overall, I think Jump Start is rather enjoyable and is a great comic strip to read because of how generally optimistic everything generally is. Moreover, the comic strip having many characters worked in its favour for one that has a community focus, and I am pleasantly surprised that it worked for the type of comic strip it is. While some might have preferred a bit more bite to their comic strip by making it more realistic, I appreciate that there are some that are idealistic. It may not be wholly idealistic, but it is hopeful enough.
Jump Start strips can be read at: https://www.gocomics.com/jumpstart
Thank you for reading.
---
References
Waluigi Time Comic
Drawn by: Waluigi Time (talk)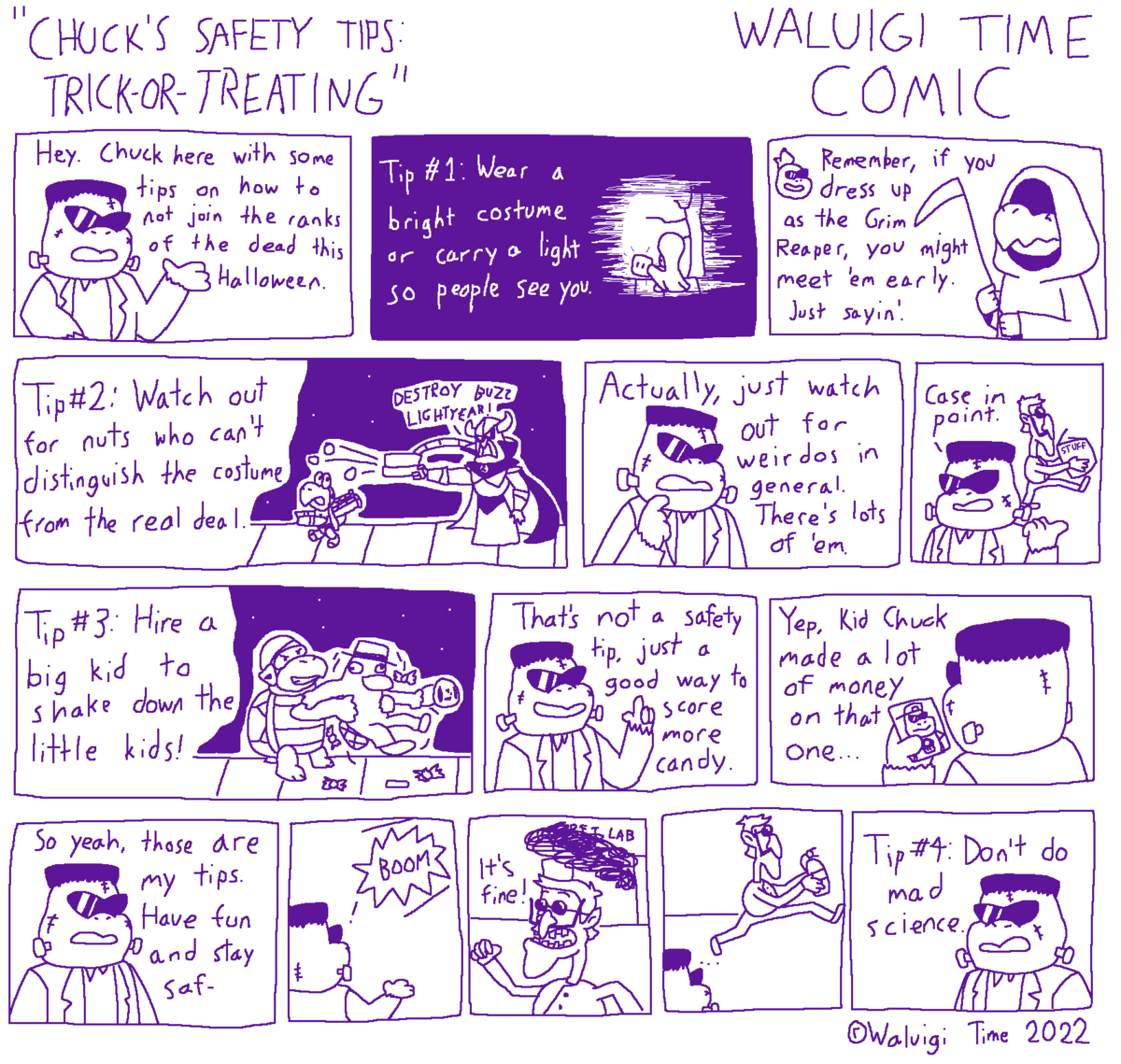 Community Art
Written by: Waluigi Time (talk)
Hello there, 'Shroom readers! It's me, Waluigi Time. Today I thought I'd show off my scribbles from the Scribble Showdown Awards tournament hosted by TPG (talk) and talk a bit about each one. If you're unfamiliar with Scribble, basically, everyone gets a drawing prompt based on an overall theme for the round, and then has 4 hours to work on it. The catch is you're limited to a 600x600 canvas, and can only use black, white, and a single color of your choosing. If you haven't checked out Scribble Showdown, I highly recommend taking a look at it. With 26 participants and 5 rounds, there's plenty of cool drawings to look at! There's even bonus content between rounds.
---
Round 1: Roleplaying
When I got this prompt, it was pretty much a no-brainer for me to go with something that celebrated roleplays from various community forum games, and I came up with the idea of users roleplaying with hand puppets of their characters. Originally, I was just going to have four of them, which would've been my main man Shmaluigi, Lightning the Hedgehog (first seen in Toad Brigade Mafia), Ray Trace, and Nadie (first seen in Lightning Mafia+: Welcome to Chaos Town). But as I sketched things out, it quickly became apparent that there was a lot of unused space, so I got to include even more characters, and the first addition was the dynamic duo of Herlock Sholmes and Bushroot from Awards Killing Game: Odyssey. With the remaining space I wanted a character to go with Shmaluigi, and I originally considered Detective Luigi, but ended up going with Morris from Sheep Mafia.
I also wanted to add in some sort of reference to the Mushroom City Car Wash roleplay thread with how popular it is, so I added a little cutaway in the top right of LJS washing toy cars to be used in the roleplay.
Also, each of the puppets is held up by the arm of the user who did the roleplay, with the exception of Sholmes, since as far as I'm aware FWD doesn't have an established OC design. At first I was going to color them in, but for the most part, I decided to leave them white since I wanted the puppets to stick out as the focal point of the scribble.
I made the background purple because I wanted it to be more interesting than puppets floating in a white void, with an outline around all of them to make sure they still stuck out and didn't fall into the background. The background isn't actually solid purple, but has a black outline, which was actually a complete accident because I had the wrong color selected when I started it! I liked how it looked so I kept it.
After a discussion of last year's Scribble Deathmatch event, I decided to write down the times I received the prompts to keep a future reference of how much time passed between getting the prompt and submitting the final scribble. This one took me 1 hour and 50 minutes.
---
Round 2: Swords
When I got the prompt for swords, I decided I wanted to go for a Smash swordfighter joke. This went through a couple different iterations, and I ended up starting and tossing out three different initial sketches because I didn't like how they were turning out. One would've been Waluigi surrounded by different swordfighters and being mad about how there were so many of them. The other two were fight scenes with different swordfighters, while Waluigi looked on.
Instead, I ended up going with Waluigi trying to scam his way into Smash, presenting Sakurai with a very real Smash invitation (fake) and a cheap foam sword. All the swordfighters get in, right?
I would say this is my least favorite scribble from this year, not because it's bad, but just because it's really simple compared to everything else I did this year, and probably would've fit in better with my 2021 scribbles.
This one took 1 hour and 39 minutes.
---
Round 3: Vs. Tiki Tribe
At this point the tournament bracket decided that I'd had it too good for too long and matched me up against Gabumon. I knew that if I wanted to stand even a sliver of a chance, I would really have to up my game on this one, and pulled out all the stops.
With the prompt involving the Tiki Tribe, I thought it would be funny to have Tiki Tong with the stolen Banana Hoard, using it to make banana smoothies to sell to the rest of the tikis, while an enraged Donkey Kong looks on. One of my personal favorite details is the single pixel lines on the tikis to give them more of a wooden texture. I originally intended to color in DK and Diddy, but when I colored in the grass behind them, I liked how they looked against it with no coloration, so I just used a bit of purple for the emblem on DK's tie and the stars on Diddy's shirt.
Even though I didn't win the round, this is definitely my favorite scribble from the tournament, and I really like how it turned out.
This one took 2 hours and 34 minutes.
---
Round 4: Bowser's Mother
don't you love when your mom embarrasses you in front of your arch-nemesis
I probably struggled with coming up with an idea for this prompt the most, and cycled through a few different ideas for Bower's mom doing typical mom things, including asking Bowser why she doesn't call him anymore. Another idea I didn't go with was Bowser's mom swinging around a much younger Bowser like in Mario 64 because he didn't pick up his socks, but things went in a more wholesome direction, and we got Bowser's mom embarrassing him by baking cookies and showing up while he's trying to stomp Mario into the ground.
I usually like sticking to the source material when I draw, but in this case, I ended up not using the design of Bowser's mom from either the Super Show or Mario is Missing, and just went with what popped in my head. Unfortunately I forgot to add the detailing on her left oven mitt.
Originally I was going to have Bowser looking back at his mom over his shoulder in a cutaway instead of having him and Mario just be in the background, but there wasn't really any room to make that look good.
This was the first scribble I titled, mainly because I wanted to avoid misinterpretations that this was meant to be a Mario/Bowser ship. It didn't entirely work... Either way, it was fun and something I'll probably keep doing in future events.
This one took 2 hours and 35 minutes.
---
Round 5: Your Soul
Soul of the Automaton: The Final Showdown!
This prompt made me really nervous because I didn't quite know what the heck to do with this at first! I was matched up against Hearts in this round, so I came up with the idea of the two of us doing battle in some sort of... soul void. But then I decided it would be cool if our past scribbles got in on the fun, so there's a reference to each of our scribbles from the first four rounds in here, for the ultimate battle!
So to deal with the soul prompt, the Remaster-2000 (for context, TPG drew portraits of each tournament member, and mine was a Terminator-esque version of myself) went full soul mode. I started by combining the Remaster-2000 with the final form I made for myself in 2021's Scribble Deathmatch, threw in a whispy tale, took some inspiration from Undertale for the heart in the center, and a dash of inspiration from Minecraft's Warden for the metal ribcage things.
So on my side of things, we have the Shmaluigi puppet, four swords (this is a nod to an earlier idea I had for my final form this year that would've been more of a General Grievous-esque transformation), Tiki Tong himself, and some flying cookies, with most of the objects in play being controlled by vague scribble magic. Bowser's Mother was the hardest one to work in here, originally I wanted to have her in the background looking bewildered at the whole thing, or popping in through a floating door, but it just wasn't working. So now there's just magic cookies. I originally thought of maybe bringing back the Bushroot puppet and having him eat one of the cookies, but I decided not to.
On Hearts' side, we've got DK kicking a soccer ball from round 1, Daisy firing a cannon from round 2, King K. Rool ready to throw down from round 3 (I'm really glad both of us happened to get DK bosses that round), and two Yu-Gi-Oh cards granted by Pot of Greed from round 4.
This one took 3 hours and 24 minutes, the longest time I've ever spent on a single scribble. About an hour of that alone just went to sketching things out.
---
Alright, those are all of my scribbles this year! Hopefully you enjoyed them. Remember, if you have any of your art you'd like to share, you can show it off in Palette Swap any time! Just contact FunkyK38 (talk) with your submission.
Shmaluigi, Private Investigator
Written by: Waluigi Time (talk)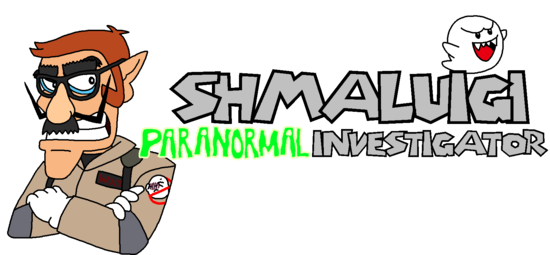 Tooth and Nail
There was a chill in the air that afternoon as I walked through the streets of New Wikisburg, on the way to my next case. The crime itself was a mundane one, a shoplifting case over at JojaMart. What made this case interesting, however, was that the culprit was supposedly a vampire. That's pretty typical this time of year, criminals dressing up in costumes to scare the living daylights out of gullible targets. Suffice to say, I was skeptical that there was anything out of the ordinary going on, but if nothing else, it was a nice diversion from the thoughts that refuse to stop swirling around in my brain lately...
Frankly, I don't know what they were so concerned about, anyway - they already have bloodsucking creeps in their upper management! Or at least metaphorical ones.
I walked into JojaMart, which was as soulless and sterile as ever. But hey, at least this would end with me getting money from them for once. And hopefully I wouldn't have to see Mr. Morris' face this time.
As soon as I entered, a Toad in a Joja uniform ran up to me. His name tag simply read "Toad", and indicated that he was the shift manager.
"Oh, thank goodness you're here! This is horrible!"
"Not to worry, Mr. Toad, Shmaluigi's on the case. Can you explain what you saw?"
"Well, I didn't actually see anything, I was in the back when it happened," Toad said, "Jerry saw everything though!"
Toad led me to a Koopa Troopa, who, judging by his name tag, was in fact Jerry. He looked more than a little rattled.
"Jerry! The detective's here! Tell him what happened."
"W-well, um, this Rex comes in, with wings like, this big," Jerry said, spreading out his arms to demonstrate the creature's wingspan, "and these big red and yellow eyes! And-and ghastly purple skin! H-h-he did some kind of mind control thing to make me give him the money from the checkout kiosks, and ran out with like, f-five or six bottles of tomato sauce!"
"You gotta help us out here, Mr. Morris will have our heads if he finds out about this," Toad said.
"Yeah, he's a bit ruthless, isn't he? Anything else of interest?"
"N-no... Nothing..."
"Well, alright, Shmaluigi will see what he can do."
"M-man, I wish I was allowed to take a br-break..."
---
At this point, I felt like I had a pretty good idea of what was going on. This wasn't exactly a costumed crook, but everything Jerry described was a dead ringer for someone under the effects of a Vampire Candy, right down to the obsession with tomato sauce. I don't know why something that can so easily give you the power of hypnotic suggestion isn't regulated in the slightest, but hey, do I look like Princess Peach? Didn't think so.
They're not exactly in high supply ever since the Star Carnival went under, but you could still find them if you knew where to look. And luckily, I did - New Wikisburg has a specialty candy store with all kinds of weird stuff like that in stock. If someone was running around causing havoc with them, that seemed like a good place to look.
I entered the store, and was greeted by a pink Boo working the counter.
"Welcome to Kokako, how can I help you today?"
"The name's Shmaluigi, private investigator. Can you answer some questions about a particular customer that you may or may not have had?"
"Well, I suppose I can try..."
"Have there been any Rexes in here recently?"
"Yeah, just one, a few days ago. He bought up a bunch of our Vampire Candies."
"Aha, thought so... Do you know anything about who this Rex is?"
"Mm, no, didn't give me his name. Only paid in cash, so no electronic trail, I'm afraid. Seemed just like a regular guy to me, nothing stuck out... Is there trouble?"
"Well, not any trouble that you should be concerned with, at least... Would you recognize him if you saw him again?"
"Probably, I don't see Rexes all that often anyway."
"If you do, keep him busy and call Shmaluigi, okay?" I slipped the Boo my business card.
"Will do."
---
I returned to my office to ponder my next move. Unfortunately, there wasn't much to go off of at this point. A Rex goes and buys Vampire Candies, robs JojaMart, no identification... I didn't want to bank on him returning to Kokako, most likely he already had what he needed in candy supply and he'd be stupid to go back in there. But where to go next...
As I pondered these things, I heard a knock at my door.
"Come in," I said. Then, a face I never expected to see again came through the door...
"Hello? Mr. Shmaluigi!? I've been trying to establish contact with you all day!"
"M-Ms. Skye?! You- I- er-" I sputtered in shock. If I hadn't been sitting in my chair at the time, I'm pretty sure that I would have fainted on the spot.
"Mr. Shmaluigi, are you okay? You've started to sweat profusely and your skin has acquired a pale discoloration! We can't rule out anemia without further observation, but when I factor in the sweating, I can hypothesize that you're experiencing an intense fear response! Now, gathering more information, can you tell me why you look like you've just seen a ghost? Is it that you were threatened by a criminal today and expected an assassin to burst in through the doorway?"
"Shmaluigi's fine, just... give him a second..."
Seeing someone who I thought was long dead was definitely not something I expected when I woke up this morning. Weirder things have happened, of course... I heard of some incident on an island earlier this year where a bunch of people got yanked back from beyond the grave, but for something like that to hit this personally...
"Okay, okay... So, ah, Ms. Skye, it's good to see you again! Although, not exactly expected... How did, ah, you know?"
"It was a simple process! I've been deceased for too long a time period for the restorative properties of a 1-Up Mushroom or a Life 'Shroom to reconstruct my cells, but there are other means of restoring lives. We live in a world of incredible as-of-yet unexplained phenomena, Mr. Shmaluigi! Is it that difficult to conclude that a rare alignment of natural phenomena could restore a life unaided?"
"Well, fair enough... So what brings you here to New Wikisburg?"
"Since returning to life, I've realized I was neglecting a remarkable field of study. Across New Wikisburg and beyond, the media regularly publishes claims that the undead walk among the living. Reporting that "wishes" and "grudges" can animate skeletons and corpses makes for sensational headlines, but the reporters never mention a mechanism of action or provide evidence for their claims. I thought I would shift my research so I could publish a truly rigorous analysis of zombies, ghosts, and other undead beings. Presently, I've been gathering information on vampires. While researching, I was told a vampire had recently been seen in a store, and more importantly, I heard that you were present at the scene! I knew you'd be investigating the incident, too, so I've come to assist you with everything I've learned. I thought that, maybe, if I could assist you in a case this time rather than try to disrupt the investigation, I could begin to earn your forgiveness!"
News travels fast, it would seem.
"Well, yes, that is what Shmaluigi's working on! The help would be appreciated, Shmaluigi's kind of hit a dead end, no pun intended. The Rex isn't a natural vampire, he just uses Vampire Candies, and he bought them from the Kokako candy store here in the city, but that's about all the information so far, no identification or anything," I told her, before circling back to what she had just said. "Although, for the record, Shmaluigi's never really held any ill will toward you, despite everything."
"Really, is that accurate, Mr. Shmaluigi? That's wonderful to hear! Oh, but we're getting off-topic. Sorry, but I've let my sense of commitment to uncovering criminal activity dull after all that time I had to bear alone!
Did you say "Vampire Candy"? Mr. Shmaluigi, this is an extraordinary coincidence! If it weren't such an unfalsifiable claim, I'd even consider calling it fate! Our understanding of the processes that animate the dead are lacking, but a considerably greater number of experiments have been run to determine how the products used to imitate those processes function! For example, did you know that Gadd's research on the Boo Mushroom has isolated compounds which undergo conformational alteration to selectively reflect light, allowing for temporary transparency.
Similarly, while research continues on the development of wings and fangs, previous research has elucidated a mechanism of action for Vampire Candy's yellowing of the sclera. We can attribute it to the build-up of the compound Swoopcrene in the tissues of the eye.
We can also attribute the candy's bitter aftertaste to the same compound... Why anyone eats it is a mystery beyond science..."
At this point, I just pretended that anything Ms. Skye had just said made sense.
"What's important for our purposes is that Swoopcrene decays rapidly in isolation. Through a chain of reactions, this decay releases a so-called "spectral gas." Under normal conditions, this gas isn't visible to the human eye, but with Dark-Light Goggles, we can see it! We should be able to identify any buildings in which large amounts of Vampire Candy are stored by walking around New Wikisburg with Dark-Light Goggles, and, with known production facilities and the specialty candy stores they supply excluded, we can conclude that any building with large amounts of Vampire Candy needs to be investigated further!"
"Well, that should make things easy... Or at least it would if Shmaluigi happened to have any Dark-Light Goggles, which is unfortunately not the case."
"Don't worry, Mr. Shmaluigi! I always come prepared! I've equipped my glasses with the same technology used by Dark-Light Goggles. We'll work on the case as partners!"
"Heh, it'll be nice being on the same side this time around..."
---
Our search brought us further to the outskirts of New Wikisburg, into one of the older parts of the city. There's certainly some... varied sights in this city. To put it more bluntly, it's run down quite a bit over the years. Of particular interest was a decrepit old mansion, which had certainly seen better days.
"Mr. Shmaluigi! I see a massive amount of gas venting out of that mansion!" Ms. Skye exclaimed. "Comparing the spectral emission pattern... This is it! If there's anywhere in need of further investigation, it's that building over there!"
So the vampire's hideout is a spooky mansion. How original.
"You know, Shmaluigi should probably get Luigi in on this," I thought aloud, "the Rex may be a poser, but who knows what else is up in that creepy old manor of his."
"Luigi, the famous ghost-capturing plumber?" Ms. Skye asked. "Are you certain that's a sound idea? Introducing another variable makes it more difficult to keep everything controlled. He could be contacted privately and be turned against us. It's better if it's just you and me there. We know one another well enough to know that neither of us would imperil this investigation!"
"Well, a good private investigator knows when something's out of their area of expertise," I replied. "Besides, Luigi's an old... acquaintance."
I picked up my phone and dialed Luigi's number. I heard a large crash on the other end, followed by two voices yelling into the receiver. One was more masculine, raspy, and lightly Brooklyn-ish. The other was smooth, feminine, and very British. Those goofs must have both picked up the phone at the same time.
"LUIGI AND ASSOCIATES DETECTIVE AGENCY, HOW MAY WE HELP YOU?!"
I tried to ignore the chaos on the other end. "Um, this is Shmaluigi."
"Oh..." Luigi sounded disappointed, and I heard a soft thud and an "ow" on the other end.
"Hello, Mr. Shmaluigi! What can we do for you?" Yuri said, much more pleasantly.
"Well, Shmaluigi's gotten into a situation that's a bit spooky if you catch his drift, and ah, well, to cut to the chase, is that Poltergust of yours still in working order?"
"Polter...hmm?" she questioned.
"You know, that ghost vacuum your goofball husband has."
"Oh! Of course!" she replied, still clearly having no idea what I was talking about. She then held the receiver away from her mouth a bit, although I still could hear what they were both saying.
"Luigi, he wants to talk to you!"
"What? No way!"
"Luigi, we talked about this-"
"I know, but it's SHMALUIGI! I thought we had an exception for him!"
"We do not. Now answer the phone."
"But, Yuri, he's gonna take all the credit for this!"
"Answer it."
"Yuri-!"
"Answer. It."
"Aww, okay..!"
Slowly, I could hear the recover being pressed up against a large ear.
"...Luigi speaking."
"What, does being one of your groomsmen mean nothing to you?" I said jokingly. I'd be lying if I said I didn't enjoy pushing Luigi's buttons. "Listen, Shmaluigi hates to admit it, especially to you, but he's gotten into a case that's a little out of his wheelhouse, and, well, if you'd be willing to lend your ghost catching expertise, that would be appreciated..."
"Oh, what, finally bite off more than you can chew?" I could almost hear the smug grin in Luigi's voice.
"Oh shut up, are you in or not?"
"I have conditions."
I had half a mind to just hang up on his face and wing this thing myself, but something told me that would be a bad idea. "Fine... What do you want?"
"Okay, so, first off," he started, "we get paid twice. One for me, one for Yuri. And also because we're behind on rent."
"There's more?!"
"Mhm. Don't interrupt. Next, we want equal credit! I'm talking about the news stories and the headlines, okay?"
"Does Shmaluigi look like a journalist to you?"
"I'm just saying talk to 'em, alright? Let them know who really swooped in to save the day!"
"Is that all, or do you want a gold statue of yourself thrown in?" I grumbled sarcastically.
"Okay, okay, last thing, I swear!"
He cleared his throat dramatically, to emphasize the impact of his last condition.
"You're buying us all dinner!"
"Fine..."
Hopefully he was good with the Kellollar Menu at Kellonald's.
"Well, that oughta do it! Now... where's the case?"
"It's, um... 154 Maple Boulevard."
"You got a deal, Mr. Groomsman~!" he smoothly replied, "We'll be there in 10 minutes! Ciao!"
That was exhausting.
"Wow, Mr. Shmaluigi. I remember your decisive argument against the ringleader of the Rogueport Mafia, but I never knew you were such an.... intense negotiator. You sound exhausted!"
"Yeah... Talking with Luigi tends to have that effect."
Now it was time for one more phone call. Luckily, I anticipated that this one would be much less of a pain... Probably.
---
"The cavalry's here!" Shmwario announced as he strolled down the decrepit sidewalk, chomping on a garlic burrito.
With the amount of garlic my brother eats, I figured he could be a pretty potent member of the team. Not that I've ever heard anything of the interactions between Vampire Candies and garlic one way or the other...
"Hey bro. This is Ema Skye, Ms. Skye, this is my big brother Shmwario."
"Oh yeah, I've heard a lot about you!" Shmwario said, catching her off-guard with an overly enthusiastic handshake. "Aren't you 'sposed to be dead though?"
"I've been revived by a rare alignment of natural phenomena. It's a pleasure to meet you, Mr. Shmwario, though it'd be more pleasant if we were meeting under different circumstances. Are you sure you wouldn't rather wait at home? You and I could speak under better circumstances after Shmaluigi and I finish this investigation."
"Nah, it's not that often my little bro admits he needs the great Shmwario's help! Bahaha!"
"And he has nothing better to do," I added.
"Wow, way to ruin my first impression, bro!"
"Now then, everyone's here except Luigi and Yuri, and... they're late," I said, looking at the clock on my phone. "Of course."
"You oughta cut their pay in half for that one!" Shmwario joked.
"Mr. Shmaluigi, you don't think it's possible they decided against coming, do you?" Ms. Skye asked, "They seemed reluctant to come, so perhaps they reached the conclusion it wasn't in their interest. Well, it's not in our interest to wait! We should go on and investigate that mansion right now!"
Before I could say anything, Luigi and Yuri came running down the sidewalk. Yuri was still in her usual detective wares, while I noted that Luigi was now wearing his iconic hat-and-overalls combination, complete with the Poltergust on his back. That's the part I was hoping for, but they still needed to have one heck of an explanation.
Panting and drenched in sweat, I got my answer.
"Our-! Car-! Broke-! Down-!" Yuri panted out.
Luigi seemed to be too bent out of shape to speak.
"Well, you're gettin' a pay cut for that one!" Shmwario said, digging in his ear.
"...what is...he...doing here...?" Luigi wheezed out, pointing at Shmwario.
"My bro had to call in the big guns!" he said, beaming with pride. I guess that's what happens when I actually need him for something.
"Oh, don't pay any attention to him," I said. "This is Ms. Skye, she, erm, worked adjacently with Shmaluigi on a previous case... Ms. Skye, this is Luigi and his wife Yuri."
"Hello! It's so nice to meet you!" Yuri beamed, shaking Ms. Skye's hand.
Luigi simply blinked twice before bluntly stating, "...aren't you dead?"
That comment of his earned him his wife's elbow into his chest. I knew I liked her.
"I was only temporarily deceased," Ms. Skye said. "You should know enough about spirits to be able to tell the living from the deceased with your experience, Mr. Luigi!"
"Enough of this chit-chat, I'm ready to pound some spooks!" Shmwario exclaimed. "Whaddaya say we bust down those doors and get crackin'?"
"Alright, let's do this," I said, determined to get to the bottom of this.
---
We tried to be stealthy as we made our way through the mansion, but let's just say that having five people on wooden floorboards as old as these made that just a little bit tricky. Not that it seemed to matter much. This place was dead...
"They really roll out the welcome wagon here, eh?" Shmwario commented sarcastically.
"Blergh, yeah, this is bringing back some memories..." Luigi commented, sweeping the area with the Poltergust's flashlight.
"Shh, it's okay... This isn't at all like that," came the reply from his wife. That seemed to calm him down a bit.
"Don't fear the paranormal, Mr. Luigi!" Ms. Skye said, "All available evidence suggests we're more likely to be attacked by living criminals than spirits."
"Oh, please!" Luigi brushed her off, "In my experience, haunted mansions do not have anyone except evil ghost kings who trapped my brother in a painting and wants my head on a platter. Not to mention their army of ghost mooks!"
As Luigi rambled, Yuri seemed to sport a worried look. Despite everything, I had to admit, those two seemed to make a good couple.
We pressed on, climbing up a once grand staircase and creaking open the large doors at the top. Inside was a large room, illuminated only by a crackling fireplace. And there stood our culprit, his back turned to us... Fully powered by Vampire Candy, and wearing a black cape for dramatic flair to boot.
"Well, it seems you miserable creatures have found me already," the Rex said, "dare I say that I'm almost a little impressed."
"Your reign of terror is over! Put your hands up, we have you outnumbered!" I said, hoping to end this without too much trouble.
"I'm afraid that's not going to happen, gumshoe," he said, turning to us with a jar of tomato sauce in hand. "I am Count Tyrannos. Do not despair, for I intend to make your ends swift."
Tyrannos gulped down the rest of the tomato sauce, then hurled the empty bottle at us, almost hitting Shmwario! Luckily, he ducked out of the way and the bottle shattered on the floor behind him, but if I knew my brother, that was a big mistake.
"You're gonna be sorry you did that! Eat garlic, chump!" Shmwario yelled. The next thing I know, he pulled some sort of makeshift slingshot out of his trenchcoat and launched a garlic burrito across the room.
"Is that all you've got?" Tyrannos said, batting the burrito back with one of his wings. "Pathetic."
Tyrannos rushed forward, and the true battle began. I wasn't prepared for this... Luckily for me at least, he seemed to be gunning for Luigi, so... that's something?
"YIPE!!" Luigi screamed. He pushed a button frantically, shooting bright beams of light at Tyrannos, to seemingly no effect.
Tyrannos slashed at Luigi with his claws, tearing right into the Poltergust. Sparks flew and it emitted all the sounds you'd expect from a vacuum meeting its untimely demise. That wasn't good. As for Luigi, he was flung forwards, hitting the wall with a loud thud.
"LUIGI!!"
Yuri instantly rushed to his side as he struggled to kneel back up. He inspected the Poltergust, or what he could see of it, anyway. He hit the flashlight a few times, which hardly emitted any light anymore.
"LUIGI! A-Are you alright?!" His wife panicked, trying to help him back up. Unsurprisingly, he seemed as though he was heavier with a vacuum strapped to his back.
"No, no... not okay! Not okay!" He winced, unhooking the straps of the Poltergust, he let it fall to the floor in a collective heap.
I figured it was now or never, so I pulled out the only weapon I brought with me... an old tennis racket. Not exactly prime vampire fighting material, but I've never been much for combat...
"SHMALUIGI TIME!"
"Go get him, Mr. Shmaluigi!" Ms. Skye exclaimed.
Tyrannos diverted his attention from Luigi just in time to see me slam the racket over his head. The strings busted, which may have been a good thing - I had the guy by the neck, but he was clearly trying to break the racket in two. I knew it wouldn't hold for long, and I didn't have any ace up my sleeve...
Just as the racket snapped, Shmwario came flying through the air and landed right on Tyrannos' head!
"ARGH!"
"Bwahaha!" Shmwario laughed, "Have a rotten day, you old fossil!"
"Y-you... you insolent... fools," Tyrannos managed to say, now compressed into half his size.
Shmwario whacked him with his fist for good measure, causing him to pass out. His wings disintegrated, revealing normal, much smaller Rex wings, and his skin returned to normal.
"No more candy for this guy," I said.
As Shmwario took care of things with our incapacitated criminal, I ran over to Luigi and Yuri.
"Everything okay over here?" I asked.
Luigi slowly rose from his knees, with Yuri rubbing his back.
"I'll be okay, I've been through worse," he said, before looking over at the nearly busted Poltergust with a frown. "Can't exactly say the same for the Poltergust, though."
"Mr. Shmaluigi, that was amazing! I'm sure any physiological measurements would reveal just how afraid everyone in the room was, but you did it!" Ms. Skye stepped forward, almost seeming to glare at Luigi. He wasn't that impressive, but, he wasn't that bad for someone caught by surprise, I thought. Maybe Ms. Skye had a more judgemental streak than I had remembered...
"This was a triumph! I thought it was all over when you brought that machine with you, but it's been defeated!" That's another first from Ms. Skye. She almost never took her glasses off while we were investigating in Rogueport. "I had been hoping he'd finish you off, but with you assembling a party, the destruction of that wretched cleaning tool is nearly as good an outcome. Now..."
Suddenly, she disappeared into a cloud of mist, leaving behind a ghostly purple figure.
"I can finish you off myself."
The ghost held up a wooden puppet of Ms. Skye. "These puppets... Quite remarkable, aren't they? The ability to flawlessly take on the form of another, indistinguishable to all the senses... The caveat that they cannot be among the living is a bit of a hindrance, but... I have my own ways of solving that problem, of course, and I would so love to have a Shmaluigi puppet for my own... nefarious purposes..."
It all made sense now. Ms. Skye turning up, alive, after all this time... And unexplained, to boot! The Ms. Skye I knew would have been all over discussing phenomena like this, or if she truly had no idea what had happened, she would've been trying to investigate that, surely... Not coming in with an all too convenient lead for the case I happened to have started on just hours before... I felt really stupid for falling for this so easily.
If I were cooler, this would be the moment that I'd reveal I knew the whole thing from the start, and spring my trap. Unfortunately, that wasn't the case.
"And of course, the great Luigi as well... And, well, the girl, and the fat one... I suppose having them out of the way may make my deceptions easier, if nothing else..."
"Hey!" Shmwario yelled in offense.
"You... you'll never get away with this!" I said, though I wasn't totally confident in my statement.
"Oh, but I already have... I fooled you, didn't I? You're all trapped here... And with that horrid Poltergust out of commission, there's no possible way you can defeat me..."
"Not if I can help it!" Shmwario said, charging toward the ghost and attempting a shoulder bash, only to phase right through.
"My, my, you are a dull one, aren't you... Now then, I suggest you all savor your last breaths..."
We braced ourselves for what came next, only to hear the unexpected and familiar whirring of the Poltergust.
To my surprise, it was Yuri who wore the Poltergust, her expression of pure anger.
"You dirty, two-faced LIAR!!" she spat out. Literally, a little spit came out.
"WHAT? NO! HOW?!" the ghost yelled, desperately attempting not to get sucked in by the vacuum's nozzle.
"Ha! Never underestimate the power of an angry wife! Trust me, I'd know..." Luigi said enthusiastically, rubbing the back of his neck sheepishly for that last part, "Hey, wait, did it call me the GREAT Luigi..?!"
As Luigi's face began to perk up, Yuri quickly shut it down.
"NOT the time, love!"
"THIS ISN'T OVER! I'LL-"
Whatever the ghost's last words were, no one would be hearing them. The Poltergust sucked up its victim just in time before emitting more sparks and shutting down again.
"Heh heh, doofus," Shmwario chuckled.
---
The four of us emerged from the mansion, and somehow, the night sky seemed less ominous than it did when we went in...
"Alright, Shmaluigi hates to admit it, but you two definitely earned your pay back in there."
"Ha... yeah... might need a liiittle more though. After dinner, we're going straight to the doctor's!" Luigi commented, his hands on his back.
"No worries, you two!" Yuri piped up, "Anything you need, don't hesitate to ring us!"
"...we do need a ride, though," they both said in unison.
"Eheheh, yeah, that's fair," I said.
"Dinner? Count me in!" Shmwario said. Guess I was paying for four people. The Kellollar Menu was definitely the way to go...
The End
---
Thanks for reading this spooky Halloween special of Shmaluigi, Private Investigator! I hope you enjoyed it, this was a fun one to work on. Special thanks to my guest writers, Hooded Pitohui as Ema Skye, and Long John Spaghetti as Luigi and Yuri. I'd also like to thank Lakituthequick for suggesting the name of Kokako, and Reverse Input for signing off on the Kellollar Menu joke. It's the little things that count.
Also, if you're interested, I've created a thread on the forums for this section! The thread contains stuff like character bios, explanations of lore from outside the section, and behind the scenes info! Be sure to check it out if you're interested.