The 'Shroom:Issue 173/Fun Stuff
From the Super Mario Wiki, the Mario encyclopedia
Jump to navigation
Jump to search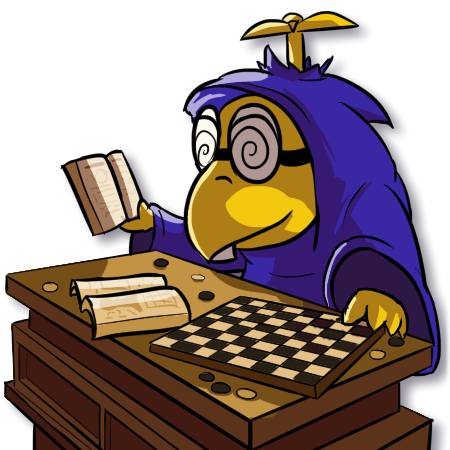 Staff Notes
Written by: Hooded Pitohui (talk)
Expecting Roserade? Too bad, P-
Oh, hold the phone, legal has informed me that another user already has this phrase claimed as their intellectual property. That's too bad, but at least I can keep it in if I don't finish it.
Okay, in all seriousness, I'm here to fill in for Roserade this month, but don't let my surprise appearance scare you away. There's some great games for you to play in this team, so go forth and enjoy them! Have fun (if you don't, we might have to change the name of this team, and nobody wants that).
Section of the Month
Congratulations to FunkyK38 (talk) for taking first place last month, and to Kirbyo (talk) for taking second with Trivia Time!.
FUN STUFF SECTION OF THE MONTH
Place
Section
Votes
%
Writer
1st
Where in the Marioverse is Carmen Sandiego?
12
35.29%
FunkyK38
2nd
Trivia Time!
9
26.47%
Kirbyo
3rd
Hiding Koopa
5
14.71%
Ninja Squid
---
Word Activities
---
There will be no hassles in castles with these anagrams!
[read more]
---
What if... kart racing, but Mario, and Super?
[read more]
Graphic Activities
---
Hunting monsters? I thought we were hunting Koopas!
[read more]
---
Thankfully, you have more than a few seconds to solve this Picross.
[read more]
Anagrams
Written by: BBQ Turtle (talk)
Hello everyone, I hope you all enjoyed the awards this month! There were some really great presentations this year (and very few dropped), so I think everyone who did one deserves a pat on the back at the very least! And thank you so much to anyone who voted for me or this section in any of the awards, it's lovely to see that you like my stuff. And with no relation to all of that, this month's theme for my anagrams is castles (Spoiler alert: Not all of them actually have castle in the name :P). If you ever have a suggestion for a future theme for the section, or maybe have found a funny Mario-related anagram I could work into one, let me know with a message on my talk page or in a PM to me on the forums, it'd be great to hear from you. Now let's rampart the difficulty and get on to those anagrams!
How it works... Basically, this puzzle consists of solving the anagrams. Each month has a specific theme, which will give you a clue about what sort of words or phrases the anagrams will be. I've also included the boxes that the anagrams will fit into, so you'll be able to tell how many words it will solve to be and how many letters will be in each word, which should give you a hand too. You'll also notice that within each set of boxes, one of the squares are yellow. As you solve each anagram, note down the letter which appears in the yellow squares, and if you can solve all of the anagrams, you'll also get a bonus anagram to solve from completing all of the others. I've included the letter configuration for this one at the bottom too, just to give you an extra helping hand. Best of luck!
1. STARFISH OR PIERS
2. OMITS A GLACIER
3. CORN TARIFFS
4. BOTHERS COALS
5. CURTSEY SLAP
6. FIGHTERS CALM CATS
7. OR POKES ELK
8. CRACK LOWEST LOCK
9. WASH POOL FACADE
10. ALL THAT COOKIES
11. ASKS TO LEAK
Bonus anagram:
Answers
Airship Fortress
Origami Castle
Fort Francis
Shroob Castle
Syrup Castle
Castle MacFrights
K. Rool's Keep
Clockwork Castle
Palace of Shadow
Hooktail Castle
Kastle Kaos
Bonus anagram: Castle Bleck
Word Search
Written by: Chester Alan Arthur (talk)
OH GOD, I FORGOT ABOUT MY SECTION! UH, UH, UH, UHHHHHHHHHHH... SUPER MARIO KART! AS ALWAYS, WORDS CAN BE FOUND FORWARDS, BACKWARDS, AND IN OTHER WORDS!!!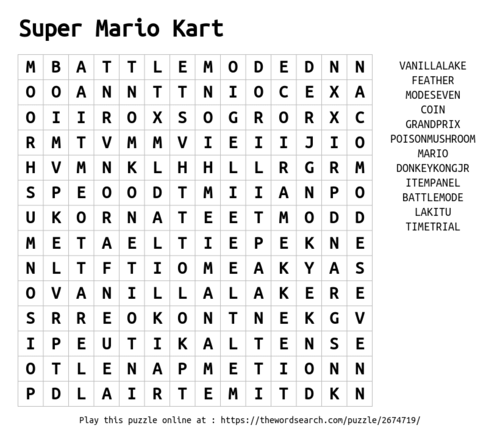 Answers
Crossword
Written by: MarioMorty (talk)
Hello, everyone, and welcome back to another edition of Crossword. I'm always open to suggestions, so just contact me through Discord at MarioMorty or through my talk page (I don't use forums). This month, we'll be focusing on power-ups found throughout the series. Without further ado, the puzzle: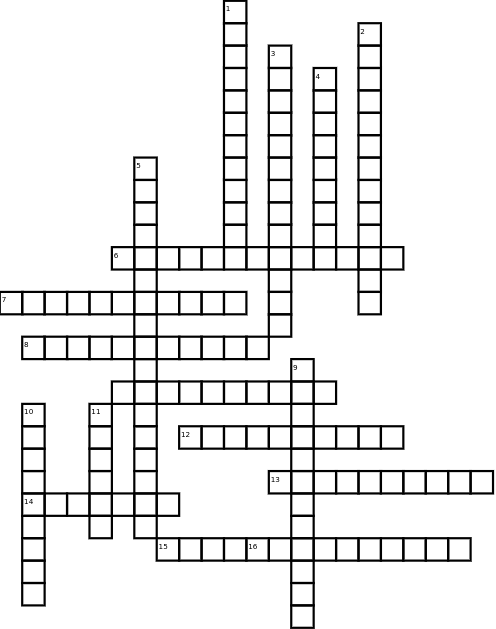 Answers
Hiding Koopa
Written by: Ninja Squid (talk)

Hello there, 'Shroom readers! I am here for a new round of Hiding Koopa.
My five Koopas are currently hiding in an artwork of Monster Hunter Stories 2: Wings of Ruin. Will you find them all? Well, it's all up to you know. Good luck!

Answer:
Did you find them all? Regardless, thank you very much for your support, and I hope you will come back next month! In the meantime, look at our sign up page, and apply to The 'Shroom!
Picross
Summer is nearing its end, sadly, but Picross is here as always! With WarioWare: Get It Together! coming next month, and with the demo being released a couple days before this issue's release, it's a prime time to use it as a theme for Picross! So without further ado - Solve!
For new readers:
For new readers to this section, here's a short explanation about it: Every issue, you'll find two to four picross puzzles based on a certain theme, based on a Mario game, series, character, or item. If you have any ideas for themes, feel free to suggest them here. If you're new to picross, or need a refresher on the rules, here is a step-by-step walkthrough. You can also find many tutorials online. To play, download the picture and print it, or open it in a drawing program of your choice. Happy solving!
Level 1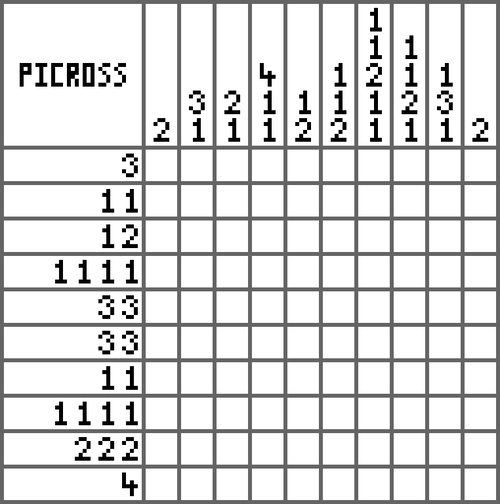 Level 2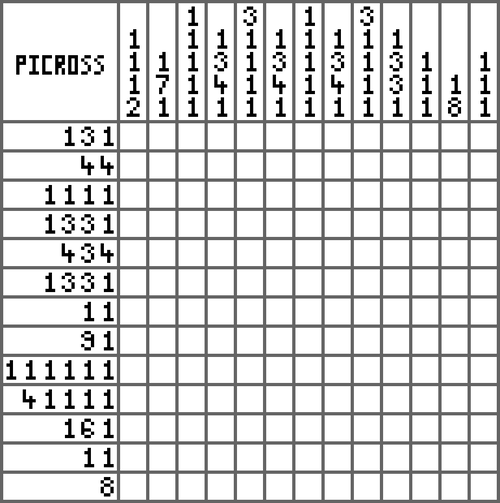 Solutions:

Level 1

Level 2
I hope you enjoyed! Next month, I'll be back with another theme. Until then, farewell!
Where in the Marioverse is Carmen Sandiego?
HOW TO PLAY
Each issue, you will be given a case to solve and clues to use to help you find the solution! Use your Mario knowledge to crack the case!
You will begin each case at the scene of the crime, and you will be given three clues from passerby as to where the next hot spot is and what game it's from. Using your knowledge of Mario games and the Super Mario Wiki, figure out where the crook is and go track them down! There are four locations each round: the crime scene (1) at the start, two locations (2 and 3) with clues, and the hideout for the crook of the month (4). Answers for locations will be given with the corresponding round, for example, the clues from the crime scene will lead you to location 2, and once you open the spoiler bubbles for location 2, you will be given the correct answer. You can open the clues for each location in any order you'd like, but be careful! You may encounter an incorrect clue that could throw you off the case!
Clues offered will give you a hint either about the next location or the game it's in. Unlike a regular Carmen Sandiego game, you do not have to collect information about the crook you are tracking down.
Challenge round (optional):
-Find all locations and games correctly in two minutes or less
-Find all locations and games correctly without using the rest of the Wiki for help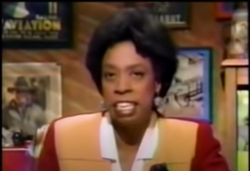 "We've got a new case for you, gumshoe, and this is important! Wario has come looking for your help today- the keys to his microgames factory are missing! The factory has been featured in prominent WarioWare titles as the main source of the microgames that players participate in with Wario and friends- Wario makes them at the factory! No keys means not only can he not get in, but he can't turn any of the machines on, and without the factory up and running for ''WarioWare: Get it Together!'', the new title won't be able to get off the ground! We've tracked the heist to one Monty Menace, one of Carmen's favorite sleeper agents. You have to hurry, gumshoe, or we won't have a WarioWare game! Get moving!"
Crime Scene

The Crime

Reclaim the keys to Wario's microgame factory!

CLUE 1

"This guy is sneaky, Bowser keeps the security here pretty tight! How'd he get in here!"

CLUE 2

"It's like a castle, but more vacation-y!"

CLUE 3

"This is like extreme therapy! Yeah! Talking about our feelings!"
Location 2

CORRECT ANSWER

Bowser's Villa from Super Princess Peach

CLUE 1

"He's got a sweet tooth, it seems."

CLUE 2

"Plenty of space out here for all this candy!"

CLUE 3

"Ready to go back for another far-flung adventure?"
Location 3

CORRECT ANSWER

Sweet Mystery Galaxy from Super Mario Galaxy 2

CLUE 1

"What lovely scenery! The rolling hills are beautiful in the summer."

CLUE 2

"Everything looks so pretty when it's nice and clean…"

CLUE 3

"This game was your own personal mess to clean up…"
CASE CLOSED
HIDEOUT ANSWER: Bianco Hills from Super Mario Sunshine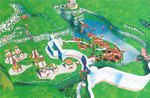 "We chased him all over those hills, gumshoe, and we finally managed to chase him into a trap! Now not only have we successfully gotten Wario's keys back, but we've captured one of Carmen's favorite agents! We'll be sure to question him about all of her intentions although I doubt he'll have anything to say to us. Either way, excellent work, gumshoe! Wario sends his thanks for getting his keys back- plus a coupon for a discounted microgame. He'll never change, I suppose. You've done well, gumshoe, and we're counting on you to keep it up for next time Carmen strikes as well!"