The 'Shroom
:
Issue 170/Critic Corner
From the Super Mario Wiki, the Mario encyclopedia
Jump to navigation
Jump to search

Director's Notes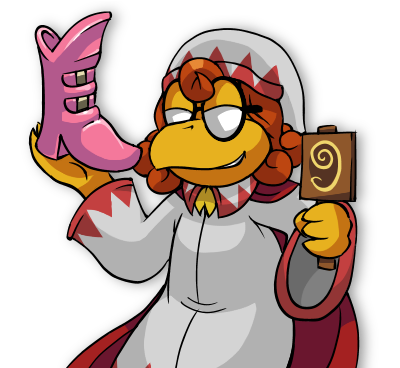 It's May!!!!!!! Wow! Time sure flies by when you pack every waking, and even sleeping, moment with this to do. Work work work! We here at Critic Corner have been working hard to bring you top notch reviews month after month, and May is no exception! Don't delay, come right on in, get cozy, and enjoy!
Additionally, awards season is now upon us! Meetings hosted by the Awards Committee has begun for Mario Awards XV and our wiki's Anniversary events. The Awards Board has opened up on the forum, and the official Anniversary page has been created, so please check them out! Keep tabs on any changes we've made super easily over with Lakituthequick, but be sure to visit the forum or chat if you've got ideas to share. Soon enough tournaments will be opening, polls will be coming up, and slots to create presentations will open. Soon soon soon!!!
Thank you for voting Half-Baked Reviews as April's Critic Corner Section of the Month!! Be sure to give your love to all of our sections here, and give a shout out to our writers whether in chat or in their forum threads dedicated to their sections. Be sure to vote vote vote!
---
And now for my regular announcements: We've decided to implement in Critic Corner something similar to News Flush over in Fake News, where no formal sign-up application process is required for one-time or limited sections. From now on if you just want to send in a single review for something you just read, watched played, tried, whatever, you just have to send me your review privately either to me directly in chat, or in a message to me on the forum at least one week before each 'Shroom is to be released! There's no commitment or obligation to provide a full monthly section (although you absolutely can shift it into one if you so choose), just send us your thoughts on a thing and we'll feature it here! If you have any questions or curiosities about this, please feel free to ask!
As always, if you would like to help Critic Corner, we always have openings for more writers! You are free to write for sections such as Character Review and Movie Review, or really anything you'd like to do! There's no pressure to have a huge section; they can be shorter and concise! The application process is very simple, starting with reading the Sign Up page, and sending your application to Ninja Squid, our Stats Manager on the forum. Any idea you have is welcome, and if you have any questions or need help signing up, please feel free to reach out to myself or other 'Shroom peeps!
Section of the Month
---
'Shroom FM
Written by: MrConcreteDonkey (talk)
Welcome to 'Shroom FM! Good news - I've added some emojis to the end of the section to make it look nicer. Or to annoy you. You decide.
APRIL 2021
BROCKHAMPTON - ROADRUNNER: NEW LIGHT, NEW MACHINE
I'm not as big a fan of Brockhampton as I used to be. In mid-2018, I went to their first concert in the UK, in London. It was a great show too; they mostly played songs from their SATURATION albums from 2017, probably the band's best era. Following that, they released iridescence, which I tried to enjoy at the time, but over time I've found none of it worth going back to. By the time Ginger came out, I wasn't too enthusiastic; I gave it a go and liked some parts of it, but overall found it pretty average. Nonetheless, all of these albums feel like Brockhampton albums - you can tell who's performing each verse and how it relates back to their own personal experiences - which ultimately is something you can't do on Roadrunner. While most of the songs here are solid enough, the individual performances here are comparatively very weak, and do little to stand out from each other, taking all the weight out of the lyrics. The first song, BUZZCUT, is probably the clearest example of this - the band's verses in the first half don't even come close to the massive charisma of Danny Brown's guest verse, and ultimately that ends up being the only memorable part of the song. It's also pretty hard to tell what general sound the band are going for here - a lot of the songs have unique ideas but none of them ever feel carried or developed upon through the album. The only part of the album I outright hated was the pointless C.R.E.A.M. sample at the end of the second track. There are some solid cuts on Roadrunner, but it's very inconsistent and has little focus, and as a presentation of the band's personalities it falls flat.
Best tracks
THE LIGHT PT. II, BUZZCUT
CFCF - MEMORYLAND
memoryland is an ambitious project. The other CFCF albums I've listened to have all been subdued and progressive, starting off with a melody and then building up or changing elements over each track, without moving away from the album's general sound. memoryland's approach is more dynamic; each track feels like a separate idea. Many different styles are explored, sometimes moving away from the electronica stuff to UK garage-inspired guitars, or lounge music, or even indie rock sounds - and it manages to do so without anything feeling too out-of-place. A few tracks even have vocal performances, which range from very good (Heaven) to good (Punksong) to annoying (After the After). The main theme here is late '90s/early '00s nostalgia, particularly the era's electronic music, which is a really cool concept - though sometimes it feels a bit vague in what it's meant to evoke, beyond the concept of 'nostalgia' itself. The biggest problem I have here is that a fair few of the tracks last too long - every track here is either under two minutes or over four and a half, and even some of the best tracks here could stand to be around half the length they are. The vocal samples sometimes work well, adding an extra layer to the song, but often get lost in the mix or feel difficult to relate to the rest of the song - suburbilude, for instance, mostly just consists of a distorted guitar line which fades into a slightly-too long sample at the end, while Model Casings distracts from the music with a monotonous sample. While it's not perfect, memoryland is an interesting album with a lot of cool ideas and vivid soundscapes.
Best tracks
Heaven, Life is Perfecto, Night/Day/Work/Home
DRY CLEANING - NEW LONG LEG
Completely indifferent to this. At its best moments, it's listenable, but still generic and uninteresting; and at its worst, it's just plain boring. The instrumentation is Fine - the bass is pretty good, the guitars and drums are competent and clearly being played well, and there's nothing noticably wrong with the production. On the other hand, I'm not a fan of Florence Shaw's vocal performance, which is entirely spoken word (there may have been some singing somewhere, hell if I can remember which song it was on), with a very dry and expressionless tone. Sure, it's all deliberate, and maybe her performance suits the lyrics well at times, but for me it sucks the energy out of everything, so whenever the album tries to make a point or a Bad Word comes up, it just feels weak. It doesn't help that the lyrics themselves are cryptic, mostly meaningless stream-of-consciousness stuff. In terms of the individual songs, nothing here is terrible - I ran out of patience with A.L.C because the instrumental is really sluggish, and combined with the disaffected vocals it was harder to get through than the seven minute track which followed it. Still, the good things about this have been executed a lot better elsewhere.
Best tracks
New Long Leg, More Big Birds
IGLOOGHOST - LEI LINE EON
Compared to the madness of Neō Wax Bloom and the bounciness of Gloo's XYZ, Lei Line Eon feels like a more mature project from Iglooghost. The massive bass and intricate, clattery percussion are still here, but here they're combined with chamber music elements - lush vocals, violins and pianos - to create an interesting and dense soundscape. When this works well, it's very effective - Zones U Can't See strikes a perfect balance between the two styles and gives every sound a lot of space, and Pure Grey Circle manages to be pretty and exhilirating at the same time. However, there are a few times where the glitchier stuff overpowers the melodic stuff - for instance, on some tracks the bass starts to feel a bit tedious, and the noises in the background sometimes feel a bit too loud or even unnecessary. Generally, songwriting-wise, this album feels slightly weaker than some of his previous work - there's a few tracks that don't do much to stand out from each other, especially in the second half. It's also a shame to see the hip-hop elements of his previous work take a backseat; the only song where they really pop up is Pure Grey Circle. Nonetheless, there's a lot of effort put into the production here, and there's more than enough immaculate moments here to justify it.
Best tracks
Pure Grey Circle, Sylph Fossil, Zones U Can't See
NAKED FLAMES - 247 365
The first thing you'll probably notice upon listening to this is that's it's all very compressed and low-bit, which essentially means it sounds a bit like it's from an old Flash or PC game. When I listened to the EP Naked Flames released earlier this year, Binc Rinse Repeat, the production style didn't click with me at first, but when it did I had a lot of fun. It also helps that both the album artwork and a sample in the final track are taken from the greatest game of all time, Worms Armageddon. 247 365 throws you straight into the its unique, dense style of techno, and the tempo rarely drops over the 40-minute runtime; it's just a massive blast of energy. I love the instrumentation: how smooth the bass is, the slick percussion, the gorgeous synths - and the sampling here's really cool, whether it's vocal stuff like in the first two tracks to add a bit of flavour, or video game sound effects. Waterslug2 has two, maybe three samples that you'll instantly recognise, plus it reminds me a bit of the old ScrewAttack top 10s theme, which I haven't thought about for around a decade. As with the CFCF record from earlier, if you're a fan of 90s/00s nostalgia you'll probably get a lot out of this - and if not, it's still a really fun project.
Best tracks
Waterslug2, 247 365, The O
PORTER ROBINSON - NURTURE
Nurture is pretty much exactly what I expected from a Porter Robinson album - a bunch of bright, glitchy pop songs with lush synths and a generally optimistic tone. The album opens up with Lifelike, a very pleasant intro that combines electronic and acoustic instruments well. Following that, Look At The Sky is probably one of the weaker moments; the chorus is nice but the instrumental veers a bit too close to generic EDM, and the way it develops isn't particularly rewarding. Meanwhile, Wind Tempos one of the more abstract tracks, incorporating nature sounds and largely lacking a conventional song structure - unfortunately, it ends up being a bit too static, and the vocals at the end ruin the atmosphere a bit. Generally, the vocal editing here is impressive, though - for instance, the core vocal of Musician is chopped up from a scrapped track with Kero Kero Bonito. By the end, the album does feel like it's retreading old ground on a few tracks; do-re-mi-fa-so-la-ti-do and Sweet Time don't add anything, and Trying To Feel Alive is a nice track but a very unsatisfying end to the whole thing. However, Something Comforting is definitely a late highlight, switching rapidly between relaxed, guitar-backed verses and the high-tempo, thumping trance of the chorus. All in all, it's not a groundbreaking album but it's got a refreshing atmosphere, and it's consistently solid and fun.
Best tracks
Musician, dullscythe, Something Comforting
JEFF ROSENSTOCK - SKA DREAM
SKA DREAM was announced on April Fools Day and taken by many as a joke, then released on 4/20, the other funny date in April. It's a full re-recording of Rosenstock's album NO DREAM from last year (which I enjoyed a lot) but fully rerecorded as a ska punk album. I'm not too familiar with the genre or third wave ska in general, but there's plenty of recognisable elements here and they're all executed in a creative way. One of my favourite aspects of this is how much fun's clearly been had with the new track titles - with a couple of obvious changes (the title track), quite a few ska references (Ohio Tpke, Ohio Porkpie; The Beauty of Breathing, The Rudie of Breathing) and some where the word "ska" is just forced in (Old Crap, Old SKrAp; Scram!, SKrAm!). Interestingly, some of the songs I enjoyed most here I thought were weaker tracks on the original album, such as the opener NO TIME TO SKANK (or NO TIME), which felt far too rushed on NO DREAM but much more fleshed out here. Overall, this is a very enjoyable project that serves as both an accessible ska punk album and an April Fools joke with a rewarding payoff. Can't wait for the prog version, YES DREAM. Make it happen Jeff.
Best tracks
Checkerboard Ashtray, Horn Line, Old SKrAp
EP OF THE MONTH
KERO KERO BONITO - CIVILISATION II
I don't usually write full reviews for EPs because I run out of things to say about them very quickly - but I think Civilisation II might be my favourite musical project of the year so far. The Princess and the Clock is definitely my favourite song of the year so far - Sarah Bonito's vocal performance here is incredible, the synths are gorgeous - that instrumental bit after the first verse with the edited vocals has been stuck in my head ever since I first heard it. The lyrics of the song do an excellent job of emulating the feel of a fairytale, but if you need extra help it's got an excellent music video too. If that's not enough, there's also TWO other songs - yeah these things are short. The second track, 21/04/20 sounds a lot closer to the band's previous work; it's a fun and laid-back tune about feeling isolated during the earlier days of the quarantine. Probably the weakest track here overall, but still great. The final track, Well Rested is a long, progressive deep house song, a sound the band haven't delved into much before. It's very eclectic and dynamic, with a wide range of different synth sounds and vocal segments - plus it calls back to the first Civilisation EP in a few really neat ways. To summarise, this is a great EP that's well worth checking out, or adding a new segment to your 'Shroom section for that'll probably never get used again.
Best tracks
The Princess and the Clock, 21/04/20, Well Rested
FURTHER LISTENING
📠 Róisín Murphy - Crooked Machine 📠
🌆 YUKIKA - timeabout, 🌆
Book Review
A Phở Love Story
Author
Loan Le
Release date
2021
Genre
YA, romance
Pages
416
Available From
Greetings, readers, and welcome back to Book Review! This month, I'll be looking at A Phở Love Story! First things first, my apologies if my letters are wrong for names and specific words, I tried my best with what I had.
Back in March, I finished my massive stack of unread books, and as a reward, I got myself some new books (can't ever let the stack run dry). This was one of the ones I picked up, and I've really enjoyed it so far, and I've liked the opportunity to support an Asian author, even if it's just by spreading the word about the book itself. Don't worry, we'll be looking at another Asian author coming later this year that I'm very excited about. But that's later, and this is A Phở Love Story.
A Phở Love Story follows two high schoolers, Linh and Băo, as they seemingly come into each other's orbits after not interacting since childhood. Their families each own a pho shop, and the two shops are right across the street from each other, competing fiercely for patronage, and thusly, their families are enemies, although there are hints of something deeper brewing throughout the entire book. If this sounds like a Romeo and Juliet story, it is, but it's a fantastic retelling. But the bigger emphasis is placed on Băo and Linh, and their struggles of trying to conform to their families' wishes, and their quest to get to the bottom of the feud. Linh's family wants her to go to college and become an engineer, and they dismiss her love of art as just a hobby and that she won't be able to support herself if she pursues art as a career. Băo, on the other hand, doesn't know what he wants to do with his life, and is trying to figure it out despite the increasing pressure from his parents to figure his life out and go to a good college. Linh and Băo meet one day at school, and they are thrown into each other's lives, finding a natural camaraderie from spending their childhoods in their parents' restaurants. In fact, one of their early meetings is Băo volunteering to help Linh by working a shift at her family's restaurant when she gets overwhelmed, and he is a natural at it immediately due to his experience.
A Phở Love Story is very easy to like. You can tell it was written with love from the author, as every character is fleshed out and very real. You want to read to the end, to find out all of the twists and turns the story takes, and to stay with the characters until the very end. I really enjoyed the entire journey, and the descriptors of the food are homey, delicious, and make you feel like you're really there. Most of all, I loved seeing Băo and Linh's passions- reading the descriptions of Linh painting, or of Băo working on what he loves (I don't want to spoil it for you), I love these characters and I loved watching them grow over the course of the book.
A Phở Love Story is a charming story that evolves over time. It might take some inspiration from Romeo and Juliet clichés, but this story feels fresh and original, without the tragic, death-filled ending that Romeo and Juliet has (spoiler alert: no one dies at the end.) If you enjoy a cheerful read from time to time, or maybe a cute romance, definitely check this book out, as it will check all those boxes and more for you.
That's all for me this month, readers! Tune in next time for a fresh graphic novel review!
Pokédex Power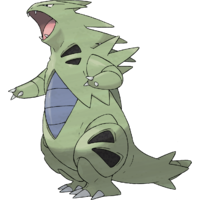 Hello everyone, it's me, Yoshi876 again with a new edition of Pokédex Power, the section written by the person who made their first curry! It was a spicy curry with a Cheri Berry and Oran Berry, and my Pancham loved it, which helps considering we were then nearly killed by an Onix of all things.
In real life, I'm not too much of a curry fan, unless it's a mild one – I really cannot handle spicy food. But at least Pancham loves it! Anyway, we're not talking about Pancham today, in fact we're talking about something that probably couldn't be further away from Pancham if it tried, although having one would allow Pancham to evolve into Pangoro. This month we're onto the pseudo-legendary Tyranitar, which is one of the most popular Pokémon from the Johto – at least I know it has the backing of a friend of mine.
I find myself typically shying away from using legendries and pseudo-legendries, but in Black 2 I do remember using a Tyranitar to great effect, I don't think it was on my Elite 4 team, but I think I did use it to help me catch a few of the legendary Pokémon around. Tyranitar is quite popular, but does that mean it has good Pokédex entries? Let's find out…
Generation II
| | |
| --- | --- |
| Pokémon Gold | Its body can't be harmed by any sort of attack, so it is very eager to make challenges against enemies. |
| Pokémon Silver | Extremely strong, it can change the landscape. It has an insolent nature that makes it not care about others. |
| Pokémon Crystal | In just one of its mighty hands, it has the power to make the ground shake and mountains crumble. |
| Pokémon Stadium 2 | Its body can't be harmed by any sort of attack, so it is very eager to make challenges against enemies. |
Tyranitar is strong, strong enough to cause earthquakes and crumble mountains, which really makes the Pokémon feel like it should be a legendary. Everything you get from these entries screams legendary Pokémon with the power that it exudes, I don't think any pseudo-legendary is given unimaginable power like this. It's so powerful that even the games can't keep up, because I've seen a Tyranitar's HP fall down to zero, so I assume that it can feel some pain. The Silver entry explaining its attitude does hint that this is more a solitary Pokémon, but I do have to wonder how it actually finds a mate. Presumably, a Tyranitar seeing another Tyranitar would trigger more of a fighting reflex, given that it's regularly searching out opponents and doesn't care about others. But given its power, it would make sense for there not to be a lot of Tyranitar about, because otherwise humans as a species would be toast.
Generation III
| | |
| --- | --- |
| Pokémon Ruby | Tyranitar is so overwhelmingly powerful, it can bring down a whole mountain to make its nest. This Pokémon wanders around in mountains seeking new opponents to fight. |
| Pokémon Sapphire | Tyranitar is so overwhelmingly powerful, it can bring down a whole mountain to make its nest. This Pokémon wanders around in mountains seeking new opponents to fight. |
| Pokémon Emerald | A Tyranitar is so overwhelmingly powerful, it can bring down a whole mountain to make its nest. It roams in mountains seeking new opponents to fight. |
| Pokémon FireRed | Its body can't be harmed by any sort of attack, so it is very eager to make challenges against enemies. |
| Pokémon LeafGreen | Its body can't be harmed by any sort of attack, so it is very eager to make challenges against enemies. |
If you didn't get it from last time, Tyranitar is strong. Although I am slightly perplexed about it wandering around mountains considering it brings them down to create its nest. Sure it's looking for some tough opponents, but is it also on the market from new curtains for the nest and think this mountain could provide some good ones? I also feel like we should get some detail on what sort of opponents Tyranitar likes to fight. In the mountains, is it facing things like Golem, Charizard and perhaps Steelix, or is it happy to fight a Geodude if it comes across a bothersome one? Also, make sure you're never climbing when Tyranitar are around, they sound like a health hazard.
Generation IV
| | |
| --- | --- |
| Pokémon Diamond | If it rampages, it knocks down mountains and buries rivers. Maps must be redrawn afterward. |
| Pokémon Pearl | If it rampages, it knocks down mountains and buries rivers. Maps must be redrawn afterward. |
| Pokémon Platinum | If it rampages, it knocks down mountains and buries rivers. Maps must be redrawn afterward. |
| Pokémon HeartGold | Its body can't be harmed by any sort of attack, so it is very eager to make challenges against enemies. |
| Pokémon SoulSilver | Extremely strong, it can change the landscape. It has an insolent nature that makes it not care about others. |
I'm certainly glad I'm not a cartographer in the Pokémon world, because if Tyranitar regularly go on the rampage, then you're going to have to be changing those maps a load. But this also comes back to my previous point of how this pseudo-legendary basically has the power of a legendary Pokémon and should practically be classed as one off these entries alone. And also, how on earth do humans survive in a world populated with Tyranitar? This Pokémon would absolutely wipe the entire species out while barely breaking a sweat with the power that it has, this is Tyranitar's world and we're just living in it for the time being.
Generation V
| | |
| --- | --- |
| Pokémon Black | If it rampages, it knocks down mountains and buries rivers. Maps must be redrawn afterward. |
| Pokémon White | If it rampages, it knocks down mountains and buries rivers. Maps must be redrawn afterward. |
| Pokémon Black 2 | The quakes caused when it walks make even great mountains crumble and change the surrounding terrain. |
| Pokémon White 2 | The quakes caused when it walks make even great mountains crumble and change the surrounding terrain. |
I'm really starting to suspect that Tyranitar has too much power, not only can it change entire maps with a single rampage, but now it causes earthquakes that destroy mountains and change the terrain when it just goes for a morning stroll? I don't look at the Pokédex for a healthy dose of realism, but this is now actually bordering on the ridiculous. There is literally no way another species could survive if Tyranitar was a populous Pokémon, and given that we know this Pokémon breeds, there's no reason for this not to be the case.
Generation VI
| | |
| --- | --- |
| Pokémon X | In just one of its mighty hands, it has the power to make the ground shake and mountains crumble. |
| Pokémon Y | If it rampages, it knocks down mountains and buries rivers. Maps must be redrawn afterward. |
| Pokémon Omega Ruby | Tyranitar is so overwhelmingly powerful, it can bring down a whole mountain to make its nest. This Pokémon wanders around in mountains seeking new opponents to fight. |
| Pokémon Alpha Sapphire | Tyranitar is so overwhelmingly powerful, it can bring down a whole mountain to make its nest. This Pokémon wanders around in mountains seeking new opponents to fight. |
Tyranitar might be able to reshape the entire planet in a few minutes, but it can't get new entries from Generation VI.
Generation VII Normal Tyranitar
| | |
| --- | --- |
| Pokémon Ultra Sun | It wanders through the mountains seeking opponents to fight. If it finds an opponent that's not worthy, Tyranitar ignores it and wanders on. |
| Pokémon Ultra Moon | This Pokémon is a mobile disaster, leaving mountains crumbled and houses destroyed in its wake. |
With Ultra Moon, I once again have to ask, how have we survived as a species if Tyranitar are about? If that thing can just stroll through a populated area, with its earthquake-inducing steps remember, that city is levelled, end of. At least we get some answers on its opponents, as Tyranitar will only battle those deemed worthy, and given its power, we're looking at strong Pokémon like Garchomp rather than something like Buizel.
Mega Tyranitar
| | |
| --- | --- |
| Pokémon Ultra Sun | Due to the colossal power poured into it, this Pokémon's back split right open. Its destructive instincts are the only thing keeping it moving. |
| Pokémon Ultra Moon | The effects of Mega Evolution make it more ferocious than ever. It's unclear whether it can even hear its Trainer's orders. |
Surprisingly, Mega Evolution doesn't actually make the Pokédex writers go too far overboard. Given that Tyranitar can already destroy mountains at will, you'd expect Mega Tyranitar to essentially be able to destroy the moon just by looking at it in a funny way. Instead, we get the usual Mega Evolution fluff of the Pokémon basically becomes so consumed by rage and an evolution that doesn't work for it, that it becomes an unstoppable killing machine – that once again won't listen to the Trainer and more than likely kill them given the chance.
Generation VIII
| | |
| --- | --- |
| Pokémon Sword | Its body can't be harmed by any sort of attack, so it is very eager to make challenges against enemies. |
| Pokémon Shield | The quakes caused when it walks make even great mountains crumble and change the surrounding terrain. |
Generation VIII sometimes just rehashes old entries for old Pokémon, this is one of those cases.
Conclusion It seems like the writers for Tyranitar's Pokédex entries entered into an unofficial competition to make each set of entries more ridiculous than the last, and they succeeded on every occasion. With some Pokémon, it's easy to imagine them in a real-world scenario, with Tyranitar it's impossible to envisage a world in which any living thing could actually live alongside them. If Tyranitar was a Pokémon where only one existed, or lived on some faraway island it could be more believable, but in the actual context it's too ridiculous. If Generation IX introduces new entries, be prepared to read how a Tyranitar is so powerful, the forces from it stomping its foot could kill someone on the other end of the planet.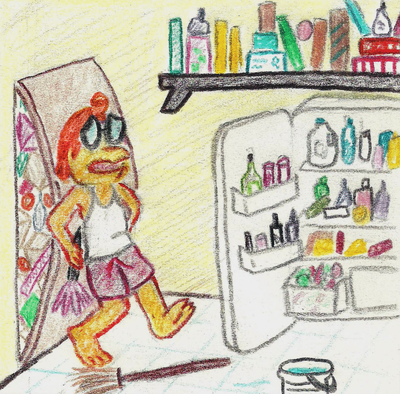 Spring Cleaning Special! Extra reviews I prepared for past sections but ended up cutting for various reasons such as length and relevance, scraps of review themes that just never took off, or just something I tried that I can't foresee fitting into a full section any time soon. All of it is cluttering up roughly 75 pages of my 450+ page google doc I write my reviews in, and it's gotta go!
EIWA Hello Kitty Tropical Mango Marshmallow
One of my favorite places to visit at Disney World is the Mitsukoshi Department Store at the Epcot Japan Pavilion, as it's the convergence of my comfort and eagerness in a robust shopping setting and the curiosity and fascination of being a unique-to-the-region shop that happens to ring all my bells. Pokémon and Mario stuff, odd knick knacks, cute décor and tableware, and most captivating is the grocery area, (relatively) filled with a variety of Japanese snacks and drinks. Each time I go I try to get...something...just to sate curiosity as well as validate my time and energy even being here in the first place, and one day it happened to be a bag of Hello Kitty Tropical Mango Marshmallows.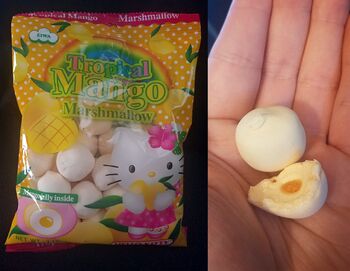 It cost $3.29 for like 25 marshmallows with a little mango jelly squirt inside. The price is interesting because it's on par or cheaper than other shops, which is absolutely not normal for a Disney World rate. I regularly find the same international candy bars at the World Showcase in Epcot that you can find at a Publix down the road from your hotel for half the price, cheaper if you venture to an international store; for example: Nestlé Aero Milk Chocolate Bar for $3.45 vs $1.49, Nestlé Milkybar $5.95 vs. $3.49). They're manufactured by EIWA, a Japanese confectioner specializing in marshmallow treats since 1957, and mostly known for their cute designs and collaborations. The ingredients are a luxurious listing of sugar, sugar, and sugar: glucose syrup, sugar, maltose syrup, dextrose, sorbitol solution, corn starch, pectin, finally getting on down to concentrated mango juice and mango pulp, vitamin C, and artificial flavor.
Certainly smells like mango when opening the bag, blasting the fumes into my face, but it dissipates quickly. The marshmallows are very plump and soft, but firm enough to retain shape when gripped or playfully squeezed to see if they jiggle. They are a bit sweet, but it's just enough without feeling sickly and saccharine. A decent amount of recognizably mango flavor; enjoyable without overkill. Definitely not a filling treat by any means. Honestly I think I'd just recommend getting sweetened dried mango strips if what you want is sugary mango, as it at least has a veneer of being a healthy choice, but if what you seek is the texture of a dense marshmallow without the disgusting tooth grinding chalkiness of dry Lucky Charms or the stale grittiness of Peeps, while feeling kinda cute for a moment, go for this.
Donauwelle
This was cut from my German review due to length back in March 2019, and the bakery I went to for this has since unfortunately picked up and moved shop to about an hour away from where I currently am, give or take traffic. While not really outside the range I was used to traveling to get to anything that wasn't a Walmart while I lived in rural New York, it's definitely something that would qualify as a day trip I'd need to pack full of other activities to make good value out of my time and gas used. As of the time of writing this current article their main website seems non-functional, but you could probably just Google it and get a better view of where I live in case you ever want to stand outside and scream my name to see if I respond if you get too bored with staying at Disney.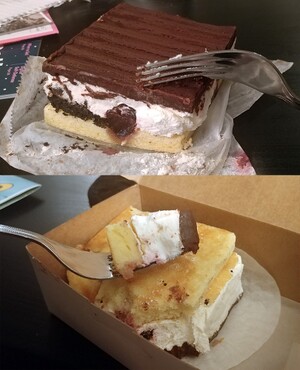 Donauwelle translates to 'Danube wave', the Danube being a large river in central and southeastern Europe, and pretty much every blog that features this goes on to say it's unclear how it got the name, but I don't know dude I'm sure you could fill in the blanks with the given information that it's a German and Austrian traditional cake, the Danube being a massive river that spans the whole region, and rightfully assuming it was some baker who lived near it. It is a traditional sheet cake consisting of white/plain cake, chocolate cake, sour cherries, buttercream, and chocolate ganache. The main technique that grants this cake its wave name is specifically spreading the white cake batter first, then the chocolate cake layer immediately on top of it, then placing and inserting cherries on top, baking that all at once, resulting in the cherries sinking slightly, plunging the chocolate cake down with it into the white cake to form ripples. Once finished and cooled buttercream is spread generously on top and finished with a layer of chocolate ganache that also receives the wiggle treatment.
This sure does have a wave, kinda. More like straight ripples on the top, while the layers of cake seem to be completely rigid as if assembled separately. This is only striking to me because literally every image summon in a Google search, and every example in every recipe blog, is quite wavy, with the chocolate on top being quite wiggly or swirled, and a cross-section of the cake revealing a wave pattern between the white and black cakes with cherries floating in it. I'm not here to critique the visuals and technique but a bit more craftsmanship would certainly help justify the price and heighten the experience as I could just get a grocery store sheet cake for pretty much the same price single slice, or a whole one for significantly cheaper per ounce, and just steal a couple cherries from the produce department to plop next to it.
The chocolate seems to be bittersweet baking chocolate that was poured into a mold that had a wave pattern, which does the trick, sure, why not when you have to produce a consistent item in bulk for retail, but also why when wiggling a fork through warm ganache takes 3 seconds. As I talk further about this, it seems the technique breaks down exponentially as a result of assembling pre-made layers. Unfortunately the chocolate is very thick and, well, solid, and beneath it are layers of very airy whipped cream and sheet cake. Trying to jam my fork into this results in the entire sheet of chocolate pressing into the lower layers, doing no cutting at all but definitely smashing the whole thing. This can be circumvented by kinda coming in from an angle and twisting your fork on the chocolate, but all this does is get you one layer at a time. Unacceptable, so I flipped the entire cake upside down to make right the balance of visual weight, sending the dark and dense to the bottom, uplifting the white and light. The fork flows right through the sheet cake and whipped cream, finally hitting the bottom where I can exert force to chop off a piece of the chocolate, getting all layers at once into one mouthful. It just tastes like regular cake, but with whipped cream and a big sheet of chocolate, and I guess cherries inside. It's definitely not anything remarkable, but it's something I don't see as a standard cake around anywhere else around here. Incorporating chocolate ganache and thick glaze should be more commonplace.
The glamor of this technique despite its relative simplicity is intriguing, though, making me think I can try this out myself.
Trader Joe's Pumpkin Rolls
A straggler that I thought was left behind from the
Trader Joe's Fall Seasonal Special
, but apparently is from a year further back from the
Pumpkin Spice Special
, are the Trader Joe's Pumpkin Rolls. I have unused reviews that go back further, guys. Cinnamon rolls and
orange rolls
are probably one of few things I look forward to during holidays.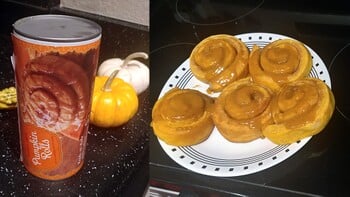 Sure, I can easily make them at any time, but it just feels like a special tradition to have them made and sit in the kitchen eating them all while delaying and ignoring everything else going on. This made the pumpkin rolls an easy purchase, though, feeling like I'd already like them. The ingredients surely do include cinnamon, ginger, nutmeg, and clove, the esteemed pumpkin spice spices, but it also includes pumpkin puree, promising a rounded pumpkin pie flavor.
Immediately noticeable was they got really big, which may simply be a factor of their relatively larger size with what I'm used to. It cost me $3.99 for a 17.5oz tube containing 5 rolls, compared to the Pillsbury Orange Rolls which is currently on sale for $3 for a 13.9oz tube with 8 rolls; the math ending up with them being effectively the same value. The dough part is barely pumpkiny, which registered as a disappointment at the start, but that's actually fine. The glaze is really sticky and where the majority of the pumpkin flavor is, and packs in all the flavor, so you can really customize how much pumpkin spice you feel like indulging in. It may look like a small cup of it, but on hot rolls it melts and coats quite well, and you don't really need that much to get the hint that you're supposed to be enjoying Fall right now. Following their instructions--350F degrees, 2 inches apart, 18-20 minutes--they do bake pretty well, with a firm and crispy exterior, and nice plump and soft interior. I'd say they're well worth the try, if just a wee bit strong on the pumpkin spice flavor if you're not aware you should apply the glaze sparingly.
Their website does have a recipe that sounds interesting, chopping up the rolls, putting them in a skillet, and baking them up with some candied pecans, sugar, and spice, but I feel that I'd more enjoy doing that with regular cinnamon rolls without risking it becoming overwhelmingly sweet and pumpkiny.
PDQ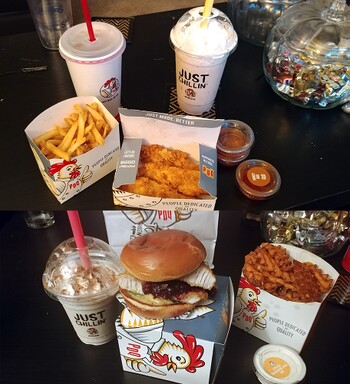 By no means is this a fully exploratory review of this fast food fried chicken joint, but I was hungry one day, my brother wanted to try here, and I said sure but just let me take some notes so I can milk this for review content. What a way to go about life! A surprisingly young chain, with its first restaurant opening in 2011 in Tampa, Florida, they now operate about 55 stores in Florida, North Carolina, South Carolina, New Jersey, and New York. PDQ used to stand for 'Pretty Darn Quick' but now apparently means 'People Dedicated to Quality' because of trademarking and I guess they wanted to sound like absolute dweebs. They offer pretty much what you'd expect from a fried chicken place, including shakes, fries, salads, tenders, but seem to place a lot of their focus on chicken sandwiches as that's currently the big battle. Either way, their restaurants are pretty sleek and clean, still youthful and bright, and honed in on freshness and quality.
Kinda pricey on the face of it, at $7.49 for a 3 tender meal with fries and a drink, and $4.99 for a 20oz Reese's cup milkshake (a 70 cent upgrade from a regular non-branded milkshake), but really not bad when standing back and realizing that fast food prices are not the same as when I was 8 years old. The tenders are measly and the breading falls right off, but feel high quality, and being someone who breads and fries chicken tenders as a significant portion of my job I am aware of the scenarios that may cause the breading to fall off, all of which have nothing to do with quality and more technique and speediness. Who am I kidding, though? This amount is likely adequate for a single meal and I'm just used to inhuman proportions and expectations. They're soft and moist, with a good even flavor, while the breading feels gently seasoned as to provide some kind of base pleasure but not overpower whatever sauce you want to dunk them in. The fries are reminiscent of McDonald's, being shoestring style and crispy, but don't taste as greasy.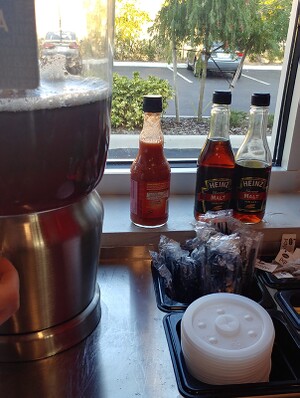 The condiments supplied in the restaurant included vinegar which is always a plus, and shockingly not really that commonplace. The milkshake is thick, mostly due to a heavy inclusion of chopped up cups, but is still much appreciated. For the drink I got the Joffrey's sweet tea, which was located at a fountain to dispense yourself. It was juuuust sweet enough, but was warm as it was in a big glass sitting in the sun, which frustrated me but made me appreciate my choice to dump $5 on a milkshake a bit more. All-in-all, solid meal, only complaints were related to physics which are able to be avoided or remedied. As I'm typing this now I'm currently eating a 20pc McNuggets with a medium french fry and a large sprite, which all came out to $11.91, and am realizing I could've had a Reese's milkshake instead for really not that much more.
In addition to this, I was also lucky enough to be present for some special limited edition fall meal thing, something that came as a surprise to me being new to Florida and not having seasonal weather clue me in on it being like October as it was still 95F and scorchingly sunny. Sweet potato fries with spiced marshmallow dip, pumpkin spice shake, and turkey sandwich with cranberries and whatever, the whole deal for just $9.99 so sure, why not! The milkshake is alright, cinnamon being really the only noticeable flavor, but in a way that felt more like an eggnog shake than pumpkin. The cranberries on the sandwich, despite pairing with turkey quite iconically in Thanksgiving feasts, just felt out of place. I would've been fine with something like a cranberry sauce or glaze, but it was just diced cranberries and some gunk, and they fell all over the place, tumbling out with each bite or simple movement of lifting the sandwich. The sweet potato fries weren't that great, either; too thin and tasted kinda funny. Marshmallow dip smelled like a discount candle and was just disgustingly sweet.
While their Fall special was a complete swing and a miss, they do seem like they at least put effort into things, at least from my point of view as a consumer, quite committed to fresh ingredients and preparation, as you can read in that link to a raving PDQ-sponsored review that assuredly doesn't affect the tone and opinion. Nice atmosphere for people who place priority on that kinda thing, but it just wasn't enough to get me to come back more than the one time from this review. Maybe with a larger footprint that would put them directly in my path instead of McDonald's or a fistful of olives while sitting on the ground in front of my open fridge, then I guess I'm open to trying them again if just to have an entree alongside some pretty solid fries with vinegar.