The 'Shroom
:
Issue 163/Critic Corner
From the Super Mario Wiki, the Mario encyclopedia
Jump to navigation
Jump to search

Director's Notes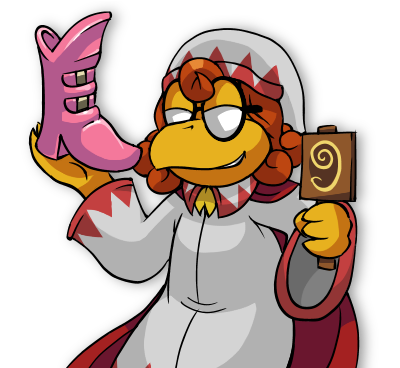 Oooky spooky Halloween! 😈 👺 💀 ☠️ 👻 👽 👾 🤖 🧙‍ 🧚‍ 🧛‍ 🧜‍ 🧝‍ 🧞‍ 🧟‍ 🦇 🕷 🕸 🥀 🍫 🍬 🍭 🛸 🌕 🌚 ⚡️ 🎃 🔮 🎭 ⛓ ⚰️ ⚱️
Welcome to the best month of the year! You'd think that as you grow older the spark and joy of Halloween becomes more fleeting as the thrill of trick-or-treating wanes, but I can assure you that as you age that thrill is replaced by the pure exuberance upon seeing 50% off doorbusters on all Halloween décor, including doormats and table runners!!!!!!!! What a glorious time to be able to go out to literally any store and get a whole bunch of goth-lite and macabre housewares.
Thank you for voting Half-Baked Reviews as August's Critic Corner Section of the Month!! Be sure to give your love to all of our sections here, and give a shout out to our writers whether in chat or in their forum threads dedicated to their sections. Be sure to vote vote vote! This month here at Critic Corner brings you just two sections, but they're both JAM PACKED with stuff to read!
---
And now for my regular announcements: We've decided to implement in Critic Corner something similar to News Flush over in Fake News, where no formal sign-up application process is required for one-time or limited sections. From now on if you just want to send in a single review for something you just read, watched played, tried, whatever, you just have to send me your review privately either to me directly in chat, or in a message to me on the forum at least one week before each 'Shroom is to be released! There's no commitment or obligation to provide a full monthly section (although you absolutely can shift it into one if you so choose), just send us your thoughts on a thing and we'll feature it here! If you have any questions or curiosities about this, please feel free to ask!
As always, if you would like to help Critic Corner, we always have openings for more writers! You are free to write for sections such as Character Review and Movie Review, or really anything you'd like to do! There's no pressure to have a huge section; they can be shorter and concise! The application process is very simple, starting with reading the Sign Up page, and sending your application to Ninja Squid, our Stats Manager on the forum. Any idea you have is welcome, and if you have any questions or need help signing up, please feel free to reach out to myself or other 'Shroom peeps!
Section of the Month
---
'Shroom FM
Written by: MrConcreteDonkey (talk)
Hello! Welcome to 'Shroom FM! I'm MCD and today we're taking a look back at "September", whenever that was.
SEPTEMBER 2020
21 SAVAGE & METRO BOOMIN - SAVAGE MODE II
Savage Mode II promises a lot with its hilariously over-the-top cover, and delivers in a lot of places and falls flat in others. The record starts with a spoken intro from Morgan Freeman, who gives this fairly generic 'epic' speech. It's all very overblown, in the best possible way. Freeman turns up more times throughout the record, and I'm not always a fan of spoken interludes, but it's handled really well here: slotted into places where it doesn't take away from the original song, or randomly start a new idea and leave it unfinished. Savage's flow here is quite good, as is his delivery, though some of the song structures here can feel a bit samey or predictable. I'm not really a fan of the whole repeating-the-word-you-just-said-at-the-end-of-the-line thing which ended up happening here a lot, or if not that then it's just 'pussy' or '21' being repeated ad nauseam (this RYM review breaks down how often the former shows up here). Production is generally pretty fine in the first half of the album, and then starts getting a bit more experimental and mellow towards the end - "Steppin..." in particular is really enjoyable for how over-the-top and bombastic it is. There's a few low points though: "Mr. Right Now" does nothing to stand out, and then Drake shows up and makes it worse - and also sparks yet ANOTHER completely avoidable - and ultimately pointless - controversy. "Snitches and Rats", for all its buildup, is also very underwhelming, and the lyrics here are fairly dumb ("They say that they twins, we call them Siamese rats"...???) and repetitive. But the highlights here are great, especially the final two tracks which end the album on a fairly somber and tender note. It's flawed but a pretty fun project.
Best tracks
RIP Luv, Said N Done, Steppin on N****s
NEIL CICIEREGA - MOUTH DREAMS
What makes a good mashup album? Well, for starters, it has to be either funny or listenable, and Mouth Dreams manages both of those well enough. It's a testament to Neil's skill that he manages to make Limp Bizkit sound good TWICE, and "Aammoorree", featuring a drunk Dean Martin, could easily get old after 30 seconds but ends up as one of the funniest tracks on the album. There's also some unironically good stuff here, such as "Cannibals", which blends Fine Young Cannibals and numerous production bumpers into this soaring, electronic masterpiece. But, all that said, the key thing a mashup album has to do is be more than the sum of its parts. Take something like All Day by Girl Talk - from a technical standpoint it's well-crafted and catchy, but 90% of the time it left me wanting to listen to the original tracks without all the samples distracting from it. Sadly, Mouth Dreams suffers from this same issue: "Spongerock" is a funny joke at first, but once the first segment is over it swaps the samples around and... repeats the same joke; "Just a Baby" and "Closerflies" just made me want to listen to the original songs by Johnny Cash/Nine Inch Nails without having to sit through the Hoobastank/Owl City bits. The album is also lacking a lot of the personality and madness from previous albums, with a lot of tracks centred around just two main samples as opposed to tracks such as "Annoyed Grunt", "Piss" or "Who" which don't just pull together an insane list of samples but use elements from all of them to create something that feels entirely new. The past two albums in the series have ended on these amazing, bombastic finales (the aforementioned "Piss" and "Shit" (im sorry)), but the finale here - two orchestral tracks mixed with Britney and then Weezer - really doesn't land, or feel like a satisfying conclusion. Despite some fun moments, Mouth Dreams pales in comparison to Sounds, Silence and Moods quite a bit, and I can't see myself needing to revisit this any time soon.
Best tracks
Ribs, Aammoorree, Fredhammer
FLEET FOXES - SHORE
Fleet Foxes are one of those bands I've always known I'd like and wanted to look into since having first heard of them about six years ago, but for some reason I'd never listened a full album of theirs before this one. In that sense, Shore is pretty much what you'd expect from the band - a deep, lush album with great vocals and some really evocative, detailed soundscapes. The lyrical content here is superb, and often very introspective - for instance, "Can I Believe You" explores issues with trust, "I'm Not My Season" reflects on time, and "Featherweight" addresses Robin Pecknold's feelings that his own problems feel smaller in comparsion to those of others. There's a few tributes paid to other artists here too - most obviously in "Jara", which makes reference to Victor Jara and the injustice around his death; and "Sunblind", which celebrates a lot of artists who've passed away who Pecknold has influence from - both recently, such as David Berman and Richard Swift, and not-so-recently, such as Jimi Hendrix and Otis Redding. Like many of the moments on this album, it's quite melancholic, but the warmth and energy of the music makes it feel very bittersweet. Pecknold's lyrics also regularly compare and relate this emotional depth to nature - such as the imagery of summer and winter in "I'm Not My Season". It's not a perfect album - production-wise there's a few moments that feel like they could be bigger, and there's some songs that get a bit tiring towards the end - but the songwriting and general sound here are gorgeous, and it feels like a perfect album for the autumn.
Best Tracks
Maestranza, Quiet Air / Gioia, Sunblind
JOJI - NECTAR
I haven't had much engagement with Joji at any stage of his career – I've known about Filthy Frank and Pink Guy for a while but never felt any need to look into either much further. I didn't even realise he was going for a 'sensible' (if that's the right word) music career, even though he's been doing it for like five years now. Unfortunately, I can't really say Nectar felt like it moved me either way - there was very little stuff I outright hated, and very little stuff I really liked. My least favourite aspect was the vocal performance - there's no doubt he's trying a lot of different things here but a lot of stuff really doesn't land, especially towards the start. There's also quite a few annoying little things that happen within the vocals, ESPECIALLY in the track "Pretty Boy", I really hate the way he holds the note in the chorus like "AH-EEE-AIIIIII". It's stuff like that, it just feels really forced. In other places like "MODUS" and "Upgrade", the vocals just feel lifeless and monotone. Besides the vocals, there's a LOT of filler here - tracks that are fairly lo-fi and unenergetic, last about two or three minutes, don't really try anything new. Even the hits here - which are all grouped towards the middle - don't move me much: "Run" is okay but the guitar is pretty underwhelming, "Sanctuary"'s lyrics are awkwardly worded ("If you've been waitin' for fallin' in love"...???) and the vocal part on "Gimme Love" doesn't gel with the instrumental at all. The tracks I did like a lot - "777" and "NITROUS" - have some really nice synth parts, and feel like they have a lot of the energy the rest of the album lacks. Overall, despite some nice moments, this album feels pretty sluggish and lacking in personality.
Best tracks
777, NITROUS
ANNA VON HAUSSWOLFF - ALL THOUGHTS FLY
All Thoughts Fly is an album that sounds more interesting in concept than it feels in practice – it's a departure from Von Hausswolff's past work as it's entirely instrumental, using only one instrument at that: a pipe organ, recorded in a church in Gothenburg. The mood is quite a bit more ambient than her past work, too – just as gothic and dark, but nowhere near as ominous. It's very ethereal and atmospheric throughout and quite easy to get lost in. Unfortunately, quite a few tracks on this – while definitely beautifully performed – lost my interest, especially the shorter tracks. The title track is a daunting 12 minutes long but brought me back after being bored by a lot of the preceding tracks with the way it progresses, and the variety of sounds Von Hausswolff manages to bring together. However, I do think this might've been more interesting if more instruments or even vocals – Von Hausswolff herself is a great vocalist – could've added more layers to this, especially considering how this is being recorded in a church. Ultimately, this isn't a terrible album by any means, but despite generally sounding nice in the background this didn't move me as much as I hoped it would.
Best tracks
All Thoughts Fly, Theatre of Nature
FURTHER LISTENING
Conway the Machine - From King to a God
Alex George - Roses Are Red
Sweet Embrace - Cadastre

Written By: Hypnotoad (talk)
Featuring: Gamefreak75 (talk)
Welcome to another issue of Half-Baked Reviews where we've gone full-baked for quite a while now! How long? Well, this is my 50th issue!! The first review was way back in September 2016, and it was...rough! The style has definitely changed now, and to help celebrate writing so much for so long, Gamefreak75 (talk) is here to help review more stuff!
Trader Joe's Fall Seasonal Special
Trader Joe's is an American grocery store owned by Aldi (specifically Aldi Nord, which is a related but separate company as regular Aldi), another grocery store that has a cult following. Their storefront footprint is relatively small, with there being just a handful of stores in each state, with maybe one or two in each regional city, with exceptions for large scale metropolises like NYC, DC, Dallas, and specifically Phoenix, San Francisco, and Los Angeles having A LOT more. They're known for having quite a wide array of unique items, with most of their stock being store brand items that rotate out regularly. Among its regular seasonal specials are all kinds of quirky and unique flavors and products, the presence of such coerces you to explore the whole store to see what else there could be (or just get your hands on a Fearless Flyer). While there's certainly a lot of staples and favorites, it's quite possible for there to be completely new products filling shelves from one visit to the next, as well as a bunch more being swapped out. Walking into each store is a unique experience, internally as each store aims to reflect their local community, as well as just a regular grocery shopping experience. With its fun attitude, self-branded products, and exciting shifting themes, it's easy to get swept up in its fandom so long as there's one nearby.
There's a good amount of controversy with the company, with it being called a wolf in sheep's clothing in regard to its rampant use of single-use plastics and excessive packaging, despite being a company that prides itself as one that is environmentally sustainable and health-conscious. They also have a habit of delving into casual exoticism with its South Seas imagery all the way from its founding and the murky race branding problem that they've gone back and forth on. While this is exactly the kind of stuff that doesn't surprise me as a store that's pretty known as the classic white liberal gentrification signifier, I'm not here to discuss any of that! I'm here to discuss Trader Joe's Fall Seasonal Specials!!
Rather than kneeling to the overwhelming power and ease of pumpkin spice, Trader Joe's fall seasonal items diversify across the archetypal harvest flavors: apple, maple, cinnamon, cranberry, squash, ginger, whatever else gives you that autumn vibe. Of course, a majority of the items are some kinda pumpkin or pumpkin spice product, but it's nice to see a range that seeks to represent the full season, and not just a holiday trend. Basically everything I tried is something that can be eaten without any preparation and with minimal pairing or work put in, because frankly all I cared to do was open a box of something, take a bite, and forget about it immediately as it got stale and then get back to it in a panic of wasting money on food going bad. There are plenty of other products that can be prepared, such as dinner sides or meals, so go ahead and explore and let me know what you like.
Before I rattle on my stuff, here's Gamefreak75 (talk) with his picks!
---
First, I would like to thank Anton for allowing me guest star on his section.
In the spirit of autumn, I too tried some sweets from Trader's Joes, namely their Maple Leaf Cookies, Pumpkin Spice Batons, and finally their Maple Streussel Bread. I'm someone who loves the "autumnal flavors", including pumpkin, maple, cinnamon, and many more so I was curious about these items.
Maple Leaf Cookies
First on the list are the Maple Leaf Cookies. As the name says, they're maple-flavored shortbread cookies shaped like maple leaves filled with maple-flavored filling ala Oreos. The cookie part has a really, nice distinct maple flavor to it, while the filling's flavoring is a little more subtle, almost more vanilla-y rather than maple. My only real complaint is that filling may be a little too soft, Putting any type of pressure on the cookies will cause the filling to squeeze out. Regardless, these cookies are still really good and as far as I know, are year-round so you don't have to rush out to buy them right now.
Pumpkin Spice Batons
Next on the list are the Pumpkin Spice Batons. These are basically orange pirouettes with a some cream filling that tastes more reminiscent of pumpkin pie rather than your typical pumpkin spice. For about two dollars you get 12 per tin; not bad compared to some of the other stuff you can buy in this store or elsewhere.
Maple Streussel Bread
The Maple Streussel Bread is the final food on my list. It's a loaf of maple-flavored bread with cinnamon and icing on the top. I tried it both toasted and untoasted. Toasted, with a little bit of butter, the flavor is very similar to that of French Toast. However, untoasted, the bread is pretty bland and slightly hard, harder than any ordinary loaves one would use for their sandwiches, so I suggest only eating this toasted.
In conclusion, as someone who has been shopping at Trader Joe's for 10+ years and tried a multitude of their items, from their chips and sweets to their coffee, jellies, and frozen foods, I can easily say that their sweets and other confectioneries, both seasonal and non-seasonal, are among Trader Joe's best items. They personally strike a nice balance of being sweet without being too rich and these items did not disappoint.
---
Pumpkin Bread & Muffin Mix
Sure does make some pumpkin bread! Can't really remark any more than that as it's a baking mix you can manipulate to your own liking, but I can confirm it does make pumpkin bread and it did taste good. For a consistent $2.99 it's certainly cheaper than most readymade pumpkin breads, even factoring in whatever other ingredients you may need, and has the bonus of making your entire place smell like Fall as you bake it. As it's a pre-prepared quick mix, just like your basic box of brownie mix or whatever, it's easy to put together with just mixing it up with some eggs, oil, and water. The flavor leans more on the 'spices' than it does 'pumpkin', which can be remedied by doing your own tinkering, but, if you're buying a prepared quick mix you're probably not looking to do any cooking experiments. Toss some chocolate chips into the mix if you're feeling rambunctious.
Spiced Cider
A Trader Joe's staple for the last 20 or so years that is almost certainly not going to be removed any time soon. It's quite simply what it is, it's spiced apple cider, apple cider that has spices such as cinnamon, allspice, and cloves in it, your basic mulling spices for exactly this kinda thing, plus some lemon juice to give it a bit of a brighter kick. It tastes exactly like fall in the American northeast, like the complete sensory feeling of being in 5th grade again being released from school and stomping on crunchy leaves as you wait for the bus, or walking into a grocery store to see they have cinnamon scented stuff and firewood logs again. This Spiced Cider is meant to be drunk either hot or cold, and I think it works better hot as that way the blend of spices feels more natural given their particular flavor. Regular apple cider is still my preferred choice as I can chug that and feel some level of refreshment, whereas this Spice Cider only feels meant for responsibly sipping in a cozy warm environment, which at the very least it helps put you in the mindset of.
Pumpkin Cranberry Crisps
Thick enough to support the weight of stuff stacked on it, but still thin to give a satisfying crisp. The bulk of the crisp part is flax seeds, rolled oats, and sunflower seeds, all of which give a nice crunch, with the interior cranberries giving something chewy. Pumpkin powder for flavor mixes with salt, orange, turmeric, cinnamon, rosemary, nutmeg, black pepper, and thyme, which makes for an interesting almost gingerbready mixture that leans more herbal and warm than earthy and savory. Good subtle but unmissable pumpkin flavoring with the herbs makes what could easily be a gimmick seasonal flavor into something that really works well, and the cranberries bring enough sweetness back in to make the crisp satisfying enough to eat on its own. The cinnamon is subliminal, so if you're one of those people who are afraid of cinnamon, no need to be worried.
I tried it with Humboldt Fog, a goat cheese like the box recommended. The crisp being a mix of stronger warm and herbaceous combined with the cheese's light and creamy tartness only really neutralized all of the flavors, which is not really what I'd recommend doing to the crisp that seems perfectly balanced. It worked really well with the swiss almond cheese dip, though. REALLY well. Nice warm fruity nutty flavors complementing each other.
I also tried these with what's up next for review.
Cinnamon Dusted Toscano
Also known as pecorino toscano, it is a hard sheep's milk cheese that, if you don't care much about wildly subtle differences in cheese, is basically just parmesan that didn't come from a cow. It's a firm and dry cheese that can be used for grated and shredding, as well as just eaten with smokier and savory sweets like figs and honey. Coating toscano with another dry and earthy flavor and texture seems like overkill to me, but hey, it seemed different and interesting!
But actually, it's astoundingly boring. Pretty much all toscano flavor as the dusting sure is just a dusting, and while Trader Joe's labels it as creamy, subtly sweet, and nutty, I really didn't get much more than...parmesan. I apologize to any central Italians out there who are insulted, but I just can't taste the difference in this, and it's likely because this toscano is made with cow's milk regardless of the PDO requirements. A true fraud. As the cinnamon is all on one side, once you actually do get it in your mouth, it's a tad overwhelming, if not a fake feeling. The Pumpkin Cranberry Crisps were too good for this cheese. Ignoring that the toscano is too crumbly by nature to cut into nice slices without turning into rubble (a fact that is just simply true for many hard cheeses and not inherently a fault), it was still just kinda meh. Where's the buttery creamy flavors and textures TJ stans wrote raving reviews about? The sweetness? The power? Any virtue this pairing has it in all credit to the Crisps, and could just ultimately be better with another cheese swapped in. I'm just not feeling it to try and make it work with any kind of combination of sweets, salads, pastas, whatever.
Blood Orange Chocolate Chip Ricotta
I saw this one and was quite fascinated by the combination of the typically sweeter blood orange, chocolate chips, and ricotta cheese. I just simply had to get it even if it might be horrific and repulsive, hoping that market research and testing wouldn't produce something so chaotically bad. Knowing that ricotta is quick to expire, I had no time to let it sit in my fridge and ponder what to do with it, so in I went. It's surprisingly accurate in its flavor, particularly strong with the orange. The chocolate chips aren't very noticeable but I guess they very gently balance out the sweetness. It's not as crumbly as regular ricotta, it's still soft and spreadable, making it good to dip crisps and crackers into it, or spread on top. With it having such a strong personalized flavor, it really doesn't need anything else, but I wouldn't recommend it unless you really like fake orange flavor.
Apple Cider Donuts
Growing up in western New York you don't really get a full appreciation for the ubiquity of cider; not just as a seasonal juice you see a couple bottles of in the produce section of your grocery store, but several of your classmates being in families that own apple orchards and going on field trips to them all the time in school, blending in to everyday life. I wasn't expecting a store to have such a variety of apple cider products that I was immediately shot with homesickness and nostalgia, and just simply had to get the classic staple--apple cider donuts. Don't get me wrong, pretty much every coffee chain has their version of the apple cider donut, but, meh. What makes an apple cider donut? Well, they're typically a cake donut (the denser, well, cakey version as opposed to the softer and fluffier yeast donuts), and are flavored with pretty much the same spices that make up pumpkin spice, like cinnamon, nutmeg, allspice, but with apple cider mixed into the batter which imparts flavor and moisture, and typically with cinnamon sugar sprinkled all over it.
Trader Joe's Apple Cider Donuts look like they hit all the marks, and $3.99 for six donuts isn't bad, although they do look a bit thin. They have that particular sugar dusting lots of crappy donuts have, but it's nowhere near as grating. Nice and soft cake donut; sweet, but not really getting any apple cider flavor, just overwhelming cinnamon sugar dusting. Better eat these quickly, though, because within basically a day they're rock hard. The price point isn't that alluring once you realize you gotta dump half the box in the trash because biting one could break your teeth. Maybe I'm spoiled with having grown up around the local product embedded in regional culture, but these just didn't exactly hit the spot. They sure were cinnamon sugar donuts, but I wanted the warm, herbal, fruity tartness of apple cider.
Apple Cider Cookies
Just a box of what looks like small butter cookies, I wasn't expecting much especially after those donuts. To my immediate shock upon opening it, they smell really good, just a hint of genuine apple in the air, unlike a green apple flavored sugar candy like Laffy Taffy that are incredibly strong. The smell alludes to the flavor, which is also a gentle taste of apple cider and nondescript fall spices, with more of a regular sugar cookie taste. The texture of the cookie is pleasant, a good crispy crunch that crumbles in your mouth without dissolving into dusty mush. They're pretty dusty otherwise and I was awaiting disappointment as it looks like a lot of them are broken with a collection of crumbs in the bottom of the container, but I more appreciate that each one and piece is bite-sized so I can just put the whole thing in my mouth avoiding any crumbs from splintering off everywhere. Given that the apple cider cookies were able to capture the flavor, I'm even more disappointed by those donuts. I've already bought three boxes of these and have spread the word to my friends and family.
Tastes like Fall.
Pumpkin Butter
Contains no butter and is instead just some kinda spread, made from just pumpkin, sugar, honey, lemon juice, cinnamon, cloves, ginger, and nutmeg. Definitely the most pumpkin-smelling thing I've had from all of my pumpkin adventures so far, likely because it's one of the few things that actually has pumpkin in it. Text on the jar recommends using the pumpkin butter as a pastry filling, a poultry glaze, and an ice cream topping, which all seem ehhhhhh...no, but, it also says to spread on toast and to try it mixed with cream cheese, which seems easier and more tolerable. I chose a cinnamon bagel because it just seemed to make sense, and it turns out that was a good decision, for both the straight pumpkin butter and for mixing it with cream cheese. Very spreadable, and seems versatile. Nice sweet flavor that's not just pure sugar, and can taste each spice if you picture them in your head hard enough. However, while it tastes nice and all that, I just never found much practical need for it as if there was something I could've wanted to add pumpkin flavor to, it already had a pumpkin version of it; i.e. pumpkin bagels. It's a good thing to have around for experimenting and mixing with to make something quirky and seasonally special, but that's about where it ends, at least for me.
Pumpkin Spiced Ginger Brew
Shockingly carbonated. Basically just tastes like ginger apple juice, not really getting any of the pumpkin spice flavors that are included. Like, I can kiiiiiinda feel them there, but the apple and ginger flavors are much more overpowering, less Ginger Ale and more chomping down on a fistful of pickled ginger you get alongside sushi. Feels like it could've cured my pneumonia, and that's all you can really ask for from a carbonated ginger drink, but you can just get a 2L bottle of Canada Dry for 99 cents or less literally anywhere without having to deal with how crowded a Trader Joe's is.
Petite Pumpkin Spice Cookies
Shortbread cookies with pumpkin spice and yogurt coating. I love shortbread cookies, and yogurt coatings are hardly ever bad, so what's a little cinnamon, nutmeg, and allspice going to do? Not much! The cookies definitely lose their rich buttery shortbread flavor, but the cinnamon and other spices don't really come forth much either. The flavor is strong enough to compel me to not eat the entire box all at once, like I do with other shortbread cookies like Girl Scout Thanks-A-Lots (rip), and instead maybe like 4 at a time, conveniently their suggested serving size, which I guess helps support their longevity, even at a nice price of $2.99 for a 10oz box. Ultimately, they just taste a little off; not enough flavor to be pumpkin, but too much to just be a regular cookie.
Pumpkin Danish Kringle
It took me two years to get this because I made the mistake of trying one at their sample station, liking it, then not buying it without realizing that once they run out, they are out. By the time it was next year the world ended up dealing with a viral pandemic that altered shopping habits, and with specifically Trader Joe's, as they actually took reasonable precautions that not many other stores did, there were lines wrapped around the block that I just absolutely did not care for dealing with. One day I was driving by and saw the line was relatively minimal, so I knew I had to make my move and in I went.
After being slightly frustrated at the nuts flinging all over my counter when pulling it out, I was immediately sated with the sheer size of the thing justifying the price of $7.99. Soft and chewy, with a respectable but not obnoxious amount of nuts that give a backbone crunch. Pumpkin spread is generous without being too much. Clearly, I'm unable to finish eating this whole thing on my own, and I know it will spoil if I keep it out and nibble on it over a few days. Luckily the package says it can be frozen, so time to test the validity of that!
Apple Cider Fruit Spread
Oh, sweet precious Apple Cider Fruit Spread, gone before I hardly knew you. The plans I had for you were grand and generous, from simple bagel spreads to thumbprint cookies and more. Alas, you were already entirely gone and reportedly out-of-season by the time I got to your shelf placement the morning of October 3rd. Let this tale be of warning to you: if you see something you want to try at Trader Joe's, get it immediately or you may have to wait another year or just simply never see it again. If you don't get there at the beginning of the season it's almost guaranteed that you will miss out on something; a limited supply policy that makes it kinda silly for there to be so many "YOU MUST TRY THIS NEW SEASONAL ITEM" food reviews for Trader Joe's because quite simply by the time the review is published and read the item will be gone and has a pretty solid chance of never returning again. What a tricky company policy that gets you to buy more and more.
---
Free the joy. Also, tell me what to review next! You can tell me to do can also be movies, shows, physical actions, trying new foods, music, literally anything and I'll cover it eventually if it's not too ridiculous. Just send me a message here on my talk page or PM it to me on the forum. Don't like what I have to say? That's fine, and probably bound to happen because I've been told about how much people like Super Mario 64 and how they feel about any criticism of it! We at Critic Corner will welcome your alternate review of it as a new section for the next issue!