The 'Shroom
:
Issue 163/Fake News
From the Super Mario Wiki, the Mario encyclopedia
Jump to navigation
Jump to search

Director Notes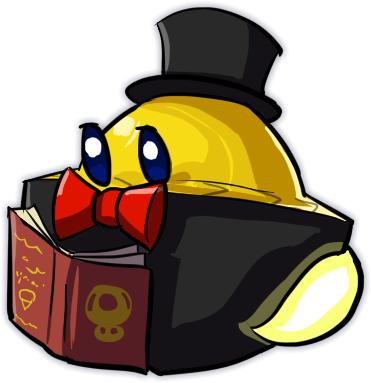 It may be spooky and scary and skeleton-y but this month's issue comes out regardless. To celebrate the season, we have several spooky sections, though some sections are missing.
As per usual, don't forget to check out the sign up page if you want to write for the paper. By the way, in December is our special issue, where the paper will be fictionally taken over by the Shroobs, and thus will be themed after Mario & Luigi: Partners in Time. You may want to write a one-time section for this special issue.
Section of the Month
Quizmelon (talk)'s TV Tomorrow got back to first place with 27 votes, with Yoshi876 (talk)'s Obituaries getting second place with 19 votes and Trab Pu Kcip's volunteer section, Hot Records, got third with a nice 15 votes. Coffee's Peddler's Place got a respectable 6 votes as well.
FAKE NEWS SECTION OF THE MONTH
Place
Section
Votes
%
Writer
1st
TV Tomorrow
27
40.30%
Quizmelon
2nd
Obituaries
19
28.36%
Yoshi876
3rd
Hot Records
15
22.39%
Trab Pu Kcip
---
Entertainment Features
---
If my calculations are correct, this is a good section.
[read more]
---
Don't you just love it when a monkey summons a fruity god?
[read more]

Chambrea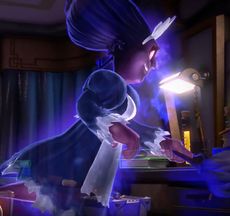 Anyone who knows me knows how I stay away from horror for the most part. Even a jump-scare in a relatively normal piece of media makes me jump out of my skin. However, this month I was sent to The Last Resort after a mysterious death occurred within the hotel's walls. Although which wall it happened in cannot be certain as the deceased is actually able to travel through them.
Despite already having died, and presumably some other schmuck writing her obituary, I am today bringing you the news of the death, well second death, of the maid known as Chambrea. However, despite that being an absolutely terrible name in general, I do not believe that this is the cause of her death. It appears she may have died from suffocation after being trapped inside a vacuum cleaner and then some glass jar in a research laboratory.
There were three main people to talk to at the scene, but one of them, a man wearing exclusively green, fainted at my arrival, the second one, who appeared to be some kind of mad professor just spoke in gibberish and third was some silent slime. But as I'm mandated to post some sort of quote, here's what the mad professor: "Yabbo yabbo, Luigi, sucka sucka." Translations can be sent to the Fake News newsdesk if you come across them.
I was informed that Chambrea may have died on the fifth floor of the hotel, but attempting to get to other floors was an absolute nightmare due to the elevator missing lots of its buttons and there being no stairwells anywhere. Honestly, this place is such a fire hazard almost all of the guests would die in an inferno should something go awry. Perhaps that's how Chambrea and the other ghosts who supposedly haunt this place became ghosts.
It is unclear as to whether there will be a funeral for Chambrea, given that her friends and family told me she died long ago and I should be a bit more sensitive about the matter. My attempts to tell them that she had returned as a ghost and haunted a local hotel that had appeared out of nowhere and appeared to be staffed by ghosts was met with tears of anguish, a lot of swearing that I certainly cannot publish here and threats from lawyers about harassment charges.

Written by: Coffee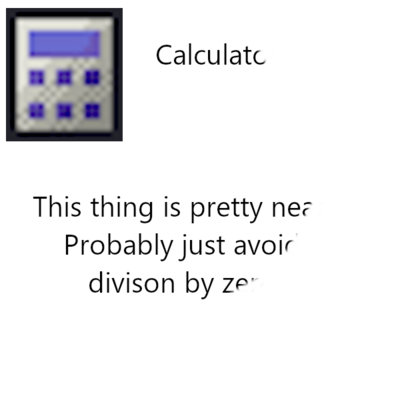 A note: Quizzical Melonballer, known to most as 'Quizmelon', recently went missing after venturing into the Generic Dark Scary Forest, supposedly in search of 'the phantom who stole both [his] TV remote and [his] dignity'. While his disappearance means that an introduction and conclusion will unfortunately be absent from this month's TV Tomorrow article, a search party did recover the following scratched on a rock near the centre of the Forest, which has been dutifully deciphered and copied here by an anonymous individual. The accompanying pictures were found etched on the side of the tree next to the rock, and have also been printed here.
Hi guys, I'm a little caught up in some other business this month (year? Who knows), don't worry, just watch these three shows, see you in November - Quizmelon
New: Giant Banana
MKBC2, 9pm
Genre: Comedy-drama
This bizarre new series stars Wario as the voice of the Giant Banana, an all-powerful (and entirely CGI) deity who is accidentally summoned by Donkey Kong. Though the series seems ostensibly comedic, it has, much like a dark and scary forest, some suprisingly dark and troubling moments - even in this first episode, when an unsuspecting Koopa is killed and turned into a Dry Bones by the Giant Banana's power, and offers not just humour but a deep exploration of belief, guilt, omnipotence, and a giant banana with the voice of Wario.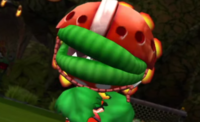 Petey's Showcase of Random Stuff
MKBC3, 8pm
Genre: Gadget show
The popular gallery of gadgetry is back in full swing, and Petey Piranha is as energetic as ever, putting himself in increasingly dangerous situations to test out a new kind of body armour, an ecologically conscious flamethrower, and an eccentric invention of his own to harness the power of lightning. Long a favourite of both tech gurus and explosion enthusiasts, the show is sadly yet to showcase a device to help you find your way out of a dark and scary forest, which would be useful to many. Oh well - least there's a wisecracking robotic shark with a machine gun.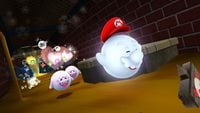 Film: Paranormal Passions
MKBC1, 10pm
Genre: Romantic comedy film
Normally around Halloween the cinematic fare is terrifying, horrifying, and petrifying; horror films designed to scare you out of your skin. So it's nice that this year, MKBC1 is swapping the horrifying for genre-defying, airing Paranormal Passions - a celebrated film about a friendly but timid ghost in love, played by Mario in a Boo costume. There's plenty of classic horror film tropes beautifully subverted to make sweet moments between our lead hero and his (two) spooky love interests. If you were experiencing something unexpected and harrowing, like being trapped in a dark and scary forest, Paranormal Passions would be the perfect film to soothe you.
The search for Quizmelon continues. We have heard reports that he is trapped in a prison suspended above a bottomless pit guarded by a fearsome 'beast of nightmares' - admittedly they are difficult to hear, because of all the screaming in the background, so it might not be as far-fetched as all that. Oh well. Hopefully we'll have him back in time for November's issue.