The 'Shroom:Issue 131/Palette Swap
From the Super Mario Wiki, the Mario encyclopedia
Jump to navigation
Jump to search

Director's Notes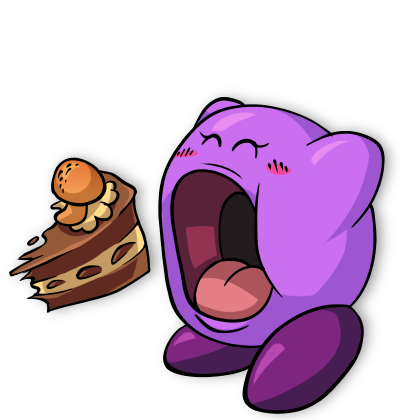 Hoy, small fry! Good to see you here! Thanks for reading!
Some of you might remember that last month I said I was playing Xenoblade Chronicles 2. Well, I am happy to say that I have finished it and moved on to Bayonetta 1 and 2! If you haven't played XC2 and you like RPGs, I would definitely give it a recommendation. Get it now before it becomes impossible to find like the first one. You really won't regret it, it's a charming game. One of my New Year's resolutions was to finish more games (not just play it a bit and never touch it again), so I'm happy to have finished this one, although I'm not ready to move on from it yet. Ah, well, gotta keep moving. I have two Bayonetta games to finish before Kirby comes out in March!
There's your video game recommendation from me for this month. Come back next month to hear my thoughts on Bayonetta. Anyways, let's get to our content this month! We've got a few Valentine's Day sections for you this month, both of our music sections, so go listen to what they're playing! ~FunkyK38
Section of the Month
WOW was this the closest one we've had in a while! Yoshi876 (talk) takes the win for his What's on the Box? section on Mario Kart: Super Circuit. Thank you so much for voting, and please keep it up this month as well!
Art Sections
---
Pyro updates on artistic endeavors around the community!
[read more]
Music Sections
---
A lovely song for the dawn of your Valentine's Day!
[read more]
What's on the Box?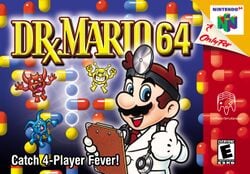 Hello readers, and welcome back to What's on the Box.
Now, as many of you may be aware, it is currently Winter, and as people who are in same hemisphere as myself know, Winter is a very cold season indeed. And like many people, earlier this year I was suffering from a cold, so I decided to work that into this month's section, so I bring you the boxart of Dr. Mario 64.
Much like last month, Dr. Mario 64 doesn't really have a lot going for it – although that does seem to be a running theme with N64 titles, just look at Super Mario 64. It features the titular Dr. Mario, all the varieties of the Viruses, and the Megavitamins used to defeat them, and that's about it. The only other thing of note to point out, is that the boxart does features a cracking pun, which goes a long way when I'm deciding whether or not I like a boxart.
So much like last month, this final part of this article will be on how the boxart could have been improved. And very much like last month, it could have featured more characters. Dr. Mario 64 has a wide range of playable characters. I do understand that as many of them were one-time enemies or bosses in Wario Land 3 it might be a bit strange to have them as the main star of the boxart, but Wario was a well-established character at this point, and his playability would have been a great selling point, so it is strange that he is left off of it. And maybe the story mode could have been worked onto the background, as opposed to just a generic one with nothing really going on.
Mario's Boombox
Written by: Hooded Pitohui (talk)
It's February, a month which brings to mind Valentine's Day and romance. If you happen to be a videogame nerd looking for a song to serenade that lucky person who has a piece of your heart, take a look at Nathan Sharp's "Dawn of the Third Day." "Dawn of the Third Day" is an original love song inspired by The Legend of Zelda. Even if you're not looking for love, this song is worth a listen just because of how well it incorporates the Zelda series into the traditional love song.
The song includes explicit and subtle references to the series, but draws most heavily upon [ https://zelda.gamepedia.com/The_Legend_of_Zelda:_Ocarina_of_Time Ocarina of Time] and (as you may have guessed from the song's title) Majora's Mask. The song's biggest strength comes from how well it incorporates these references into the traditional structure of a love song. References to Din's Fire and the hookshot could be jarring if they weren't wrapped in the language of romance, but these elements of the series are seamlessly integrated into lyrics like "She hookshots straight to my heart and holds me tight" and "When I'm high and dry / she's my Song of Storms."
The subtle references to core elements of the series are just as well-executed. It's not surprising to hear lyrics praising one's partner for providing them elements of character which they lack, so why shouldn't the singer draw upon their partner for "courage," "wisdom," and "strength"? Likewise, who wouldn't ask their partner to "take me along," especially when their preferred form of travel is using music to "fly away"?
If the careful integration of romance and Zelda carry the song, then the additional details in the music and video put it over the top. Watching Nate stand outside in a grassy field calls to mind Hyrule Field and the exploration which has always been a key element of the franchise. The ocarina solo in between the second and third chorus is a wonderful capstone to the song's references to the Nintendo 64 era Zelda games, fits in beautifully with the song, and is sure to send a chill of excitement down a Zelda fan's spine.
All in all, "Dawn of the Third Day" is a cute, romantic song which is sweet, nerdy, and reflective of the atmosphere of the Zelda series. Feel free to brighten someone's day by making an attempt at singing this to them, or, if you'd rather, just sit back and enjoy the song. Either way, give it a listen.
Take Cover!
Written by: Henry Tucayo Clay (talk)
HI, everyone! I'm your trustworthy... uhh... what am I now? Your trustworthy columnist, Tucayo, here with a romantic edition of Take Cover!. That's right, it's the month of love and we're getting on the mood for some lovin'. Let's get right to it!
To get us started we have a super medley of love songs through history, performed by Youtubers Eric Thayne, David Osmond, Ashley Hess, AJ Rafael, and Maddie Wilson. I will not list all songs and artists in the mashup, as that would make this just a huge paragraph of links; the video description does a great job of showing all songs in order if you are interested. We begin in the Sixties with the most iconic band of the decade, The Beatles, going through nothing but A-listers such as Nat King Cole and Elvis Presley. You Are So Beautiful (as made famous by Joe Cocker) kicks off the 1970's, where we also hear the timeless classic Your Song. The 80's have a groovy mix of hits such as I Just Called To Say I Love You, The Way You Make Me Feel, and Time After Time. The best decade to be born in brings the medley to a quieter but strong pace led by two hit songs from two landmark movies of the decade, Titanic and The Lion King. The medley then inexplicably merges 2000 through 2015 into "Now", closing with a super mashup of recent love songs from Maroon 5, Sara Bareilles, One Direction, Ed Sheeran, and more. All in all, I consider this to be an excellently-accomplished medley.
We round this off with the King himself, Elvis Presley, accompanied by the also-legendary Royal Philharmonic Orchestra performing the 1972 classic, Always on My Mind. It's disputed who was the first person to record this tune, with both Gwen McCrae and Brenda Lee disputing this title. But their versions are very far from being the most popular ones, with the King possibly taking the crown on that. But Presley certainly did not foresee the success his take on this song would have, as his rendition was originally released in the US as the B-side of his single Separate Ways, which I bet most of you had never even heard about, so that says a lot. Afterwards, in the UK, Always on My Mind was shifted to be the A-side. And the rest is history, with this cover being one of Elvis' most famous songs in a career filled with hits.
On January, the world of music lost Dolores O'Riordan, lead singer of The Cranberries. Here she is performing Ave Maria with Luciano Pavarotti in the 1995 Pavarotti and Friends concert, where she also performed Linger with Duran Duran's Simon Le Bon. Enjoy.