The 'Shroom
:
Issue 130/Palette Swap
From the Super Mario Wiki, the Mario encyclopedia
Jump to navigation
Jump to search

Director's Notes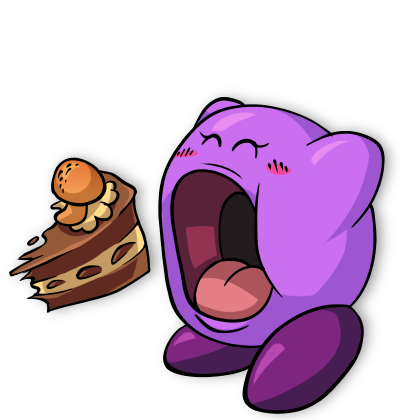 Hi, everybody! Welcome to the new year of The 'Shroom!
I hope your January is going well. I'm busy spending my free time playing Xenoblade Chronicles 2 and vibrating excitedly in anticipation for the release of Tropical Freeze for Switch with FUNKY KONG. I did not see that coming but Nintendo knows what I truly need.
We have a handful of sections for your reading pleasure this month! Consider signing up for a section, make it your New Year's resolution to be a part of the team for a year and see what you think! ~FunkyK38
Section of the Month
Hooded Pitohui (talk) takes the win this time, with a memorial Mario's Boombox section for the Wii U. Ah, good times. Thank you to everyone who voted, and please keep it up!
Art Sections
---
Mario Kart Super Circuit falls off the track...
[read more]
---
Pyro updates on artistic endeavors around the community!
[read more]
Featured Character Artwork
Written by: Chester Alan Arthur (talk) Edited By: Lord Bowser (talk)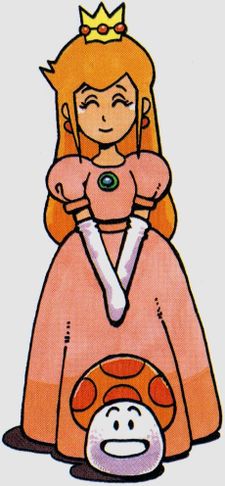 Hey look, I'm back after my like 4 month break! What a shock. That last time I was here we looked at an image of everybody's favorite Kong, and the month before that we looked at an image of a spooky carrot. This month, for the first (and possibly only) time, we are going to look at an image of a main character. That's right, everybody's favorite boy Mushroom and it's... um, Princess Plum? No... uh, Princess Potato? No, that's not right either... uh, Princess Passion Fruit? No wait that's right! It's your girl Princess Peach!
Honestly, the first thing I noticed is just how damn happy that mushroom is. I mean look at him! He looks just absolutely chuffed to be there with his bright beaming smile. Also, it might just be me, but it looks like that mushroom is totally rocking a 5-o'clock shadow for some reason, which brings up an important question; can mushrooms grow facial hair? This image also raises another important concern; just how sentient are the power-ups in the Marioverse? I mean, look at that mushroom, he's smiling and is clearly aware of his surroundings. So I guess what I'm asking is, is Mario eating sentient life forms to gain their powers?
I really like the way Princess Peach looks in this image. She looks very regal, all dressed up in her traditional outfit. I also love just how happy the Princess is with her little mushroom friend. I mean, look at her standing there without a care in the world. I like the simplistic way that Princess Peach is drawn. I think it really fits the cartoony vibe Mario games had at the time. One thing I don't really like is how the crown looks, cause it looks overly simple to me, and I think the depiction of her brooch is pretty poor. I also wonder what exactly the white stuff on Peach's cheeks are, I mean is it eyeshadow or some sort of other makeup? Who knows. All in all though, I like this image. I think it's a cute charming portrayal of Peach and perfect for the time it was made.
What's on the Box?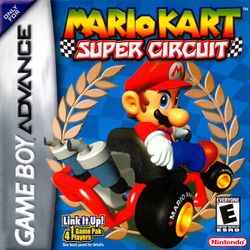 Hello readers, and welcome back to What's on the Box.
Last month, I featured a boxart that was extremely beautiful, and even though it had its flaws, there was a lot to discuss about it. This month, I've done the complete opposite, and gone with a boxart where there is barely anything to talk about. I bring you the boxart of Mario Kart: Super Circuit.
And yes, there really is nothing to talk about here. It features Mario in a Kart, and that is literally it. And Mario's stare is slightly unnerving. The only other thing of note for it is the fact that it advertises the link cable compatibility. But worry not readers, I'm not finishing the section here. Instead, I'm going to go on about some of the things that it could have featured.
First and foremost, more characters would have been nice. The preceding Mario Karts have all featured more than one character, this one should do exactly the same. Secondly, feature some tracks. Mario Kart: Super Circuit had a wide assortment of track variety, it would have been great to see them racing on some them, like Sunset Wilds or *shudders* Shy Guy Beach. And finally, the link cable compatibility gets a nod, so why not the fact that this game has more tracks than any other Mario Kart for the time when it was released. That is a massive selling point, and it is unbelievable that they missed this opportunity.
Ongoing Fan Projects
Written by: The Pyro Guy (talk)

| User | Thread | Description |
| --- | --- | --- |
| NanoPhoenix | Nano's drawings. | A thread containing NanoRim's excellent drawings. The most recent art is of a Lakitu. |
| Alex95 | Alex95's Thread of Stuff (Power Master/The 'Shroom/YouTube) | A thread all about Alex95's various creations, from his Power Master games to his YouTube videos. Recently, he has shown a remastered map of the small city of Bora. |
| lavakingderp | LKD's 2nd art thread | A thread where LKD posts his art. Recent posts are showcasing some quality material variations of a Bowser model. |
| Fawfulthegreat64 (Felonius Gru) | FTG's art | A collection of Mario-themed artpieces. Recent works include Paper Mario-styled images of Wedding Peach and Gru. |
| Snack | Rideable Minecart High School, and other short stories | A collection of stories and art about minecarts and high school. The latest post is a short story about departure and goodbyes. |
| Neptune (The Entire Galactic Empire) | Neptune's Grand Adventures - All New Series! | In light of Userpedia's closure, Neptune has posted his unfinished or unreleased comics in bulk. Sprite comics are always a good read regardless of whether they're done or not so do check this one out. |
| GabbyHayes (Main Character) | trying to make music (it's not that good) | In this thread Gabby has posted a couple of music tracks she created, based on music from Undertale and Doki Doki Literature Club. |
| BickyMitch | Lego Super Mario Gameboy - Stop Motion! | Two great Lego recreations of the first two levels of Super Mario Land. The twist? It's all stop-motion animated. Check this one out for sure. |
| Koops | Koops' Fanmade Paper Mario: plot twisted thread. (Sprites and explanations too). | A thread where Koops writes and draws for his Paper Mario fangame idea. He is currently rewriting and improving upon the script, and has recently posted the fifth interlude. |
| FruitLoops | New Game Idea | A thread where FruitLoops has posted the story for a fangame idea about Luigi saving the Mushroom Kingdom. |
| JFizzle | Mario v Sonic: Dawn of CLASH Bros - released, playable in browser | A playable preview of Super Clash Bros. It's a Smash-Bros-esque fighting game with emphasis on more impactful power-ups. |
| Toadbert101 (BEEEEEAAARRRS) | Stuff I make - deeeeeeeeeeeeeggggghhhhhhh | A thread of Toadbert's Oregon series and other artwork. He has recently posted a collection of some of his earlier drawings from years ago. |
| Koops | Koops' 'Shroom sections (Travel Guide). | A thread where Koops plugs his 'Shroom section, Travel Guide. He has recently linked to his section on Snowball park. |
| NoodleSoup | Super Mario Tabletop RPG | NoodleSoup is looking for some people to help test out his DnD-like Mario RPG. |
| Freakworld (Wart) | Freakworld's Let's Plays | A thread containing all of Freakworld's game commentary, from Sticker Star to more recently, a challenging Super Mario World hack. |
| ArtByJuliaBlakita1 | How to Draw Super Mario (Tutorial for Kids and Beginers) | A video tutorial showing how to draw Paper Mario. |
| Anton (Tsuyu Asui) | Anton's Half-Baked Reviews / Dear Anton | A thread about Anton's 'Shroom sections- Half-Baked Reviews and Dear Anton. His last post linked to Issue 129's review of Die Hard and a very festive Dear Anton. |
| Lakituthequick | Lakituthequick's occasional art | A thread where Lakituthequick posts things he makes. He's recently posted the maze he made from a Frosty, as well as showing off the impressive Scavenger Hunt and hints for a new project in the works. |
| Freakworld (Wart) | World Wide Weeb 'Shroom Section Discussion & Suggestions | In this thread Freakworld shows off his relatively new section, World Wide Weeb. His last issue was a review of Nisekoi, and he is open to suggestions. |