The 'Shroom:Issue 116/Fun Stuff
From the Super Mario Wiki, the Mario encyclopedia
Jump to navigation
Jump to search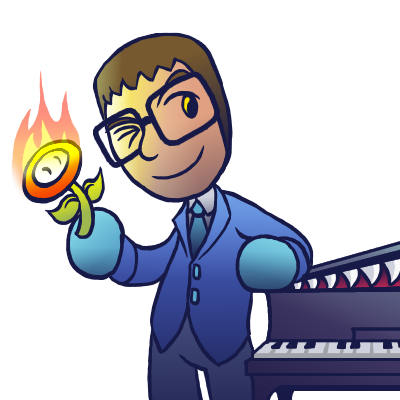 Staff Notes
If you're American, Happy Thanksgiving! I hope you have a great time with your friends and family. If you're not American, then it's probably a pretty run of the mill month. Why not do some Fun Stuff to pass the time?
I'm pleased to announce that PoweKamek (talk) and Mr Squid (talk) have joined the Fun Stuff. They are writing Crossword and Guess That Game!, respectively. Welcome to the team! Additionally, due to your requests, Silly Stories, By You! will be returning for the holidays.
Section of the Month
Thank you all for voting Guess Who! as Section of the Month! LudwigVon (talk)'s Mystery Images was also very popular. Keep up the great work, everyone!
FUN STUFF SECTION OF THE MONTH
Place
Section
Votes
%
Writer
1st
Guess Who!
11
37.93%
Andymii
2nd
Mystery Images
7
24.14%
LudwigVon
3rd
Quiz
5
17.24%
Yoshi876
3rd
It's aMAZEing
5
17.24%
Meta Knight
Feedback Poll
Thank you to everyone who participated in our feedback poll! Here are the results.
It appears that you all enjoy Mind Games, so we'll be sure to implement more of that in the future! As previously mentioned, Silly Stories, By You! will be returning for the holidays because of your requests. The rest of the suggestions will also be looked into and considered.
What would you like to see more of in Fun Stuff?
Name
Votes (92)
Percentage
More Mind Games (Guess Who, Quiz, Riddles, etc.)
40
43.48%
More silly sections
18
19.57%
More Graphic Activities (It's aMAZEing, Picross, Mystery Images, etc.)
11
11.96%
Everything is fine right now
7
7.61%
More sections unrelated to the Mario series
6
6.52%
More Word Activities (Crossword, Word Search, etc.)
3
3.26%
More mature (less silly) sections
2
2.17%
Write-in: Host another Silly Story, but less dumb this time
1
1.09%
Write in: I understand if its too much work, but bringing back Silly Stories would be awesome
1
1.09%
Write-in: Hidden Koopas
1
1.09%
Write-in: More Written Stories
1
1.09%
Write-in: More chips
1
1.09%
---
Word Activities
---
It's a classic puzzle! Can you find all the words?
[read more]
Graphic Activities
---
TPG offers some challenging Picross puzzles!
[read more]
Mind Games
---
Can you guess Mr Squid's game with the clues provided?
[read more]
---
Andymii challenges your character knowledge!
[read more]
Silly Stories, By You!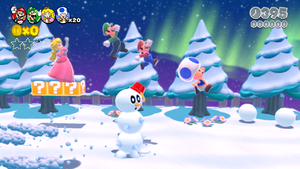 Thanks to your requests, Silly Stories, By You! will be making a return for the holidays! Click the link the below to go the the Google Form and submit your ideas. Your suggestions will be transformed into a merry Mario Christmas story next issue.
CLICK HERE TO SUBMIT YOUR IDEAS!
Word Search
Hi there! Welcome to Word Search. This time around, you'll need to find Mario's partners from the Paper Mario series. Good luck!

Answers:
Crossword
Written by: PowerKamek (talk)
Hi everyone! It's November now; man, this year has gone by fast! I hope you all enjoy your Thanksgiving. Enjoy this crossword puzzle, which is based on Mario Games!
Clues
Down
Across
1. 2002 Adventure
2. 2001 Adventure
3. So soft!
5. The first race
4. Creation
7. The newest party
5. Long adventure in a castle
8. Anti-gravity
6. The game that started it all
9. Yoshi's first appearence

Answers:
It's aMAZEing
Written by: Meta Knight (talk)

Hey there, everyone! Wow, I can't believe that it's been a year since I started making mazes here at The 'Shroom. My first maze was that of a Tanooki Leaf. To keep the November fall feel, I wanted to think of different settings in Mario that had a leafy feel to it. What came to mind was the Maple Treeway track from Mario Kart Wii. That being said, here is a Wiggler to commemorate 1 year of me being involved with The 'Shroom. I thank everyone who has supported me, and I wish you all a happy fall.

How to play:
Copy the image into an art program (such as Paint, Photoshop, paint.net, etc.)
Click the line tool and adjust the size as needed
Use the line tool to get from arrow to arrow
Zoom in and out as needed
Answer:
Picross
Written by: The Pyro Guy (talk)

Greetings, readers, and welcome to Picross: "pretty challenging" edition. This month, I have a special challenge for you. This Picross is bigger, stronger, and faster too. It's actually only bigger, but it is hard to do. This mysterious character is trapped in a rectangle, so finish the puzzle and see what you can... rangle.
...Yeah. Enjoy.
Answer:
Mystery Images
Hello there! Welcome to Mystery Images. There's no theme this month – it's just another normal section – but this doesn't mean you can't have fun! Try to find out the character, the location, and the game that are hidden in the following images.

Game 1 - The character
Game 2 - The location
Game 3 - The game

Answers:
Thank you for coming here and playing! Come again next month.
Guess That Game!
Hello! I am Mr Squid! In this game, you have to guess the Mario game. For each round, I will give you the series the game is in, along with some clues about the game. It will get harder each round. The answers are at the bottom of this section.

Round 1
This is a Mario Kart game.
This game is for the Wii U.
It is the best-selling Wii U game so far.
This game features anti-gravity.
Round 2
This is a Mario Party game.
It is the last game released on the Wii.
Lakitu is a boss in this game.
There are five modes in this game.
Round 3
This is a game in the Mario Golf series.
Eight of the playable characters are Mario characters.
This is the only Mario Golf game where Waluigi is an unlockable character.
This is the fourth game in the series.
Round 4
This is a Donkey Kong game.
This game is educational.
Not many people liked this game, and it sold badly.
There was going to be another educational '''Donkey Kong''' game like this, but it got cancelled.
Bonus Round
This is NOT a Mario game.
It is for the Wii.
It has over 82 million sales.
If you have the Wii, you will probably have it.
This is a Nintendo Selects game.

Answers:
Guess Who!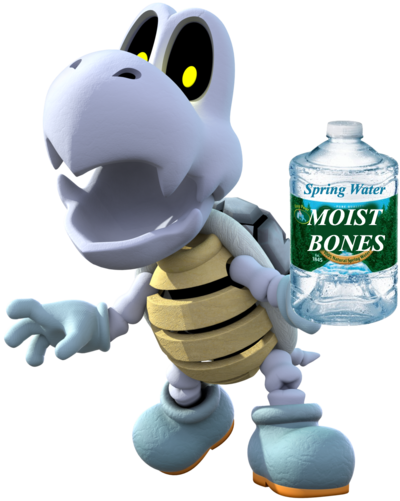 Have an idea for a theme? Suggest it here!

Nintendo recently released the NES Classic Edition, and it's been selling out everywhere. And no wonder – it's a highly nostalgic item for older players, while also being a cheap way for younger players to experience the classics. Nintendo's 8-bit characters are extremely influential. Because so many of them are Mario characters, this month's theme will be Mario characters that originated on the Nintendo Entertainment System.
Guess Who! November 2016:

Theme:
8-Bit Days

Level 1: Easy
This character changes between two frames of animation, making it appear to be walking.
This enemy was created to be something easier than a Koopa Troopa so that beginners could have an easier time.
In this character's original game, it is colored brown in the overworld, blue underground, and gray in castles.

Level 2: Medium
Technically speaking, this is "the bony or more or less cartilaginous framework supporting the soft tissues and protecting the internal organs of a Koopa Troopa." (Thanks, Merriam-Webster.)
He's definitely not moist.
This character is immune to fireballs.

Level 3: Hard
This character is always seen with a pair of sick shades.
His original game was not released in the United States.
This proud rodent destroys dreams with his bombs. (That must sound really strange out of context.)

Challenge: Vague Hints
This character is colored black.
Fireballs will not destroy it.
Jumping defeats it.

Answers:
How did you do? Regardless, thanks for playing this month's edition of Guess Who, and please check back December for a special holiday edition!
Quiz
Welcome to Quiz, a place where I... quiz you, on Mario stuff. This month, unless you live outside of America, Mario Party: Star Rush was released, so I have devised a party quiz for you people. Please note, if you crack this quiz out at an actual party, even the booze will leave.
Easy
What do you roll to decide how far you move in a turn?
Who is the main villain of the series?
On which console were the first three Mario Party games released on?
Medium
How many games has Koopa Kid been playable in?
Who is the midway boss of Bob-omb Factory in Mario Party 9?
What country is Neon Heights based on in Mario Party 6?
Hard
How many minigames are there in Mario Party 5?
What three words beginning with "L" are used to describe Toad in his Mario Party 10 bio?
What effect does MC Ballyhoo and Big Top's sticker have in Super Smash Bros. Brawl?
Answers:
Easy
Dice.
Bowser.
Nintendo 64.
Medium
Three.
Whomp.
USA.
Hard
77.
Loyal, lovable, and lively.
[Head] - Attack +10.