User talk:SuperLuigiBros.
From the Super Mario Wiki, the Mario encyclopedia
Jump to navigation
Jump to search
Welcome, SuperLuigiBros.!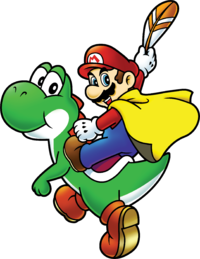 Hello and welcome to the Super Mario Wiki, a collaborative knowledge-base dedicated to the Mario franchise. We're glad to have you as a member. If you have any questions, just post them on the FAQ talk page or ask an experienced member, patroller, or administrator.
The following articles contain guidance and information about reading, authoring, and participating in the Super Mario Wiki community. If this is your first time visiting, please read our introduction.
How do I do that?
Specific help
Categories
You are welcome to browse through the following categories:
External resources
Things you can do
Feel free to delete this message when you're done reading it. We hope this information is helpful, and that you'll have a great experience contributing to our knowledge-base and our community. Remember to enjoy your experience here and to also have fun!
Sincerely,
The MarioWiki Staff
Hey, did you read that fancy welcoming box above this comment? Please read it, it will help you so your edits won't be reverted again. SWFlash
Let's-a friend!
[
edit
]
Do you want to be friends? Here is my userbox: |-
|
Userbox
[
edit
]
To create an userbox, you first need an userbox tower. Copy this to your page with "Edit"
I created your userbox, but you can chance it!
Hi. Can I be your friend?

Joeypmario

15:34, 24 December 2011 (EST)
Wana be friends?
Do you want to be friends?
[
edit
]
Please?

R3D347H wuz here

Userspace
[
edit
]
Dear SuperLuigiBros.,
It has come to our attention that you are currently in violation of the userspace policy. Please review the policy and abide by it, or else a warning will be issued. Thank you for your cooperation.
Hey there :) I've just been looking at your User Contribution, and I've noticed alot of your edits are userspace based. This is just a friendly reminder to make more edits to mainspace articles. If you are not sure where to start, why not expand an article on our Stub List?
Quality of File:Nintendo Entertainment System.jpg
[
edit
]
The reason why it appeared lower quality is due to how the full JPEG loads. Nintendo Spain saved the image as a progressively loading JPEG, meaning that it will load a lower-quality version first, to get the general picture across, then render the better quality version. You can read up on this practice here.--Immewnity (talk) 23:14, 21 January 2013 (EST)
I apologize if I am incorrect on this, but I believe that label is due to the machine being a PAL version of the NES. The image was direct from Nintendo Spain's press FTP, unedited, hence the white space and the PAL labeling.--Immewnity (talk) 20:33, 22 January 2013 (EST)
Found the explanation. It's Nintendo's NES in the UK, Australia, and Italy, as opposed to the earlier version done by Mattel.--Immewnity (talk) 20:51, 22 January 2013 (EST)