User talk:Birdo4444
From the Super Mario Wiki, the Mario encyclopedia
Jump to navigation
Jump to search
Welcome, Birdo4444!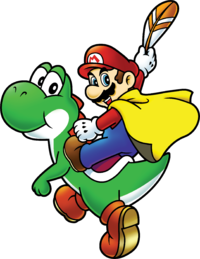 Hello and welcome to the Super Mario Wiki, a collaborative knowledge base dedicated to the Mario franchise. We're glad to have you as a member! If you have any questions, just post them on the FAQ talk page or ask an experienced member, patroller, or administrator.
The following pages contain guidance and information about reading, authoring, and participating in the Super Mario Wiki community. If this is your first time visiting, please read our introduction.
How do I do that?
Specific help
Categories
You are welcome to browse through the following categories:
External resources
Things you can do
Feel free to delete this message when you're done reading it. We hope that this information is helpful and that you have a great experience contributing to our encyclopedia and community. Remember to enjoy your time here and to also have fun!
Sincerely,
Ashley and Red (talk)
Your recent edits
[
edit
]
Hi, please don't change the latest appearances for the Koopalings to Mario Kart 8; we don't change the latest appearance box until games actually come out, so keep this in mind for other things too. Thanks, and keep contributing. - Turboo (talk) 21:00, 29 April 2014 (EDT)
Honey Queen
[
edit
]
Hi. Please stop replacing "Queen Bee" with "Honey Queen" in Queen Bee article. As I said in my edit summary, if she is called "Honey Queen" in another game, we can change it, but the inconsistency in Mario Kart 7 is not enough to warrant a name change. Thanks. By the way, your changes to the article are flooding the recent changes. Use the preview button instead of constantly saving changes. And please don't edit war. That's against the rules.

Ray Trace(T|C) 22:04, 29 April 2014 (EDT)
Sorry, I assumed Nintendo changed her name.