User:Peachycakes 3.14
From the Super Mario Wiki, the Mario encyclopedia
Jump to navigation
Jump to search
Super Paper Mario

Enemy

Enemy Name

Location(s)
Max HP
300
Attack
20
Defense
10
Score
Items
Card Type
Rare
Card Location(s)

Tattle

AHHHH!!! It's Peachycakes!!! No, it's Peachycakes 3.14. He's a Rex that impersonated Peachycakes once, but he's actually a really nice guy. Just don't get him mad or you just might regret it.

List of Catch Cards
???           666           ???
Welcome! I am Peachycakes 3.14, but don't be fooled by the name, I used the name as a joke. You might also know me as Rex, my favorite creature in the marioverse. Aside from editing here, I also have a part time job as a Mariologist.
I'll be working at userpedia mostly.
What I have learned from my time on the Mariowiki:
1: I have way too much time on my hands.
2: Chatrooms attract spam.
3: It's exactly 364 licks to the center of a tootsie pop.

Credit to the spriters resorce
Who's online: Scrooge200, ShyGuyCrisis118, Ray Trace, Raymondsze, Yoshi the SSM, CBFan5, Computerfan0, SuperML, MetaKnightmare666, Metalex123, Gold Luigi, Ma-sansunsun, Chris Helper, GarfieldandFriends, LBlueLuigi, Biddybud, KingGeoshiKoopshi64, KiwiBird97, Keyblade Master, Outtamyway101, The Chef Boo, BBQ Turtle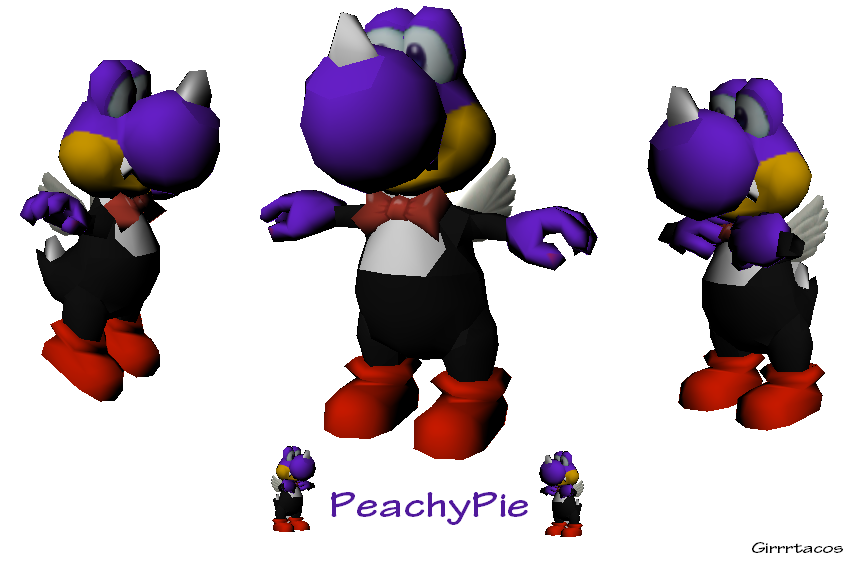 Peachycakes 3.14's Userbox Tower
| | |
| --- | --- |
| | This user never got to play a SNES. |
| | |
| --- | --- |
| | This user never got to play a NES, but he dousn't care because he thinks they are outdated. |
| | |
| --- | --- |
| | This user has never played the Playstation Portable but he still thinks theNintendo DS owns it. |
.