User:MarioManiac164
From the Super Mario Wiki, the Mario encyclopedia
Jump to navigation
Jump to search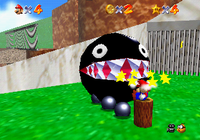 It's me, MarioManiac164!
FAVORITE GAMES
Here is my Mario Wiki signature.
I have a SNES, a N64, a GameCube, and a Wii.

I have accounts to SuperCheats, NeoSeeker, and StrategyWiki.
I have a dad, a mom, and a brother. And I have a crush!!!
I LOVE pizza and rolls.
My favorite music is Dire Dire Docks!
I got a Yoshi from YoshiCookie. I named him Hungry for obvious reasons.
Quiz
I just started my own Mario quiz! Post an answer on my talk page. Each time someone gets a question right, I'll change it. The shell shown is the reward. Answer only one question at a time.

Green Shell Question What was the first game with Fire Flowers?

Blue Shell Question What are two systems that don't have any version of Dr. Mario?

Red Shell Question What was the first game to give the Koopalings voices?

Spiny Shell Question What was the first game where Donkey Kong is not an antagonist?

Gold Shell Question What is the first game in the Super Mario series without any remix of the Super Mario Bros. overworld theme music?