The 'Shroom
:
Issue XXXIII/Art & Music
From the Super Mario Wiki, the Mario encyclopedia
Jump to navigation
Jump to search
Hello 'Shroomers! Welcome to the latest Music and Art section! Now that SMB has left, P.Trainer and I are now directors and we are looking for top-quality writers to write for us and will only be accepted if grammar is top notch. We have some vacant positions, so if your interested in a job, apply for it and you will undergo an interview to see whether you're good enough or not.
Pie Shroom (talk) has resigned leaving her two positions vacant.
We have a couple of spare jobs which we need someone to fill. They are Sketch related to Mario, Photoshopped image of the month and music factiod. Check them out!
Co-Directors Notes
Paper Pikachu here, welcoming you to this edition of Art and Music. As many of you already know, Super Mario Bros. has become the director of Pipe Plaza, so I'm joining YellowYoshi127 as co-director of Art and Music. Other then that, as the Suggestions Receptionist as well, don't forget that if you have any ideas contact me, and I'll pass them along! Enjoy the issue!
Box-Art of the month (User:Tucayo)
Well, covering the user who resigned just for this time, I bring you teh cover of one of the most anticipated games. Galaxy? M&L 3? Nope, it is SUper Smash Bros Brawl!!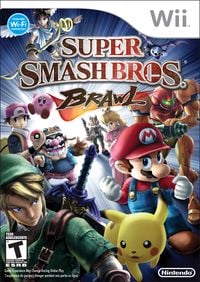 For me, it is a great cover, as it includes characters that come from different series, which is really nice. And it also includes Pit who makes his glorious debut after more than 20 years of abscense. Well, this is all for this back-up section. BYE!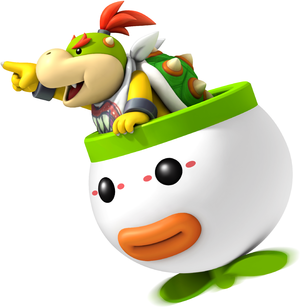 I'm pretty sure everyone got excited when they saw this picture because Bowser Jr. has now got his very own Koopa Clown Car in NSMBW! This picture also puts Bowser Jr. into a very cute perspective as you can really see the baby in him. It also looks like he;s commanding his own army because of the pointing finger as if he;s saying 'after him'.
Random Image of the month (User:Booman)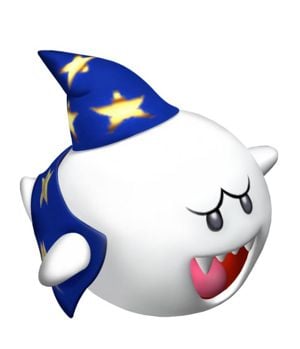 This is an image of a Boo from MP4 dressed up as a wizard.
Photoshopped Image of the month
This position is available for the taking at the moment, check out the signups to apply for the job! Anyway, I'll take over for this month so here's one of my latest boxart's I made for Vgboxart. Its of a game called Mario kart X which was the original name for Mario Kart Wii. It has the main characters on the front and their courses.
This position is available for the taking at the moment, check out the signups to apply for the job!
I've Edited the Pic to have Info on it.
If you can't read it - I put: Baby Mario & Luigi trying to catch up, Yoshi & Mario - Mario Holding a Green Shell, Background: Daisy, Peach, Birdo, Bowser, Shy Guy, Banners
It's a colour full picture. It has lots of Characters in it.
Destruction Dance [1] from Dance Dance Revolution Mario Mix is not just an amazing composition, but the winner of this issue's Soundtrack of the Month. Originally composed by Hirokazu Tanaka for the game Wrecking Crew, this composition is used for the dance off with Waluigi. I chose this composition because not only was the original great, but the remixing of the song was just impressive, especially how they incorporated the piano.