The 'Shroom:Issue LXXIII/Directors' Notes
From the Super Mario Wiki, the Mario encyclopedia
Jump to navigation
Jump to search
Hello everybody, welcome to The 'Shroom! We are currently at the April 2013 issue, and we have quite a number of things that we are working on and implementing and whatnot.
I would like to welcome back Kibago (talk) (Edofenrir) as the Sub-director! He served The 'Shroom honorably during his last term in this capacity, and I know that we will do an excellent job again and that his addition to the staff team will allow us to grow and move forward. It is great to have the opportunity to work with him again. I would also like to welcome YoshiKong (talk) as the Spotlight Manager— we are finally going to dust off The 'Shroom Spotlight, reform it, and make progress. YoshiKong is experienced with matters of the community and will undoubtedly be a great asset to both the Spotlight project and The 'Shroom overall. And we bid a warm farewell to RandomYoshi (talk), who did the best that he could during his time as Statistics Manager and retired recently, and hope that he is able to accomplish what he needs to get done in his life. Mario4Ever (talk) is the new Statistics Manager, and has the competence and ability to carry out his duties well. Welcome to the team, everybody!
We have finally implemented the Manual of Style. What this document does is set forth a standard which the sections included in the paper must follow. They are not too intrusive or anything that will be incredibly hard to follow, but are simply base standards to ensure that each section looks decent and is formatted correctly. We hope that this will also be a good tool for the writers to use to be able to edit and preview their sections before they submit them.
The final item that I will cover this month is an important announcement: we will be having a Special Issue this June. It will be the 75th issue of The 'Shroom that has been released, and so we feel that it is an important time for The 'Shroom. We will be working extensively on the Special Issue for the next few months, and will make this one of the best issues yet. We hope to have a lot of fun and interesting features that will make it a very worthwhile read. As the Special Issue approaches, more news will be covered about it.
Thank you so much for reading this month. Please be sure to read Tucayo's and Edofenrir's notes below, and check back in on May 18th, 2013! We hope to bring more news about other projects that we have been working on.
Until next month,
HI, amazing people who read us! I'm your royal Co-director, Tucayo, bringing you this month's notes. Last month was pretty busy for us at the Core Staff; we have been working non-stop on several projects, some of which are secret. I have a lot to cover, so let's get started:
This month we have several Core Staff changes, the first of those being the return of Kibago (talk) to the Core Staff, to take his old job as Sub-Director. It's great to have him back, we are certain he will be a very important addition to the team.
We are pleased to announce YoshiKong (talk) has joined the Core Staff, he will be in charge of the 'Shroom Spotlight, and will be bringing you monthly updates on it. YK has great plans for this project, so you may want to check it out.
Earlier this month, our Statistics Manager, RandomYoshi (talk), decided to retire from the community. We wish him the best, and we thank him for all his help during his Core Staff run. To take his place, we have decided to bring in Wiki Patroller and trusted member, Mario4Ever (talk); we are confident M4E will do a great job, so welcome aboard!
Fake Shop has finally gotten a regular writer, and it is none other than Goomba (talk). Congratulations!
One of our main priorities last month was to put together a Manual of Style, and so we did. You can now check it here, and you may ask any questions you have over here. All writers and applicants must give the Manual a read.
Important part of the Manual of Style is the ban on externally-hosted images, which will be the main goal behind the Crusade Against External Imaging. Here are the specific indications:

For any images you may use in your section, please upload them externally and send the link to the Team Director you write for. The Team Director will upload to the wiki the images when the issue is released. Do not upload images to the wiki before the issue is released.

By the time you read this, the Awards Committee will have already approved our ten Awards for the upcoming Awards Ceremony. Be sure to keep an eye on this document to know which awards will be having.
On the same topic, I'm please to announce we will be carrying out a 'Shroom Awards Dossier on the June issue. This feature will help voters understand the categories and the nominees, promoting an educated vote. We have talked this with the Userpedia staff and it seems like they will be making one as well, so be sure to check them both before voting.
We are working to rebrand the Music & Art sub-team, to attract more readers and writers, and to help it be a platform for our many artists. More information to come.
This issue we are debuting the new Single Page layout. Please give us any input you may have about it.
AND FOR THE BIG NEWS... SMB may have already mentioned this, but I'll mention it anyway. We'll be having a Special Issue in June to commemorate the 75th issue of The 'Shroom. We started working a couple of months ago, as we want to make this the best issue ever. Stay tuned for more information.

On a personal note, be sure to check out my final Ask Tucayo, where I will announce my successor. It will shock you. Aaand that's all on my part; thanks for reading and I hope you enjoy the issue! BYE!
Sub-Director's Notes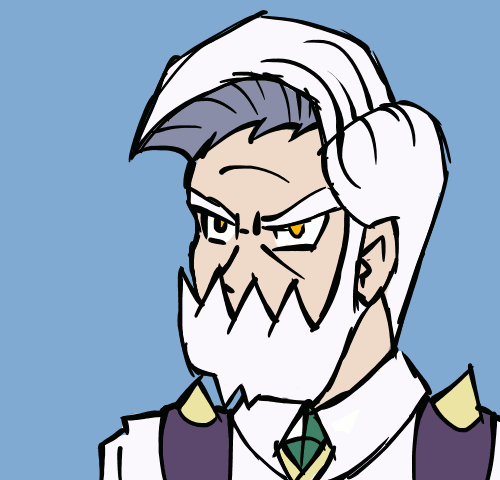 Drayden cannot enjoy his sandwich