The 'Shroom:Issue LXXII/Music & Artwork
From the Super Mario Wiki, the Mario encyclopedia
Jump to navigation
Jump to search

Greetings, readers! M&A Director FunkyK38 here with your Music and Art Update!
This month, our Valentine's Day art contest… kind of failed. We only got one entry, from our resident artist, Smg2daisy (talk). But it's a beauty, it is, so you all should look at it! I also received a new piece from Edofenrir (talk), which also looks fabulous! Be sure to check out all our fan art in the Sketch Related to Mario section!
I think that's about it. Once again, if you'd like to sign up for our team, we'd love to have you! Just send me a PM on the forums to get started!
So, let's get to the art, music, and talent!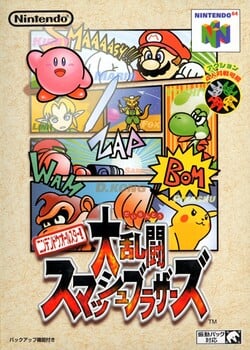 HI, readers! I'm your animal-loving Co-director, Tucayo, with this month's chosen Box Art! This month I went with the Japanese cover for Super Smash Bros., for the Nintendo 64. Now, you may be thinking "weren't the boxes for N64 games shaped differently?" You're right, they were. In every country but Japan, boxes were like this, but not in the Land of the Rising Sun. Now to the cover itself. This Japanese version is designed as a comic, with the eight "main" characters in different panels, and with cool BOM, WAM, ZAP, SMAAAASH signs. Oh, and some Japanese text as well. The non-Japanese box art kept the cartoon-ish look the characters had, but dropped the panels and put them all together.

That's it for this month, now go play some N64.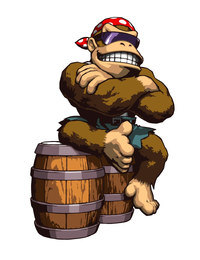 This month's Character Artwork spot goes to this actually amazing quality artwork of Funky Kong. This may or may not be chosen to welcome the new Music & Artwork Director, FunkyK38 (talk)! Now, while I'm not really a fan of the Kongs (or rather, the DK Crew) especially in Mario Kart, when I found this in the gallery for Funky Kong it was THE perfect choice. It is a rather gorgeous cel-shaded, detailed artwork; and whilst it depicts the modern design of Funky, it is better than the DKC3 design with the toolbelt and stuff (which in my opinion makes him look better than just a radical surfing ape guy). Unfortunately, this is probably the only time Funky Kong gets love from me. Sorry. Hope you liked this section though, readers! And sorry about last month. -_-'

Random Image of the Month (Paper Yoshi (talk))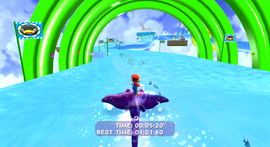 Hello, readers, and welcome to Random Image of the Month!!
This month's Random Image comes from Mario's first 3D platformer for the Nintendo Wii, Super Mario Galaxy. It shows Mario Manta Ray surfing in the Loopdeeloop Galaxy.
Manta Ray Surfing is one of the four minigames present in Super Mario Galaxy, appearing in two galaxies: Loopdeeloop Galaxy and Loopdeeswoop Galaxy. In order to earn those galaxies' Power Stars, Mario (or Luigi) must use a large Manta Ray as a surf board to race on a water-made course. The player controls Mario by pointing the Wii Remote at the screen and tilting it to the left or to the right to go in those directions. The

button is used for accelerating, and flicking the Remote allows Mario and the Manta Ray to jump.

The image is relatively detailed, showing an approaching horizontal loop with signs indicating the turn, aside from a few coins and fish on the track. Additionally, the finish line, marked by a gate resembling a Shine Sprite, can be seen in the back.

Sketch Related to Mario (Smg2daisy (talk))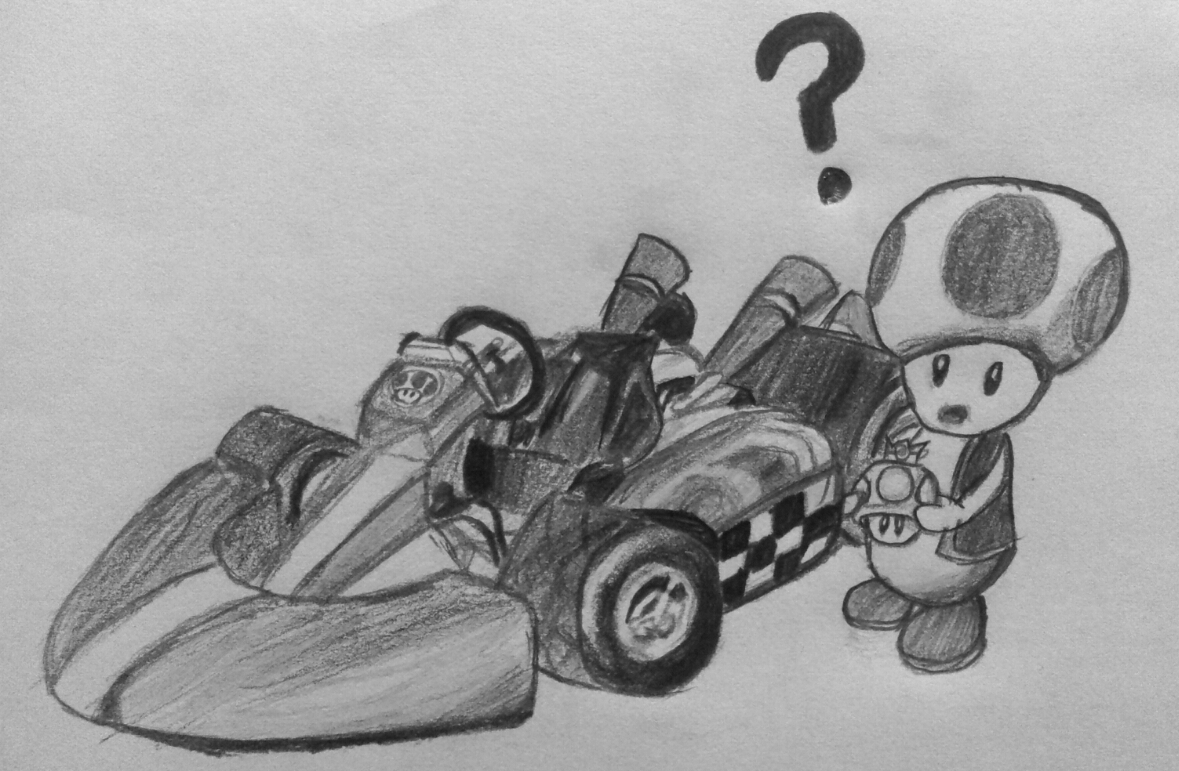 Smg2Daisy (talk)'s monthly drawing.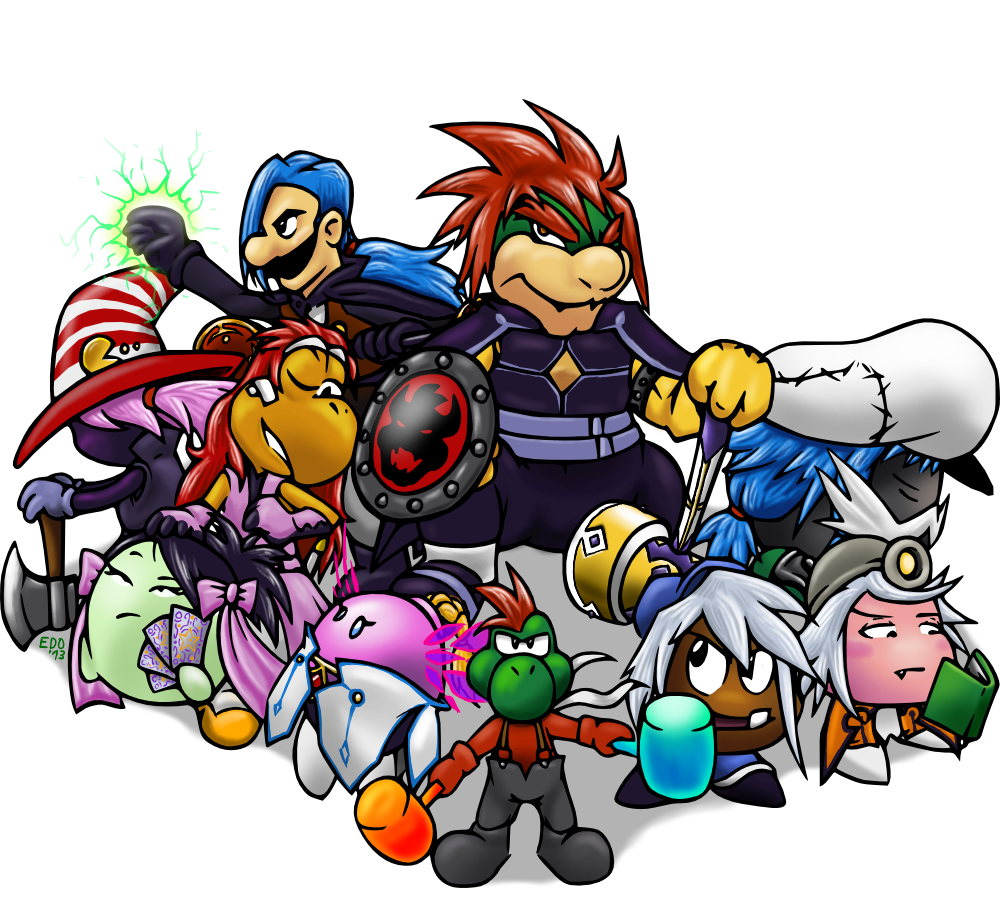 Edofenrir (talk)'s drawing, titled, "Tales of Super Mario"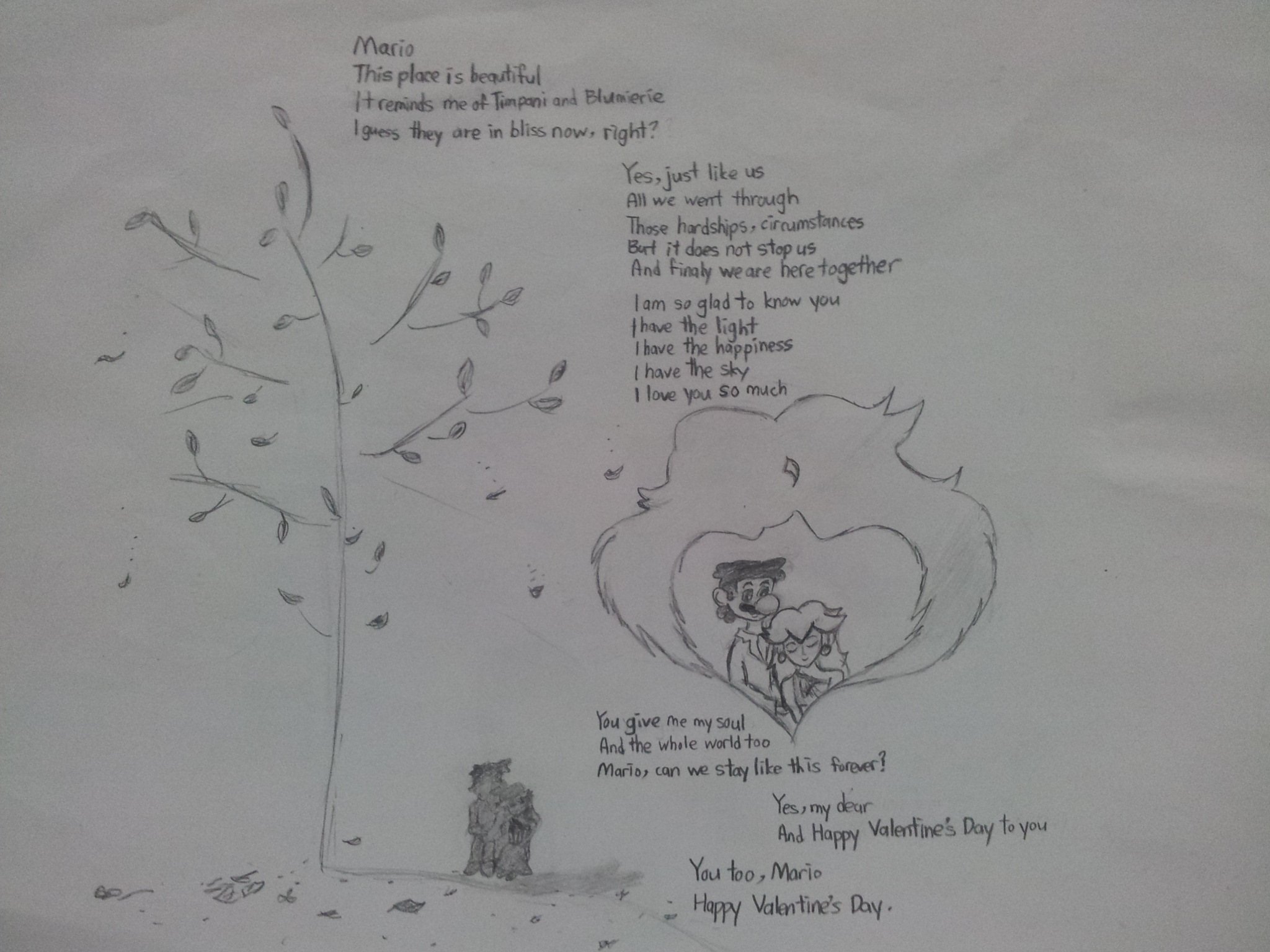 Smg2Daisy's Valentine's Day submission.

Sprite of the Month (FunkyK38 (talk))
Hello, readers, here is your sprite of the month, a Koopaleon from Mario and Luigi: Partners In Time:

! It's March, so we all need something green. And it's a Koopa, too! Well, okay, maybe the whole Koopa-chameleon mash up was a little… out there, but you have to give them credit for their imagination!

---