The 'Shroom
:
Issue LXXI/Music & Artwork
From the Super Mario Wiki, the Mario encyclopedia
Jump to navigation
Jump to search

Hello, hello, hello! I am your new Director of the Music and Artwork team, FunkyK38! I am so glad to be here, and I am honored that I was chosen by our wise directors to head up this team! I hope to bring this team to life this year and bring our loyal readers much to read about!
I would like to introduce our new staff members:

Although Sketches Related to Mario already has an artist committed, I encourage anyone to submit artwork if they would like. You don't have to sign up or fill out an application, all you have to do is send me a link of your drawing and a summary on the forums in a PM. It doesn't have to be perfect, although you must keep it appropriate.
Speaking of sketches, I would like to announce a new contest that we will be holding here in the 'Shroom! This month's theme is Valentine's Day, and all you have to do to enter is sketch a picture related to Mario with the theme incorporated, and PM it to me on the Forums. We will put it up for everyone to vote on, and the winner will get lovely prizes!
So, let's get to the art, music, and talent!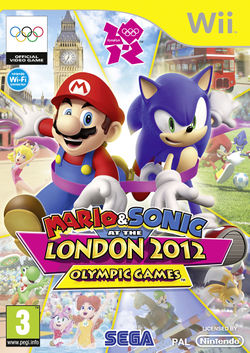 HI, readers! I'm your artistic Co-director, Tucayo, back in the artistic part of the newsletter! I was saddened by the fact we only had 3 sections last issue, so I decided to sign up for one. Both art and music are genuinely interesting, so I'm surprised we have only a handful of writers. Anyway, let's get to the art, more specifically, the European cover for Mario & Sonic at the London 2012 Olympic Games for Wii. Unlike the North American, Australian and French covers, this one has more "British Invasion" to it. Just like in the Japanese box-art, the European cover includes two of the most famous London sights: the Elizabeth Tower, previously named Clock Tower; and a Double-decker bus. But of course, two additional panels means some other panels had to be left out. The panel where Cream and Daisy are seen during a Synchronized Swimming event, as well as the one with Luigi on the Show Jumping, were moved to the bottom to replace the panel that had Waluigi, Shadow, Wario and Dr. Eggman during a Track Cycling event. But come on, we all know London is a far more enjoyable sight than those four anti-heroes. Other panels include Peach during a Rhythmic Ribbon exhibition, Tails on the Uneven Bars (that's cheating, he can fly), Knuckles and Metal Sonic squaring it off in football (let's stay British), and Yoshi during a Discus Throw event. I hope you enjoyed this section, see you next month!

As Rise Up Above It (talk) is sick this month, there will be no Characeter Artwork of the Month. Be sure to drop him a line telling him to feel better!

Random Image of the Month (Paper Yoshi (talk))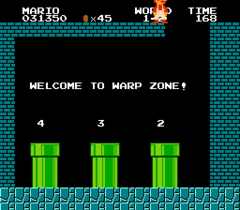 Hello, everyone, and welcome to another issue of Random Image of the Month!!
The Random Image for February comes from a classic Mario game, Super Mario Bros.. It depicts the first Warp Zone in the game, located in World 1-2.
Warp Zones are hidden areas found in some Mario games, such as Super Mario Bros. or Super Mario 3D Land. They act as "shortcuts", allowing the player to access different worlds. As shown in this month's image, the World 1-2 Warp Zone from SMB contains pipes that lead to Worlds 2, 3 and 4, from right to left. Additionally, a glitch may be triggered in said Warp Zone, leading the player to the Minus World.

Sketch Related to Mario (Smg2daisy (talk))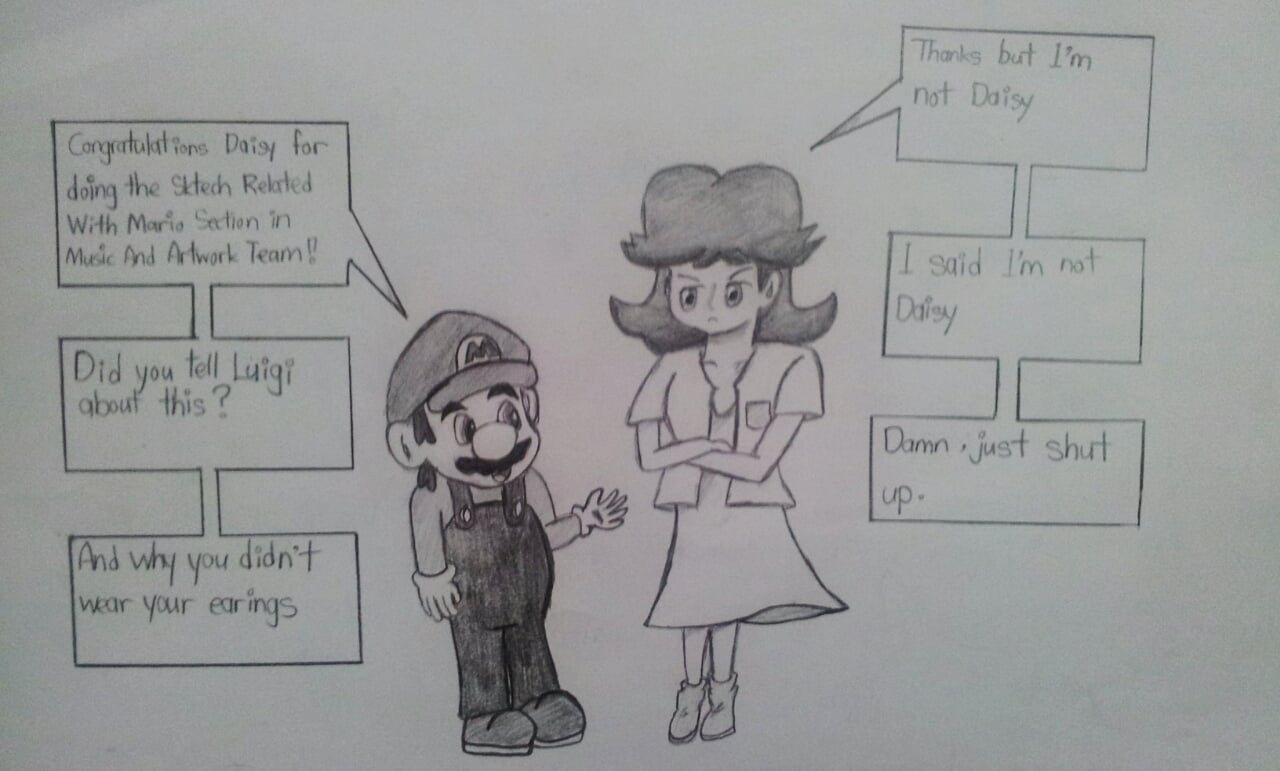 So this is my first time involved in the newspaper, The 'Shroom. Thanks for giving me the chance to join here. So, I am Smg2daisy, as in my drawing! Remember, I am Smg2daisy, not Daisy!

Soundtrack of the Month (KoopaGuy (talk))
http://www.youtube.com/watch?v=sW-Tamck8k4
This soundtrack is a remix of the underworld theme in Super Mario Bros. 2 or its Japanese counterpart, Doki Doki Panic. The track consists of a piano, a guitar, and a beat. The artist of this song is named Sean Sullivan. This track is used in a fan-made game based off of the Mario series and many other game series called Mushroom Kingdom Fusion. This track can be downloaded with the Mushroom Kingdom Fusion Soundtrack or on the Newgrounds Audio Portal, which is where this soundtrack originated from. It was used in Mushroom Kingdom Fusion, which is an awesome fan-made game in my opinion. I find this to be very cool. I am a fan of Super Mario Bros. 2. It is perfectly loopable, thus making it perfect for a fan-game.

Sprite of the Month (FunkyK38 (talk))
Hello, readers! This month, I bring you this sprite of a Soul Bubble from "Mario & Luigi: Partners in Time":

. Many of you may remember I did a Love Bubble one year for Valentine's Day, so I decided to go with its counterpart in this issue. Give a Soul Bubble, they'll fall for you for sure! At least I would. If it was properly trained.

---