The 'Shroom
:
Issue 189/The 'Shroom Spotlight
From the Super Mario Wiki, the Mario encyclopedia
Jump to navigation
Jump to search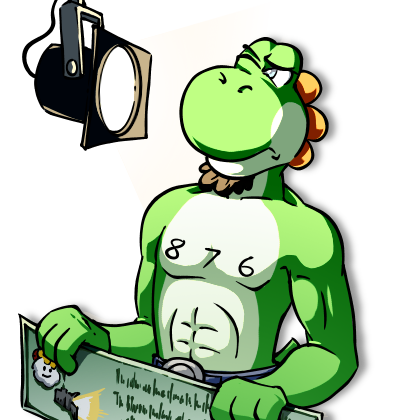 Hello readers of The 'Shroom, and welcome to Spotlight. Spotlight is a community project which aims to fix up the articles on the wiki which have issues. These issues can range from poor writing, to a lack of images, to even just needing a credible source.
I hope you are enjoying the run-up to Christmas and most importantly what is underneath that tree! Whether it's the latest game you've been craving, a nice book to curl up or even tickets to see your favourite band there's something magical. I know I'm looking for a completely pristine wiki, but not even Santa Claus can work that many miracles! But even if your Christmas isn't filled with presents, I hope it is at least filled with merriment and the creation of family memories to cherish forever.
We have been riding high recently, but last month took a predictable bump with some more obscure focuses featured within. But thanks must be given to ThePowerPlayer (talk) who gave us the locations for Retry Clock, and added images to Waddlewing, as well as cleaning up the trivia section on Mario Tennis (Nintendo 64). Our wanted article stub and image quality focuses, sadly were not created or improved this time around, but there is always the future for them to lose their tags.
And now onto this month's focuses:
| Article | Category | Focuses |
| --- | --- | --- |
| Stalagmite | Wanted article | We might have thought that everything we wanted for Super Mario Galaxy was completed, but this object is jutting about the rocks and ready to deal damage and deserve an article. It might not be as exciting as an intergalactic adventure, but will still be nice to see on our website. |
| Guinness World Records | Rewrite required | It's been a while since we had a rewrite focus, but there might be a World Record attempt in the making here for whichever user can clean-up this article the fastest. It's currently heavily outdated, and while organised by series perhaps could be organised by year. That last bit isn't, however, a necessity, but years that these attempts were done should be noted. |
| Hot Fraun | Rewrite and expansion required | Hot is exactly what I'm not, and this article's quality isn't looking too peachy either. Although it details who can be found in there, and what they do there's virtually no information about the restaurant itself, including what's inside or even where in Flopside it is found. |
| Icicle | Articles that need more images | I can understand why we haven't tried getting many images of sharp pointy things, but this article would benefit from having a gallery of all of its appearances. |
| File:NSLU Ice-Slide Expressway Screenshot.png | Image quality requested | Although nearly perfect, a re-capture of this level at a higher resolution would be the perfect Christmas treat. And it doesn't have to be a re-capture of this particular scene if there's another part of the level that is a better representative. |
| The Legend of Zelda × Mario Kart 8 | Citation needed | I'm sure many of us are enjoying new Mario Kart DLC during this festive time, but the initial sources for the first-ever DLC is as dead as the dodo. Plenty of gaming magazines or the sort will likely be able to confirm this claim, and would serve as a suitable replacement. |
Now just before I leave you, I'd like to tell you about unimplemented proposals. There are currently thirty-five that need to be implemented, dating as far back as 2018, so think of this as a continuous Spotlight goal until they're all completed. Additionally, there are many unresolved discussions that we would love to see come to some sort of conclusion. Some might have already concluded and just need the template removed, others have been waiting for a response for years.
Thanks for tuning in to the newest edition of The 'Shroom Spotlight! Be sure to turn up next month, where we'll be reviewing the progress on the above focuses. If you have any questions or suggestions about this month's set of the article focuses, then please get in touch through the dedicated topic if you have a forum account. If not, then please contact me on my talk page, but you are far more likely to get a quick response if you go through the forums. You are also welcome to make suggestions on what you think we could focus on in our next edition! Thank you, and good luck!