The 'Shroom:Issue 134/Fun Stuff
From the Super Mario Wiki, the Mario encyclopedia
Jump to navigation
Jump to search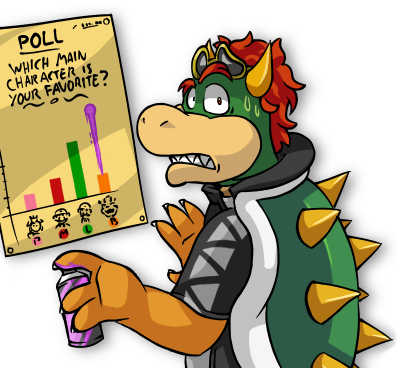 Staff Notes
Written by: Lord Bowser (talk)
Mikey should've won the Splatfest ok
Anyway, not much to say this month. Summer is almost here, though, which also means the Summer Special Issue is almost here! Be ready for heaps of Luigi-related content next month, which Fun Stuff will be sure to participate in!
Camwood and Shoey were both unfortunately absent this month, so this edition is smaller than usual, but I hope you enjoy all we have to offer regardless!
Section of the Month
Congratulations to all of our writers for their works!
FUN STUFF SECTION OF THE MONTH
Place
Section
Votes
%
Writer
1st
Where in the Marioverse is Carmen Sandiego?
16
47.06%
FunkyK38
2nd
Trivia
9
26.47%
Chester Alan Arthur
3rd
Quiz
6
17.65%
Yoshi876
---
Mind Games
---
I advise you to not read this when you're hungry.
[read more]
Anagrams
Written by: BBQ Turtle (talk)
Hello everyone, I hope you're all having a good May! This month, I've decided to make you a banana bunch of Donkey Kong Country: Tropical Freeze themed anagrams to celebrate the release of the Nintendo Switch version. Next month's issue will be Luigi themed, and I've got something in mind for then, but still feel free to send me any themes for anagrams you'd like to see in a future edition or any funny anagrams you've found on my talk page or PM me on the forums. Well, let's get to the anagrams!
How it works...
Basically, this puzzle consists of solving the anagrams. Each month has a specific theme, which will give you a clue about what sort of words or phrases the anagrams will be. I've also included the boxes that the anagrams will fit into, so you'll be able to tell how many words it will solve to be and how many letters will be in each word, which should give you a hand too. You'll also notice that within each set of boxes, one of the squares are yellow. As you solve each anagram, note down the letter which appears in the yellow squares, and if you can solve all of the anagrams, you'll also get a bonus anagram to solve from completing all of the others. I've included the letter configuration for this one at the bottom too, just to give you an extra helping hand. Best of luck!
1. FIFTEENTHE HUG RUN GIG
2. HUSHING AT MUTE
3. ALMOST GOVERNS
4. ANGRY KNOCK
5. HEY RECESS TECH
6. SQUID IS CUD
7. MAT A TICKET
8. ELK DO YANKING NODS
9. ANOTHER HI BRIM
10. STICKY TO PUN
11. CHESS PROOFS PRO
12. CLONE BARN RAN
13. SQUATTERS HARK POW
Bonus Anagram:
Answers
Fugu, the Frightening
Autumn Heights
Lost Mangroves
Cranky Kong
Cheesy Chester
Squiddicus
Time Attack
Donkey Kong Island
Rambi the Rhino
Pointy Tucks
Professor Chops
Barrel Cannon
Squawks the Parrot
Bonus Anagram: Funky's Fly 'n' Buy
It's aMAZEing
Written by: Lakituthequick (talk)
Hello there! Welcome to this month's It's aMAZEing!
This is my eighth maze, so why not take an enemy that originates in the 8-bit era? Today's maze features a Para-Beetle, debuting in Super Mario Bros. 3.
Do you have an idea for a maze you'd like to see? Leave a message on my talkpage or find me on the forums and send me a personal message, and your idea and name may be featured in a future episode!
How to play:
Copy the image into your favourite art program (like Paint, Photoshop, GIMP, etc.)
Click the line, pencil or brush tool and adjust the size as needed
Draw your line though the maze from start to finish
Zoom in and out as needed
Alternatively, print it out and use a pencil!
To view the answer, click here!
Where in the Marioverse is Carmen Sandiego?
HOW TO PLAY
Each issue, you will be given a case to solve and clues to use to help you find the solution! Use your Mario knowledge to crack the case!
You will begin each case at the scene of the crime, and you will be given three clues from passerby as to where the next hot spot is and what game it's from. Using your knowledge of Mario games and the Super Mario Wiki, figure out where the crook is and go track them down! There are four locations each round: the crime scene (1) at the start, two locations (2 and 3) with clues, and the hideout for the crook of the month (4). Answers for locations will be given with the corresponding round, for example, the clues from the crime scene will lead you to location 2, and once you open the spoiler bubbles for location 2, you will be given the correct answer. You can open the clues for each location in any order you'd like, but be careful! You may encounter an incorrect clue that could throw you off the case!
Clues offered will give you a hint either about the next location or the game it's in. Unlike a regular Carmen Sandiego game, you do not have to collect information about the crook you are tracking down.
Challenge round (optional):
-Find all locations and games correctly in two minutes or less
-Find all locations and games correctly without using the rest of the Wiki for help
"We've got big news, gumshoe! Carmen has been spotted in the Mushroom Kingdom, and you won't believe what she's done this time. The tricky vixen has rabbid-napped Spawny! Yes, the cute little guy with the power to fuse items together, most notably, Rabbids! Using his powers, who knows what kind of havoc she could create? You've got to get Spawny back, cadet, the Mushroom Kingdom is counting on you!"
Crime Scene

The Crime

Carmen kidnapped Spawny! You have to rescue him!

CLUE 1

"A lady in red asked me for an escort there."

CLUE 2

"I think she should have brought some minions along!"

CLUE 3

"Sorry, can't help you, teehee!"
Location 2

CORRECT ANSWER

Teehee Valley from Mario & Luigi: Superstar Saga

CLUE 1

"Be careful if you get in a pinch here!"

CLUE 2

"She mentioned wanting to take a rest."

CLUE 3

"There's not much good you can say about this game."
Location 3

CORRECT ANSWER

Wendy's Blitz-Snarlton Hotel from Hotel Mario

CLUE 1

She was in the mood for a spooky show.

CLUE 2

"I hear this place pays a fortune in lightbulbs."

CLUE 3

"Didn't think this game would work, but it did, really well!"
CASE CLOSED
HIDEOUT ANSWER: Spooky Trails from Mario + Rabbids: Kingdom Battle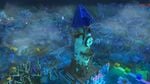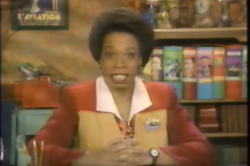 "I've got good news and bad news for you, gumshoe. The good news is, Spawny has been rescued from the location you reported, and is safe from Carmen. The bad news is, Carmen got away. She's a tricky one, all right. We'll be keeping our eyes out for her, gumshoe, so you'll get another crack at taking her down. Good work, and be on your toes for your next case! "
Quiz
Written by: Yoshi876 (talk) Howdy 'Shroom readers, welcome to the Quiz!. As you may have figured out from the name, this is a section where I quiz your Mario knowledge.
One of the things that we have to do every day is eat, and the same seems to go for Mario and co as in many of the games there is often a wide variety of food and drink, so in this Quiz we're going to be taking a look at the wide variety of food and drink in the Mario universe. Get guessing!
Easy
What effect does Food have in the Super Smash Bros. series?
What is the name of the chef in Paper Mario?
What food do you need to feed Yoshi in Super Mario World and the New Super Mario Bros. series to get power-ups?
Medium
What three items ruin the Special Strawberry Cake in Paper Mario?
What is the name of the first story mission in the Luncheon Kingdom?
What food item does Wario eat in order to become Wario-Man in the Super Smash Bros. series?
Hard
What items does Zess T. need to cook in order to make an Earth Quake?
What is the brand of bread in Hotel Mario?
After using the Hair Dryer to thaw out the freezer in Paper Mario: Colour Splash, what food item does the Head Chef place inside of it?
Answers:
Easy
Restores health.
Tayce T..
Berries.
Medium
Cleanser, Salt and Water.
The Broodals Are After Some Cookin'.
Garlic.
Hard
A Thunder Bolt and Point Swap.
Bowser's Sourpuss Bread.
Mamma Mia Pizza.