Attack of the Best Fitness Friends!
From the Super Mario Wiki, the Mario encyclopedia
Jump to navigation
Jump to search
Attack of the Best Fitness Friends! is the last level in Dimble Wood in the Bowser Jr.'s Journey mode of Mario & Luigi: Bowser's Inside Story + Bowser Jr.'s Journey. This is the first time at least one of the Best Fitness Friends is fought, even though only Kaley is fought in this level.
Overview
[
edit
]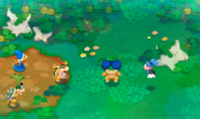 Bowser Jr., Kamek and Iggy follow Kaley and Beef into Dimble Wood, who were looking for Ludwig. Kaley picks a fight with Bowser Jr., however, Beef reveals himself to actually be Ludwig in disguise, who locked the real Beef in a Bob-omb storage room in Bowser's Castle. Ludwig reveals all of the BFF's plans to Bowser Jr., and drives Kaley mad starting a fight.
This level has four battles. The first only has Treevils as troops (apart from a Fawfulcopter captain) with one infected with Malatone Formula:X. The second and third battles have Sockops at the front with Fawfulcopters behind them. The last battle has Kaley as the captain, who gives the only Horned Ant Trooper Malatone Formula:X not long after the battle starts.
After the battle, Kaley retreats and Ludwig rejoins Bowser Jr.'s team after giving him the RenewaLeaf.
Battles
[
edit
]
Recruitable allies
[
edit
]