User talk:Supershroom
From the Super Mario Wiki, the Mario encyclopedia
Jump to navigation
Jump to search
Welcome, Supershroom!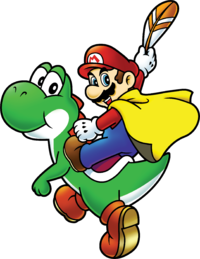 Hello and welcome to the Super Mario Wiki, a collaborative knowledge-base dedicated to the Mario franchise. We're glad to have you as a member. If you have any questions, just post them on the FAQ talk page or ask an experienced member, patroller, or administrator.
The following articles contain guidance and information about reading, authoring, and participating in the Super Mario Wiki community. If this is your first time visiting, please read our introduction.
How do I do that?
Specific help
Categories
You are welcome to browse through the following categories:
External resources
Things you can do
Feel free to delete this message when you're done reading it. We hope this information is helpful, and that you'll have a great experience contributing to our knowledge-base and our community. Remember to enjoy your experience here and to also have fun!
Sincerely,
Bloc Partier (Talk)
Oops... Sorry
[
edit
]
I'm sorry you didn't like the trivia I added to New Super Mario Bros Wii :( - though I did not bring it back after it was deleted. I only entered it once. Was it re-entered by another user, mabye?
Rechecked The Situation...
[
edit
]
Very sorry for handing out the warning; I checked the edit history of the NSMB Wii article and saw that you didn't attempt to "restore" the edit we took out about that unnecessary trivia. Someone else did post the trivia before, but we took it out because it was deemed unnecessary to mention. Still, when posting stuff under the Trivia area, make sure it's something that's REALLY worth mentioning -- not "obvious stuff". ;) --M. C. - "Mario Gals" Fan! User Page | Talk Page 19:38, 15 December 2009 (EST)
Thank you for apologising, don't worry. I'll try to be more vigilant with what I post in future! Supershroom
Question
[
edit
]
When you put your sig somewhere it makes all the text bellow it a random color. Why is that?

GalacticPetey

I have absolutely no idea. do you mean everyone else's text or just me finishing my message? If you mean just the rest of my chat, it's because I set it to be like that. I think.
Oh, and I've seen other people's text weird colours too, but not when under me.

Supershroom
+ 20 HP! Yeah!
In my opinion, Supershroom, your sig is pretty cool.--Smileymiley5001 14:01, 15 February 2011 (EST)