The 'Shroom
:
Issue XLVI/Pipe Plaza
From the Super Mario Wiki, the Mario encyclopedia
Jump to navigation
Jump to search
Director's Notes
Hello everyone. SMB here. I just want to thank everybody who put a lot of hard work into the Pipe Plaza for the thirteen months I've been a director of the team (which is also how long the team has existed). I've been elected as the Director of The 'Shroom, so the team will be left in the hands of Marioguy1, who has done a fantastic job co-directing with me for the past year.
So yes... Once again, thanks to everybody who made this section possible; whether your contribution was supporting the team's creation, writing sections, coming up with new ideas... you all made it possible for this team to be successful. I'm sure MG1 will also continue his great leadership over this section, and I wish him luck. Thank you everybody.
Ohai guyz! It's MG1 here for the co-director's notes! Rather, for the director's notes as I am now the sole director of this team! And congratulations to SMB, I'm sure he will make an excellent 'shroom director! I will be remaining in the position of Pipe Plaza director for all you fans of the section <3
Anyways, congrats SMB, we still need more writers, oh yes, also, SMB put together this issue of the Pipe Plaza so I'll thank him for that. Now, goodbye everyone and read on!
Tip of the Month: When fixing small errors like grammar or spelling in an article, make all your small edits and then save it as a minor edit. This will help clear up the server and recent changes page.
Would you look at this? MG1 is back for featured! This month was lots of fun!
In the Featured Articles department,
List of Zess T. Recipes/By Ingredient

!
And the featured article nominations that failed,
And finally, the best news so far, the unfeature article nominations that failed!
Anyways, this was written very quickly, sorry, I am under a lot of deadlines right now, and see you next month for Featured!
Ralphfan might have his section in soon. If not, look forward to it next month.
What's up, readers! This is WigglerWhoopin'Warrior135 here with the January Mario Calendar.
That's about it! Late Happy New Year, and see you guys next month!
Hello 'Shroom readers! After being absent from the previous seven issues, the Upcoming Games section is back! In this issue, we'll take a general look at the next Mario game, Mario Sports Mix.
Mario Sports Mix, as the name says, is a sports spin-off game. It features four sports: basketball, volleyball, hockey and dodgeball. The game is heavily influenced by Mario Hoops 3-on-3, as both were developed by Square Enix.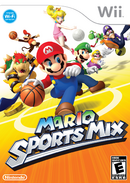 Mario Sports Mix
has 19 playable characters. These include the
Final Fantasy
characters from
Mario Hoops 3-on-3
and
Slime
, from the
Dragon Quest
series. Players can also choose their customized
Miis
. Both hockey and dodgeball have supporting characters.
Shy Guys
appear as the goalies on hockey, while colored
Yoshis
(red or blue, depending on the team) stay at the back of the court in dodgeball.
All of the sports feature common gameplay from the Mario spin-offs: items can be obtained by touching ? Panels, and each character has his/her unique special ability, which can prove very useful during the matches.
Release dates for Mario Sports Mix:
Japan: Released on November 25th
Europe: January 28th
United Kingdom: February 4th
North America: February 7th
Australia: confirmed for 2011
And that's all for now, folks! We'll dig deeper into each sport in the next issue. See you then!
NIWA News (RAP (talk))
Good day fellow MarioWikians, I'm RAP (talk), and this is NIWA News - where you can get the news between the last Shroom issue, and this Shroom issue. It's January folks, and not a lot of activity is going on mainly due to the holiday break; a time where people are taking their advantage of breaks from school, visiting their family relatives, and playing piles of video games...and I mean a lot! Despite that, a decent amount of activity has been made. Not much, but decent enough to report the latest news:
Somewhat slow yes? Thank you for reading fellow MarioWikian or guest.