The 'Shroom:Issue XC/Retro Feature
From the Super Mario Wiki, the Mario encyclopedia
Jump to navigation
Jump to search
Paper Yoshi
First article:
Upcoming Games, Issue XLVI
Last article:
Director's Notes, Issue XC
Sections Written:
Main/Staff: 20
Fake News: 13
Fun Stuff: 11
Palette Swap: 20
Pipe Plaza: 102

Positions held:
Pipe Plaza Director
Hello, readers! I'm your co-Spotlight manager and co-Pipe Plaza Director, Yoshi876. Welcome to Retro Feature, a section in which I delve deep into the archives to bring you the best blasts from the past. This time I bring you a section from my outgoing Pipe Plaza director, Paper Yoshi (talk), in fact it's his first ever section!

Paper Yoshi joined the MarioWiki on 24th April 2008. Paper Yoshi made his 'Shroom debut during Issue LXVI in Pipe Plaza. His first section was Upcoming Games, a section that had been absent from the paper for seven issues. He would go on to write this a further twenty six times, he even continued writing it after it was moved to the Main Team. Later on he would go on to become the Director for Pipe Plaza in Issue LX, a position he'd hold until this issue when he resigned. In other 'Shroom ventures, Paper Yoshi wrote the Monthly Report in Pipe Plaza, as well as Featured and Mario Calendar (which like the Upcoming Games was later moved to the Main Team); he submitted a From The Mushroom Vaults section for the main team as well as other Core Staff sections; he submitted the Crossword for Fun Stuff and one non-Mario crossword; he also wrote Featured Character Artwork, Random Image of the Month and submitted a Sketch Related to Mario for Palette Swap and he wrote Ask Paper Yoshi for the Fake News, a section where users got to ask him various questions on various subjects.
However, you're not here to learn about the history of Paper Yoshi, you're here to a view a classic section from issues gone by, so without further ado here is Paper Yoshi's first ever section, the Upcoming Games from Issue XLVI.
Upcoming Games
Hello 'Shroom readers! After being absent from the previous seven issues, the Upcoming Games section is back! In this issue, we'll take a general look at the next Mario game, Mario Sports Mix.
Mario Sports Mix, as the name says, is a sports spin-off game. It features four sports: basketball, volleyball, hockey and dodgeball. The game is heavily influenced by Mario Hoops 3-on-3, as both were developed by Square Enix.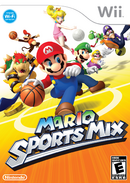 Mario Sports Mix
has 19 playable characters. These include the
Final Fantasy
characters from
Mario Hoops 3-on-3
and
Slime
, from the
Dragon Quest
series. Players can also choose their customized
Miis
. Both hockey and dodgeball have supporting characters.
Shy Guys
appear as the goalies on hockey, while colored
Yoshis
(red or blue, depending on the team) stay at the back of the court in dodgeball.
All of the sports feature common gameplay from the Mario spin-offs: items can be obtained by touching ? Panels, and each character has his/her unique special ability, which can prove very useful during the matches.
Release dates for Mario Sports Mix:
Japan: Released on November 25th
Europe: January 28th
United Kingdom: February 4th
North America: February 7th
Australia: confirmed for 2011
And that's all for now, folks! We'll dig deeper into each sport in the next issue. See you then!
Thanks for reading, and I'll see you next month for another trip back in time.