The 'Shroom
:
Issue LXXVIII/The 'Shroom Spotlight
From the Super Mario Wiki, the Mario encyclopedia
Jump to navigation
Jump to search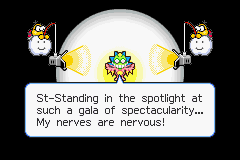 What's up guys? YoshiKong here with your September edition of The 'Shroom Spotlight! Y'all should know the drill by now but in case you don't, the Spotlight project is a monthly section which aims to focus on and improve a handful of articles on the wiki. Progress made throughout the month is reviewed in the next 'Shroom edition, and the next round of articles are selected. As for last month, our focus was expanding various Yoshi's Island DS levels, as suggested by one of our readers. Unfortunately, we didn't receive as much input towards the fulfillment of the project as we had hoped, and much of the goals were left unattended to. Though negatives aside, let's start fresh with a brand new edition! Taking an idea from our May edition earlier this year, we'll be focusing on four articles, each from a different improvement category. The article, along with the improvement category and specific issues are described below:
We invite your input in helping us achieve our goals for these articles: we'll be reviewing our progress next month. If you have any questions, suggestions or feedback on The 'Shroom Spotlight, please post a comment on the forum thread. Thank you for reading, and enjoy the rest of the issue!