The 'Shroom:Issue LXXV/Music & Artwork
From the Super Mario Wiki, the Mario encyclopedia
Jump to navigation
Jump to search

Greetings, all! I welcome you to this month's issue of the 'Shroom, and a 'Zelda' themed Music and Artwork collection! As always, we are always looking for budding new writers and artists for our section, so if you are interested, don't hesitate to send me a PM, and I'm sure we can chat!
So let's get to it! ~FunkyK38

HI, readers! I'm your all-around amazing Co-director, Tucayo, here to bring you one of the special events we have for you this issue. As you already saw, the Music & Art sub-team is themed after the Zelda series. We chose this because we know the art and music of Zelda series is widely appreciated by most of our community, and felt this would mark a great new start for the sub-team.
This is why we decided to host a Zelda Drawing Contest! That's right, now's your chance to show off your drawing skills and participate for the chance to win a prize. Here are the rules of the contest:
Drawings can be either hand-drawn or made by computer. 3D models won't be accepted for this contest. Don't worry, we may host a contest specific for 3D models later down the road.
All submissions must be themed after the Legend of Zelda series and made specifically for this contest. Needless to say, no inappropriate content is allowed.
A poll with all received drawings will be hosted on the forum from July 20th to August 10th.
The winner will be announced on August 17th.
If you have any questions, don't doubt to contact any of us, or post them in the forum thread. Good luck!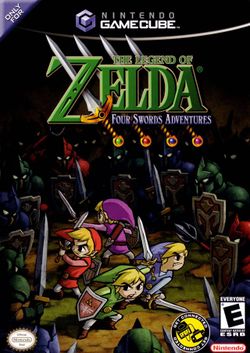 HI, readers! I'm your Hylian Co-director, Tucayo, bringing you a very special box art. This month's Music & Art is themed after the Zelda series, so I decided to check out some box arts with our good friends at ZeldaWiki. One thing I noticed is that several of the box arts, especially the older ones, are just a logo over a solid background; this makes the more elaborated boxes even more special, as they are notably different from others. So, after comparing some boxes I decided to feature the American Four Swords Adventures cover. But before I describe the artwork itself I'll give you a brief explanation of the game. Four Swords is notably different from other Zelda games, as it is the only game to have a multiplayer campaign. The actual game reminisces many elements from A Link to the Past, but it's still a unique experience in the series.
As for the artwork itself, Zelda fans will notice the graphic style is a mix of Four Swords and A Link to the Past. On it we see the four Links - green, red, blue, and purple - ready to attack a swarm of similarly-colored Darknuts. On the top half of the box is the traditional logo, with the addition of the four swords from which the game gets its name, giving it a nice, distinctive look. And with that I close this section; tune in next month for another Mario artwork. BYE!

Random Image of the Month (Paper Yoshi (talk))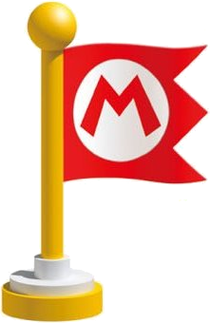 Hello, dear readers, and welcome to another issue of Random Image of the Month!!
This month's Random Image comes from Super Mario 3D Land, a 3D Mario game released for the Nintendo 3DS in 2011. It shows a Checkpoint Flag after Mario has passed through it.
Checkpoint Flags, as their name implies, serve as checkpoints in many Mario games. They usually appear as black flags with a Bowser emblem on them. When a character touches a Checkpoint Flag, however, the Bowser symbol is replaced by the character's symbol. If Mario or Luigi loses a life after passing through it, he will start the level where the flag is. Additionally, if Small Mario passes through it, he will transform into Super Mario; the same holds true for any other Small character.

Sketch Related to Mario (Smg2daisy (talk))
Hey there, readers of The 'Shroom. I've been forced asked to do something for this paper in honor of Gamefreak75, so here I am! About a classic Internet phenomenon from previous year, Waluigi's Taco-stand.
Now I'm known for my 3D images, so I've made one this time too. If you have a Nintendo 3DS, simply go here and tap on it to view it in 3D. See ya later!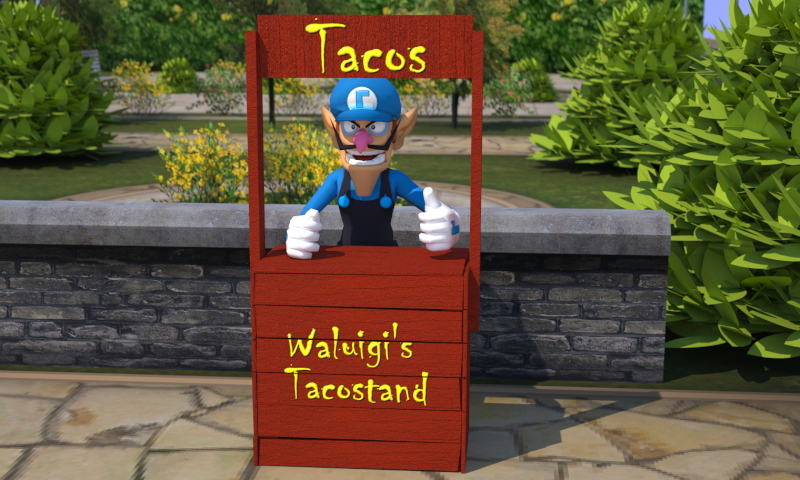 Sprite of the Month (FunkyK38 (talk))
Greetings, fellow Hylians, FunkyK38 here with your Sprite of the Month. For this Legend of Zelda-themed issue, I bring you this rendering of Link's head from Brawl:

The image of the hero of these games is enough to make any Legend of Zelda fan want to pick up one of the many LoZ games and start playing to rescue the princess (hmm, sounds familiar!)!

---