The 'Shroom
:
Issue 192/Fake News
From the Super Mario Wiki, the Mario encyclopedia
Jump to navigation
Jump to search

Director's Notes
Written by: Waluigi Time (talk)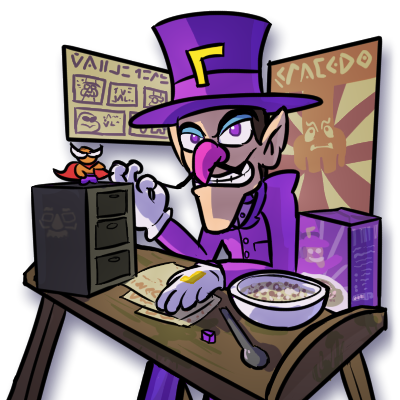 Hello there, Fake News readers! I'm excited because we've got a big edition of Fake News for you this month! I'll try to keep my announcements brief so you can jump right in.
First of all, we have a section debut! Overlook Mountain Auction House Presents is a new bi-monthly collaboration between Mustard Machine (talk) and I, all about the Overlook Mountain Auction House and what it's presenting. Who could've guessed?
We also have not one, not two, not even three, but FOUR guest submissions of News Flush, an all-time record! Hooded Pitohui (talk), Cosmic Cowboy (talk), Mustard Machine (talk), and yours truly have all written one this month, inspired by media ranging from The Super Mario Bros. Movie and Mario Kart 8 Deluxe to Mario Party Advance.
Finally, Consumer Corner has returned this month, a bit earlier than I initially planned and with some extra wind in its sails. Expect to see more delightful products over the coming months!
The rest of the sections you've come to expect from Fake News are here as well, and hopefully you're pretty excited now, so I'll let you get on with it... But not before the usual announcement that if you're interested in joining our team of writers, you can head over to the sign up page to get started on your application! We accept volunteer submissions with no application necessary too, like all those beautiful News Flushes. If you'd like to go that route, just contact me privately and I'll help you get things ready to go! And don't forget that we're taking early submissions for Issue 200 if you'd like to help us celebrate our milestone!
Section of the Month
Okay guys, brace yourselves, because I have a really shocking announcement... This month's first place winner is Quizmelon (talk) with TV Tomorrow! A short section for a short month, but it didn't stop those votes from rolling in all the same! In second place is the debut of Dear Waluigi Time (thank you please send me questions haha shameless plug)! Finally, in third place, we have Brooklyn Digest by Mustard Machine (talk) and Hooded Pitohui (talk) with a spin inspired by The Super Mario Bros. Movie! Be sure to keep supporting our writers with your votes! (And please do feel free to reach out to our writers to let them know you enjoy their work! I'm sure they'd be happy to hear from you.)
---

Written by: Hooded Pitohui (talk)
Gadd Science Draws Controversy with Power Star Gaddget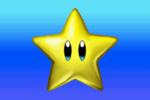 The release of the new "Power Star" Gaddget on Gadd Science Incorporated's Gaddget Store platform is drawing complaints from users, who allege that the Gaddget, which reportedly does nothing aside from displaying a Power Star floating on a blue background, misleads consumers. According to the description in the online distribution platform, the Gaddget, which is priced at 100,000 coins, "is intended as a fun way to show the results of years of hard work to friends and family" and "does not offer any functions other than displaying a moving image". Consumers, however, report that they have felt tricked by the Gaddget, with some reporting that they clicked the purchase button under the impression that the software and its high price tag are only a joke, only to have their cards charged. One Cheeper user, going by the handle @PoshleyBub, pleading for help online after mistakenly purchasing the Gaddget, posted an image of the associated 100,000 coin charge on an account summary and asked "does anyone know how to refund this? Will have big trouble if I can't get the money back".
In response to a flurry of questions and comments on Cheeper, the official account for Gadd Science Inc. sent the following message.:
Ho ho! I didn't expect this device to cause so much tomfoolery. To all the young fellers out there making purchases by mistake, take 'er easy, and click on the "account help" button. There's a - I dare say - genius support ticket system that'll streamline all reported issues. Send in your tickets, then go on and let the support process run its course!
As of this writing, Gadd Science Inc. has not responded to formal requests for comment on the controversy, nor has the company responded to users suggesting that the Gaddget should be removed from the Gaddget Store. The Gaddget currently remains available for purchase.

Written by: Walter G. Timeson (talk)
Mail Mayhem Menaces Mushrooms: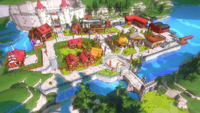 The residents of Toad Town were in for a shock earlier this week, each of them finding a strange package in their mail. The packages all contained a single can with a spring Cobrat that ejected itself when opened, intended to startle the recipient. The mysterious deliveries were the subject of much discussion among residents, who quickly realized what had happened and wondered who was responsible behind the mass pranking.
The culprit was soon discovered to be Toad Town resident Jockularra T., who admitted to mailing the cans on social media later that day as part of a prank. We reached out to him for comment:
So, I'm at Harry's Shop, right? And as I'm about to go to checkout, this other guy cuts in line in front of me! Can you believe it? So I thought, hey, wouldn't it be funny if I got this guy back with a little prank? I didn't know who he was, but I figured he's gotta live somewhere in Toad Town, so I figured, you know, if I sent it to everyone in town, that should cover it. So... joke's on that guy!
Whether the intended target actually received one of the cans is unknown at this time. The act has been criticized as a gross misuse of public resources by forcing the staff of the Toad Town Post Office to sort through all the packages and make deliveries to every house in town that day. Others have taken a more lighthearted view, saying that the event was amusing and gave them something interesting to talk about. Shy Guy's Toy Box-based novelty store Shy Guy's Goofs & Gags, where the cans were purchased, released a statement referring to the massive-scale prank as "all in good fun" and commending Jockularra T.'s clever usage of their product. They also noted that the prank has already resulted in the store's highest monthly sales on record, which they expect to increase substantially in the coming weeks leading up to April Fool's Day.
We at The 'Shroom will continue to keep you updated on these events, and we advise all readers to remain vigilant in the near future to avoid egg on their face, or more likely pie. This has been Walter G. Timeson reporting, and I am now out of time.

Written by: Ramona Tidings (talk)
New Wikisburg Acapella Group Voted "Best New Music Group".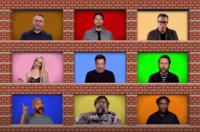 Last night's annual Mushroom Media Awards were, as usual, an unforgettable experience with some of the biggest names of today's entertainment. However, nobody was perhaps as excited as the members of The Power-Ups, a local New Wikisburg acapella group formed late last year. Their popularity quickly rose with the release of their debut album, "Overworld", which included the titular song, along with others such as "Underworld", "Invincible", and "Game Clear".
"This is totally amazing, and I don't think we can actually thank everyone enough," said Jimmy Fallon, the group's founder in the acceptance speech, "If anyone told me that we'd be winning this award when we first started this for fun, I'd have laughed you off."
Other members of the group were equally as excited as Fallon. "This is like a dream come true," cheered member Charlie Day. Chris Pratt said the experience was "almost too good to be true. When Jimmy and Jack [Black, a fellow member] came to me with the idea, I just thought it would be a silly little hobby of ours. But this? This is awesome."
The Power-Ups are also the first acapella group to win Best New Music Group, which marks an exciting new chapter for the future of the Mushroom Media Awards. One can only imagine what comes next in the future of the Awards.

Written by: Parshoe G. Shoelow (talk)
Birdo Shocks Marioverse; Wins Boomerang Cup in her Return
After years of struggling to qualify, dreams have finally come true for fan-favorite Birdo. Birdo, a woman who never gave up despite a bumpy career, has finally claimed the gold, winning the inaugural Boomerang Cup of the 8 Deluxe Circuit.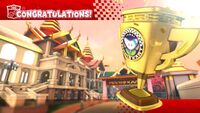 This is a significant moment for Birdo, who has had an up and down career, having made her debut as the gunner for Yoshi in the Turbo Yoshi during the Double Dash Circuit before failing to qualify for the DS Circuit when she tried to race on her own. Sponsored by Beauty Maniac, Birdo made her singles racing debut during the Wii Circuit, driving a personalized Standard Kart M. However, Birdo would find little success during the Wii circuit, finishing no higher than 5th and only managing to qualify for half of the cups. Following a disappointing season, Birdo was dropped by Beauty Maniacs before failing to qualify for both the 7 and 8 series circuits. Birdo, however, didn't give up, and continued to race in the minor league Tour Circuit. There, Birdo had many respectable performances, finishing 3rd in the Iggy Cup, 3rd in the Fire Rosalina Cup, and 2nd in the Sundae Tour. With these successes and with her fun and flirtatious personality, Birdo quickly became a star in the Tour Circuit, so much so that a new sponsor, Vanilla Lake Winter Sports Equipment, agreed to finance her attempt to qualify for the newly expanded 8 Deluxe Booster Circuits. With her new Kart and sponsor, Birdo managed to finally make her return to the major leagues, qualifying tenth out of twelve possible positions for the inaugural Boomerang Cup.
While fans were thrilled to see Birdo return, few had any expectations that she'd be truly competing for the cup championship. These suspicions seemed to be confirmed when, in the first race of the cup, Bangkok Rush, Birdo, who at the time was running in 5th place, couldn't get out of the way of a Bullet Bill. The collision dropped her back to 8th place. Her fortunes picked up however, during the second race, Mario Circuit DS, where Birdo, on the last lap, skillfully used the three Red Shells and a Mushroom to shock everyone and place a surprising third, her best ever result in a major league circuit. She would follow this up with another surprising third place when, despite being hit by a Red Shell in the final stretch, she managed to fend off both Dry Bones and Morton Koopa Jr. to take third at Waluigi's Stadium. With this, and thanks to a highly competitive cup, Birdo was in 3rd place, only four points behind Lakitu in 2nd and eight points behind the 1st place Luigi in the race for the cup crown. The final race, Singapore Speedway, was a chaotic race where Birdo fell behind early thanks to a multi-item pileup that put her in seventh place coming off the first lap.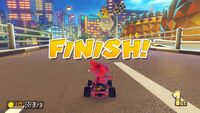 But Birdo, showing all her skill, managed to snag nothing but Double Item Boxes from here on out. She found luck to be on her side, with her first box giving her both a Bullet Bill and a Star. By the end of the second lap, Birdo had managed to roar back into second place, mixed into a crowded field of racers. The final lap saw intense competition between the top six racers, with positions being won and lost constantly. Birdo herself, still sitting in second place, nearly found herself picked off when Inkling fired the last of his Triple Red Shells at her, but a clutch Item Box gave her a Boo and she just managed to activate it before the shell could hit her. At the same time this happened, Shy Guy, who had been having handling problems all day, fired off a Lightning.
Unfortunately for Luigi, this happened right as he was gliding through the sky, leaving him crashing from 5th to 9th. At the same time, Birdo managed to just pass race leader Lemmy Koopa (who had been sitting in fourth in the standings) as she came into the final stretch, catching him just as he returned to full size. Lemmy Koopa furiously tried to use a draft to pass Birdo, but it was too late. Birdo crossed the finish line, securing not only her first win, but, with Luigi only managing to recover back to sixth place and Lakitu finishing fourth, Birdo pulled off a shocking upset, winning the Boomerang Cup itself.
Following her shock victory, we caught up with an emotional Birdo:
I don't believe it! We actually did it, sweetie! To think, just a year ago it looked like I'd never get into the 8 Deluxe Circuit. To think I'd be standing here holding not only the Singapore Speedway winner's trophy, but also the Boomerang Cup, it makes it all worth it. The long hours, the years practicing, toiling away, wondering if I'd ever get another chance. All the trouble and strife, it's all worth it. I'd like to thank Vanilla Lake Winter Sports Equipment for believing in me, for giving me a chance when nobody else would. They got me a Kart that I knew could compete with anybody. But, most importantly, I'd like to thank my fans for cheering me on, for always standing by me even when I struggled. I wanna thank you all and tell you that I love you.
Birdo's story is truly an inspiration. Once considered an also-ran, Birdo can finally say she's a champion. Her story is truly an inspiring story of determination and never giving up.
Overlook Mountain Auction House Presents
Written by: The Shoe (talk) and Time (talk) Advertising Conglomerate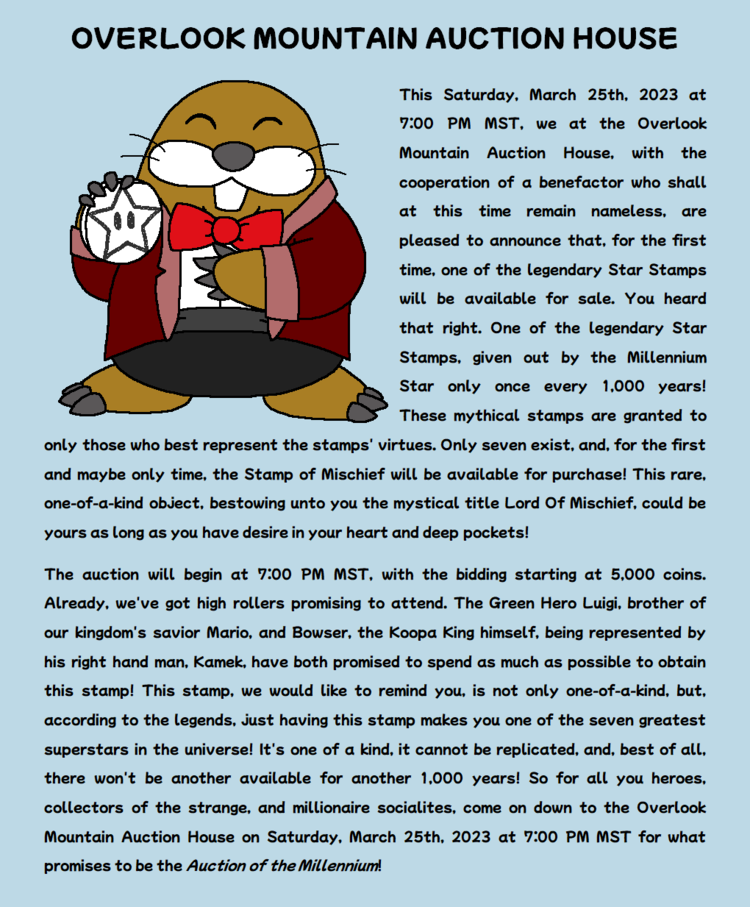 Written by: ClawgripFan9001 (talk)
Ahoy, land dwellers, sea dwellers an' air dwellers alike! Welcome to another edition o' the Sport Report! I be yer crustacean cap'n through this section, ClawgripFan9001! After me coverage o' the Fifty-Seventh Annual Shroom Bowl 'longside me matey Pa-Patch, it was revealed that our reporter Patrick Pineapple, who was used as the game's ball, didn't 'ave enough money ta cover 'is hospital bills, so I 'ad ta 'elp Patrick pay fer 'is hospital bills by usin' me salary I got from coverin' the Shroom Bowl. Just thought I'd let ye know what 'appened in the aftermath o' the Shroom Bowl.
Yar, so with last month outta the way, let's focus on this month's sports news! T'day, I traveled ta World 1 from New Super Mario Bros. Wii, where I found meself in the middle o' some tennis tournament hosted by Larry Koopa, who invaded the world back in 2009 when the Koopa Troop kidnapped Princess Peach on 'er birthday. Reason why Larry Koopa was allowed ta host this tennis tournament 'ere t'day is 'cause Princess Peach an' Bowser o' the Koopa Troop signed a deal back in 2017 that allowed the Koopa Troop ta host sports events in the lands o' the Mushroom Kingdom in exchange fer the Koopa Troop ceasin' its attempts ta conquer the Kingdom. Seems that the deal 'as been upholded by both parties, given there 'asn't been an attack from the Koopa Troop in the Mushroom Kingdom since then.
Here's the deal; This tournament be a Singles tournament, where we'll be playin' a total o' three sets. Whoever manages ta beat their opponent in the first round moves on ta the finale, while the two losers in the first round 'ave ta fight it out fer third place in a separate round. Whoever manages ta beat their opponent in the finale wins the tournament along with a trophy an' a small fortune o' 5000 Coins. Yar, I bet that be a very good motivator ta try an' win the tournament!
I was also able ta get a hold o' Larry Koopa, the person who made this whole tournament possible, an' he told me that he be very proud ta be able ta host 'is tennis tournament 'ere t'day. He been advertisin' the tournament 'cross the whole Mushroom Kingdom fer the past few weeks, an' that advertisin' was clearly worth the effort, 'cause Larry packed quite a crowd o' viewers an' participants alike t'day. He also be happy that the Mushroom Kingdom an' the Koopa Troop be able ta maintain an 'ealthy relationship through the hostin' o' these sports tournaments, so it's a win-win all 'round. Yar, the lad be 'avin a good air o' sportsmanship an' diplomacy ta 'imself, an' Bowser should be glad the lad's on 'is side.
So with that outta the way, it's time ta meet t'day's participants fer t'day's tournament. The first o' the four people participatin' is none other than Waluigi, an aspirin' politician from Toad Town who likes ta play a mean game o' tennis when he ain't busy dishin' out the political dirt in the Mushroom Kingdom Parliament. Waluigi be a Defense type o' tennis player, havin' great reach, though 'is movement an' power be a bit limited. He be havin' an Offensive Shot known as the Whirluigi, which be a backspin shot that gives whoever returns the ball a whirlwind effect that causes 'em ta lose control o' the ball. 'Is Defensive Shot, on the other 'and, be the Swimmin' Return, which causes a pool ta appear on the court, allowin' Waluigi ta swim through the air ta hit the ball.
Next, we 'ave Daisy, Princess o' Sarasaland. Much like Waluigi, when she ain't busy runnin' the kingdom 'longside the rest o' the Royal Sarasaland Family, she likes ta play tennis, where it's been said she 'as never lost, an' accordin' ta the tabloids 'round the Mushroom World, this be 'cause whene'er she does lose, she be gettin' real snappy an' starts throwin' a fit. It be said she inherited that from 'er mother, but I be gettin' off topic now. Daisy's Offensive Shot be known as the Wonder Flower, which disorients opponents and knocks 'em back upon returnin' the shot. She also 'as a Defensive Shot called the Flowerbed Return that grows a flowerbed on the court that she flies o'er ta return any reachable shots. Finally, Daisy be a Technique player, meanin' she 'as great control on the ball, as well as good power, speed an' lunge stats. The only problem is that 'er reach be average, so she 'as limited net play.
As fer the third o' the four people who will be participatin' in t'day's tournament be Koopa Troopa, but he be better known by 'is nickname Koops Bronson. He be a Speedy type o' player with an Offensive Shot known as the Water Bomb that involves Bronson performin' a special drop shot that forces 'is opponent ta get closer ta the net. His Defensive Shot, on the other hand, be known as the Water Shell Dash, consistin' o' Bronson savin' a loose ball by duckin' back into 'is shell an' homin' into the ball ta make it return. An' since he be a Speedy type o' player, he be capable o' gettin' o'er ta the ball in time, but be lackin' in strength as well as reach.
Finally, we 'ave Donkey Kong, the King o' Swing 'imself joinin' us in t'day's tournament. He can 'it the ball with great force, but falls short in speed an' ball control because o' this. 'Is Offensive Shot be the Barrel Cannon Blast, which involves DK placin' a cannon behind 'im, flippin' into it and then shootin' the ball back with a force that'll send the receiver skiddin' backwards. As fer 'is Defensive Shot, that be the Boomerang Banana Return, where DK turns 'is racket into a boomerang shaped banana that 'e hurls at the oncoming ball, knockin' it off course an' sendin' it back o'er the net.
Yar, so now that we've met our four participants, it's time ta get this show on the road an' see who'll come out on top! Fer the first match o' the first round, it be Waluigi vs Donkey Kong! Waluigi taunts DK by curlin' 'is mustache and laughin' at the burly gorilla, which DK returns by beatin' his chest and ookin' at Waluigi! Yar, looks like both players be fired up fer this match, so let's see who's gonna emerge victorious!
Waluigi be servin' the ball fer this first set, and 'e sends it o'er the net, an' Donkey Kong proceeds ta use 'is Boomerang Banana Return ta knock the ball off course an' send it back o'er the net! But Waluigi not be in the mood fer such monkey business this early into the match an' uses the Whirluigi ta send the ball flyin' back t'wards Donkey Kong, an' when the King o' Swing tries ta return it, he be met with a whirlwind ta send 'is ball control blowin' away! Donkey Kong lets the ball bounce on the court two times which means it be 15-0 fer Waluigi! But Donkey Kong not be backin' down from a fight this easily, since he now be servin' the ball, an' 'e uses the Barrel Cannon Blast that 'e hops into an' fires the ball at Waluigi, an' the aspirin' politician is sent skiddin' back from the force o' the shot, lettin' the ball bounce on 'is side o' the court twice as a result! 15-15!
It now be Waluigi's turn ta serve again, an' the tall man be hittin' the ball o'er the net, which prompts DK ta send the ball back ta Waluigi's side o' the court again, but Waluigi uses 'is Swimmin' Return ta swim through the air an' hit the ball back o'er to DK's side! DK then uses 'is Boomerang Banana Return again ta send the ball back ta Waluigi, but Waluigi proceeds ta use the Whirluigi once more ta send DK spinnin' 'round like the Tasmanian stinkin' Devil! The leader o' the Kong Clan loses control o' the ball and drops it on the court! 30-15 fer Waluigi!
We skip forward ta the next set o' the match, with Waluigi havin' won the first set! It now be DK's turn ta serve the ball first, an' he be determined ta take back the lead from ol' Waluigi! The necktie sportin' ape uses the Barrel Cannon Blast ta knock Waluigi back an' send the ball droppin' down on the court, turnin' the score in DK's favor at 15-0!
As Waluigi grabs the ball off the court, he sends it o'er the net as Donkey Kong hits it back again, an' Waluigi once again uses the Swimmin' Return as 'e gracefully swims through the air ta send the ball back o'er ta Donkey Kong's side! Donkey Kong then hits the ball back again, an' Waluigi hits it back once more, an' Donkey Kong uses the Boomerang Banana Return to knock the ball back o'er the net, an' Waluigi be too late ta hit the ball back again, promptin' the score ta be 30-0 fer Donkey Kong!
We then skip ta the next set o' the match, an' since Donkey Kong won the last set, the score now be tied fer our two players. Waluigi be up fer the first serve again, an' usin the Whirluigi, he be makin' Donkey Kong sick ta 'is stomach as our favorite gorilla becomes pale in the face, but fortunately, a Toad comes runnin' in in the nick o' time an' hands Donkey Kong a barf bag ta empty 'is stomach in. Waluigi be apologizin' ta Donkey Kong fer losin' 'is lunch, but Donkey Kong be a good sport 'bout it an' tells Waluigi that there don't be any hard feelin' ta 'im. Yar, what a polite primate that Donkey Kong be!
Anyway, the score now be tippin' in Waluigi's favor again at 15-0! Donkey Kong then grabs the ball and knocks o'er the net, promptin' Waluigi ta hit it back once more with the Swimmin' Return as Donkey Kong be too late ta return the ball an' it bounces down on the court, turnin' the score ta 30-0 fer Waluigi!
We then skip forward ta Match Point, with Waluigi havin' two sets won against DK's one set! The score be 40-30 fer Waluigi, an' the mustachioed menace be determined ta win the match, so 'e sends the ball o'er ta DK, DK sends the ball back ta Waluigi, an' it be goin' back an forth 'til Waluigi manages ta knock DK off 'is game an' send the ball crashin' down on the court as Waluigi wins the first match o' the first round, causin' 'im ta move on ta the final round! Yar, congratulations ta Waluigi, an' a game well played ta DK! Let's move on ta the second match o' the first round ta find out who'll be joinin' Waluigi in the final round an' who'll be joinin' DK in the round fer third place!
So the second match o' the first round be 'tween Daisy an' Koops Bronson! Daisy be givin' Bronson a competitive smirk ta taunt 'im, an' Bronson taunts 'er back by doin' an Irish dance on the court! Like Waluigi an' Donkey Kong before 'em, these two players be ready ta bust some tennis balls 'cross the court! Yar, that don't be soundin' right, come ta thinkuvit...Yar, but it don't matter! Let's get this match movin'!
It be Koops Bronson goin' in fer the first serve 'ere, an' the quick footed Koopa sends the ball o'er the net t'wards Daisy, promptin' Daisy ta hit it back t'wards Bronson again, an' Bronson quickly uses the Water Shell Dash as 'e ducks into 'is shell and homes the ball back o'er ta Daisy's side o' the net like Bronson be some kinda anthropomorphic blue hedgehog! Daisy be smirkin' ta 'erself as she uses the Wonder Flower ta disorient Bronson an' knock 'im back after 'e returns the shot! This play causes Bronson ta lose control o' the ball as it comes down on the court, makin' the score 15-0 fer Daisy!
Koops Bronson once again be servin' the ball, an' he be sendin' the ball o'er the net usin' 'is Water Bomb shot, forcin' Daisy ta get closer ta the net, but it be in vain, as Bronson lets the ball bounce twice on the court, tyin' the score at 15-15! Daisy huffs as she picks up the ball, determined ta get back at Bronson fer costin' 'er that point! Daisy then hits the ball t'wards Bronson's side with all 'er might, but Bronson be quick ta use the Water Shell Dash ta send the ball flyin' back ta Daisy's side, an' the princess once again be too slow on the draw, tippin' the scales in Bronson's favor as the score becomes 30-15 fer Bronson!
Due ta time constraints, we move forward ta the Match Point! The amount o' sets 'tween Daisy an' Koops Bronson is tied up at 2-2, so this Match Point is prob'bly the most important Match Point o' the whole tournament so far! Daisy be servin', and she sends the ball flyin' o'er the net, with Bronson usin' the Water Shell Dash once more, an' Daisy uses all the speed she can muster ta get ta the net in time, but it once again be in vain, since the ball bounces twice, winnin' the match fer Koops Bronson! Koops Bronson moves on ta the final round an' will be fightin' it out 'gainst Waluigi fer the title while Daisy will be fightin' it out 'gainst Donkey Kong in the round fer third place!
Daisy obviously not be happy 'bout not qualifyin' fer the title bout, an' the princess smashes 'er tennis racket on the ground in a fit o' rage while Koops Bronson rejoices in 'is victory! While we give our athletes a chance ta take a rest 'til the next two rounds o' the tournament, I go ta grab a bite ta eat at the concessions stand that Larry Koopa employed fer the tournament! Local chef Tayce T. from Toad Town be in charge o' the concessions stand, an' she provides me with a delicious Shroom Cake fer a snack an' some Shroom Punch fer a drink!
While I enjoy me snack an' drink, I manage ta strike up an interview with Tayce T. 'bout 'er involvement in these kinds o' sports events the Koopa Troop organizes in the Mushroom Kingdom, an' Tayce T. was able ta tell me that she's been runnin' the concessions stand fer the Koopa Troop's sports events since 2018, an' 'er cookin's been a real favorite 'mongst the people who visit the events. When I asked 'er who she would appoint as 'er successor o' runnin' 'er concession stand once she were ta retire as a chef, she told me that she'd likely appoint 'er daughter, Payce T. as 'er successor fer that position. Coincidentally, Payce T. 'appened ta be helpin' 'er mother at the concessions stand t'day, an' I was also able ta get a short interview outta 'er as well, an' Payce T. told me that she's been interested in becomin' a chef like 'er mother from a young age an' she be lookin' forward ta takin' over 'er mother's concession stand at the Koopa Troop's sports events in the future when 'er mother can't cook anymore. Yar, it makes me 'appy ta see that cookin' runs in the family!
Soon, the restin' period was o'er, an' it was time fer the match fer third place: Daisy vs Donkey Kong! Daisy be determined ta not get last place in this tournament an' has also been given a new tennis racket after she wrecked 'er last one at the end of 'er last match! Donkey Kong, on the other 'and, be determined ta crush Daisy in this match fer third place an' show 'er that unsportsmanlike athletes never prosper! Yar, so with that outta the way, it's time ta decide who'll be takin' third place in this tournament!
Donkey Kong be the first one ta serve fer this match, an' 'e sends the ball o'er the net, promptin' Daisy ta send the ball back usin' 'er Flowerbed Return! Donkey Kong be able ta sent the ball flyin' back once again, but a smirk creeps its way onto Daisy's face as she uses the Wonder Flower, disorientin' Donkey Kong an' knockin' 'im back after 'e 'its the shot! The ball comes fallin' down on the court, an' the score be 15-0 fer Daisy!
Donkey Kong lets out a few angry ooks, which accordin' ta me translators in Kong Language at the sidelines o' the match means that Donkey Kong be tellin' Daisy that 'e ain't goin' down without a fight, nor ain't 'e backin' down whatsoe'er! Yar, ye may say what ye want 'bout Donkey Kong, but 'e definitely ain't a quitter! But Daisy don't be a quitter either, and she prepares 'erself fer Donkey Kong's next play as the King o' Swing picks up the ball, an' sends it flyin' at Daisy usin' the Barrel Cannon Blast, knockin' the princess off 'er game as the ball is sent crashin' down on the court! 15-15!
Daisy huffs in anger as she grabs the ball, an' usin all the motivation she manages ta build up in that moment, she smacks the ball o'er the net, but DK don't be lettin' Daisy score 'nother point as 'e uses the Boomerang Banana Return ta knock the ball off course an' sent it plummetin' down on Daisy's side o' the court, changin' the score ta 30-15 fer DK! Yar, I 'aven't seen tennis like this since Mouser an' Tryclyde took on Foreman Spike an' Koopie McKoy at the Decalburg Open Tournament in 2014!
Once again, due ta time constraints, we're forced ta skip ta the Match Point, an' the score in sets be at 2-1 fer Donkey Kong, an' the leader o' the Kong Clan be up ta the serve! Donkey Kong sends the ball o'er the net, an' Daisy uses the Flowerbed Return ta return Donkey Kong's shot, an' Donkey Kong sends the ball flyin' back o'er ta Daisy's side with all 'is might, an'...The shot is nailed! Donkey Kong claims third place in the tournament while Daisy finishes in last place, an' the princess clearly ain't happy 'bout it, but she does 'er best ta keep 'er anger in check an' even shakes Donkey Kong's 'and in a sportsmanlike manner! Yar, goes ta show that even though Daisy not be good at takin' losin' very well, she's still been tryin' ta keep 'er emotions in check o'er the years!
An' with that outta the way, it's ta move on ta the final round o' the tournament, which goes 'tween Waluigi an' Koops Bronson ta fight it out fer the title! Waluigi an' Koops Bronson be wishin' each other luck b'fore the match begins, an' after that, it be on! Waluigi be the one servin' first this time, an' 'e knocks the ball o'er the net t'wards Bronson's side, an' Bronson be quick ta send the ball back usin' the Water Shell Dash, but Waluigi be just as quick ta throw Bronson a curveball with the Whirluigi, sendin' Bronson into a spinnin' frenzy once 'e returned the shot! Bronson be losin' control o' the ball, an' it plops down on the court! 15-0 fer Waluigi!
Koops Bronson be quick ta pick up the ball, readies 'imself, an' thwacks the ball ta Waluigi's side, an' Waluigi uses the Swimmin' Return ta send it back o'er the net again! But Bronson be quicker on the draw with the Water Bomb, forcin' Waluigi ta get closer ta the net, and he be in the nick o' time ta knock the ball back again, an' Bronson may be quick, but he ain't quick enough ta return that shot, an' the ball comes down on the court! 30-0 fer Waluigi!
The game ain't be over just yet though, mateys, fer Koops Bronson once again be quick ta pick up the ball an' sends it back o'er the net with the Water Bomb, an' Waluigi quickly uses the Swimmin' Return ta knock it back again, with Bronson usin' the Water Shell Dash, an' Waluigi usin' the Whirluigi, which sends Bronson twirlin' 'round once more an' the ball crashin' down on the court! 40-0 fer Waluigi!
It be the Game Point fer Waluigi, an' Koops Bronson serves the ball, an' Waluigi serves it back with the Swimmin' Return, which be too quick fer Bronson ta handle as Waluigi wins the first set o' the match! The rest o' the match couldn't be shown 'cause o' time constraints, but I can assure ye that it was just as excitin' as the first set! We now be up ta the Match Point, an' Waluigi once again be up fer the serve, he whacks the ball 'cross the net, Koops Bronson sends it back usin' the Water Shell Dash, an' Waluigi sends the ball back o'er the net again an'...It comes down on the court! That be the game! Waluigi wins the tournament as the crowd erupts in thunderous cheers an' applause an' confetti rains down on the court!
At the awards ceremony, Waluigi is awarded the trophy an' a small fortune o' 5000 Coins! Since Koops Bronson got second place, he be awarded with 2500 Coins an' Donkey Kong be awarded with 1000 Coins fer gettin' third place! Daisy may 'ave ended in last place, an' despite 'er showin' unsportsmanlike conduct earlier, she receives a consolation prize o' 500 Coins! Yar, a good awards ceremony all 'n all!
After the awards ceremony concluded, I tried ta get a hold o' Daisy fer an interview, but was unable 'cause she immediately left the tennis grounds after the awards ceremony, spoutin' a bunch o' nonsense 'bout 'ow she never loses, not even ta 'er father. Yar, ye can't be gettin' interviews with the losers every time, I s'pose. But that be all there is ta this month's sports news, mateys! I want ta thank ye fer tunin' in again, an' 'opefully I'll be seein' ye again next month with more sports news! Yar, har, fiddle dee-dee!
Mushroom Tribune
Written by: Mustard Machine (talk) and Hooded Pitohui (talk)
This article sourced from the Mushroom Tribune, a sister publication serving the Toad Town metropolitan area with local news which goes uncovered by the national networks.
Postmaster General Pick Sparks Outrage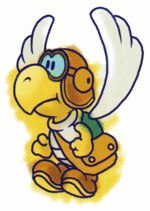 It was expected to be a fairly quiet day on Mushroom Hill, with the Chancellor expected to announce Post T.'s replacement as Postmaster General of the Mushroom Kingdom to little fanfare. The Postmaster General serves as the head administrator of the Mushroom Kingdom Postal Service and is typically selected from the senior ranks of the Postal Service Administration. Not considered one of the "sexy" appointments, the government's pick for Postmaster General typically sails through to confirmation, to the point where official votes are rare. Instead, the opposition leaders typically let the pick pass with ease through a process known as unanimous consent. These expectations were quickly dashed and parliament turned rancorous following the government's unexpected pick of Parakarry to be the next Postmaster General of the Mushroom Kingdom. Parakarry, known as the "Deliverer of Victory" for his efforts during the Star Rod War, was a surprising pick by the government led by the Chancellor and his ruling Mushroom People's Alliance. The Chancellor passed over several senior members of the Postal Service Administration in selecting Parakarry, who, while a long-time postman himself, had never served as anything other than a door-to-door mailman. Opposition MPs quickly accused the Chancellor of picking Parakarry not because he was the best man for the job, but rather because of his status as a military hero. In speaking against the nominee, opposition MP from Donut Plains, Mortimer "L'il Mouser" Mouseman, said:
This government must cease its quite frankly transparent attempts at boosting its own failing popularity by appointing the heroes of this great kingdom to positions they are not qualified for. Although I suppose, this time, I must commend the Chancellor for at least picking somebody who at least some experience with the job he's being appointed to do, a quality, I'm afraid, so many other appointees lack. I want to be clear; this isn't anything against Parakarry personally. Every citizen owes Parakarry a debt of gratitude, but I ask, does that debt mean that Parakarry should be entitled to jump so many ahead of him? What do his victories during the scaling of Mt. Rugged have to do with administering a service with 1,500 employees? If we were talking about the appointment of Parakary to the position of Toad Town Postmaster, I would be all for it. If we were talking about making him head of one of the many regional centers this kingdom has, I would be hesitant, but I could be persuaded. But to be the Postmaster General of the Mushroom Kingdom? A man who has never dealt with a budget? Never looked at a workforce management report? Again, this is not an attack on Parakarry, who by all accounts is a beloved member of the postal service, but he's simply not qualified for this position. I implore the Chancellor to pull this nomination. The confirmation of an inexperienced man at this point would undermine our postal service's abilities to provide this great kingdom its essential services.
The Chancellor and his supporters, for their part, pushed back hard against what they characterized as unfounded attacks against a man who has given so much to the kingdom. Perhaps the most passionate in the defense of Parakarry was Lakilester, MP of Flower Fields, who said:
I rise in support of the nomination of Parakarry to the position of Postmaster General. As a long-time friend who fought with me on the field of battle as well as a dedicated postman, I have no doubts in his qualifications. Parakarry has spent 20 years as a postman in the kingdom's largest city, Toad Town. He has spent his career traveling up and down the kingdom, delivering mail to every corner of this great kingdom. When it comes to knowing the routes a postman must take, I believe that there is nobody more experienced than Parakarry, the Deliverer of Victory. Those in opposition claim that, because he isn't one of the postal service bureaucrats, he's not qualified for this position. I say that him not being one of the postal service's entrenched bureaucrats is his greatest qualification! For too long, the position of Postmaster General has cycled between bureaucrats because they've got "experience", and what has that gotten us? A postal service spiraling in debt, record low morale, and postal routes canceled due to lack of staff! You know why that is? Because the higher-ups don't understand what it's like to be on the ground. They've forgotten what it's like to actually deliver the mail. They think that statistics and figures are a suitable replacement for practical experience. I'm not saying that they're incompetent. I know that many of them are trying to do their best in a difficult time, but it's been so long since any of them have manned a route that they don't understand the struggles of an actual delivery man. That's why I believe that Parakarry is just the man needed to shake up the postal service and get it back on track. Parakarry. They say Parakarry doesn't have the experience. I say his life as a postman is all the experience he needs.
What was thought to be a quick and uncontroversial confirmation process now has all the makings of a political barfight. We can expect lots of hearings and committee meetings before any potential vote. For their opinions on the situation, we turn to our senior political corespondents, Shoey and Hooded Pitohui.
| | |
| --- | --- |
| | To me, Hood, I believe Lakilester is right; Parakarry is the perfect choice for Postmaster General. Those in opposition say he lacks management experience and that is true, but I think they're being disingenuous and failing to see the wider picture. Yes, it's true that Parakarry hasn't led so much as a post office, and, yes, the Postmaster General in theory is the commanding officer of our great postal service. But it's not like he's a dictator! There will be plenty of seasoned bureaucrats who can help Parakarry bring our postal service into a new era. Think about it! Parakarry, the Deliverer of Victory, the face of the postal service! Who else is better suited to address worker shortages, low morale, and declining delivery rates but Parakarry, a man who has spent his life working delivery routes? Having Parakarry as the leader of the postal service is a brilliant move by the Chancellor, because it gives the postal service a recognizable face. Who better to fight for it than one of our kingdom's great heroes? When people push for cuts to the postal service's budgets, they won't be talking to faceless unknown bureaucrats; they'll be talking to the most recognizable members of the postal service. Right now, the postal service is in disarray. It's looked at as an old-fashioned service that can't compete with private package delivery services. Who better to lead the campaign to convince people to use the postal service but Parakarry? They say Parakarry's lack of management experience is a weakness, and perhaps that's true, but, like I said, he won't be a dictator. While he will be in charge of the service, it's not like he'll be able to make decisions at whim. There will still be oversight that will help guide him to decisions that are in the best interest of the service. But the fact is that he's Parakarry, the iconic mailman of the Mushroom Kingdom! He's the perfect person to lead the charge towards rehabilitating the kingdom's postal service's image. That's why I truly believe that Parakarry is the perfect man for the job of Postmaster General, and I applaud the Chancellor for his bold and brilliant choice. |
| | Shoe, while I don't dispute your point that the postal service could benefit from having a popular face representing it in the eyes of the public, I, frankly, think this appointment is a disgrace. It's a disgrace to our kingdom, to our venerable postal service, and to the many public servants who labour for this kingdom daily. Now, I have nothing against Parakarry, and I concede that, for the job of repairing the reputation of the postal service in the eyes of the kingdom's residents, he may be the man for the job, but that is that job, and what we are discussing is the job of the Postmaster General of the Mushroom Kingdom! Must we promote someone who is untested and unqualified to this critically important position to leverage their good publicity? No! There are other ways of leveraging his popularity and his experiences manning a route. The arguments offered by the Chancellor, the MPA, and supporters of this appointment do not hold up to scrutiny because they are disingenuous, because they are attempts to conceal the transparent and plain truth that this appointment is entirely an attempt by this government to bolster its public support. Is Parakarry a dedicated and commendable servant of our kingdom? Yes, of course, but there are other dedicated servants of our kingdom who have worked tirelessly for years and who have educated and trained themselves so that they might handle bureaucratic positions. To promote him over others, who have worked to make themselves more qualified for this position, for the sake of political convenience, that would be a disservice to our many loyal civil servants, one more slap in the face for servants of the kingdom who have been forced to repeatedly endure unqualified appointments in regional offices responsible for entire districts of the Mushroom Kingdom. These appointments have come at the expense of our kingdom's most important institutions, degrading their quality as those owed favors by the government or popular with the public and lacking in any practical experience or qualifications swell their ranks. For all of my opposition to Parakarry's appointment, however, I must say I am pleased that the Chancellor has put forward Parakarry's name; this high-profile debate, after all, may well finally cause the public to take seriously this festering plague upon the kingdom's civil institutions and to consider the proposals, supported by the opposition Mushroom Kingdom Reform Party and the Bricklayers and Labourers Association, to create a civil service commission. Let us have an institution that will cure our ill civil service, that will expunge the toxins of spoils and political convenience, that will regulate what politically-appointed positions remain, and that will create for our kingdom a civil service based on merit. For the dignity of our kingdom and its many loyal servants, let us reject Parakarry's appointment and take seriously this symptom of our illness. It will be a most unpalatable course for the government and even much of the opposition, but it is time to take responsibility and drink up the full course of our medication. |
Sprite credits: Sonik (tSR), Lakituthequick
Dear Waluigi Time
Written by: Waluigi Time (talk)
Questions submitted by: MightyMario, Cosmic Cowboy, and Hooded Pitohui
---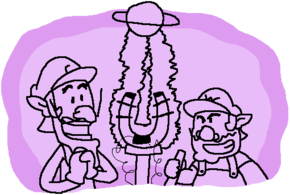 Dear Waluigi Time,
As a lab mouse with the intent to conquer the world, I sometimes feel the need of hunger more often than usual. Your sickeningly staunch concoction cereal is a great way to curb that hunger.
So, when I become ruler of the Earth, I promise that you will be unrivaled in competition on the shelves. Everyone will buy Waluigi Time Cereal, the official food of the Brain Republic! You will be a trillionaire and your products will be in every house and home!
What do you say to this deal, Mr. Time? I have to cut this letter short; I'm going to take over the world!
Sincerely yours, the future ruler of planet Earth, The Brain.
Mhm, mhm. I get it, I can read between the lines. You need my advice on how to take over the world, but you're too proud to come out and say it! I understand, it can be hard to ask for help sometimes, but there's no judgment here. I got you covered. As a matter of fact, I was once a member of a committee that was aiming for world domination! We, uh, didn't quite get there, but you know, I consider it valuable work experience.
This first bit of advice isn't quite related to the world conquering process, but you're gonna need this one sometime, and it never hurts to be prepared. I'm not going to sugarcoat it, at some point, you're inevitably going to bungle something and tick off a lot of people. When that happens, you're going to want to have a really good public relations agent working for you! After all, the last thing you want as supreme leader is an angry revolt on your hands. You get a good PR agent, and they can easily explain to everyone how it wasn't really that bad, or how it didn't actually happen, or my personal favorite, blame somebody else for your mistake! I'd offer Publissa T.'s services, but unfortunately we've got enough of our own screwups over here, so she's got her hands full.
As for the actual world domination part, don't go relying on a huge army of minions to get there, okay? They're overrated. They'll botch important jobs, betray you at the most inconvenient moments possible, and give themselves pay increases behind your back. I wouldn't even go with robots, you don't want to have the world just barely out of your grasp and then suddenly your entire army shuts down or starts doing the chicken dance because you misplaced a bracket in one line of code. Do it by yourself, or at least stick with a close circle of trusted associates, and just let a superweapon of your choosing do all the hard work! Ideally one shaped like your face, it's good for branding. You'll have to come up with the specifics yourself though, I'm more inclined towards designing theme park rides and mechanical ghosts made out of reflectinators.
Anyway, you've got yourself a deal. Once you have the world taken over, come see me, and I'll get started on ramping up production, alright? Maybe we can even get started on some little Brain toys to include as prizes. Nothing says "iron fist" like a wind-up toy in your likeness in a cereal box!
Happy conquering!
---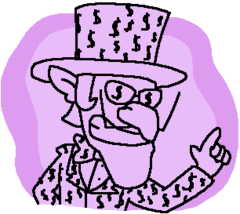 Dear Waluigi Time,
I have a boss who shall not be named that refuses to give me a raise despite my contributions to the company, I mean, I'm upper management for pete's sake! How do you suggest I approach my boss for that raise that I deserve?!
- "Stellar Ranchhand"
Wow, your boss sounds like a real knucklehead! Don't worry, with my help you'll have raises coming out of your ears! That's strictly an expression by the way, I don't expect paychecks with increasingly large numbers to be emerging from your ear canals any time soon. You might want to see a doctor about that if they do.
If reasoning with your boss didn't work, here's a neat trick! If they have a to-do list, add a note about giving yourself a raise! Your boss will just assume that it was their idea to give you a raise in the first place and that they just forgot ever writing it down, because who else is going to be adding stuff to their to-do list, right? One caveat, if your boss still uses actual paper for their to-do list, you'll probably want to spend some time getting their handwriting style down, otherwise it's just not believable. You can go as far as you want with this, and specify a percentage or amount. This trick is such a good one, even I'd fall for it! I probably shouldn't have publicly stated that. Eh, it's fine.
But if your boss doesn't have a to-do list, or is somehow too smart for that trick, you'll need a different plan of attack. That's where subliminal messaging comes in! I don't know what your company's dress code is like, or if it even has one, but if you can, wear stuff with dollar signs on it! Every day! The more the better! Your boss will eventually come to mentally associate you with money, and at that point, a hefty raise is a no-brainer. Or it'll backfire and they think you cost more than you're worth and then decide to can you. But probably the first one.
Or maybe that's all just too much work, and you'd rather take a more direct and ethically flexible approach. If you can get access to your company's payroll, you can change the amount you're paid to whatever you want! Please note that I don't endorse this option as you'll definitely lose your job and wind up in serious legal trouble if you get caught, and I don't really want to get tangled up in whatever lawsuits you end up in, but I figured I'd still mention it because your life choices are your own, you know?
Let me know if you need any advice on what to spend your newfound cash on!
---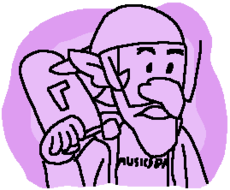 Dear Waluigi Time,
Lately, it seems as though I'm having trouble getting my students to pay attention in class. I've had some students tell me that I'm too out-of-touch with the times to be interesting. Can you tell me what's "in" in New Wikisburg these days, especially with the youth? Where can I go to get "with it"?
-A Struggling Professor
Having trouble connecting with the youth, eh? Well, don't feel too bad about it. They're fickle and weird! One day they're talking about "swags" and "yolos" and the next it's all about the "pogchamps". Did you know they don't even use "radical" or "tubular" or "gnarly" anymore? I didn't until I was told last year's Vote P for F3 marketing was, and I quote, "so painfully out of touch it had to be intentional". Most of my info on what's hip these days comes from Shbig, so... hopefully he's right on these! Personally, I'd rather do my own thing, but I guess it's important to appeal to the target market or whatever.
So, I guess there's this thing that's pretty popular called "Among Us", and it has something to do with these little spaceman guys. I tried to partner with them for a sponsorship once but they just called me a "sussy baka" and launched me into space. I still have no idea what that means. But if you sprinkle words and phrases like "among us", "sus", "vent", and "imposter" into your lectures, that might help! I'm pretty sure that Fortnite game is still in, so you could also try comparing things to a victory royale. It doesn't matter if you don't know what a victory royale is, it's pretty self-explanatory.
Oh yeah, and there's also this thing called "vtubing"! You know about webcams, right? Well it's basically like that, but instead of your actual face, it's a 3D model instead. It'll take a bit of techno-wizardry, but you could stream your lectures directly into the classroom with a vtuber model! The fun part of this is that you don't have to leave your house or look even slightly presentable. You could give your lecture in your pajamas if you want, and no one will ever know.
Remember those words I mentioned two paragraphs ago? Well, those will only get you so far, and they make new ones while others fall out of style all the time. If you want to keep up on the hip lingo, try putting on a disguise to blend in and find out what the kids are saying these days. You'll no doubt pick up plenty of new words to add to your vocabulary! Just, uh... Make sure to look up their meanings first before you use them in your lectures, okay? Wouldn't want to say anything career-ending by mistake.
Or you can just embrace your out-of-touchness and bring a cane to your lectures to whack students with when they get out of line! Please check with the policies of your institution before doing this.
Stay bodacious!
---
Got a question you want answered? Stop by the forum thread for this section, or contact me on my talk page!
Mushroom Kingdom Smackdown
Written by: Waluigi Time (talk)
Hello and welcome to Mushroom Kingdom Smackdown, the only fighting tournament where the milk has black food coloring in it! Ew... Anyway, I'm your host, Waluigi Time! I have a bit of bad news today, it turns out that the Mario in last month's match was not actually the Super Mario. No idea who that guy was then, but oh well! We're just going to move on from that little snafu.
Our first fighter marching into battle today is none other than the Masked Militant, the Loyal Leader of Shy Soldiers, GENERAL GUY!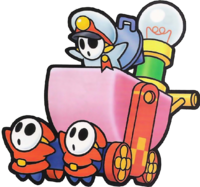 The general doesn't fight alone, of course, and he's brought his battalion of Shy Guys to the match! Must be nice sitting up in that tank letting his underlings do all the work for him. When he's not busy barking orders, he can toss bombs from his tank, and even fire a lightning bolt from that light bulb as long as it's operational! Don't ask me how it works, I have no idea! And as is to be expected from a tank, it's pretty good for defenses! When General Guy doesn't need to be present on the battlefield, he can just duck into relative safety.
Please give a hand to this next contestant, because they've lost one of theirs - oh wait, nope, there it is - it's the Baddest of the Bones, the Shady Skeleton, DARK BONES!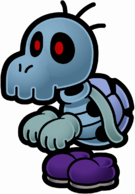 You gotta wonder, what happened to this guy? Bad milk? Dark magic? Barbecue accident? Just born with really weird colored bones? I don't know. Whatever happened, it made Dark Bones the strongest member of the Dry Bones clan! You probably know how this all goes, Dark Bones gets knocked down, but they get up again. Keeping them down is the tricky part, and really, getting them down at all can be a challenge, because this is one durable skeleton! For attacks, Dark Bones hurls, well, bones, and they can build additional Dry Bones to assist in battle! Which raises even more questions... Where do they keep entire skeletons?!
Well, no time to ponder that right now. It's time for fighting and predictions about said fighting! I think... I'm going to have to give the edge to General Guy here. Explosions are one of the main weaknesses of Dry Bones, and General Guy's got a tank full of explosives, so... You do the math.
---
General Guy sees no need to get his hands dirty as the match starts, instead sending his Shy Squad to deal with Dark Bones! A gaggle of Shy Guys swarms the skeleton, and try as they might, they just can't shake them! A few unlucky Shy Guys get knocked in the head with bones, but it's too much to deal with, and Dark Bones already collapses into a pile as the Shy Guys celebrate their victory and return to their fearless commander, who's been hiding in his tank the whole time. But I think we all know that's not the end of the match by any means! Dark Bones rattles around a bit and reassembles, no worse for wear! The Shy Squad rushes in again, down a few members from last time, but they still manage to take Dark Bones down again while suffering minimal losses! They return to General Guy, and Dark Bones gets up again, and... I think you can see where this is going. How riveting.
Well, while they're messing around out there, I'm going to do some shilling! Have you been to the official Mushroom Kingdom Smackdown gift shop lately? We've got t-shirts with Grunt's face on them and little bobbleheads! It's fun for anyone with money! Come on, go ahead and spend it! You know you want to! What else are you going to do with it? Buy... groceries? Or gas? Pay your bills? How boring is that! Unless you're buying my products in which case please go right ahead.
Okay, Dark Bones managed to whittle down the Shy Squad enough that the remaining members have decided to desert. Luckily for General Guy, that's not a disqualification for him! As General Guy berates his troops, Dark Bones takes the opportunity to throw a bone right at his forehead! Ouch! And General Guy is now hollering at Dark Bones for breaking the rules of war, and quickly sends in Stilt Guys for his next wave attack before ducking back into his tank! How will they- oh, oh... A single well-thrown bone has already managed to cause a chain reaction toppling both Stilt Guys! Well, that's unfortunate for the general. Now he sends in his last line of defense before he'll have to go into battle himself, Shy Stacks!
Both of the Shy Stacks fire all of their slingshots at Dark Bones, who counters with a flurry of bones! I wish there were more interesting ways to say bone. Piece of skeleton? Nah, that just makes me sound stupid. Where did I put my thesaurus? No time for that, Dark Bones manages to take out one of the Shy Stacks! But the other one still manages to fire off their slingshots, knocking Dark Bones apart once again! Still not a knockout, but they're performing better than the Stilt Guys, at least! Dark Bones gets up again, and rather than going on the offensive immediately, they build a Dry Bones to help out! The Dry Bones handles the Shy Stack with its own bones, while Dark Bones builds a second Dry Bones! Gearing up for the fight against the general, I see!
The second Shy Stack goes down, and it's down to just the Bones against General Guy. All of them are hard at work building additional Dry Bones, and before you know it, the ring's full of skeletons! It's gotta be a hammerspace sort of thing, right? With their combined forces, they all start swarming General Guy's tank! Ooh, this is going to be good - the light bulb flickers to life, and General Guy manages to neutralize all of the Dry Bones at once with a devastating lightning shock! Dark Bones is still standing though, and prepares a bone to throw at the general's head... only to be completely decimated by one of General Guy's bombs! Well, I'd say "being a pile of ash" is as good a losing state as any. General Guy is the winner!
| | |
| --- | --- |
| | "And just how am I supposed to fix this?!" |
I don't know, I pay you to figure that stuff out so I don't have to! Anyway, thanks for coming to the match, and I expect to see a lot of your faces in the gift shop! As always, if you have anyone that you'd be interested in seeing get into the ring, please send us your suggestions! I'll see you next time!
| | |
| --- | --- |
| | "Hey, I found the thesaurus. You can call bones osseous matter. Or bony processes." |
...Yeah, you know what, I think I'm just going to stick with bone in the future.

You know, I love writing this column, but it's always bothered me how difficult it is to connect with my worldwide readership. I mean, there's only so much creator-consumer interactivity you can get through an online medium. That's why I'm proud to announce the 2023 TV Tomorrow World Tour! I'll be jetting around the globe, going to theatres and public places to read fictitious television listings from a fictional universe I didn't create, and charging people large amounts of money to see me do that. There'll be Q&A sessions, article signings, audience games (primarily Scrabble), maybe a breakfast buffet depending on the local bylaws. It's going to be great, and I'm definitely well-known enough for this to be at all worthwhile. Can't wait to meet you all!* But while I pack my bags and struggle to rent a tour bus that's for just one person, I'll indulge you with another classic edition of March's TV Tomorrow.
*Though to preserve my online anonymity I will be performing the show from within a sealed box. I'm not an idiot.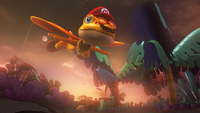 New: Glyde
MKBC1, 9pm
Genre: Comedy-drama
Loosely based on a true story, Glyde is an uplifting comedy-drama series about the friendship between a scholarly Glydon professor and an adventurous young plumber named Mario. With the former seeking to conduct important fieldwork research in dangerous regions, and the latter desperately seeking the thrills of flight, they form an unlikely symbiotic relationship - one of the more absurd choices of this drama, considering in real life Mario probably just rode on top of Glydon, but it nonetheless makes for an impressively deep exploration of interspecies interaction.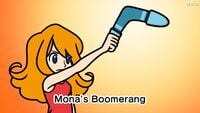 Antique Hunters: Diamond City
MKBC2, 3pm
Genre: Competition/antique show
The long-running Antique Hunters finished its Mushroom Kingdom run last year, but the show lives on in several other locations, easily the most interesting of which is Diamond City. This version stars Diamond City residents and antique experts Mona and Ashley as they compete against one another to buy items that will sell for the biggest profits at auction - but unlike most other versions, in Diamond City the objects that have value are considerably stranger than you might expect; for example, in tomorrow's episode, Mona finds a vintage boomerang, while Ashley's treasure is an enormous Wario-themed industrial dishwasher. With its quixotic atmosphere and engaging personalities, this is a rare antiques show that will appeal to everyone.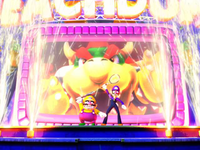 So You Think You Can Impress Bowser With Your So-Called 'Talent', Do You?
Koopa Troop TV, 8pm
Genre: Talent show
Most talent shows have a panel of judges, a plethora of contestants with heartwarming stories, and an all-round feel-good atmosphere - any toxicity is only implicit, behind-the-scenes. But at Koopa Troop TV, Bowser prides himself on doing things differently. Such is the mantra of SYTYCIGWYSCTDY, the brutal talent contest featuring Bowser as the only judge, screaming his semi-constructive criticisms through an enormous TV screen behind the performers. Just like with other talent shows, it's be talented or get out; but only Bowser says that out loud. Tomorrow sees the ninth series's opening heats (and I mean 'heats' literally), featuring a Goombrat dance troupe, a Dry Bones magician, and Wario & Waluigi doing… something. Can any of them bear the Koopa King's wrath?
Well that's it for this month! And if you come to one of the shows on the 2023 TV Tomorrow World Tour, you'll be able to physically see and hear me describe those shows and more. It'll be an experience that you'll never forget! I'll be going to London, Sidcup, Albuquerque, Milan, Omaha, Hammerfest, Fortaleza, Okinawa, Scotland, Kilimanjaro, Maple Treeway, Albuquerque again in case I missed something the first time, Asia, Null Island, and the baggage claim at Toronto Airport, with more locations to be announced soon! Hope to see you there - but if you can't make it, don't worry, I'll still be writing regular TV Tomorrow on tour, so you'll still find me here in April, only ungraced by my physical presence. See you next month - maybe at your house!
Consumer Corner
Written by: Waluigi Time (talk)
You're tuned in to Consumer Corner, bringing you the latest and greatest products from the Mushroom Kingdom and beyond.
---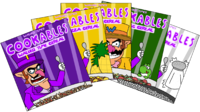 It's a- "SHBIG!" - okay, there's apparently no time to set the scene as that eccentric cereal magnate Waluigi Time bursts through the door to his office, excitedly waving his phone around like some crazed phone salesman. "SHBIG! You have to see this!" he shouts. Shbig doesn't appear overly thrilled, having been through this song and dance too many times to count. "What is it this time?" he inquires, clearly with low expectations. "You'll never guess what the guys in upper management just showed me," Waluigi Time says, showing Shbig his phone. The AI squints, a gesture that is completely unnecessary but makes him seem more human. Er, rabbit. "Why are they doing that to cereal?" he asks. "Don't you see, Shbig? This is a completely untapped market here! We can rake in tons of coins and beat that stupid rooster to the punch!" The cereal magnate pauses for dramatic emphasis. "Shbig... We need to COOK!"
We quickly cut to the Waluigi Time Cereal Factory kitchen, where Waluigi Time, wearing a garish purple hazmat suit, stirs mystery ingredients in a pot as Shbig looks on. "I'm still unsure about this," the digital rabbit admits. "Shbig! I don't think you realize the genius of this product! If we cook our existing cereal recipes, we get to launch a groundbreaking new line, and we don't even have to buy more ingredients!" Waluigi Time explains. "Well, I'm sold. I'm impressed, you actually had a good idea," Shbig replies, quickly changing his tone. "Well, I had to do something to offset the cost of the new waterslide!" "The WH- you know what, I don't even know why I'm surprised anymore. I still think we should do some market research, though." "Oh, don't worry about that, Chuck's working on it right now." Waluigi Time lifts the ladle from the pot, revealing the now-cooked ingredients of the classic Waluigi Time Cereal recipe, and tastes it. "Perfection..."
Just then, Waluigi Time's head of security Chuck barges in, dragging in some poor guy by the arm. "Hey, I found this Zerris guy. Can I go now?" he asks. "Yeah, he should work," the cereal magnate replies. The Chargin' Chuck lets go of Zerris' wrist and leaves without saying a word. "What's this all about? This guy came up to me, asked me if I like Waluigi Time Cereal, and dragged me all the way here," Zerris says, confused. Don't worry Zerris, we all are. "I'm conducting market research on my new product! Here, try this," Waluigi Time explains, dishing up a bowl of cooked Waluigi Time Cereal. Zerris eats a spoonful of the concoction as Waluigi Time watches with anticipation, and Shbig also watches with anticipation and probably fear. "This is art! Mr. Time, everyone's going to want a taste of this!" Zerris exclaims. "That can be easily arranged! Shbig, get the RV!" the cereal magnate shouts. Shbig doesn't say a word, but gives him a look that effectively communicates "I don't even have a physical body you absolute buffoon". "Okay, um, I'll get the RV!" Waluigi Time says as he runs off.
The next thing we see of these two, an RV sporting yet another eyeball-melting purple paint job haphazardly pulls into the back lot of a JojaMart with all the grace of Donkey Kong riding Rambi through a Kremling konvention. Waluigi Time manages to avoid decimating a sign urging drivers to "please drive carefully" by mere inches, so... at least it kind of worked? "Next time, why don't you let me override this vehicle's functions instead?" Shbig grumbles, his projection still flickering from the chaotic ride. "We can't, it's too old. Come on, we have business to do!"
Waluigi Time emerges from the RV, approaching the bespectacled regional manager. "Morris, my old current business associate! Check this out!" the cereal magnate tosses a bag at Morris, who fumbles but manages not to drop it onto the ground. He almost looks proud of himself, giving the sense that this required many takes. "We call them Cookables!" "Cooked cereal? Mr. Time, the Joja Corporation has always been happy to sell your products, but this is new ground here," Morris says, adjusting his glasses. "Just imagine the possibilities here! The roasted onions of the classic Waluigi Time Cereal! The melted cheese of Pineapple Pizza Cereal! This completely revolutionizes the way consumers can enjoy our products! And most importantly, our research showed 100% customer satisfaction with the product!" Waluigi Time explains, proudly shilling his new product. Shbig, of course, knows exactly where his employer's "statistics" came from, but he also knows better than to dissuade a distributor, so he keeps his mouth shut. "Well..." Morris mumbles, prompting the cereal magnate to pull out his secret weapon. "And we could probably work out an exclusivity deal of some sort," he says. The Joja manager's eyes quickly light up at the prospect. "Well, you are quite persuasive, Mr. Time! I'm sure we could easily reach a mutually beneficial agreement with those terms!" The two of them shake hands, and Morris leaves with a handful of Cookables. Waluigi Time grins and turns to his AI companion. "From now on, Shbig... We are the ones who cook!"
The Cookables line, now joining the Waluigi Time Cereal family of products! Launching exclusively at your local JojaMart!
"Wahaha! Eat this or else!"