The 'Shroom
:
Issue 106/Opening Statement
From the Super Mario Wiki, the Mario encyclopedia
Jump to navigation
Jump to search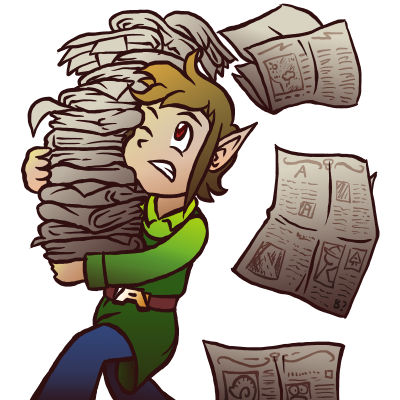 Thank you all for reading Issue 106 of The 'Shroom!
The only thing I really have to mention regarding this edition is that the Feedback Survey has been closed. We have received some interesting responses that we will consider implementing this year. Additionally, we are thankful for those who enjoyed the Special Holiday Edition! We appreciate the support that everybody has given.
I hope that you like this month's content, and I look forward to another year of overseeing the production of great editions!
— Super Mario Bros. (talk), Director

Staff Section of the Month for December 2015
STAFF-VOTED SECTION OF THE MONTH
Place
Section
Writer
Reasoning
1st
Peddler's Place
Toadbert101 (talk)
Toadbert101's advertisements always prove to be an amusing and essential part of Fake News. We found December's Peddler's Place to be particularly funny because we talk about ice-related subjects during every Holiday edition, not to mention Constanza Flower is an idea whose time has come.
2nd
The Year of Ashley 2015
GBAToad (talk)
The Year of Ashley 2015 was an interesting piece which discussed the future of WarioWare and the significance of Ashley's in-game appearances throughout the last year. GBAToad wants you to know that you'd better learn her name, 'cause it's Ashley!
3rd
12 Days of 'Shroom Christmas
Crocodile Dippy (talk) and Stooben Rooben (talk)
It's not often that The 'Shroom gets its own theme song, but thanks to the musical talents of Crocodile Dippy and Stooben Rooben, it did happen last month! It is clear that a lot of time and effort went into crafting 12 Days of 'Shroom Christmas, and it was a great and creative way to close 2015.
4th
From the Mushroom Vaults
Stooben Rooben (talk)
Stooben is always able to pull out cool hints and tricks From the Mushroom Vaults; the fact that he was able to pick an interesting topic that related to the loose Donkey Kong Country theme of the special edition and featured a Holiday-related cheat was particularly creative.
4th
Location, Location
Time Turner (talk)
Yet again, Time Turner has produced a great section that "doesn't fall short of entertaining" (in the words of one staffer). From start to finish, he provides his opinions in a clear, inoffensive manner; not to mention the conclusion was quite strong.
5th
Fightin' Footwear
Hypnotoad (talk) and Marshal Dan Troop (talk)
Fightin' Footwear is a great piece that always produces laughs. Anton and Shoey have a great dynamic and play off of each other's energy well in order to craft masterpiece sections. December's edition of their collaboration demonstrates this well.
6th
The Best Songs of 2015
Scarecrow von Steuben (talk)
Scarecrow's detailed overview of his favorite songs from 2015 is both entertaining and informative. It also provides a great way for readers to learn about music pieces they would have never known about otherwise.
Congratulations to everyone on their fantastic submissions! We really appreciate all your work.