Elusive Badge!
From the Super Mario Wiki, the Mario encyclopedia
Jump to navigation
Jump to search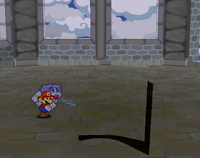 Elusive Badge! is the sixteenth Trouble Center mission in Paper Mario: The Thousand-Year Door, initiated by Ms. Mowz (identified as ??? in the Trouble Center). It is first available after clearing Chapter 4.
Mission
[
edit
]
Mario must first head to the rooftop of Zess T.'s house in Rogueport Square, where he finds Ms. Mowz, who informs Mario of an "elusive" badge hidden in Hooktail's lair, and one has to "use the wind" to find the badge. Mario must travel to Hooktail Castle in Petal Meadows, make his way up to Hooktail's lair (where he defeated Hooktail earlier), and use Flurrie's ability at the center of the lair to uncover a chest containing an Attack FX B badge. Afterward, Mario must return to Rogueport and present the badge to Ms. Mowz, who reveals that she had hidden the badge herself to test Mario's skills in finding a badge she had craftily hidden. She allows him to keep the badge, joins his party, and the trouble is solved. The badge cannot be found in Hooktail's lair before taking on the trouble.
In-game description
[
edit
]
"I'm after an elusive badge. Must explain in person. Meet me on the roof of Zess T.'s house in Rogueport Square."
Names in other languages
[
edit
]
Language
Name
Meaning
Japanese
まぼろしのバッジ
Maboroshi no Bajji
The Badge of Mirage
French
Trouve un badge!
Find a badge!
German
Orden!
Badge!
Italian
Tessera fantomatica.
Elusive badge.
Spanish
Medalla rara
Rare Badge
This mission is unique in that Goose warns Mario of the anonymity prior to starting the mission.